This month we limited ourselves to 8 places to eat in LA because of our 100 days of less challenge.  We needed make them all count! We knew no eating out would be unrealistic, because 1) for the limited time we're living in LA, we want to be able to explore the food 2) our limited skills – neither of us know how to cook enough to survive.
There may be a couple more listed, but don't worry, we followed the rules! Either my parents treated us to a meal while they were in town or food was provided by Youtube.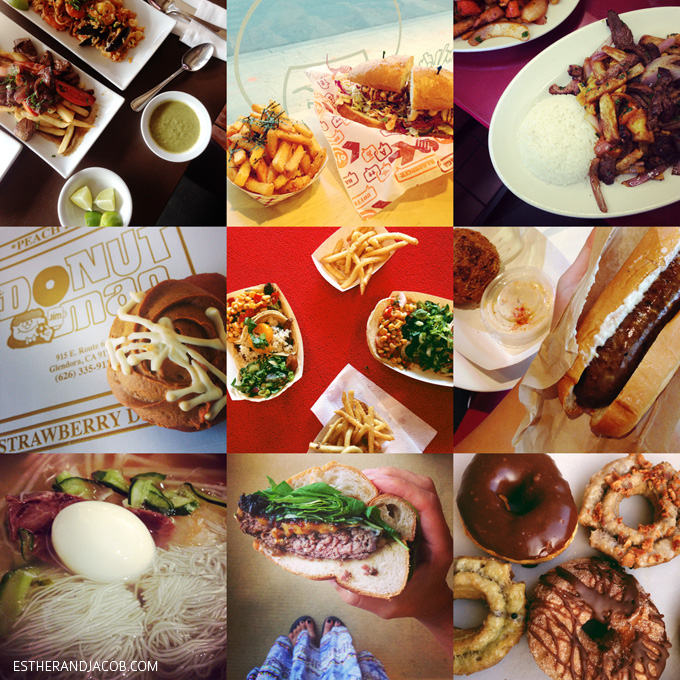 Pin
Places to Eat in LA | October Eats:
★★★★★   ABSOLUTELY LOVED IT 
Nothing mind blowing, but still lots of great food. :)
★★★★   REALLY LIKED IT
Chil Bo Myun Ok (K-town) – not sure about the rest of the menu, but their mool naeng myun was really good.
Mario's Peruvian & Seafood (Mid Wilshire) – saltado de mariscos was a favorite.
Humble Potato (Westchester / LAX) – the fries are so good! and fries with curry? Man, had no idea they would go so well together. We liked the little tokyo doggu the best out of all that we ordered.
★★★   IT WAS GOOD
Kettle Glazed Donuts (Hollywood) – Try the "cronut", the lemon blueberry, and Jacob's fave – the bacon.
Seoul Sausage (Food Truck) – Interesting korean inspired sausages. Provided by YouTube.
Los Balcones del Peru – Permanently Closed (Hollywood) – The food was good and the place looked fancier, but just by price comparison along with quality of food, I would rather go to Mario's Peruvian.
Father's Office (Santa Monica) – The burger was good, but like I said on yesterday's post, they aren't very friendly.
★★   IT WAS MEH…
Vanilla Bake Shop (Santa Monica) – We only dropped in to pick up a few macarons, and based off of those alone, it was unimpressive. They have good reviews, so they must have other items that are probably better.
Komodo Food (Food Truck) – Youtube provided lunch, so can't complain about free food, but I wouldn't pay for it.
★   YUCK 

Mariasol (Santa Monica) – great view, but that's about it. You can read my review if you want.
Here are all the previous months of exploring LA food:
I'm thinking of doing a top 100 or top 50 for when we leave LA. What was your fave place to eat this month? What was your fave dish? Also, what is your favorite easy go-to meal that you like to cook?