This is the last month of our 100 days of less challenge where we've been on a general spending ban and been allowing ourselves to eat out only twice a week. It's been challenging especially since we love to eat out, but it's probably good that we learned to cook a few more dishes at home. Here's our short list for this month, but you can expect lots of binge eating next month! Can't wait!!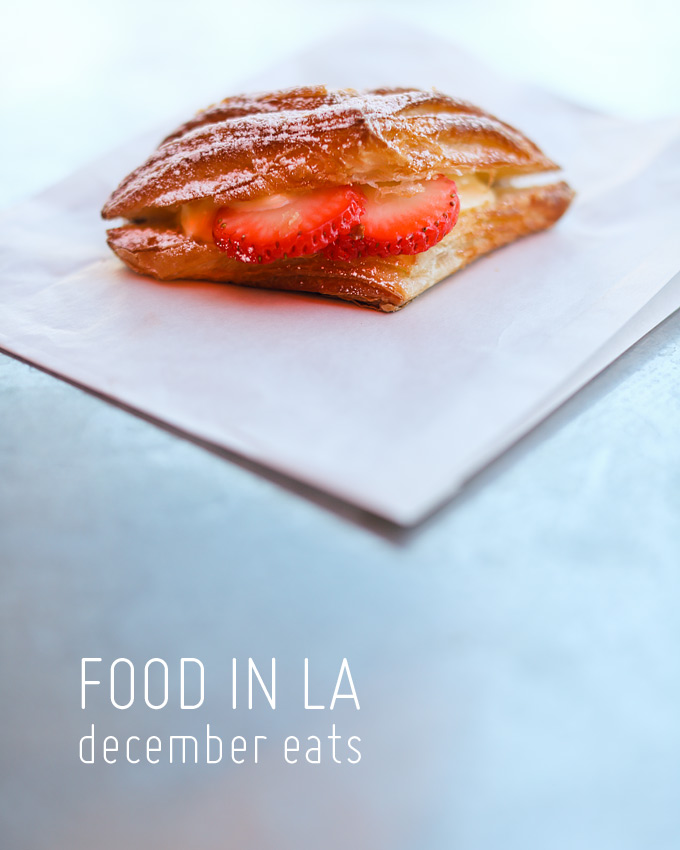 Pin
Places to eat in Los Angeles | December Eats:
★★★★★   ABSOLUTELY LOVED IT
★★★★   REALLY LIKED IT
Daikokuya (Little Tokyo / DTLA) – wait is super long, but the ramen is good and portions are big.
Cham Sut Gol Korean BBQ (Garden Grove) – all you can eat korean bbq for
Cream Pan (Tustin) – such good, cheap strawberry croissants.
★★★   IT WAS GOOD
Ahgassi Gopchang (Koreatown) – Went here with Ki Hong & Hayoung, and they ordered for us. We liked it.
Caffe Concerto (Koreatown) – cute spot to get coffee or drinks at the bar.
The Donuttery (Huntington Beach) – cronuts were meh, the blueberry donuts were amazing!
★★   IT WAS MEH…
East Borough (Costa Mesa) – The place was cute, but the food was just okay.
★   YUCK
Now that we're off the ban…
Any recommendations for Los Angeles food?
Here are all the previous months of exploring LA food:


Pin


Pin


Pin


Pin


Pin


Pin


Pin


Pin


Pin