Want to see Blue Footed Boobies in the Galapagos? We have all the info you need.
We got back from our Galapagos trip last week, and it was an incredible experience. First of all, we are grateful for the opportunity to go. It's a pricey trip, and it wouldn't have even been possible if our friend didn't offer us her miles to fly there. The Galápagos Islands have been one of our dream destinations, but we had reserved it for years down the road. We're so grateful for her generosity and grateful for the experience.
If I had to name one animal I had to see before leaving the Galapagos Islands, it would be the Galapagos Blue-Footed Booby! They were, in fact, THE main reason I wanted to visit the Galapagos Islands. It was almost the last full day of our trip, and we had only spotted one blue-footed booby, which was on a clear day right around noon = bad light. We spotted a few flying in the distance, but nothing close enough to capture with my 70-200 mm (If you love capturing birds, it helps to have a lens that can go up to 400 mm). I felt supremely disappointed because it wasn't looking like we would see more of these bright blue-footed creatures.
This post may contain affiliate links, where we receive a small commission on sales of the products that are linked at no additional cost to you. All opinions are always our own. Read our full disclosure for more info. Thank you for supporting the brands that make Local Adventurer possible.
Last Updated: January 31, 2023
We Found Them!
I was still determined to use what few hours we had left to track them down. We ended up cutting our volcano hike short and rented bikes to see what we could find on our own. The locals told us we would find lots of shorebirds and flamingoes hanging out in the Wetlands of Isabela Island.
We went out on all the small trails ending at different landmarks but found nothing. On our last stop, before we were just about to give up… WE FOUND THE MOTHERLOAD!!! A blue-footed booby colony!
About Blue-Footed Boobies
The Blue-Footed Booby birds are found along the Eastern Pacific coastline and are the only marine birds requiring land to breed and raise young. Over time, they've become great at diving with torpedo-shaped bodies. They usually hunt and fish in groups of about 12 birds, looking for schools of small fish near the shore. In the Galapagos, each species seems to have found its own area to avoid competition with others.
Females are usually larger than males and have darker blue feet. The name originates from the Spanish word 'bobo,' which means foolish or clown. This probably came from their appearance and behavior on land as it wobbles around. It also is fearless of humans, which can be seen as foolish nowadays.
Why are Blue-Footed Boobies Feet Blue?
The blue color of their feet is the focal point of the male mating dance. When they are looking for a female to mate with, they lift their feet high into the air struttin' their stuff while looking down with their beak to draw more focus to their feet. It's believed that the color indicates the condition of their body, so the brighter the blue, the better the health and genes. If the initial dance keeps the female's attention, the male presents nesting materials and ends with another display of his amazingly blue feet.
Where to Find the Blue-Footed Boobies
North Seymour is one of the best breeding grounds for seabirds, including the Blue-Footed Boobies, but can also be found along the other islands. They appear all along the shores of the Galapagos Islands, but there are some specific hot spots that you can find on the map below.
See More: 13 Things to Do in the Galapagos Islands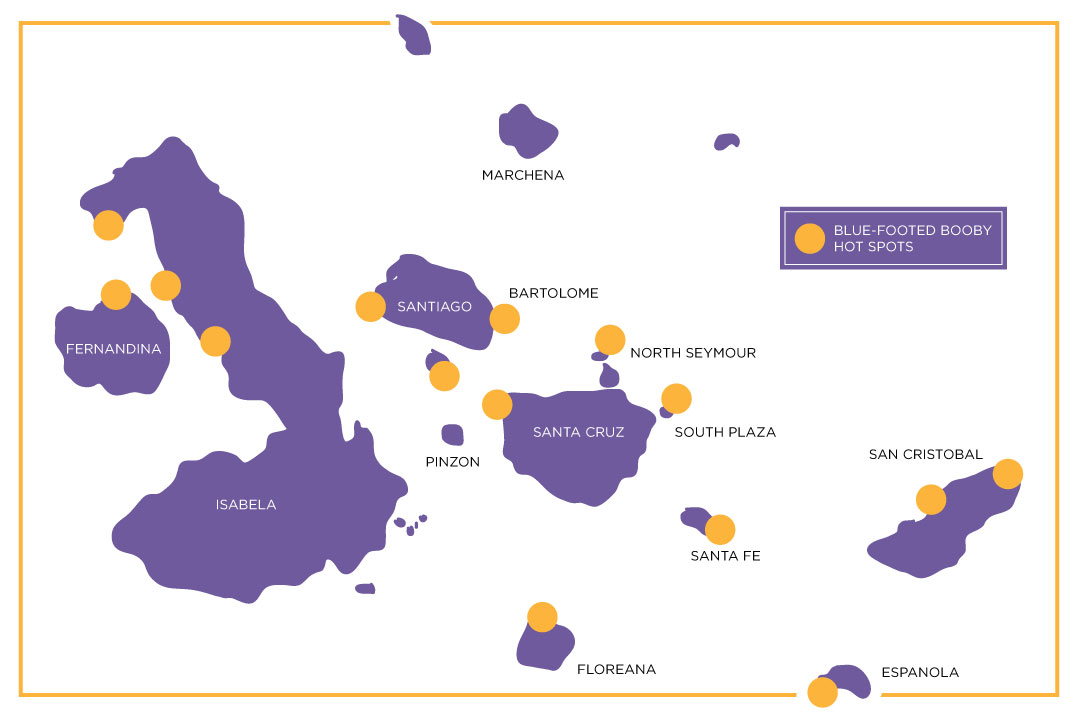 Best time to See Blue-Footed Boobies
Since Blue-Footed Boobies spend a lot of their time at sea, mating season is one of the best times to see them up close. Although the exact time varies yearly, it usually falls between June and August.
Useful Tips for Your Galapagos Trip
When it comes to wildlife and nature, nothing is ever guaranteed. It's essential to set your expectations. I was so fixated on seeing the blue-footed boobies that I wasn't a happy camper the last day. It was a good thing that we didn't give up and ultimately found them, but sometimes you just have to let things be. I know I could have had a much better attitude about it.
Expect a workout. You get a mix of paved roads and sand, and it is pretty challenging to ride a bike through sand.
Wear lots of bug spray. The Wetlands have SOOOO many mosquitoes.
You may not have to leave the US to find them after all! After doing some research, it appears that there have been mysterious sightings along the California coast. Bird experts think this is due to a lack of food in their own native environments.
Shoot with a 200 mm or longer lens. We had a 70-200mm / 2.8 L with IS. You will need it for wildlife photos.
Go during mating season (June through August) if you want to see the blue-footed booby dance.
My Weekly Gratitude
For my gratitude list this week, I wanted to split it up into two parts. Lately, I've been trying to be more present and appreciate what I have here and now. That means wherever I happen to be and in whatever circumstance. When it comes to travel, I often refer back to the quote, "Discovery consists not of seeking new lands but in seeing with new eyes" by Marcel Proust.
My Gratitude List During Our Galapagos Trip
We got to see a variety of unique animals that we couldn't find anywhere else.
Learned to be a bit more comfortable snorkeling and got to swim with seals and sea turtles.
We didn't have wifi available everywhere, so it helped us unplug and enjoy the beautiful islands.
After four days of searching, we finally found the blue-footed boobies!
The magnificent views of the Andes and the stars from the plane.
My Gratitude List for Back Home
We have our own share of beautiful landscapes and animals the Galapagans would be fascinated with.
Warm showers. Oh, how I appreciate warm showers.
Electricity is generally pretty constant and doesn't go out.
There's so much more variety of foods in the US. I enjoy the diversity.
I can flush toilet paper down the toilet!
Fave Gratitude Quote of the Week by Epicurus: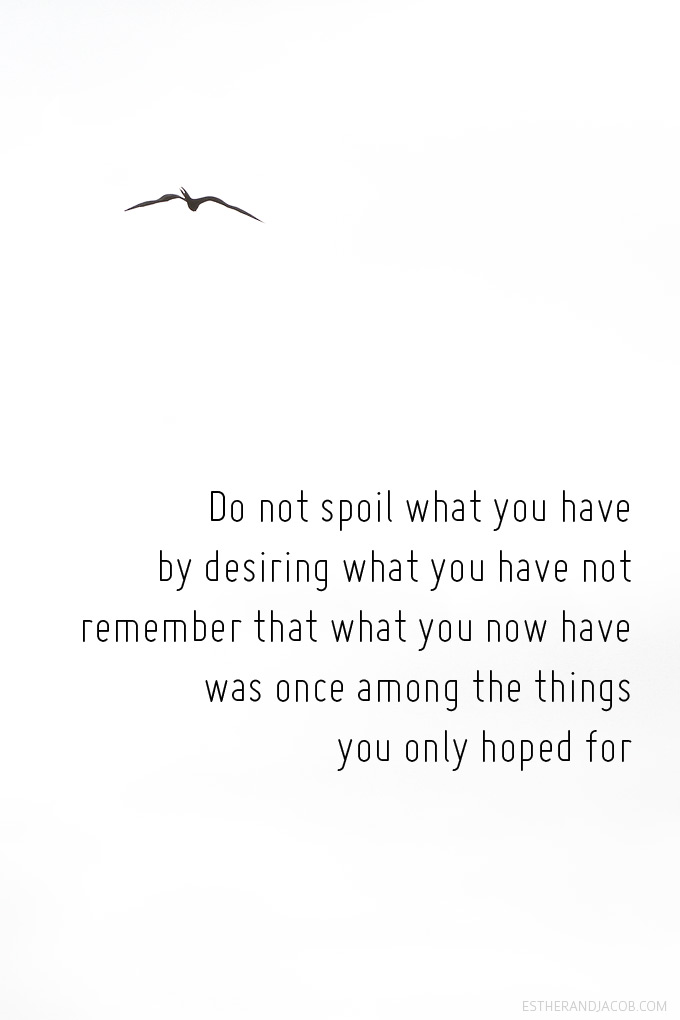 This is week 17 of practicing gratitude on my blog. You can see all my other gratitude practice posts here.
Planning Checklist
Have you seen Blue Footed Boobies? What other animals do you want to see in person?
SEE More CITY Bucket Lists
⟡⟡⟡⟡⟡
"Discovery consists not of seeking new lands but in seeing with new eyes" – M. Proust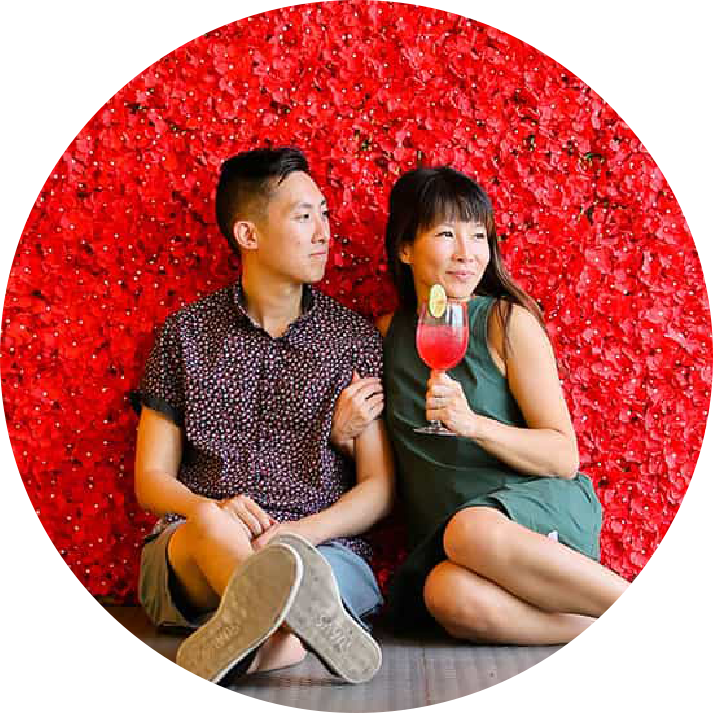 Esther + Jacob
Esther and Jacob are the founders of Local Adventurer, one of the top 5 travel blogs in the US. They believe that adventure can be found near and far and hope to inspire others to explore locally. They explore a new city in depth every year and currently base themselves in Las Vegas.
Follow on Instagram (E + J), YouTube, TikTok, and Pinterest.