When people travel to the Czech Republic, they usually stay within Prague. We get it! It's easy to stick to the big cities of each country. Josh and I enjoyed our time in city, but we both agreed that the day trips from Prague to smaller, rural towns were much more memorable. We also got a chance to explore some amazing film locations and the world famous Karlovy Vary Film Festival.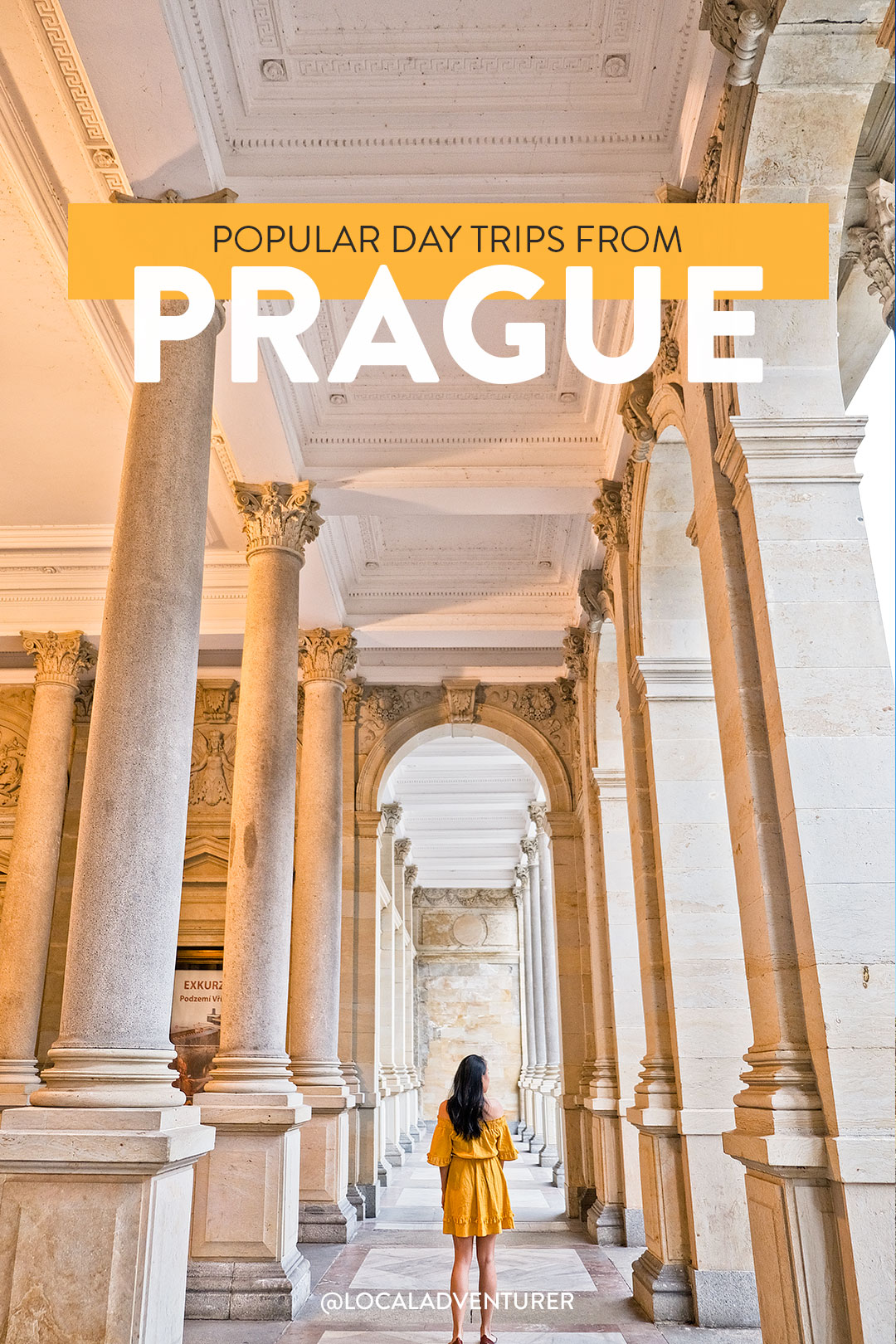 A big thank you to Czech Tourism and the Consulate General of the Czech Republic in Los Angeles for sponsoring this post. All opinions are always our own. This post may contain affiliate links, where we receive a small commission on sales of the products that are linked at no additional cost to you. All opinions are always our own. Read our full disclosure for more info. Thank you for supporting the brands that make Local Adventurer possible.
Last Updated: September 27, 2019
Best Day Trips from Prague
If you know me, you know that I enjoy the peace and quiet of the countryside more than the loud, bustling city. So, I was really looking forward to our day trips. We also didn't want to miss out on the beautiful landscapes and charming villages in the Czech Republic. A lot of these towns were featured in some of our favorite movies. We explored some of these places and compiled a list of our favorite day trips from Prague.
Distance: 57 miles / 1 hr, map
Welcome to beer heaven! Plzeň (Pilsen) is where Pilsner beer originated and we quickly noticed that it's available at every restaurant, bar, and cafe around town.
Even if you're not a beer drinker, the non-alcoholic beer options were tasty and ideal for a hot summer day. We didn't get a chance to stop by, but the Pilsner Urquell brewery is also a must-see for any beer lover.
If you don't drink, there are still plenty to see and do in the historic town square. On our way from Tábor to Český Krumlov, we had a chance to make a quick stop at Budějovice.
It is well known for its beer brewed there since the 13th century and it was known as the imperial brewery for the Holy Roman Emperor. We had a delicious traditional Czech lunch at Masné krámy which was originally a meat market as far back as the 1300s.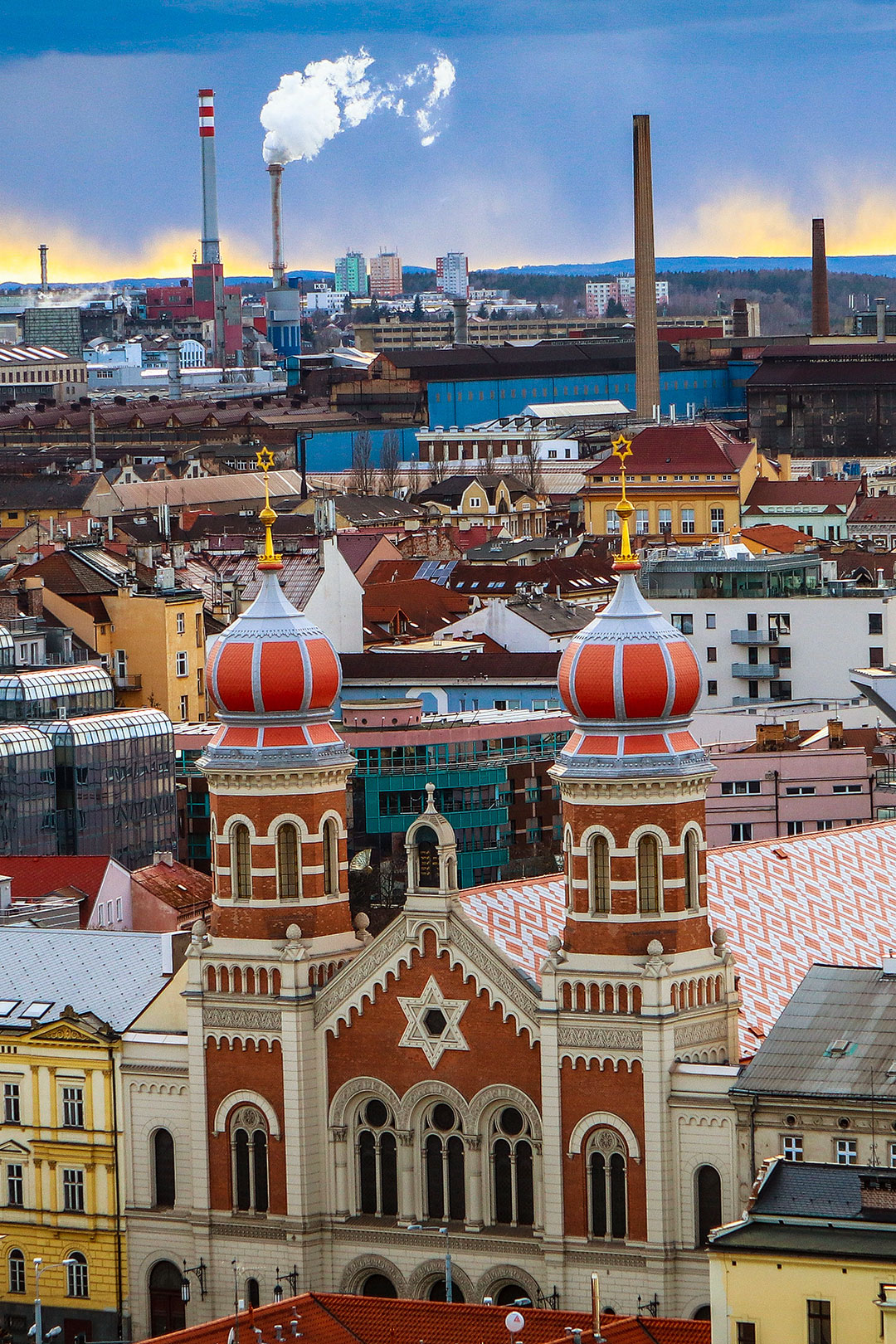 Distance: 65 miles / 1 hr 5 mins, map
Growing up in Atlanta, we didn't have unique mountains like the ones in the Czech Republic. Tisá is home to a well-known group of rock formations in the Bohemian mountains. Even though they are one of the major tourist attractions in western Bohemia, they aren't littered with tourists.
The hike up is easy, the air is fresh, and the views are outstanding. You may recognize these sandstone pillars from Chronicles of Narnia but without the snow. Entry fee is cash only (30 CZK).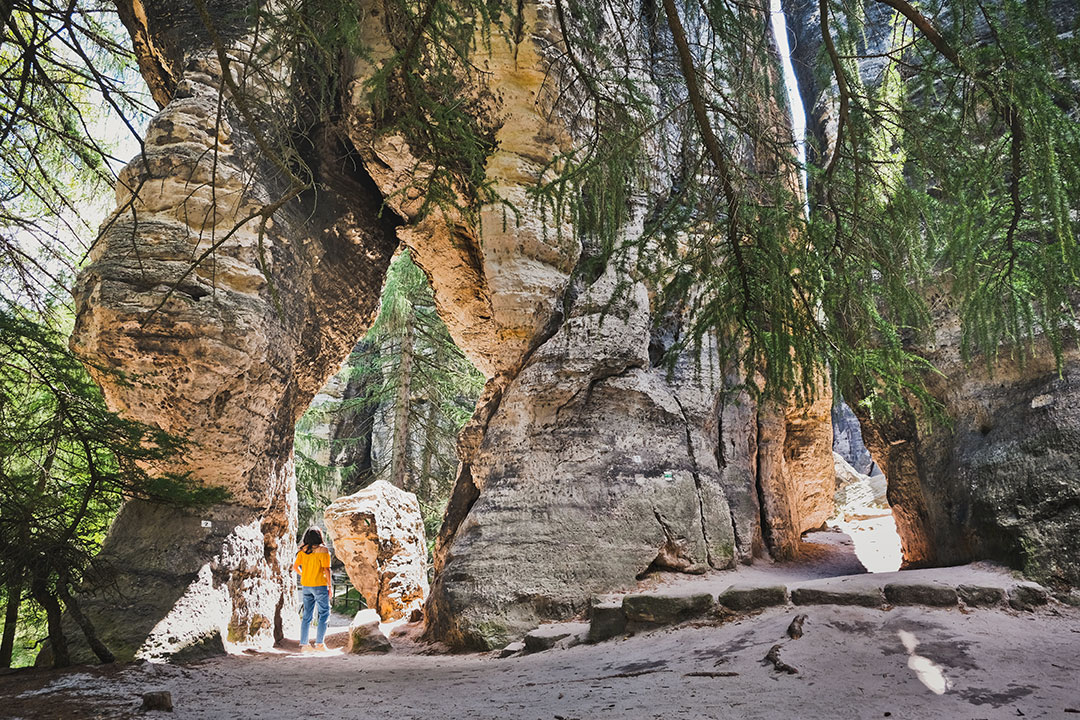 Distance: 79 miles / 1 hr 30 mins
Another Chronicles of Narnia filming location is Hřensko, home to the Pravčická brána. This sandstone archway is the largest natural sandstone archway in Europe. The hike is a lot longer than Tisá Rocks and is a bit more strenuous, but the unique views are totally worth it.
Bring your comfy hiking shoes and dress accordingly! We thought it was going to be a walk in the park and weren't prepared. Needless to say, we were working up a sweat in our jeans.
Also, be sure to grab a local Czech beer at the Falcon's Nest, a restaurant and bar at the top of the hill. They also offer the Czech version of Coca-Cola, called Kofola. I wasn't a huge fan, but Josh loved it.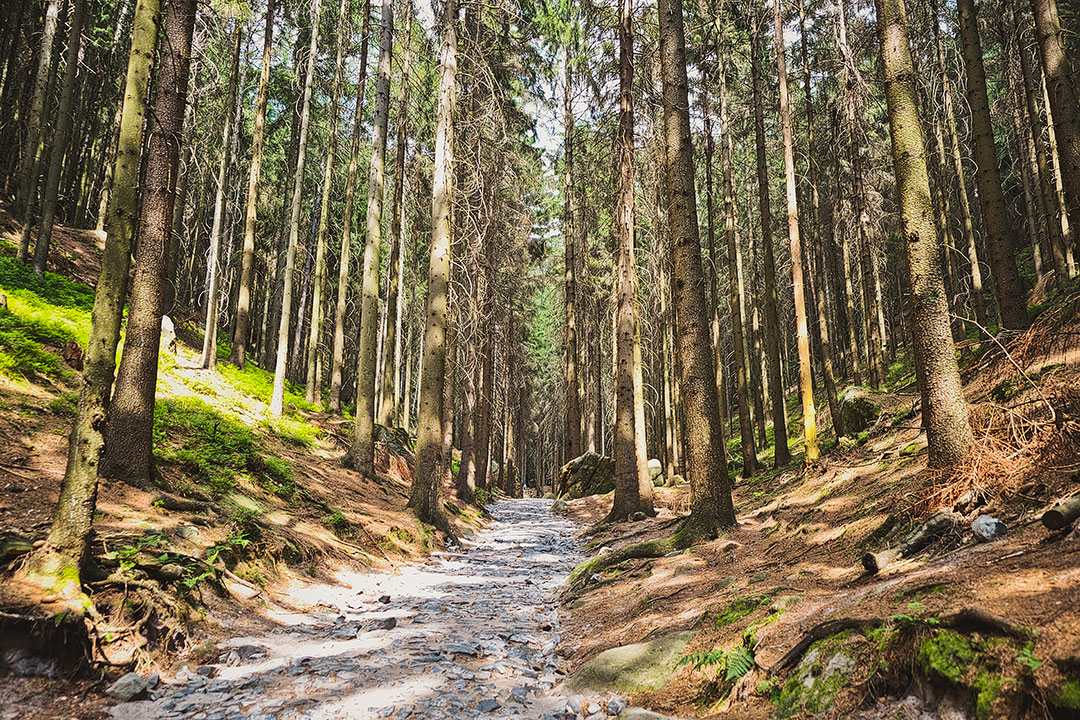 Distance: 79 miles / 1 hr 30 mins
I've always wanted to climb atop a bell tower and feel like Quasimodo! We had the chance to go up Tabor's historic church tower in the town square and saw the entire town down below.
After a creaky climb back down, we grabbed the ever so popular Viennese coffee and some traditional chlebíček sandwiches at MoccaCafe. We then walked down and enjoyed the view of Jordan Lake.
Several scenes from one of my favorite movies, The Illusionist, were filmed here as well. We were surprised when we recognized some of the old pastel-colored buildings.
Distance: 79 miles / 1 hr 45 mins
Our last stop was Karlovy Vary, a spa town situated in western Bohemia. Boasting over 300 hot springs, Karlovy Vary is the most visited spa town in the country. From Casanova to Mozart, several notable people throughout history have stayed here to enjoy the healing waters.
There are also fountains around town where you can try thermal mineral water, which is known to boost blood circulation, reduce stress, and promote sleep, among many other things. It wasn't exactly palatable to our taste buds, but still a fun experience. We were surprised at how locals would bring their own jugs to fill.
There were also some perfect picture spots, like The Mill Colonnade that also served as the Montenegrin train station in Casino Royale.
Each July, the town hosts the Karlovy Vary International Film Festival, one of the oldest film festivals in the world. International directors, producers, writers, and actors (this year Julianne Moore and Patricia Clarkson were special guests, among many others) come to screen their films in vintage cinemas.
When we got to Karlovy Vary, the town was bustling with filmmakers and film lovers, and we had a chance to experience the fanfare! We watched a few international films (and met some of the filmmakers!), went on a location exploration tour, and even dressed up in our formal wear to attend the closing ceremony and after-party at Hotel Thermal and the famous GrandHotel Pupp Hotel (which was featured in Casino Royale and Last Holiday).
Karlovy Vary, being a spa town with a rich history, provided the perfect low key atmosphere for the film festival.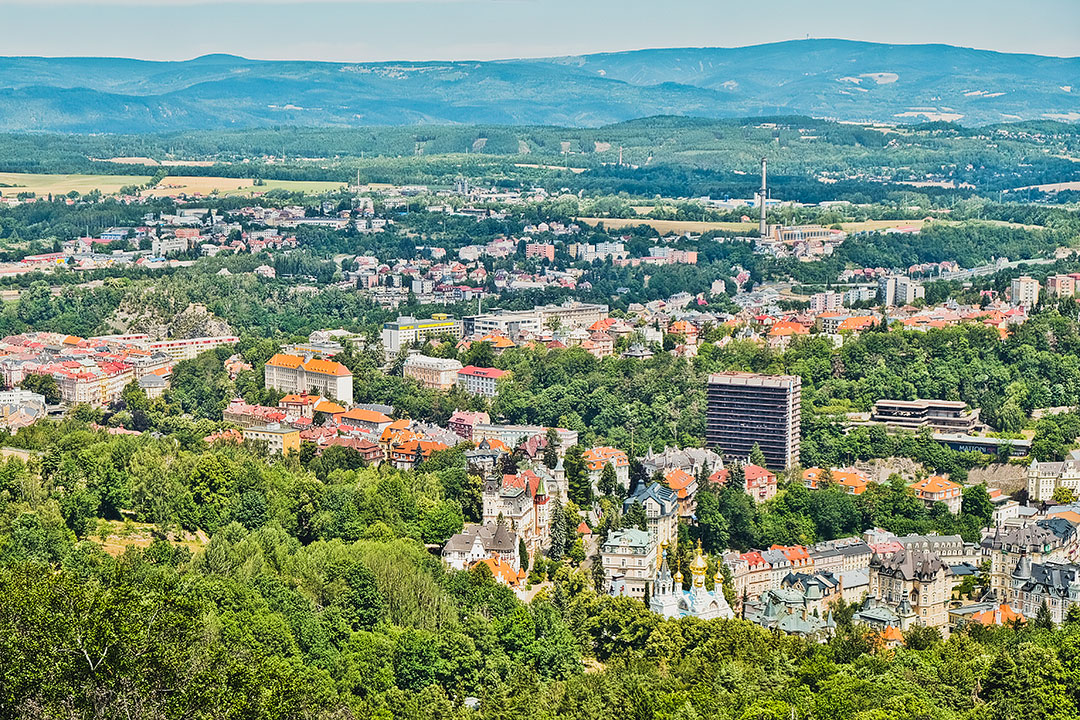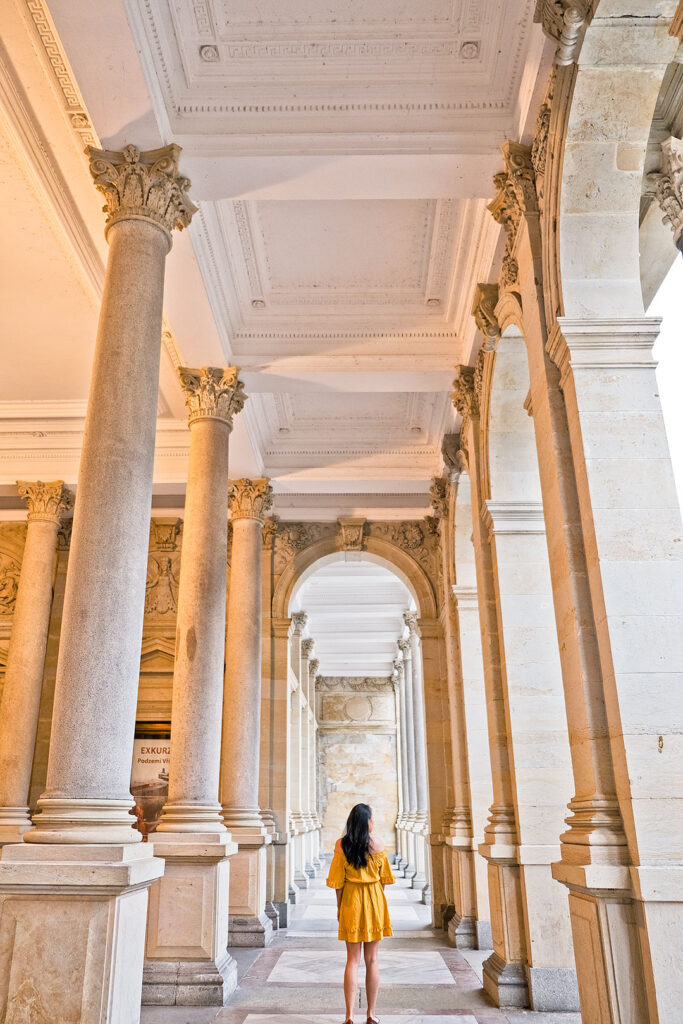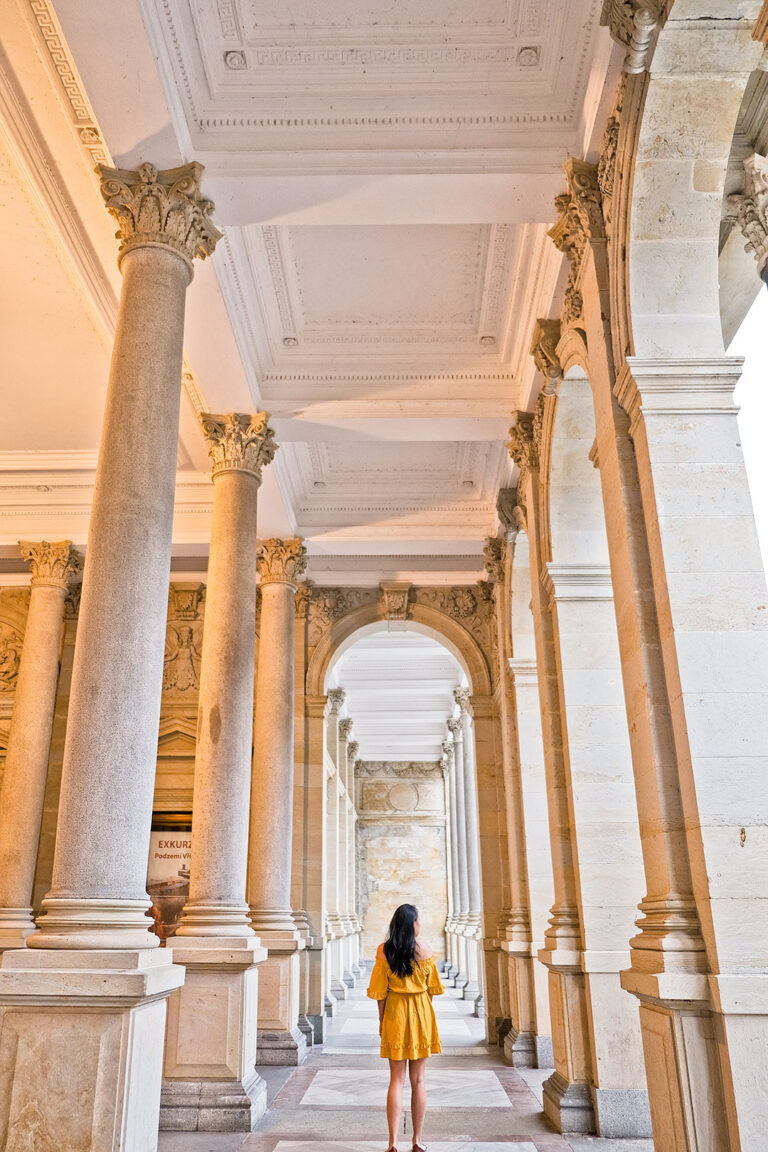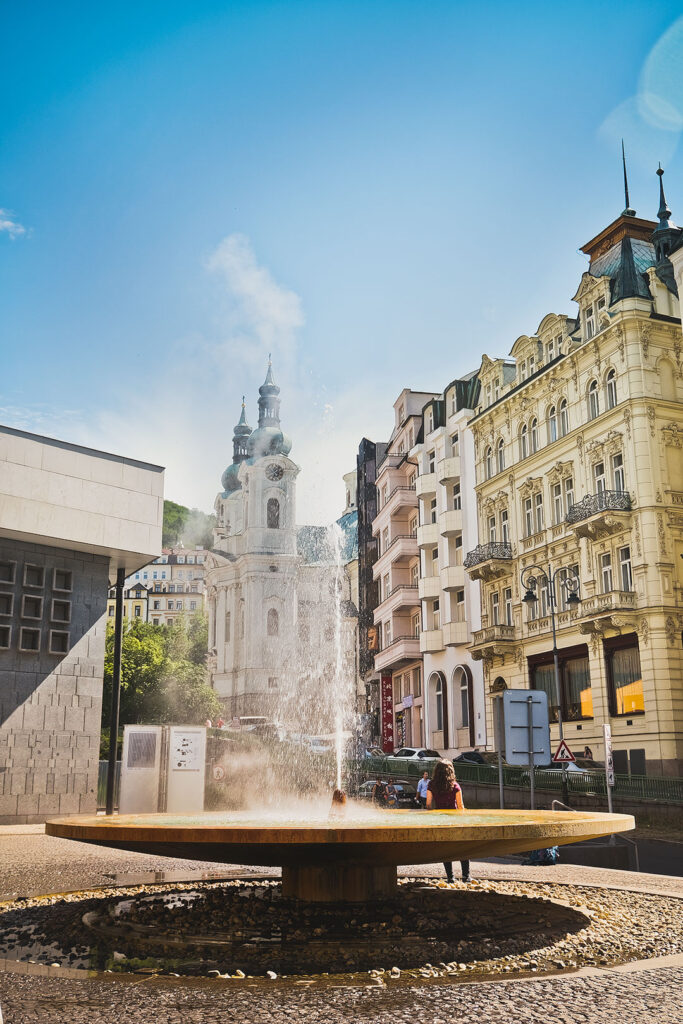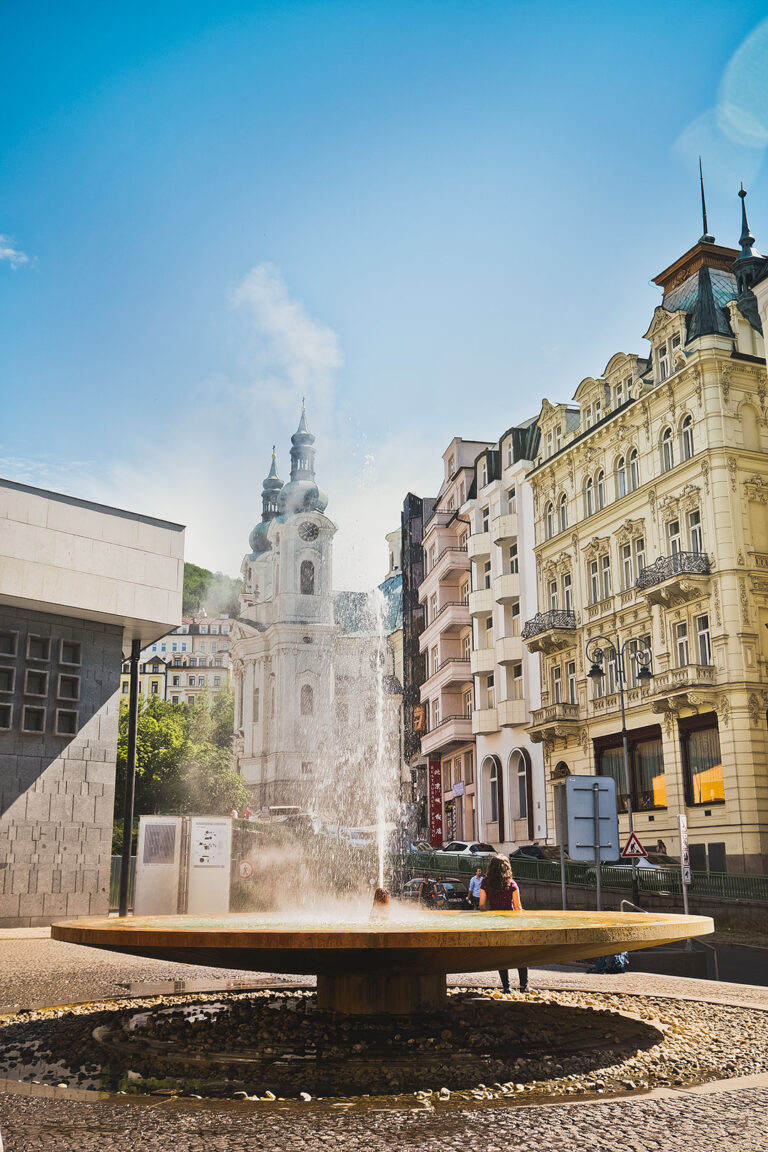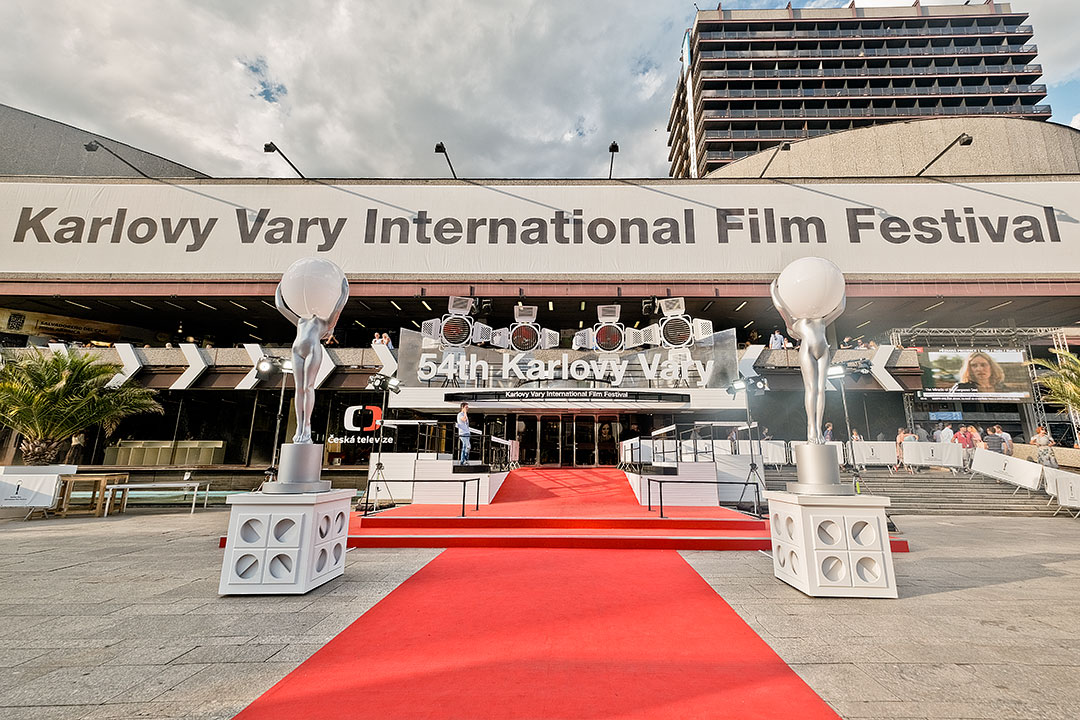 Distance: 93 miles / 1 hr 48 mins
The Czech Republic is home to hundreds of gorgeous castles and Hluboká Castle is one straight out of a fairytale. This one reminded me of the typical castles you see in children's books.
It's also a National Cultural Monument of the Czech Republic. There are several events on the castle grounds throughout the day and it's and a great place to learn about Gothic and Tudor style architecture.
Looks familiar? You might have seen this castle in Shanghai Knights and Underworld: Blood Wars.
Distance: 94 miles / 1 hr 57 mins
As we walked into town, we couldn't help but be in awe at this quaint little village. The village in Holašovice is a perfect example of a traditional central European village.
Particularly well preserved and built in the Folk Baroque style, these buildings are still in use today. Roughly 140 people still live here. Today, it serves as a UNESCO World Heritage site.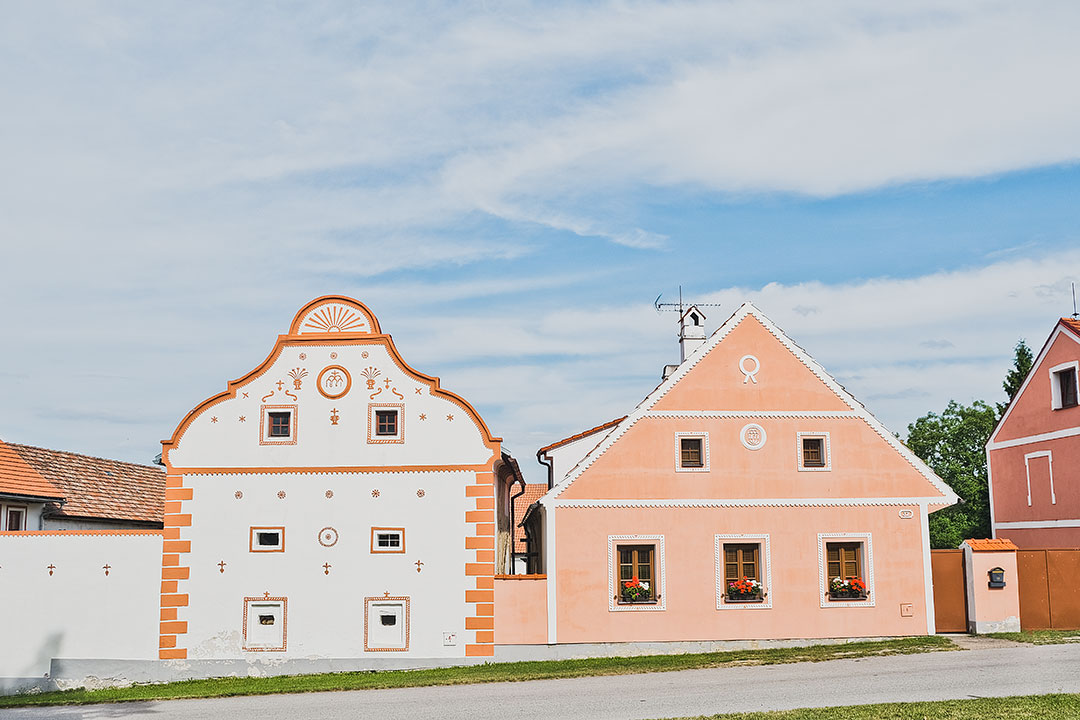 Distance: 94 miles / 1 hr 57 mins
We both love James Bond films and quickly recognized the small town of Loket from Casino Royale. The town hosts an annual opera festival with the Loket castle as a backdrop. It's also the location for the Czech motocross Grand Prix.
What makes the Loket Castle unique from the other ones we've visited was the torture chamber. Visitors can tour the dungeon and see visual examples of how the chamber was used. Although we enjoyed it, it's definitely not kid-friendly.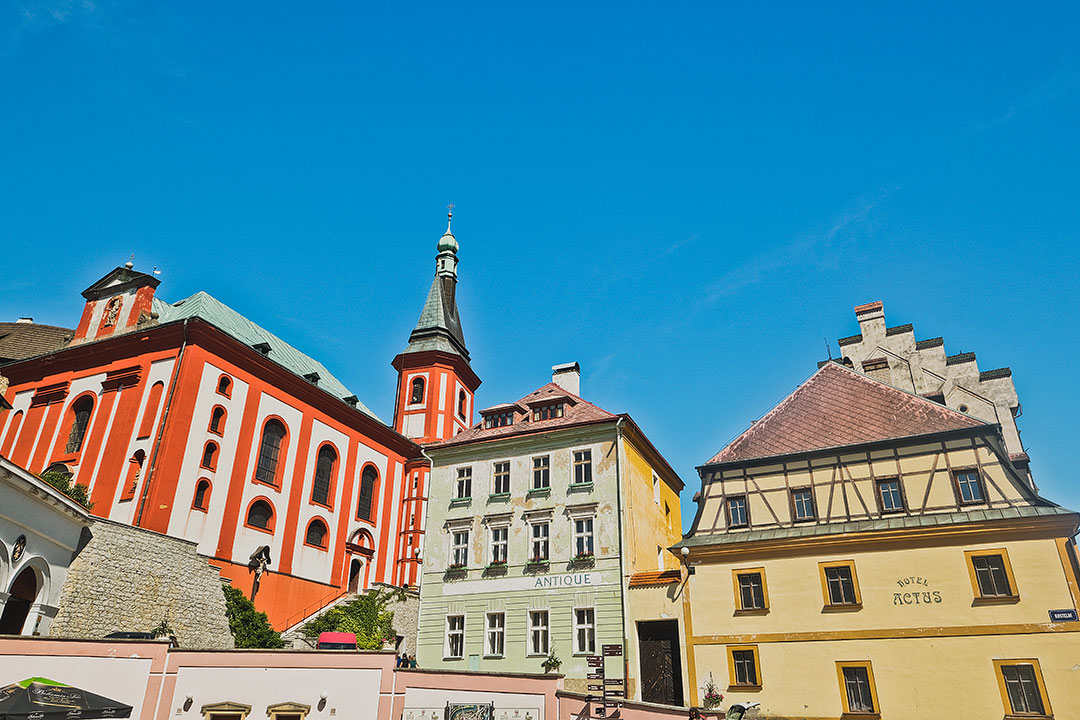 Distance: 110 miles / 2 hr 13 mins
We wished we had more time in Český Krumlov. The castle here is a UNESCO and national heritage site. It's also my personal favorite that we visited in Czech Republic.
There is plenty to see and do. Go river tubing, attend an outdoor orchestra concert, and explore the castle grounds. The viewpoints from the castle were breathtaking. We can see why this town has been in countless movies (The Illusionist, Hostel, just to name a couple).
If you're driving there, you've been warned! The streets are super narrow and hard to navigate. Needless to say, I was sweating from nervousness when we had to pass through to get to our hotel.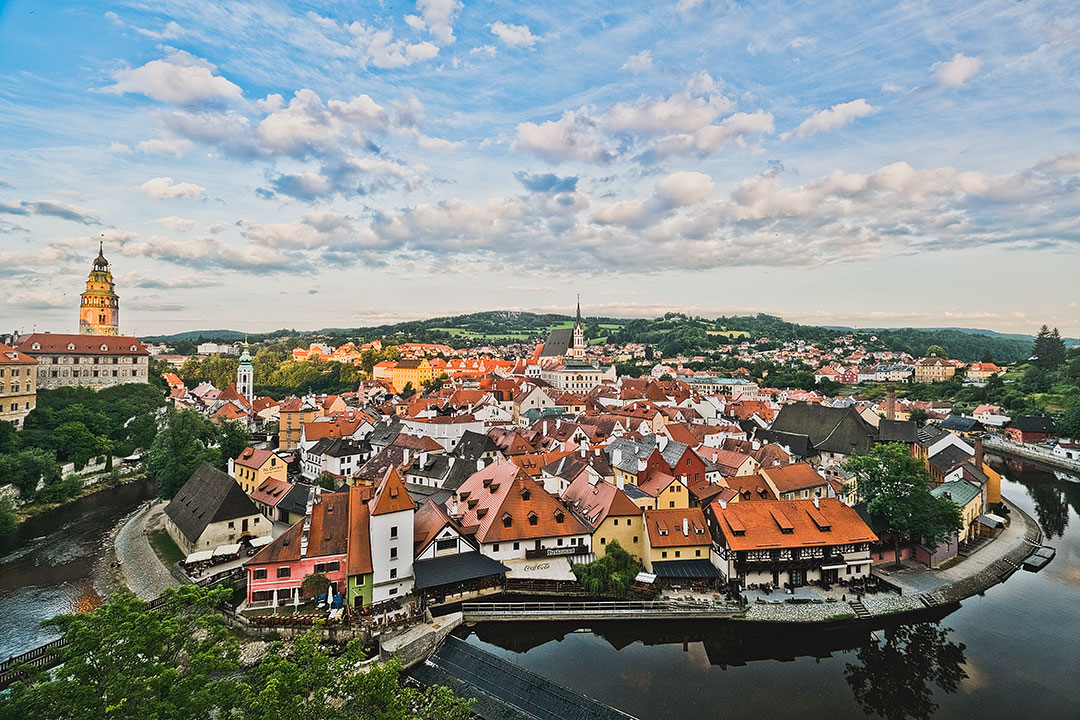 More Day Trips from Prague
Velká Amerika (31 km / 19 mi SW, 50 min drive, map

)

Karlštejn (33 km / 20 mi SW, 45 min drive, map)
Koněprusy Caves (40 km / 25 mi SW, 40 min drive, map

)

Český ráj (91 km / 57 mi NE, 1 hr 5 min drive, map)
Krivoklat Castle (58 km / 36 mi W, 58 min drive, map

)

Terezín (63 km / 39 mi NW, 45 min drive, map

)

Kutná Hora (79 km / 49 mi E, 1 hr drive, map)
Monínec (87 km / 54 mi S, 1 hr 15 min drive, map)
České Středohoří / Bohemian Uplands (81 km / 50 mi N, 1 hr 5 min drive, map

)

Liberec (110 km / 68 mi NE,  1 hr 15 min drive, map

)

Pardubice (119 km / 74 mi E, 1 hr 25 min drive, map

)

Bohemian Switzerland (127 km / 79 mi N, 1 hr 37 min drive, map)
Vysočina (130 km / 81 mi SE, 1 hr 35 min drive, map

)

Nové Město nad Metují (146 km / 91 mi E, 1 hr 50 min drive, map

)



Dresden, Germany (147 km / 91 mi NW, 1 hr 40 min drive, map)
České Budějovice (147 km / 91 mi S, 1 hr 40 min drive, map)
Nachod (148 km / 92 mi E, 1 hr 55 min drive, map

)

Telč (158 km / 98 mi SE, 2 hr drive, map)
Görlitz, Germany (168 km / 104 mi N, 2 hr 10 min drive, map)
Mariánské Lázně (168 km / 104 mi W, 2 hr 10 min drive, map

)

Brno (205 km / 127 mi SE, 2 hr 25 min drive, map)
Essential Tips for Visiting the Czech REpublic
Bring layers! It was scorching hot while we were in Prague, but we found the countryside towns to be much cooler, especially at night.
If you drive, be sure to bring cash for parking. It's almost guaranteed that parking isn't free.
Many, if not all, convenient stores are cash only.
There are tons of buses that offer daily trips, so be sure to check online for their schedules. Here's a good place to start.
Wear sunscreen. You'd be surprised at how easy it is to get sunburned, even in the shade or during the winter.
Czech Republic uses 230V AC electricity. Power outlets are two-prong round sockets. We recommend picking up a universal travel adaptor before you leave.
If you're planning on visiting some national parks, bring comfortable hiking shoes that are suitable for all terrains.
The best time to visit is March, April, October, and November. The smaller towns aren't crowded with tourists and the weather is generally cool.
Springtime (Mar.-May) brings pretty blossoms. If you choose to visit Czech Republic during the low seasons (Jan -Feb), keep in mind that many attractions will be closed due to snow.
What to Pack - Our Travel Essentials

Best Places to Stay Near Prague
In case you want to stay a night outside of Prague, here are some suggestions.
Vltavska Pohadka Hotel – This is where we stayed in Český Krumlov. Right by the river, this quaint B&B style hotel is perfectly located near the castle and within walking distance to restaurants, bars, and shops. The bedrooms and bathrooms were spacious and clean and we had a great view of the river.
Hotel Ostrov – Located in the Tisá/Ostrov area, this 4-star hotel is the perfect getaway from the busy city. We didn't stay here, but had a delicious lunch after our hike and interacted with the wonderful staff. They have a wellness center with an indoor pool, a Finnish sauna, and hot tubs.
Grand Hotel Ambassador – This Old World hotel was above my expectations. The rooms were very spacious and clean and ours even had two separate bathrooms! They also offer an indoor pool, a wellness center, saunas, and more. It is centrally located to several bars, restaurants, and local hot springs.
How many of these day trips from Prague have you done? Have you visited the Czech Republic? 
Did you enjoy this post? Pin it for later
"Discovery consists not of seeking new lands but in seeing with new eyes" – M. Proust