Ready for camping season? We're here to show you the best camping in Georgia.
Whether it's your first time or you're a seasoned veteran, Georgia has a variety of beautiful camping spots. Growing up in Atlanta, we both went camping for the first time in North Georgia.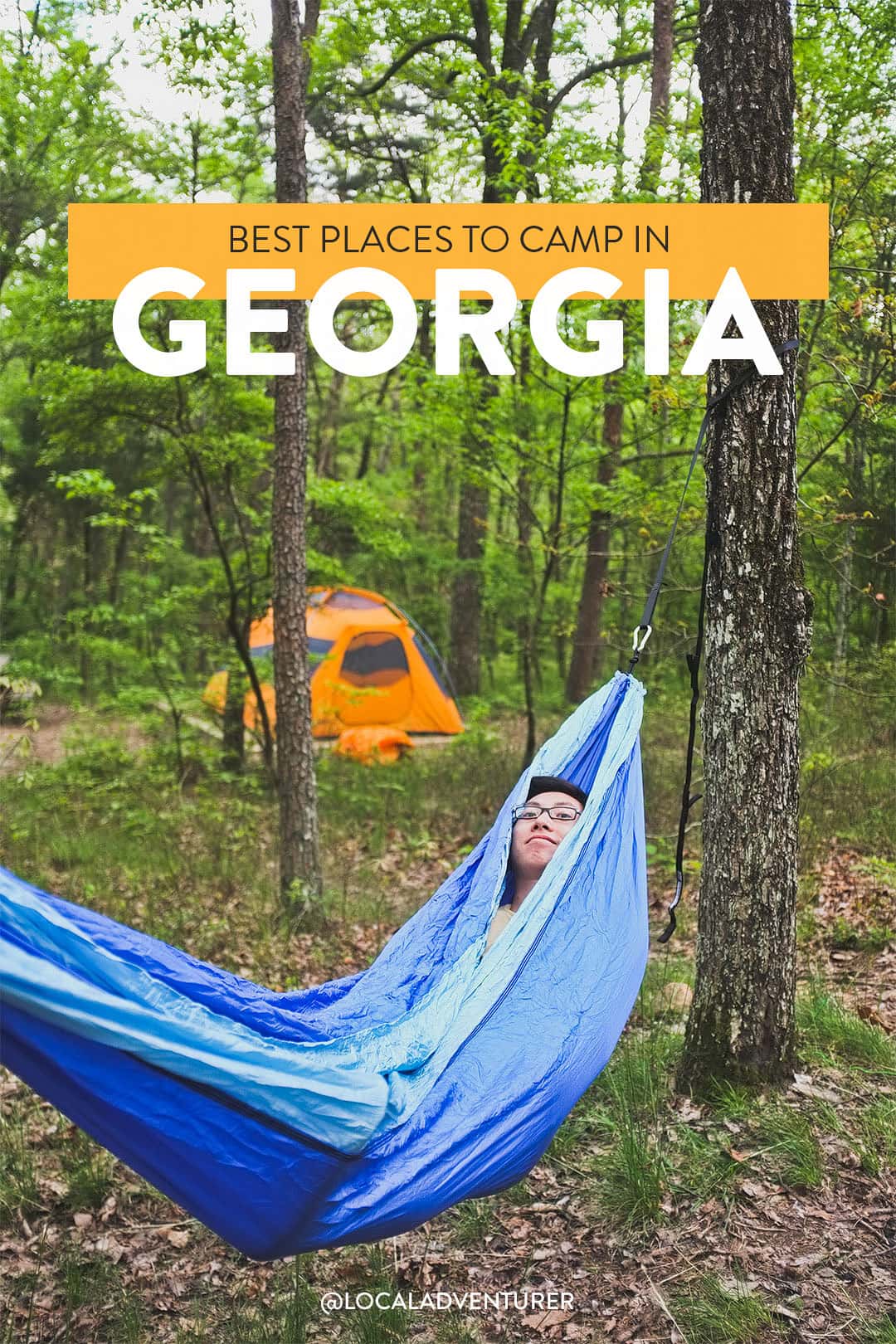 A big thank you to REI Co-op for sponsoring this post. All opinions are always our own. This post may contain affiliate links, where we receive a small commission on sales of the products that are linked at no additional cost to you. Read our full disclosure for more info. Thank you for supporting the brands that make Local Adventurer possible.
Last Updated: September 3, 2022
To help you plan your next outing, we partnered with REI to put together a list of the best camping in Georgia.
If you're new to camping, visit your local REI store where they can walk you through the basics. Or, if you're ready to go out on your own, you can go get outfitted or rent equipment at your local REI.
When we were newbies to the outdoors, we always went to them first to ask the knowledgeable staff what they recommended.
What You Need to Know Before You Go
It is our job to respect all the public spaces we'll be camping in. That means a couple of things to us.
Pack out what you pack in. I'm sure you've heard leave no trace. Please take this to heart. We love bringing some of our comforts with us camping, but ensure that we bring everything home with us too (and some extra if we see trash around). A great way to do this is to pack a few extra bags for trash.
Be prepared. You are responsible for yourself and your party when you're in the wild. That means you should understand what you're getting into, including the weather, the approach to the campsite, and basic outdoor skills. You should also have all the appropriate gear and know-how to use them. If you're unsure of any of this, the folks at REI can help you and the local rangers are a great resource at each park.
Recreate responsibly. This is another movement that encompasses what we discussed above as well. You should care for yourself, others, and the outdoors. Read more about #recreateresponsibly here.
The Best Camping in Georgia - 15 Stunning Places to Camp
City folks, this is for you!
If you're looking for something more urban or you live in Atlanta and want something close to home, Stone Mountain is one of the best places to camp in Georgia.
It's 25 minutes outside the heart of Atlanta, and you'll be camping among 3200 acres of natural beauty.
The best part is you'll still have access to activities, attractions, and all the amenities you need, including comfort stations, laundry facilities, grills, and free Wi-Fi. It's a great intro to camping.
Local Tip: On top of beautiful campsites, they also have RVs, Yurts, and Safari Tents you can rent.
90 tent, trailer, and RV campsites
Vogel State Park is one of the oldest state parks and is still very much loved by the community.
If you go in the fall, it's crowded with visitors hoping to peep those fall leaves along the Blue Ridge Mountains. But if you're camping, you can start your days earlier than visiting day-trippers. There are also 17 miles of trails to explore.
Local Tip: The most popular hikes are Bear Hair Gap loop, Trahlyta Falls, and Coosa Backcountry Trail.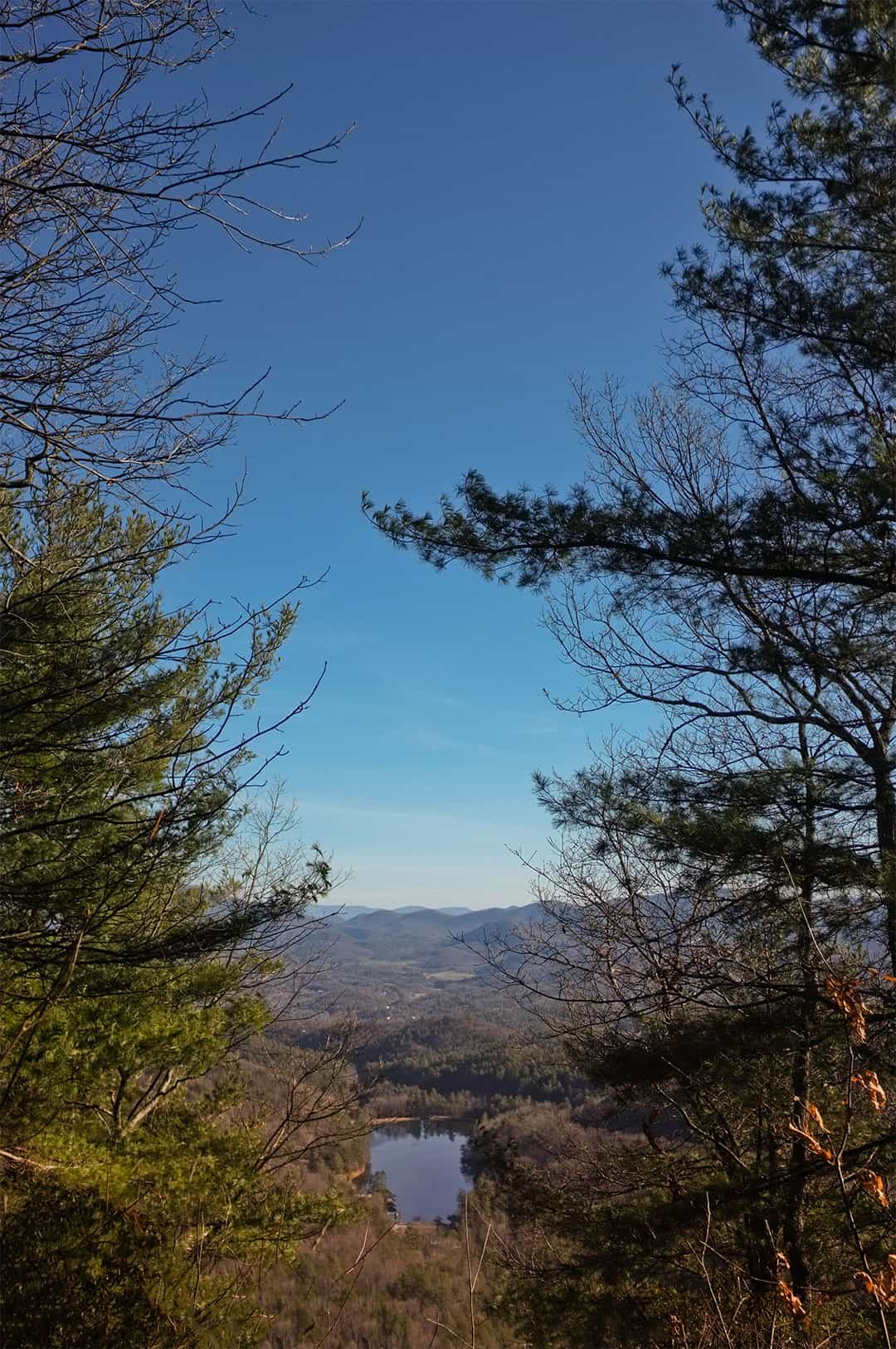 72 tent, trailer & RV campsites, 30 walk-in campsites, and another 13 backcountry sites
We took the Presencia kids camping in Cloudland Canyon, which was cool to see them experience camping for the first time. Ruthie made campfire brown bears, which was a first for me. Now, no camping trip feels complete without them.
I don't know about you, but I'm all about chasing waterfalls, and this park has a stunner.
Activities: We can see why it's a popular place to camp in Georgia. Not only is Cloudland Canyon is one of the most scenic and largest parks in the state, but you can also enjoy plenty of activities like biking, climbing, caving, hiking, disc golf, fishing, and more.
Pro Tip: Be sure to check out the West Rim Campground! Some of the best hikes are Overlook Trail, Waterfalls Trail, and West Rim Loop Trail.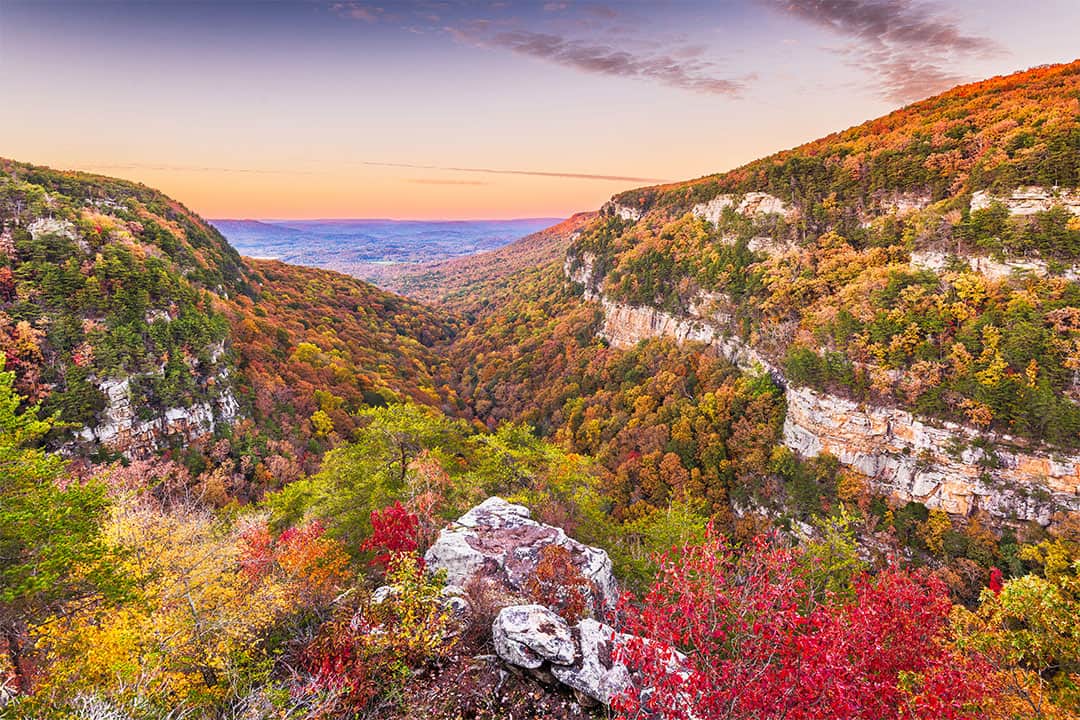 66 tent, trailer, RV campsites
Stephen Foster State Park is a dark sky park, which makes it perfect for stargazing or other astronomy events.
It's also the primary entrance to the Okefenokee Swamp, one of Georgia's top natural wonders.
Activities: It is extremely popular amongst paddlers and photographers with beautiful scenery and tons of wildlife, including otters, alligators, turtles, raccoons, black bears, deer, ibis, herons, and more. Don't forget a long lens if you're shooting wildlife photos.
Local Tip: If you are looking to do a guided boat tour, call the park office in advance to make a reservation.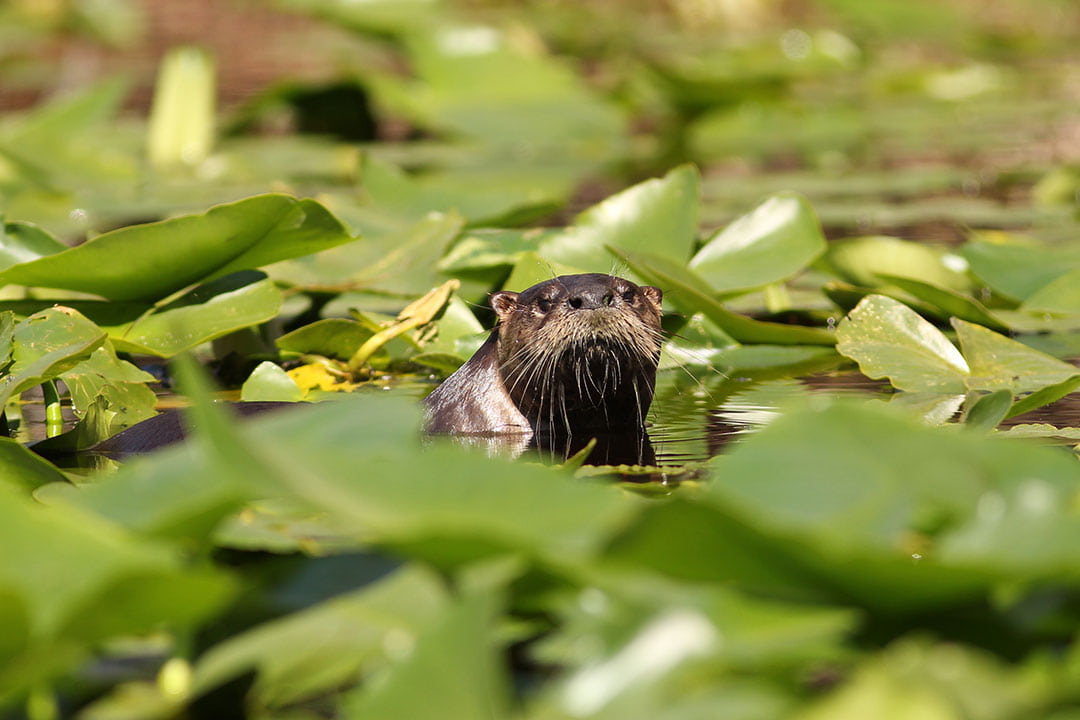 87 tent, trailer, RV campsites
If you love dreamy Spanish moss and giant oak trees, you'll love Skidaway Island State Park. It's located near historic Savannah, and you'll find trails that take you through maritime forests, salt marshes, and there's even an observation tower.
Local Tip: If you're looking to cool off, Tybee Island's beaches are less than an hour away.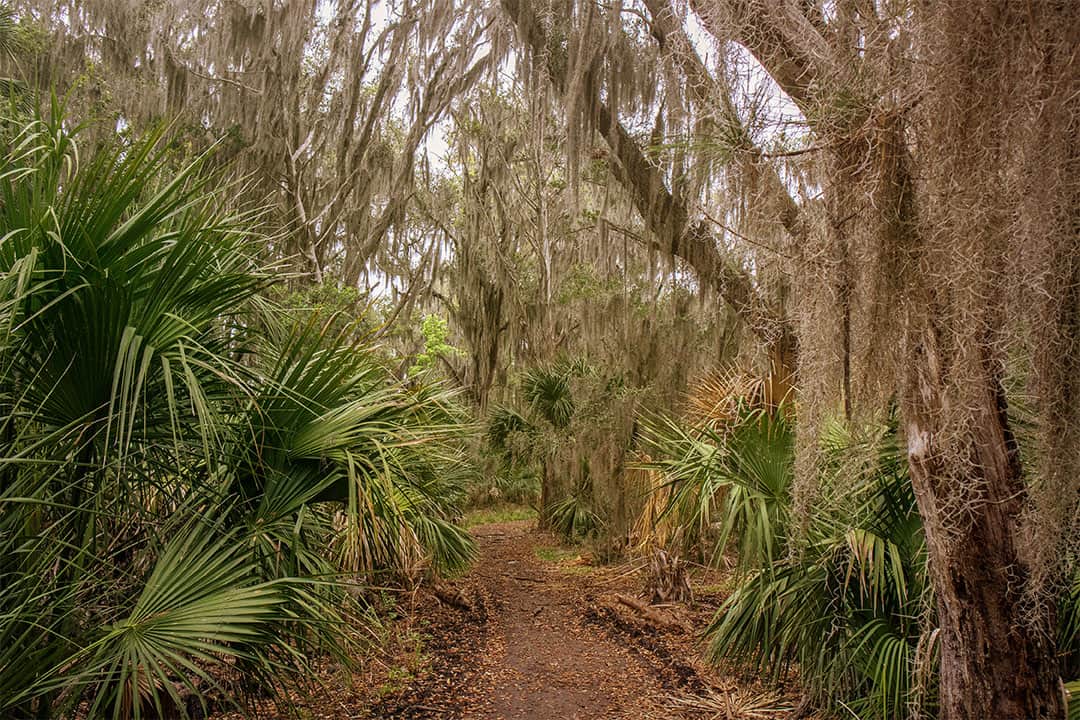 The Chattahoochee-Coneee National Forest covers a huge area and has everything from developed (amenities like parking, picnic tables, grills, etc) campgrounds to dispersed campgrounds (little to no facilities).
Rabun Bald is the first place we ever camped together. We set up our tent along the edge of a cliff with a beautiful view. We were such newbs that we didn't realize the exposure meant the wind would violently shake our tents all night. You live, you learn.
Raven Cliff Falls Campground and Lake Winfield Scott Campground are some popular areas to camp.
Local Tip: Dispersed camping is allowed in most places within the forest boundary, but make sure you pack out what you pack in and check their site for specific rules.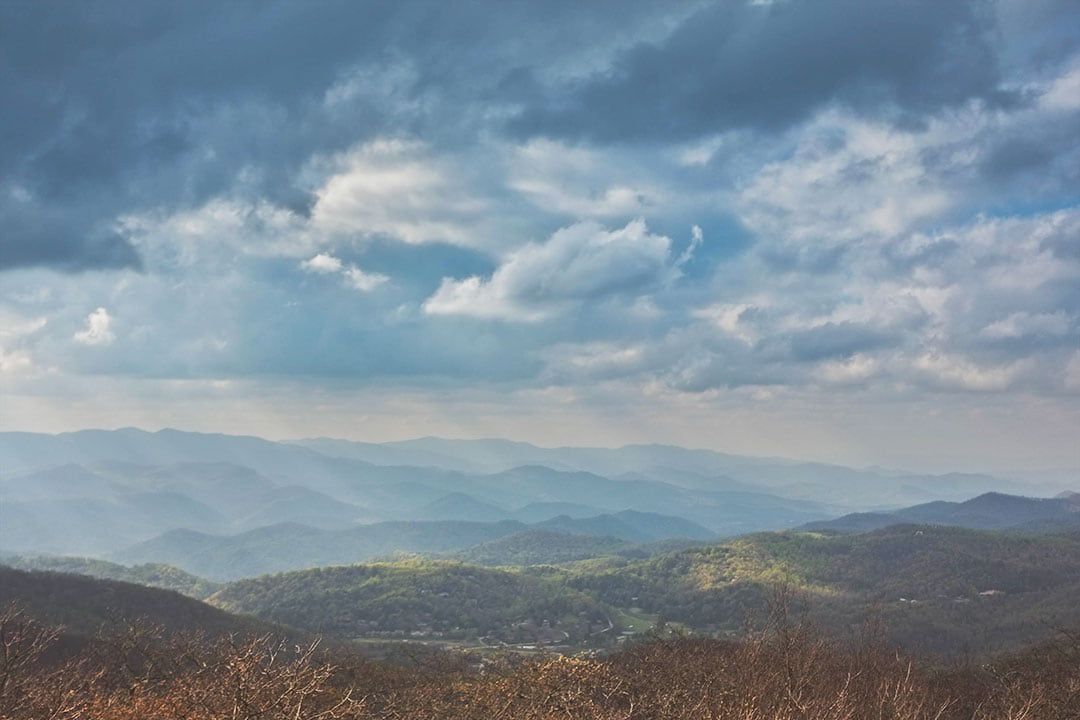 50 tent, trailer, and RV campsites at Nichols Campground
Tallulah Gorge is one of the most beautiful canyons in the eastern United States, running two miles long and roughly 1,000 feet deep.
Activities: The rim hike trails are beautiful, and you don't want to miss the overlooks. Plus, there's a suspension bridge that has you dangling 80 feet above the rocky floor.
Local Tip: If you're interested in hiking to the bottom of the gorge, you need to get a permit.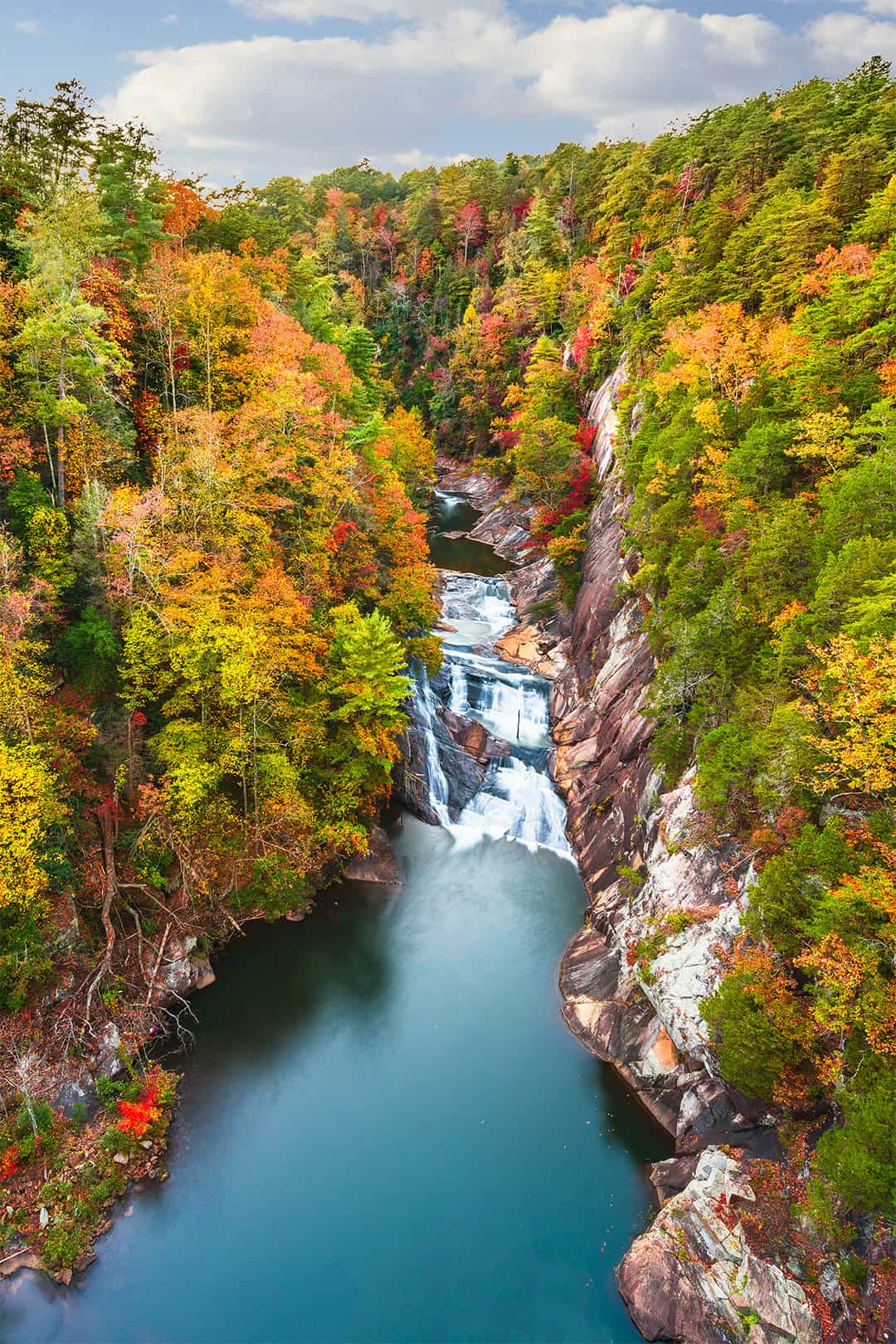 115 tent, trailer, RV campsites
This is Georgia's largest state park making it a favorite for hikers and backpackers. There are over 40 miles of trails and beautiful rolling mountains.
You can also check out the stone swimming pool built by the Civilian Conservation Corps during the Great Depression. Also check out Roosevelt's favorite picnic spot at Dowdell's Knob, which has great views of the valley below.
Local Tip: While you're in the area, visit Roosevelt's Little White House State Historic Site to see the home, museum, and pools that brought him here.
93 tent, trailer, RV campsites
Want to cool off in the water? Head up to Red Top Mountain State Park to enjoy Lake Allatoona.
There are also over 15 miles of trails for hiking. McKinney Campground is a popular spot to camp.
Local Tip: There are also tennis courts and pickleball courts available. Jacob gets excited anytime there's a chance to play pickleball.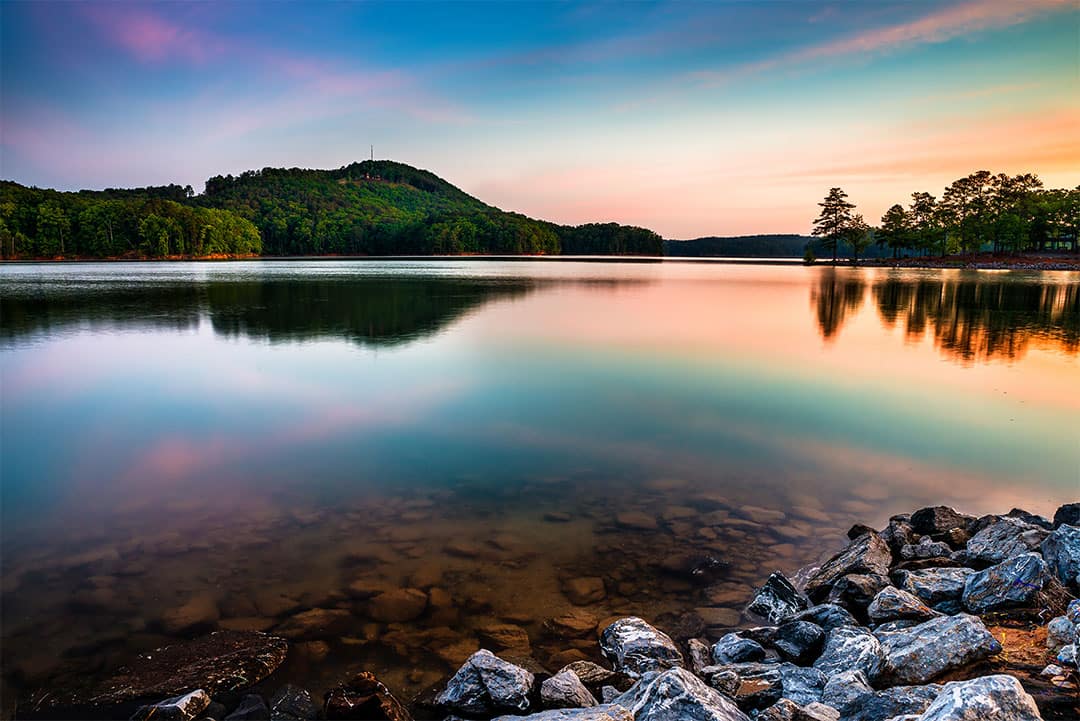 93 tent, trailer, RV campsites (some seasonal)
If you love bass fishing, then go camping at Mistletoe State Park. Clarks Hill Lake is one of the finest bass fishing spots in the US.
The campground is on a peninsula which means you get great views of sunrise and sunset.
Local Tip: They have a lot of great programs throughout the year focused on astronomy, concerts, and nature walks.
Camping is limited with a few sites for groups and 6 backcountry campsites.
Providence Canyon State Park has unique landscapes and is dubbed 'Little Grand Canyon'. Although camping is limited, it's a beautiful spot if you can snap a campsite.
It was actually the result of poor farming practices in the 1800s, but thanks to that you can enjoy the canyon with pink, orange, red, and purple hues.
Local Tip: Plumleaf Azaleas only grow in this region and bloom during July and August.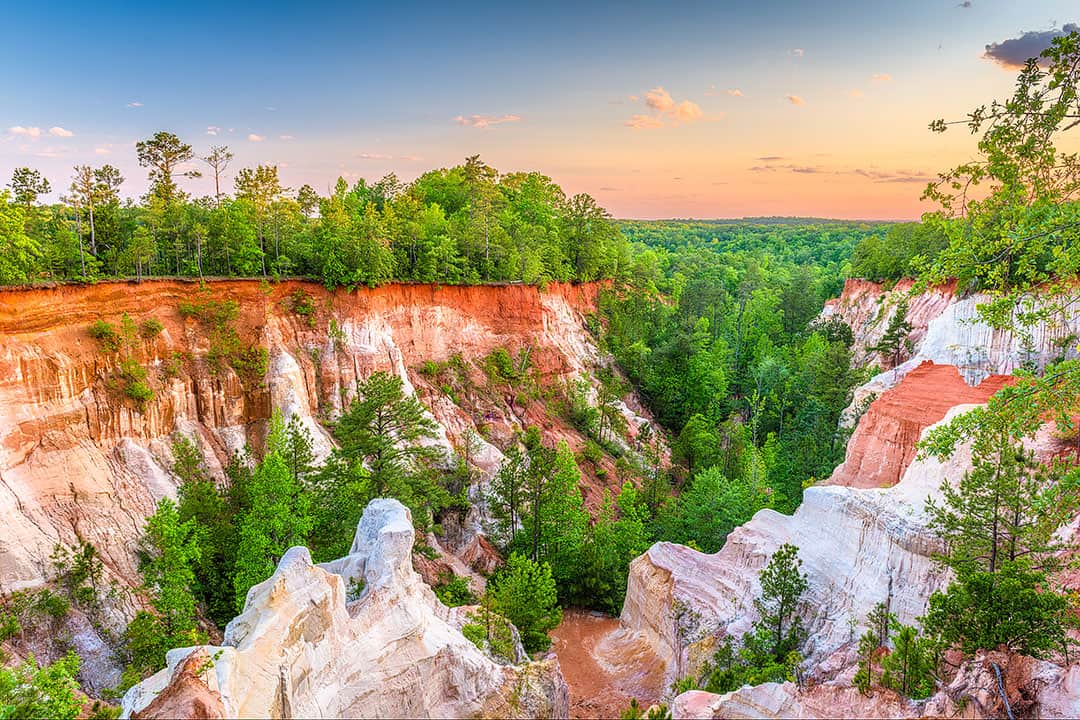 Camping inside Okefenokee National Wildlife Refuge requires a permit and is all platform camping. Some will require you to paddle to the camping locations, which is super unique. Plan accordingly.
There are 3 main entrances to the refuge, each with its special characteristics. You'll find open prairies, forest cypress swamps, and amazing plants and wildlife. 
Local Tip: The Visitor Center is a good place to start the trip to get extra insight into the park and to learn of any updates and closures.
10 sites (after a 3.5 miles hike)
This is the only beach camping that made the list. There are flush toilets, cold showers, and water spigots (must be treated before drinking). Plus, if you're lucky, you may even see wild horses. 
Local Tip: Carts and wheeled coolers are not allowed to haul gear.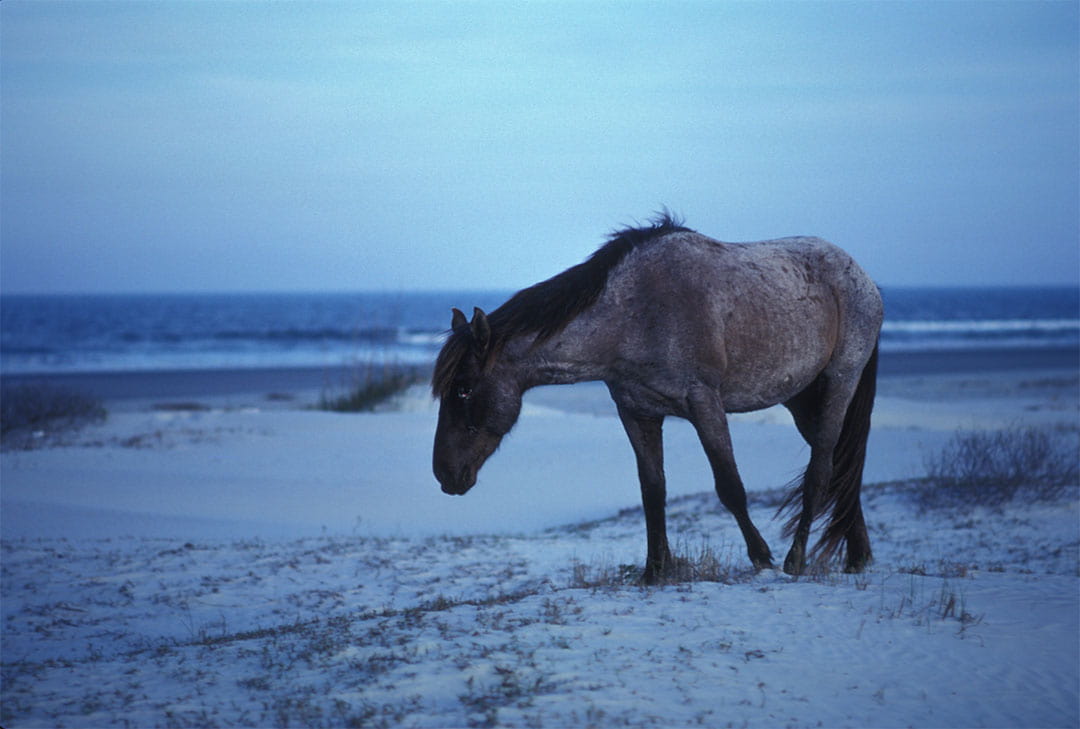 106 tent, trailer, and RV campsites
Enjoy the tumbling cascades on the Towaliga River in High Falls State Park. It's the tallest cascading waterfall south of Atlanta!
Activities: At this park, you can hike or stay on the water. Rent boats, kayaks, or go fishing for hybrid and white bass.
5 tent campsites
Sweetwater Creek State Park is another great urban camping spot just minutes from downtown Atlanta.
My parents used to live 10 minutes away from here, so we would go for hikes whenever I visited them.
Since the campsites are so limited, be sure to get one as soon as you know you want to go. Otherwise, you'll be limited to exploring during the day.
Activities: While there, you can go hiking, fishing, kayaking, and more. Plus, you'll see ruins of a textile mill burned down during the Civil War, which you might recognize from the Hunger Games or The Falcon and the Winter Soldier.
Local Tip: REI also leads kayak classes out here. Check your local REI store for details.
Map of the Best Camping Spots in Georgia
Altamaha Regional Park Campground in Brunswick
Anglers n Antlers Private Campground – hunting camp
Blythe Island Regional Park
Chattahoochee Bend State Park
Chehaw Campground in Albany
Dames Ferry Park Campground
Elijah Clark State Park
Fort Mountain State Park in Cohutta Mountains
Fort Yago State Park located between Athens and Atlanta
General Coffee State Park
Georgia L. Smith State Park in Twin City
Hillside Family Campground
Indian Springs State Park
Jekyll Island Campground
Lake Sinclair Recreation Area
Mountain View Campground, Blue Ridge Mountains
Oz Campground
Panola Mountain State Park
Rivers End Campground & RV Park Tybee Island
Sea Camp Campground
Unicoi State Park & Lodge
Upper Chattahoochee River Campground
Victoria Bryant State Park
Yogi Bear's Jellystone Park Campground in Bremen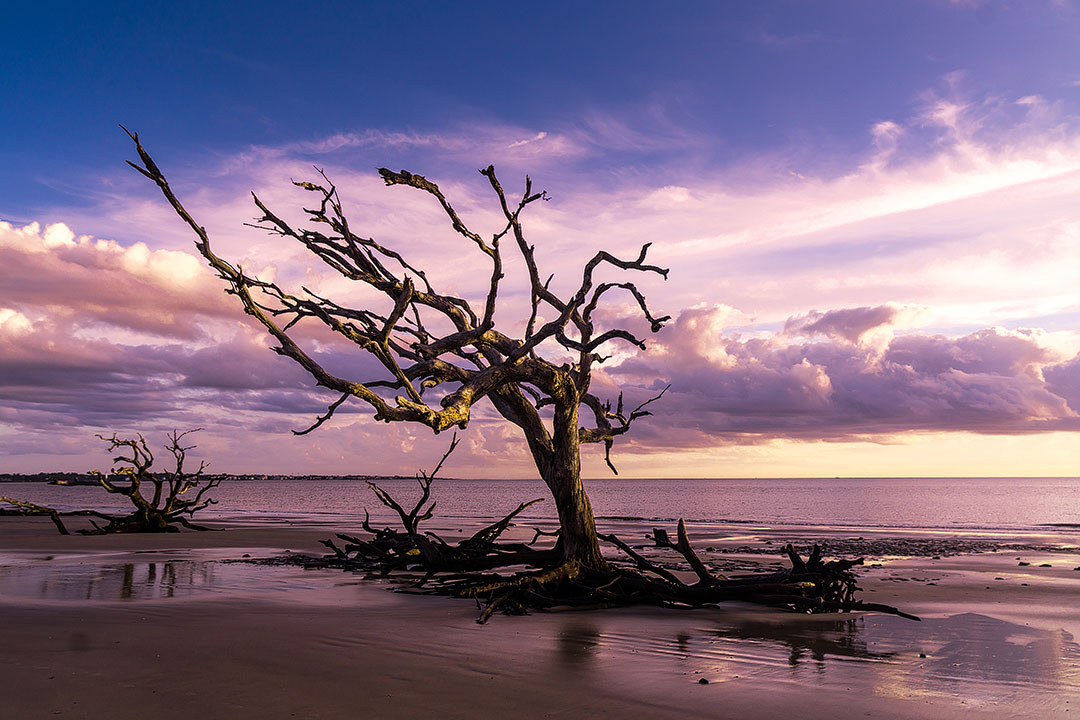 Here are the basics of what we typically pack on our camping trips.
Keep in mind that the lighter the equipment, it tends to be more expensive. If you plan on mostly car camping, weight isn't an issue, but if you eventually want to get into backpacking, every ounce matters.
If you have any specific questions, the folks at REI are always really helpful! You can even rent gear to try them out first before you decide what you want to do.
Essential Tips for Camping
Campsites can fill up quickly, especially when there are limited spaces. Be sure to book ASAP.
A lot of parks are short-staffed, so be patient if you need help from rangers, and do your part in taking care of the park.
Pack out everything that you pack in! We all hate seeing a trashed campsite.
Check the weather regularly to ensure you're prepared.
Check the website and/or visitor center for the most up-to-date info on closures or renovations.
If your campsite has a bear box, store all food and toiletries in there (anything scented) when not using it. Be sure to empty it when you leave.
Always dispose of garbage at designated spots only. If there are no garbage cans, bring your trash home with you.
If you're flying, want to know what to wear to the airport? These are our ideal airport outfits.
Have you been camping in Georgia? What are your favorite places to camp in Georgia?
Did you enjoy this post? Pin it for later
"Discovery consists not of seeking new lands but in seeing with new eyes" – M. Proust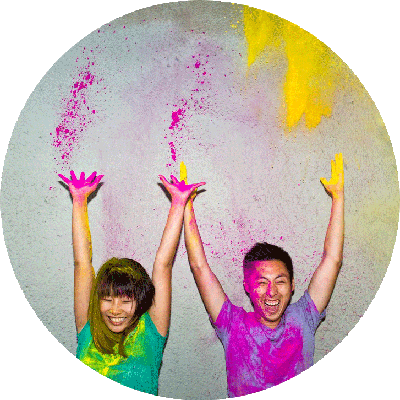 Esther and Jacob are the founders of Local Adventurer, which is one of the top 5 travel blogs in the US. They believe that adventure can be found both near and far and hope to inspire others to explore locally. They explore a new city in depth every year and currently base themselves in Las Vegas.