Hey there! We'd like to welcome you to the Clear the List Linkup (formerly Maximize Your Month) where we share our goals and motivate one another to pursue our dreams. We'd love you to be a part of our community. Join us by adding a link to your own goals post at the bottom of the post.
Last month I challenged myself to make one blog improvement a day, one that takes no more than 30 minutes and is easy enough to achieve on top of my other workload.
I know there's already a book that's been out for years by ProBlogger, but I decided I wanted to do my own version of 30 days to a better blog that suited ours. If you're looking to improve your blog, maybe you can try it out next month! :) We just got back last night from a big trip to Spain, Portugal, and Morocco, so I'm still making up some of the ones I missed on days we had horrible wifi.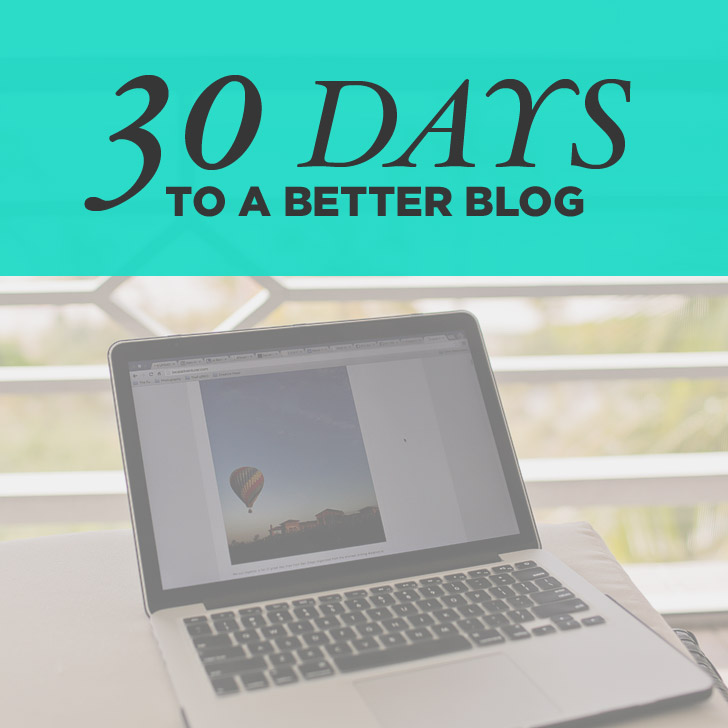 Pin
30 DAYS TO A BETTER BLOG:
Clean up your sidebar. ✓ Ask yourself what's most essential and what's adding clutter.
Respond to all comments on the blog. ✓
Dig into your analytics. ✓ This post by Melyssa helps you dig into the mystery of when it says "not provided" to find out how people are finding your blog.
Set up a MailChimp account. ✓ Boom!
Make your most popular posts sticky. ✓
Update photos on an old post with more pinteresting ones. ✓ I updated this one with lots.
Update SEO on an older post.✓ Have you guys installed the YOAST plugin yet? I did not pay attention to SEO for many of my posts before 2014.
Edit your about page. ✓ What makes you stand out from everyone else? Do the details on your page tie back well with your blog? This is our brand spankin new one.
Write down 10 e-book ideas you think your readers will find valuable. ✓
Listen to a podcast with blogging tips.✓ Blogbrighter has a great list of podcasts for bloggers.
Look at your top 50 blog posts and see what your readers are liking most. ✓
Re-strategize your editorial calendar based on what you learned on Day 12. ✓
Join a facebook blog group and actively contribute to the conversation with something meaningful and not self-promotional. ✓
Edit old broken links. ✓ This is a great plugin that does a lot of the work for you.
Pick a new social media platform and read up on it. ✓ I picked LinkedIn.
Schedule social media posts for the rest of the week. ✓ Do them all at once so they won't decrease your productivity throughout the week
Install Tweetily to auto tweet and give love to older posts in the archives.✓ Right now they are going to @jacobthefu
Brainstorm 5 posts that are similar to your top 5 from day 12.✓ These are currently our one, two, three, four, and five.
Brainstorm a new blog series. ✓ Sometimes you can get stuck in the same routine of writing the same type of content.
Monitor how you spend your time. ✓ How much time are you typically spending on each activity a day. Prioritize your most important tasks and cut out the tasks that aren't as important. You can do anything, but you can't do everything. I use the HoursTracker app.
Find a task you can delegate. ✓ I use a VA to delegate some of my social media tasks. Ours has been so wonderful. If you've been looking for a VA, just email us, and I can connect you!
Add categories to each post. ✓ This is an easy way to improve your bounce rate.
Make a pop-up or featured box for newsletter signups. ✓ 
Outline an e-book for the newsletter. ✓
Make a list of 10-15 bloggers in your niche and subscribe to them. ✓  Your ultimate goal is to reach out to them and grow a community within the space.
Write down a list of 10 brands you'd love to partner with (dream big for 3-5!) ✓
Install Google PageSpeed Plugin.✓ Find one thing you can fix to speed up your page.
Run a SWOT analysis of your blog. Strengths, weaknesses, opportunities, threats.
Run a reader survey. The easiest, most direct way to find out what your readers want. We drafted one and will run it at the end of the year. :)
BONUS for those trying this on a month with 31 days: Recycle an old post that you wrote back in the day that has potential.
My other goal was to comment on at least 5 other blogger's posts per day, because I know the most meaningful thing you can do for a blogger is to respond and leave a meaningful comment on their posts. If you're a blogger, it's the best way to pay it forward. I had a really hard time doing this every single day. Instead, I would pick a couple days out of the week and comment on more than 5. I saw one blogger talk about how she comments on over 200 a day, which is so impressive, but I can't imagine with how slow I read and comment. :P
Last month's highlights on instagram:
Pin
See more on our instagram (esthergram & jacobgram & our cats!).
♥ 25 Best Dive Sites in the World to Put on Your Bucket List
♥ How to Make the Cutest Cord Tacos / DIY Cord Organizer
♥ A Book Lover's Dream in NYC
♥ Our Coloring Date Night + 11 Most Beautiful Adult Coloring Books
♥ Your Guide to Underwater Photography: What You Need
♥ Life is Not Rainbows and Unicorns. Why Do We Want Everyone to Think That?

I've been enjoying having a 30/31-day goal that are like mini life projects. In August, my goal was to read for 30 minutes every day, and in July drink a gallon of water every day.
For October, I really want to get better rest. In college, I was all about working hard then playing hard, but my body cannot take that kind of abuse anymore.
My 31-day goal this month will be limiting my work hours to 8 hours a day.
No more staying up till 2am to finish up last minute tasks. I need to remind myself that nothing is that urgent (unless it's a deadline for a brand we're working with). Work can wait, and there's always more where it comes from!
Also, I want to get off my phone and computer before midnight.
Next, I want to get off my computer and phone by 11 PM. 
No more checking social media in bed. No more phones in bed period. I'm pretty awful about disconnecting, and I always use work as an excuse. Wish me luck!! And please ask how I'm doing on this to keep me accountable.

<div align="center"><a href="http://localadventurer.com/tag/clear-the-list" title="Clear The List Goal Setting Blogging Community"><img src="http://localadventurer.com/wp-content/uploads/2015/09/Clear-The-List-4-Lines-01.jpg" width="350" alt="Maximize Your Month" style="border:none;" /></a></div>
Have you tried setting similar month long goals? :)