Visiting Mauritius soon? Here's what you need to know before you go.
If you dig a hole straight through the earth's center from the west coast, you end up in the ocean just south of Mauritius Island. Mauritius hadn't been on our radar until recently, and after booking our trip, we realized there was much to learn about the island on the other side of the world. If you're planning a trip to Mauritius Island, here is everything we learned during our time here to help you make the most of your visit.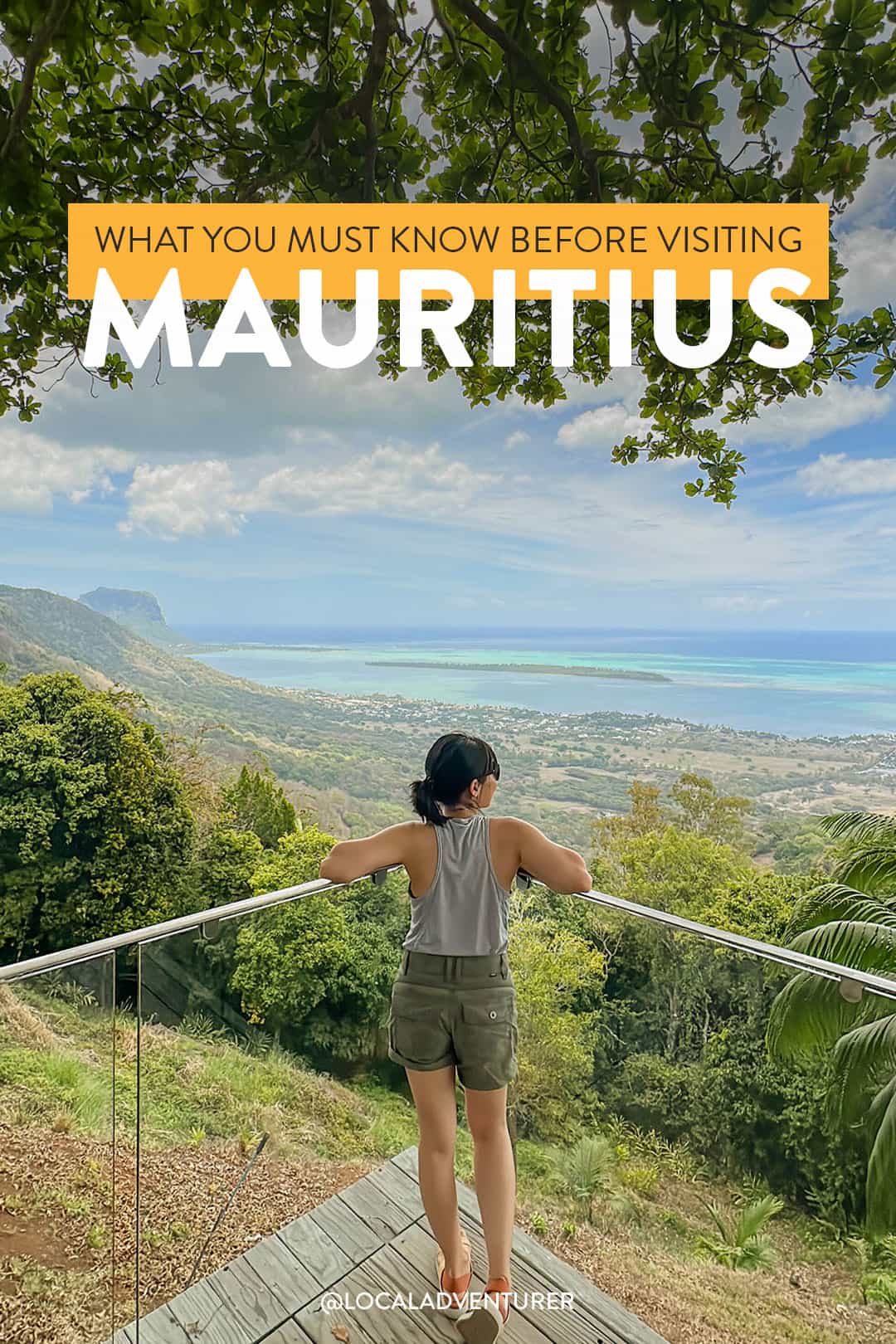 This post may contain affiliate links, where we receive a small commission on sales of the products that are linked at no additional cost to you. All opinions are always our own. Read our full disclosure for more info. Thank you for supporting the brands that make Local Adventurer possible.
Last Updated: February 23, 2023
Where is Mauritius?
Mauritius is off of the southeastern African coast in the Indian Ocean. Sixteen islands and islets comprise the Republic of Mauritius, including Mauritius Island, along with Rodrigues, Agalega, St Brandon, and many others.
Time Difference: It is +4 hours Greenwich Mean Time (12-hour difference from PST)
See More: 15 Best Things to Do in Mauritus + How to Plan the Perfect Vacation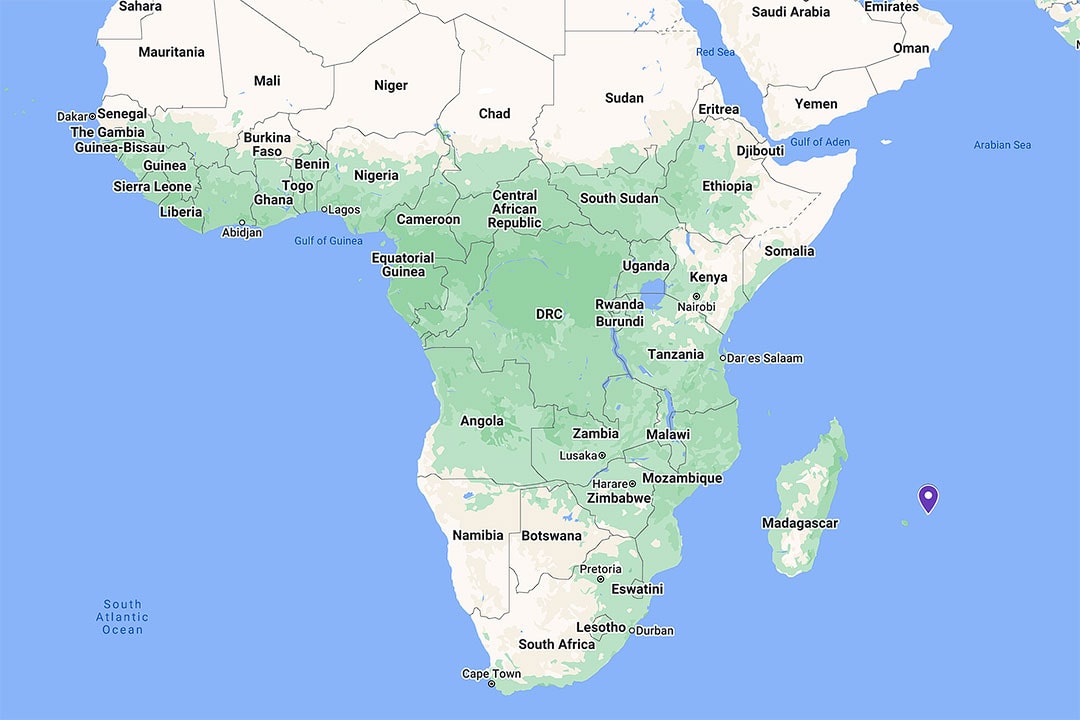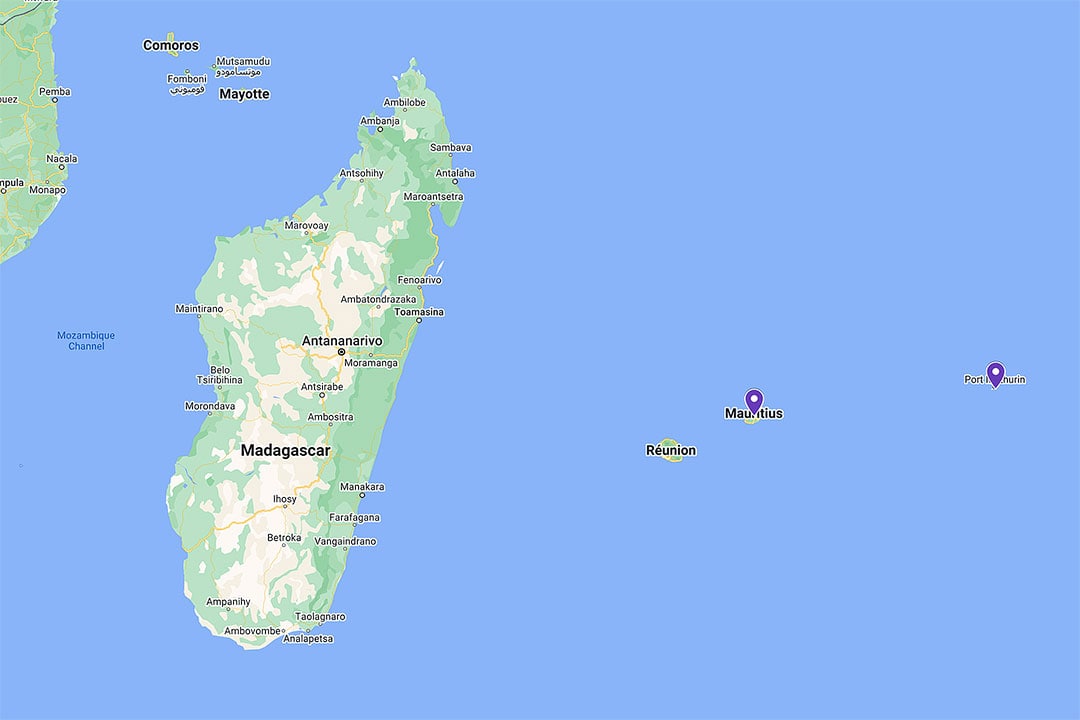 Things You Must Know Before Visiting Mauritius
1. English is the Official Language
The three main languages are English, French, and Creole. English is the official language, but the majority language used is French-Mauritius Creole, which was accurate on our trip. Many hotel employees also speak German, Italian, and Spanish. If you plan on venturing outside the resorts and popular tourist attractions, learning some basic French will help you.
Most Mauritians are bilingual, and many are skilled in three or four languages, making them popular cruise ship recruits. They also speak Mandarin, Bhojpouri, Tamil, Hindi, and Urdu.
2. It's Far! (From the US)
If you're visiting Mauritius from the US, be prepared for two twelve-hour flights, especially from the west coast. Give yourself an extended layover (at least 6 hours) to clear customs and stretch your legs. You can make it even longer if you want a rest day or to visit a layover city. We planned to walk around Paris on our layover, but our flights got delayed.
3. Who's Visiting Mauritius
Because of Mauritius' location, we noticed most tourists were Europeans. France, the UK, Germany, and Spain bring the most tourists, followed by China.
When we visited, we got a few comments asking if we were from China. The borders have been closed because of the pandemic, so the Mauritians were excited that we might be among the Chinese tourists starting to visit again.
4. Bring your Benjamins
Mauritius isn't considered a budget destination. Most people visit Mauritius for luxury, and they pay for it. Although you can travel here on a budget, there are better destinations if you're looking for an affordable beach vacation.
5. Their Currency is the Mauritian Rupee
They use the Mauritian Rupee, and roughly USD 1 = MUR 43.95.
We only needed cash for tips and street vendors. Other spots took credit cards. You can exchange currencies at the airport and most hotels or withdraw from an ATM. If you withdraw from an ATM, we heard you should limit each transaction to MUR15,000. Otherwise, the machines might get jammed.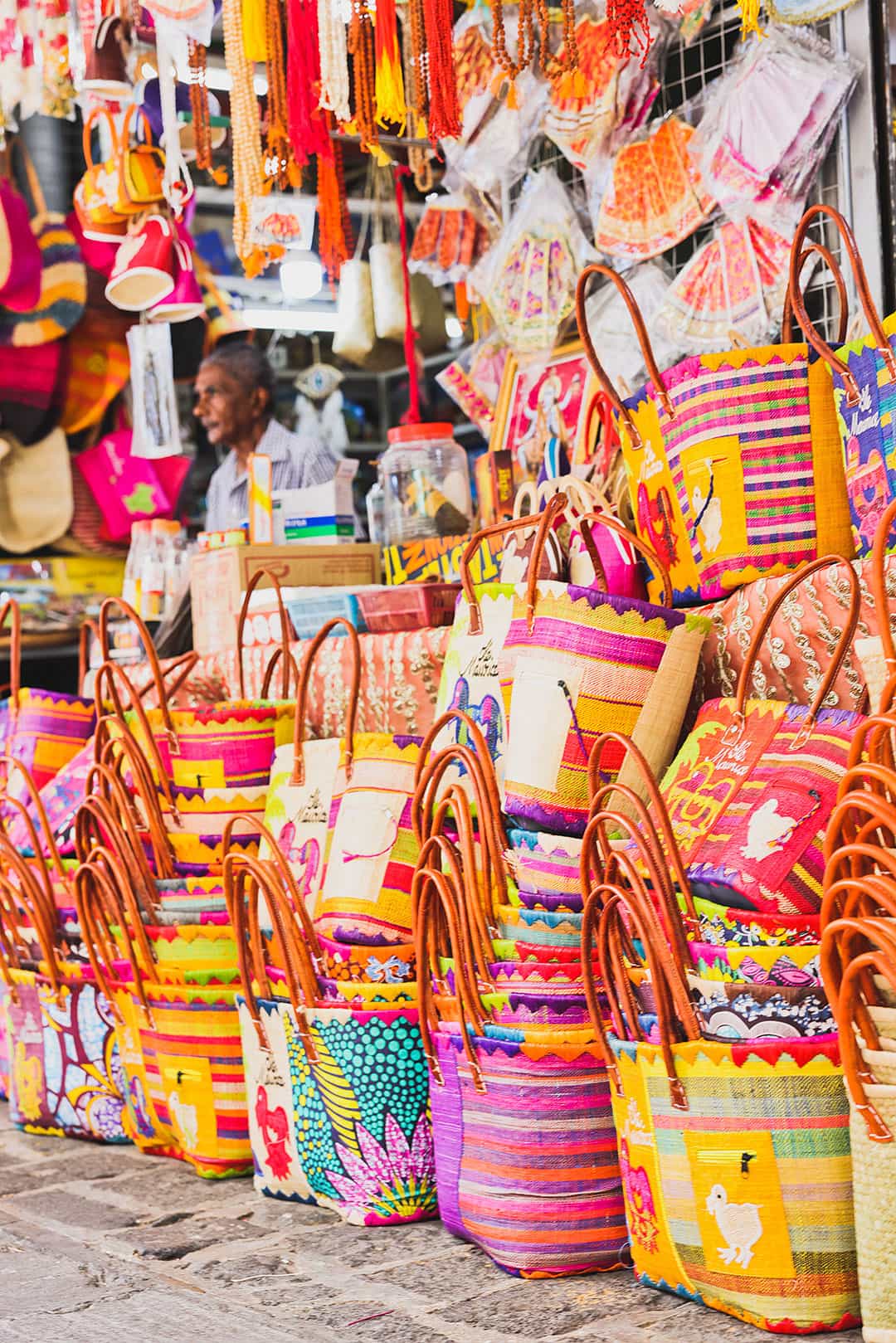 6. Tipping Is Not Mandatory but APPRECIATED
Tipping is not mandatory in Mauritius. Here is a quick guideline if you are looking to tip for exceptional service: Spas (5-10%), Tour guides (10%), Taxis (100-200 Rps), Hotels (100 MUR), and Restaurants (10-15%).
7. Visiting Mauritius during High and Low Seasons
Temperatures are warm all year, making it a year-round destination. The water temps stay between 71-80°F (22-27°C).
The high season is during their summers (October-April) and winters (May-September). During peak season, you should book hotels three months in advance and activities/restaurants around one week before. Shoulder season runs March-April and September-October.
Summers (Oct-Apr) – The mean temperature in the summer is 76°F (24.7°C). Dec to Mar are the wettest months. Thunderstorms are common but pass. During our December visit, the waterfalls were dry (usually late winter/early Summer) but had been dryer than average. Once the rain starts in Dec/Jan, the rivers and falls fill back up.
Winters (May-Sep) – The mean temperature in the winter is 70°F (21°C). Winter is windier and the best time to visit if you like mild temperatures and sports that require wind, like kitesurfing.
Local Tip: They usually get a cyclone each season, and every ten or so years, it will hit the island directly. The last big one was in 1992, so locals have been expecting one any time now.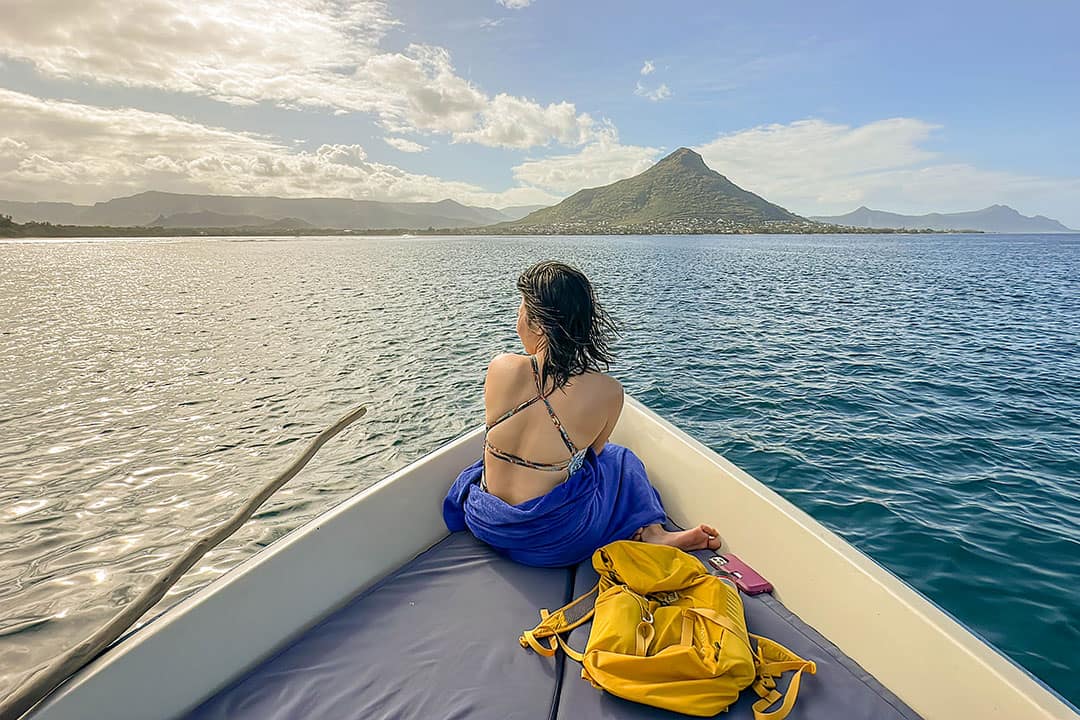 8. Places Close Early
Many places closed earlier than expected, and many businesses closed for holidays and Sundays. Also, certain restaurants have random days they aren't open.
9. Renting a Car vs. Getting a Taxi
Renting an (automatic) car is an option on the island, and you don't need an international driver's license. Just remember they drive on the left side of the road, which can be disorienting.
Roads outside the city are easy to navigate and not too crowded, but driving in a city can be stressful. Navigating via google maps worked well going to popular attractions, and the roads were in good condition compared to other countries we've explored. Speed limits are usually around 40 kph (25 mph) in towns, 60 kph (40 mph) outside of them, and 110 kph (68 mph) on the freeway.
Taxi costs vary and are not regulated. For example, from Port Louis to Flic n Flac, it can cost between MUR 800 and MUR 1,000. Be wary of taxi drivers, since some are affiliated with shops they will try to take you to for "a good deal" to receive a cut of profits. But now that I think about it, it's similar to some bloggers and influencers too.
10. Traffic can get crazy
It can take 1-2 hrs to get from one side of the island to the other. Keep that in mind when you plan activities or where you're visiting. We had a lot of early days since we had to add in the travel time.
Traffic on the island starts around 8 am and 4 pm. Although we didn't see traffic, they kept telling us how bad traffic was, so we always left earlier or way later to avoid it.
Local Tip: If you booked a hotel with breakfast but have an early activity, you will most likely miss breakfast. Ask for a to-go bag.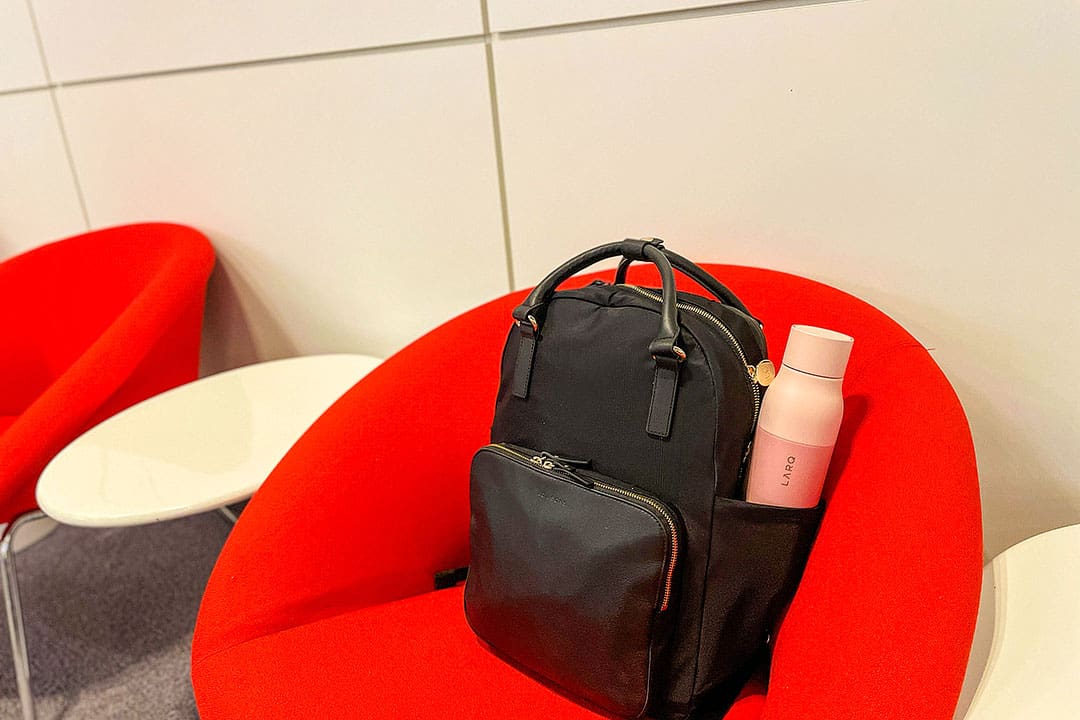 12. Mauritius has a lot of history, and Sugar is a Big part of it
Most of the fields in Mauritius are sugarcane fields, and sugarcane farms still dominate 70% of the land. One of the best places to learn more about the history of sugarcane in Mauritius is Sugar World (L'Aventure de Sucre). Here, you can also do a sugar tasting and a rum tasting.
Due to the sugar industry, after slavery was abolished, the British tested out indentured labor and spread it to the rest of the world due to their success. You can learn more about that at Aapravasi Ghat World Heritage Site, the remains of an Immigration Depot built in 1849.
Did you know the now-extinct Dodo bird is also from Mauritius? You'll find them on souvenirs and branding all over the island.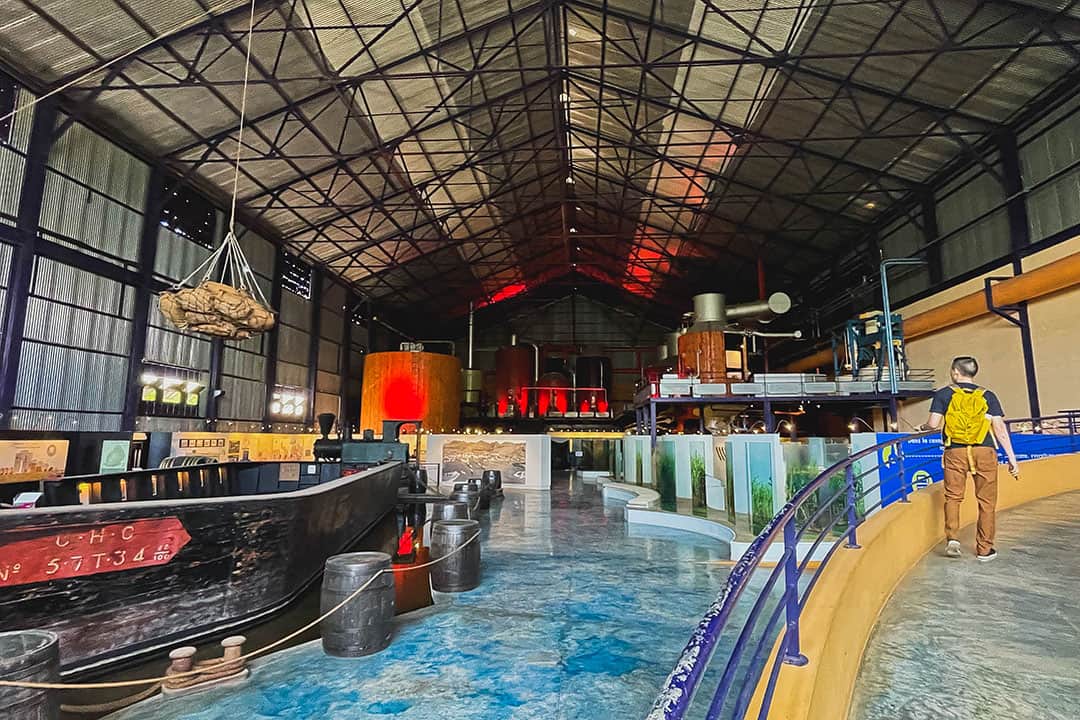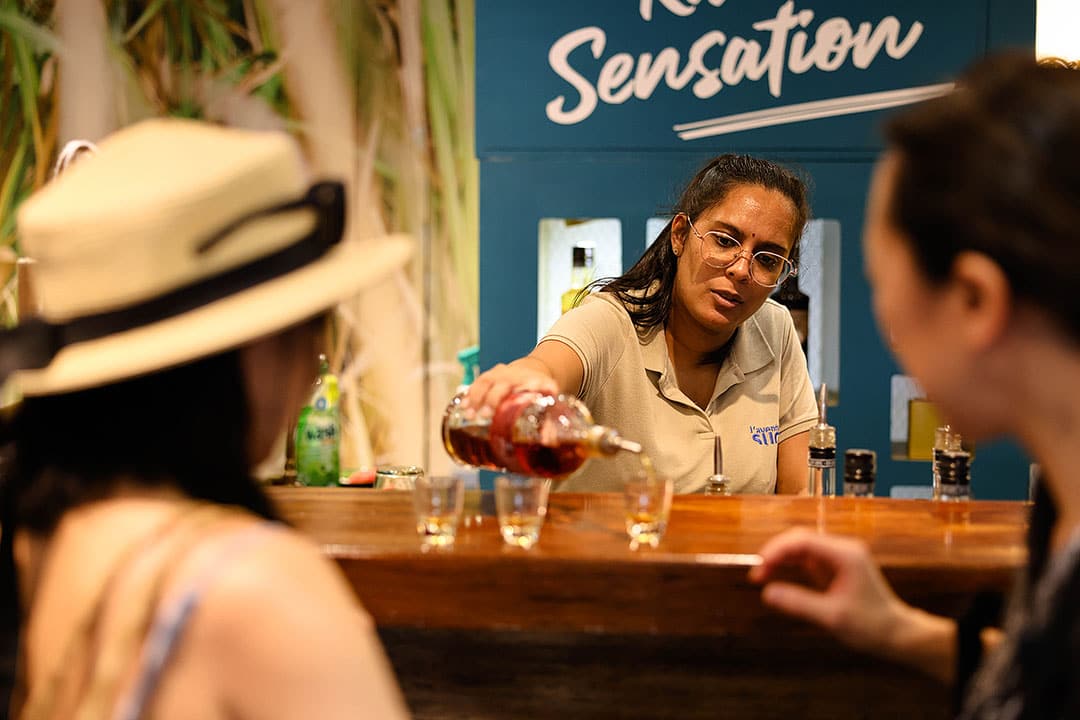 13. Souvenirs
Sugar from L'Aventure du Sucre – we bought several for friends back home that love baking or drinking coffee.
Phoenix is the island's most popular local beer. We never check our bags, but you can bring back some local beer or liquor if you do.
Local Rum or Fruit Wines – Most cocktails are made with rum since they source from local rhumeries. There aren't local grape wines, but you can find local fruit wines.
14. Scared of Bats?
The fruit bats, aka Mauritian flying fox, are among the largest bats and can reach a wingspan of 31 in (80 cm). We saw them often, flying around or on palm trees. If you're scared of bats, you may want to look away. We're not typically afraid of bats, but they were the biggest we've seen in the wild, so I can see them being intimidating.
15. World Class Diving Over Snorkeling
We weren't impressed with the snorkeling at the reefs, but Mauritius has world-class diving. There are around 50 dive sites across the island. If we could have a do-over, we would have taken a PADI refresher course and booked some diving excursions instead.
Local Tip: Don't forget coral-safe sunscreen. We were disappointed by all the bleached coral we saw.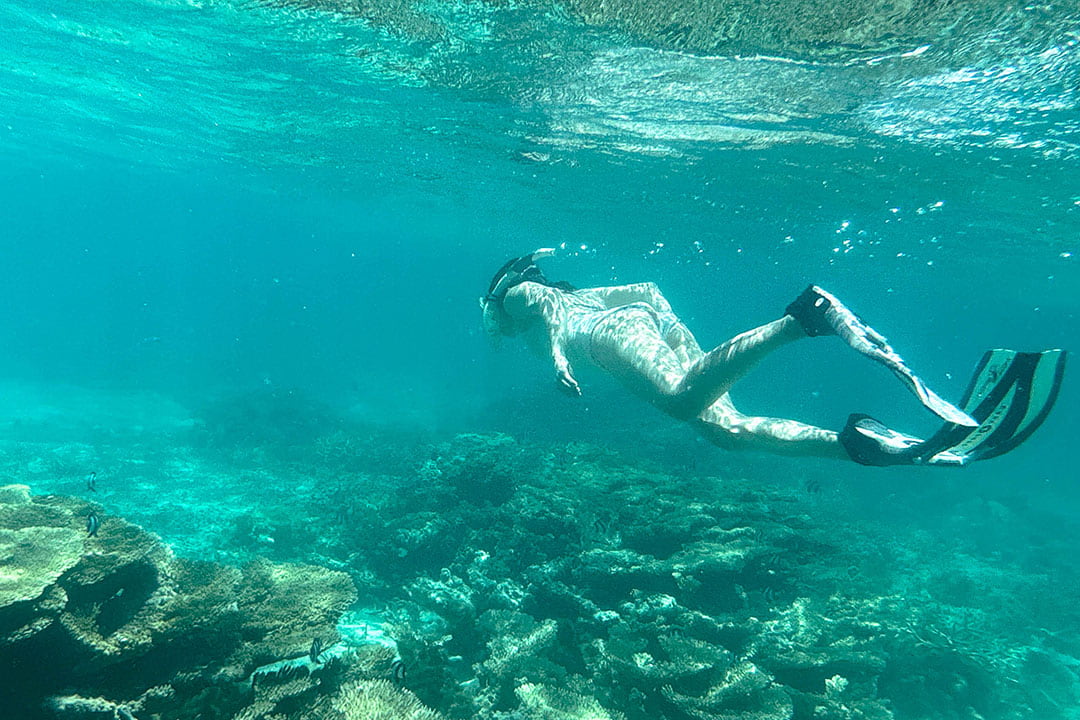 16. The underwater Waterfall can only be Seen from a Helicopter
The underwater waterfall, an optical illusion, is a famous landmark you must see while visiting Mauritius. It can only be seen via helicopter, which is always weather dependent. Plan your ride early in your visit so that if it gets canceled, you'll have plenty of time to reschedule.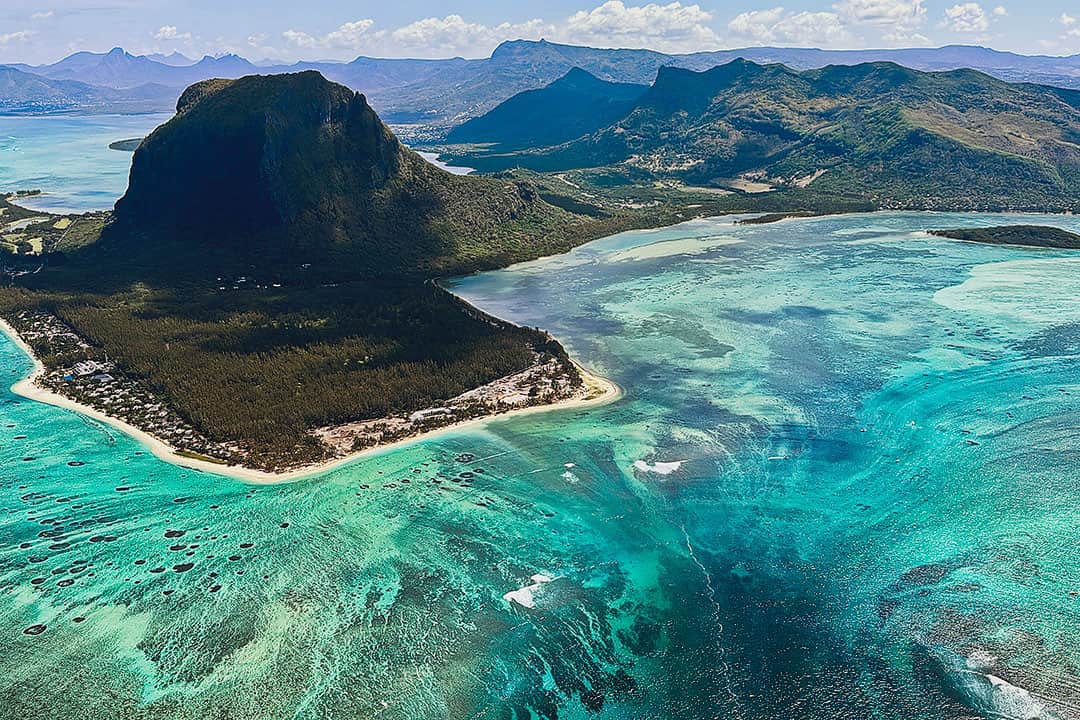 17. Don't Limit Yourself to the Resorts
Mauritius offers much more than just incredible beaches. Venture inland to see diverse landscapes, tea farms, temples, hikes, and more. Check our post for the best things to do when you're ready to plan your trip.
See More: 15 Best Things to Do in Mauritus + How to Plan the Perfect Vacation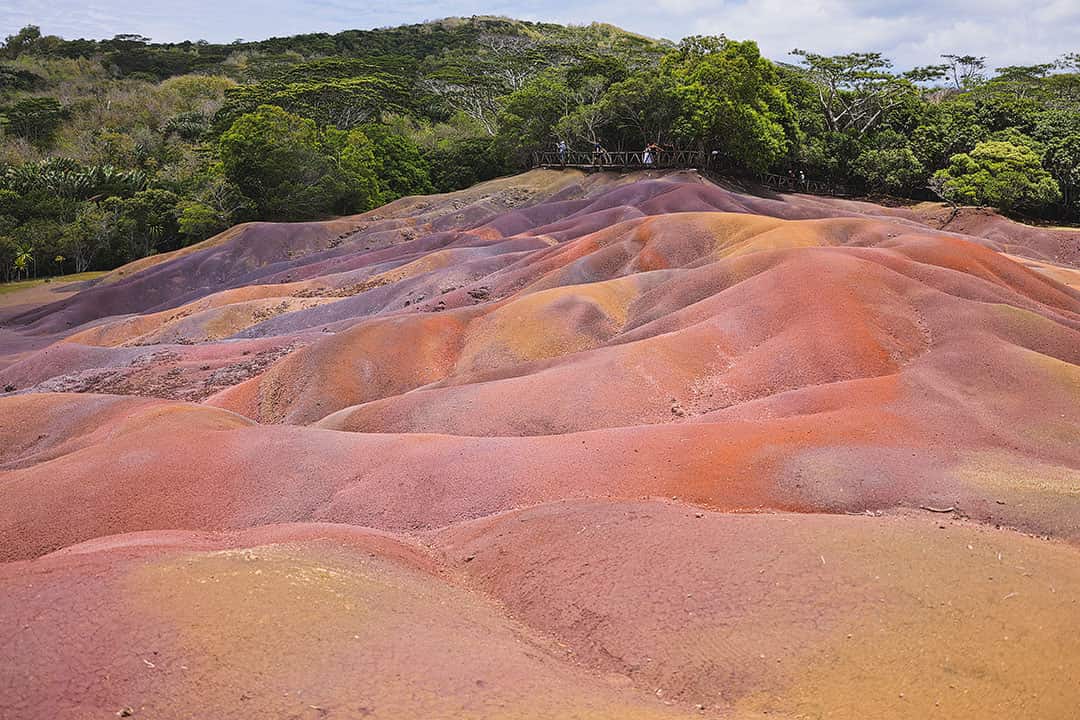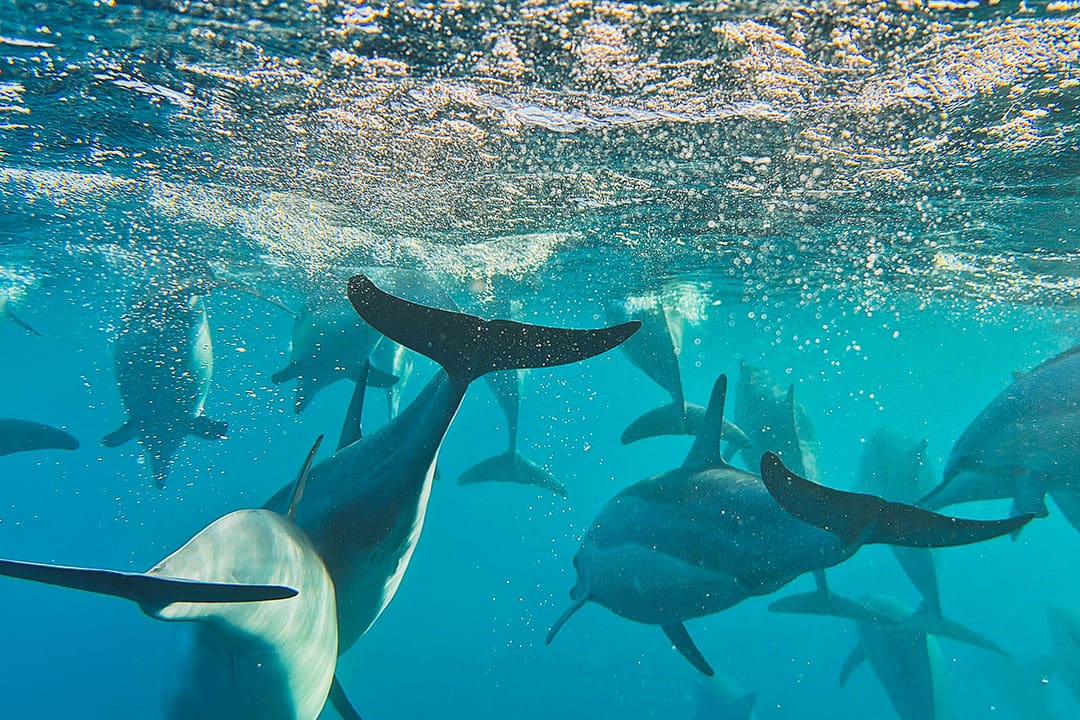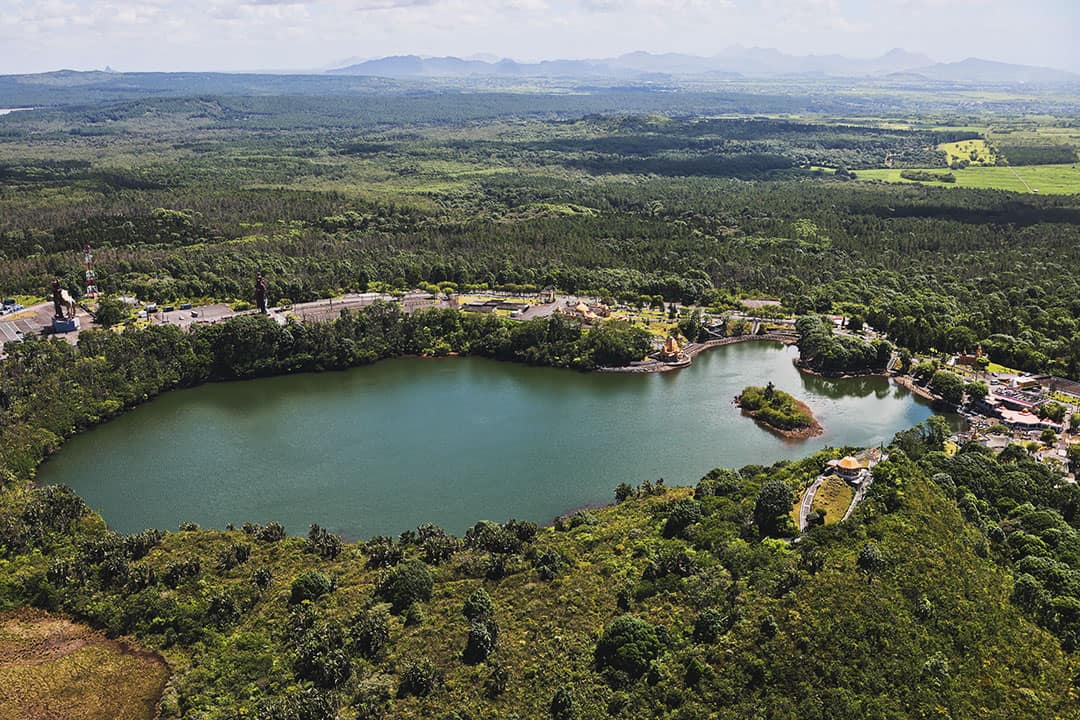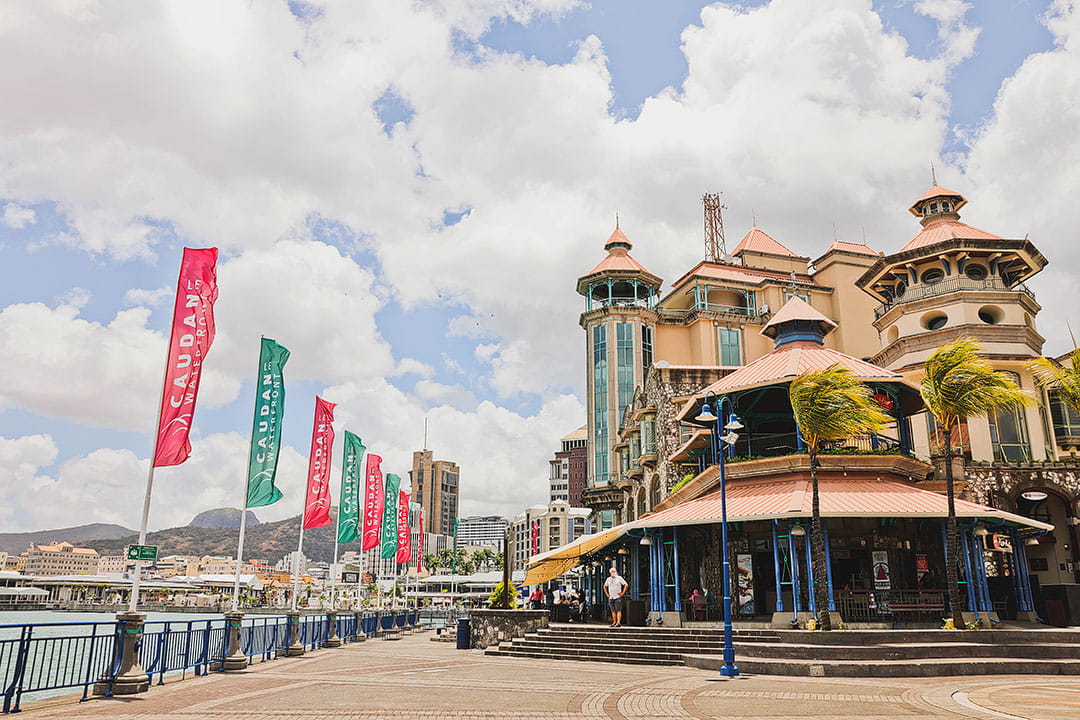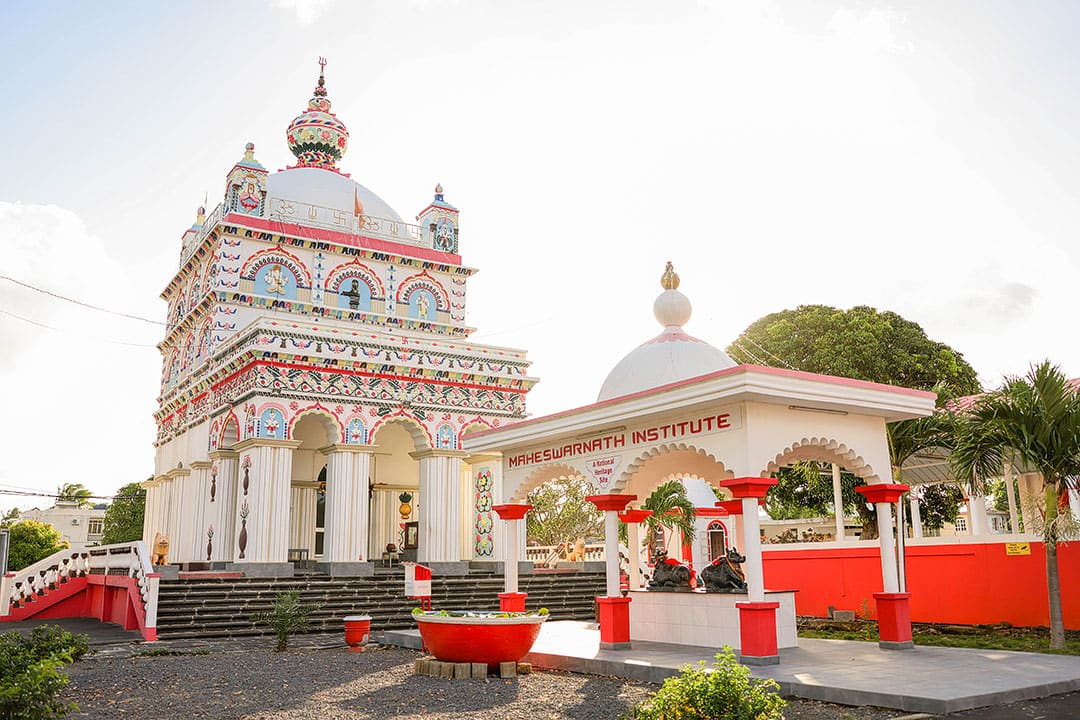 Where to Stay in Mauritius
We split our stay between two different areas on the island to maximize our stay. In general,
The northern shore is more touristy,
the south side is wilder,
the west side is closer to popular attractions,
and the east side is quieter, with more luxury resorts.
Local Tip: There are over 100 beaches along the coast. Most pristine ones in photos are private beaches for resorts and hotels.
Are you planning on visiting Mauritius in the near future? Have you been already? Are there any tips that we need to add?
Did you enjoy this post? Pin it for later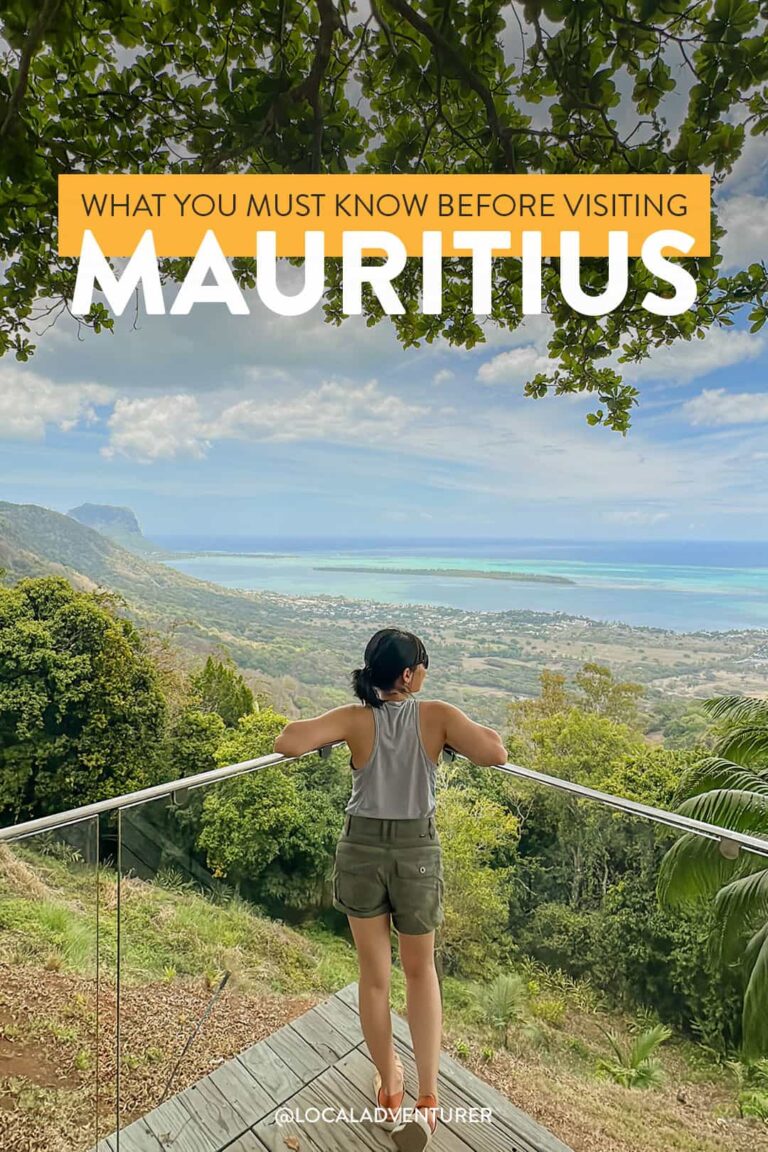 SEE MORE INTERNATIONAL CITY Guides
⟡⟡⟡⟡⟡
"Discovery consists not of seeking new lands but in seeing with new eyes" – M. Proust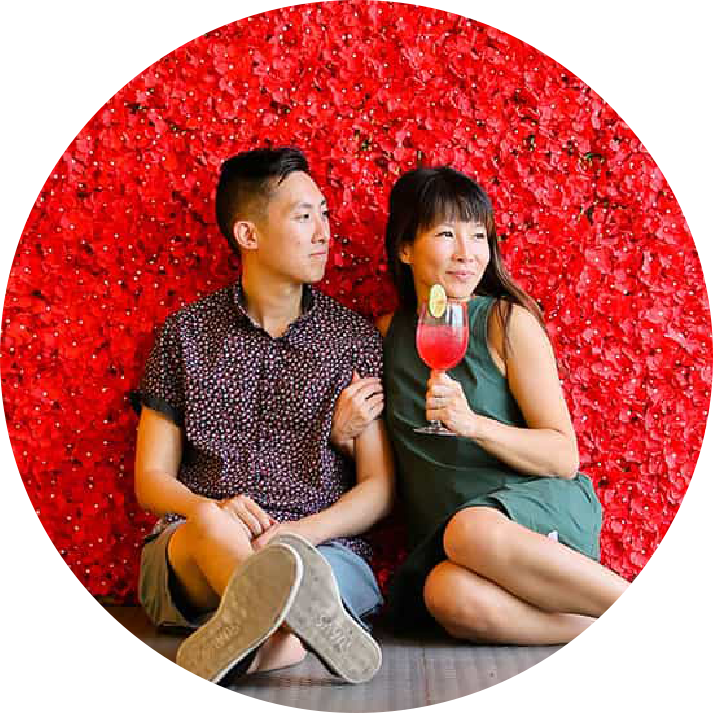 Esther + Jacob
Esther and Jacob are the founders of Local Adventurer, one of the top 5 travel blogs in the US. They believe that adventure can be found near and far and hope to inspire others to explore locally. They explore a new city in depth every year and currently base themselves in Las Vegas.
Follow on Instagram (E + J), YouTube, TikTok, and Pinterest.