The jellyfish exhibits are always my favorite parts of an aquarium to explore. They're amazing creatures and best of all so photogenic. On our visit to the Monterey Bay Aquarium, they had a special "Jellies Experience" which had so many jellyfish we had never seen in other aquariums. Lucky me! :) Jacob had trouble peeling me away from these guys.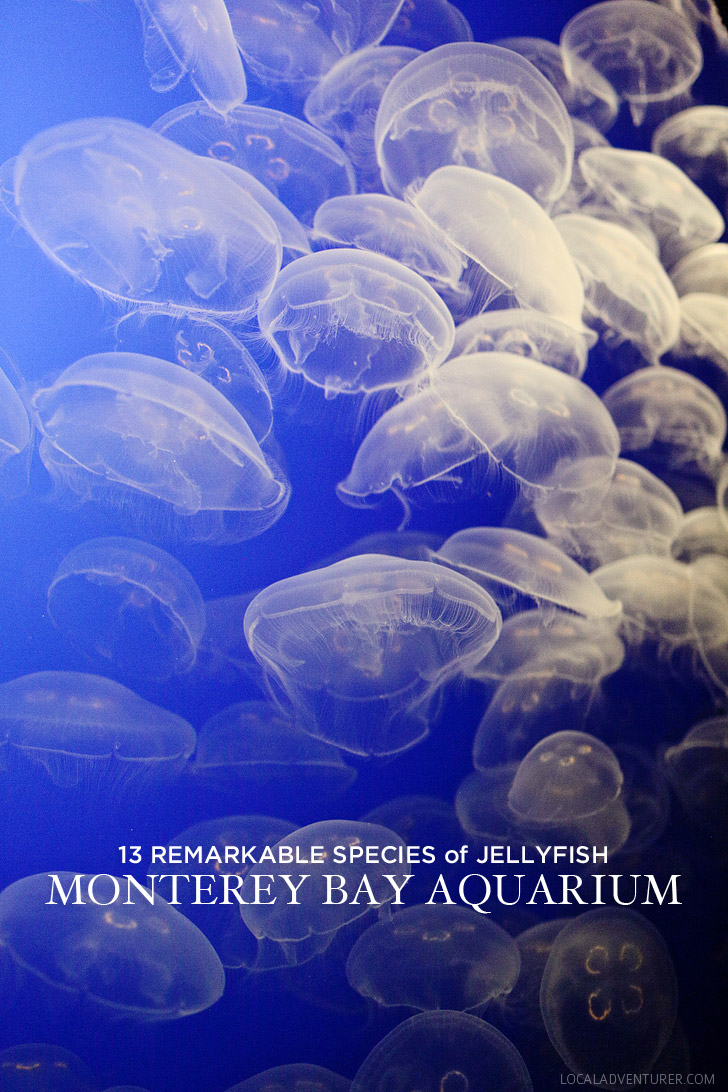 Pin

Pin
13 REMARKABLE SPECIES OF JELLYFISH AT THE MONTEREY AQUARIUM
1. South American Sea Nettle (chrysaora plocamia)
Pin
Pin

Pin
2. Umbrella Jellyfish (eutonina indicans)
Pin
Pin
3. Flame Jellyfish (rhopilema esculentum)
Pin

Pin
Pin
4. Moon Jellyfish (aurelia labiata)
Pin

Pin
Pin

Pin
5. Upside Down Jellyfish (cassiopea)
Pin

Pin
6. Black Sea Nettle (chrysaora achlyos)
Pin

Pin
7. White Spotted Jellyfish (mastigias papua)
Pin

Pin
Pin
8. Pacific Sea Nettle (chrysaora fuscescens)
Pin
9. Crown Jellyfish (cephea cephea)
Pin
10. Crystal Jellyfish (aequorea sp)
Pin

Pin
11. Indonesian Sea Nettle (chrysaora chinensis)
Pin
Pin

Pin
12. Lions Mane Jellyfish (cyanea capillata)
Pin

Pin
Pin
13. Warty Comb Jelly (mnemiopsis leidyi)
Pin

Pin
All photos taken with a Canon 5D Mark III and 35 mm f/1.4 L lens.
There are more species of jellyfish, but these were the ones that came out best in photos. The last one is my all time favorite type of jellyfish. I first saw it at the Georgia Aquarium and was fascinated by the the self illuminating neon colors along the side. It was first discovered in 2009, and I really can't believe how we're still discovering new species today.
I'm so excited that See Monterey is giving away these tickets so you can experience more of what Monterey has to offer. The package includes:
4 tickets to the Monterey Bay Aquarium
4 tickets to the MY Museum
To enter the giveaway, visit See Monterey here. If you need more info on the area, you can download a free visitor's guide here (link is at the bottom).
Monterey Bay Aquarium
886 Cannery Row
Monterey CA 93940
831.648.4800
Check out the rest of the Monterey Aquarium here.
Are you a fan of the jellyfish exhibits?
What's your favorite species of jellyfish?