In December, we wrapped another 4 episodes of the FuZees featuring Blogilates, Nikki Philippi, Kurt Hugo Schneider, and JD Witherspoon! :) We also had the amazing opportunity to share The FuZees with the writers & founders of Sesame Street, PBS, LeapFrog, Baby Einstein, and more. We were so excited and nervous, but heard some great feedback and can't wait for the future of the show.
We road tripped up to Carmel for four days on a press trip for Local Adventurer. We ran all around town to find the best Christmas Decor in Vegas. We celebrated Jen's birthday Gatsby Style! And then we flew back to Atlanta just before the holidays to spend a week with family and friends. It was a good month.
Last month's highlights from our iPhones: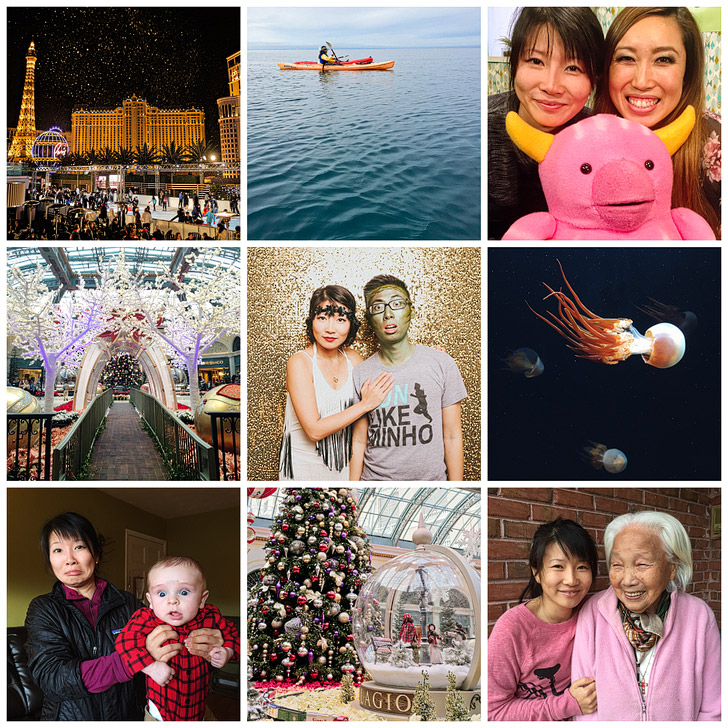 Pin
See more on: esthergram & jacobgram

Fill my gratitude jar with four strips. DONE
Bake 2 recipes to complete 12 new recipes a year. DONE
Go on last seven dates to complete 52 weeks of dates. DONE
Skype with my parents every week. Didn't skype the first two weeks, but got to spend time with them in person right before the holidays!
Do 5 Pinterest Projects. Nope, and I'm not planning on putting this back on the goals list. I really did not enjoy feeling obligated to make DIY projects. I think I will take it at my own pace next year and make them when I feel like it. Or maybe not at all!
Walk 40k steps a week with fitbit. Definitely not.
Send out my Lovely Letters on Time! It was a couple days late, but they're out!

Skype, call, email home once a week.
Get to zero inbox and clean it out every Wednesday.
Clean my desktop every Monday (and my computer desktop if I feel motivated).
Narrow down to less than 10 blog categories and stick to them.
Go on 4 dates (one a week).
Read four books (Trying for 36 this year).
Read the bible every day no matter how little.
Find one new healthy recipe to put into our regular rotation.
Have you broken down your resolutions into short-term goals?
What's a new goal you have this month?
See my previous monthly goals by clicking the banner below:
Pin