Here's everything you need to know about the Immersive Van Gogh Exhibit.
Did you know there are two different touring Immersive Van Gogh exhibits? Both are 360-digital art experiences, and we've been lucky enough to have both come through Las Vegas. After seeing both, we recommend this one over the Van Gogh Immersive Experience. The names are so similar that it's easy to get confused.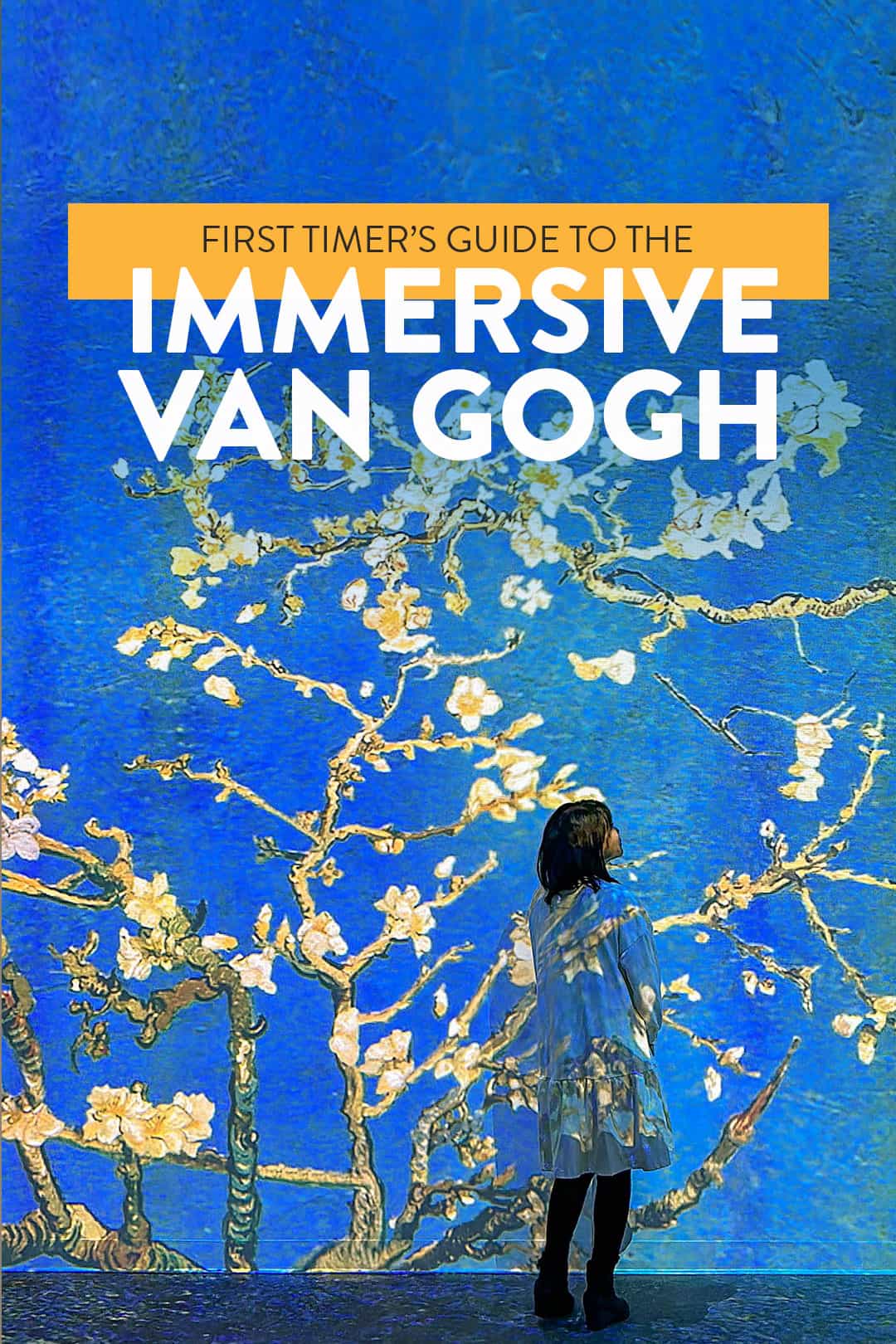 Lighthouse hosted our visit to the exhibit. This post may contain affiliate links, where we receive a small commission on sales of the products that are linked at no additional cost to you. All opinions are always our own. Read our full disclosure for more info. Thank you for supporting the brands that make Local Adventurer possible.
Last Updated: November 20, 2023
What is The Original Immersive Van Gogh Exhibit?
Massimiliano Siccardi designed The Immersive Van Gogh Exhibit with a soundtrack by Luca Longobardi. They both played a big role in pioneering immersive digital art experiences in France. The exhibit first launched in Paris and saw over 2 million visitors. It then moved to Toronto, where it is still on display and Las Vegas as the west coast premiere. Since then, they have opened in many other cities.
During the experience, you immerse yourself in 300,000 cubic feet of massive animated projections of Vincent van Gogh's work in a 35-minute looping show.
The Original Immersive Van Gogh Exhibit Cities
Here is a list of cities where you can find the Immersive Van Gogh Exhibit: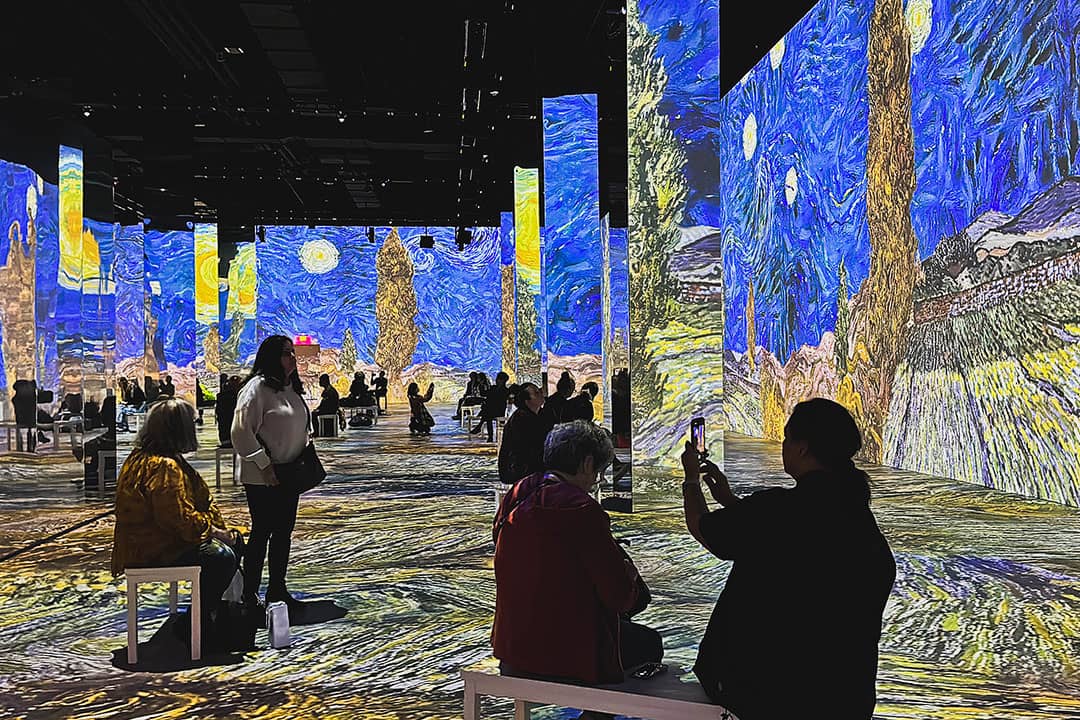 Immersive Van Gogh Las Vegas Ticket Prices
Ticket prices for the Immersive Van Gogh Exhibit start at $69.99 for adults and run up to $99.99. There are three ticket types, as well as a Child's Ticket for ages 6-16. Children 5 and under do not require a ticket.
VIP Ticket: $99.99 (currently discounted at $69.99)
– Priority access and admission
– Cushion rental
– Limited edition poster
– VIP souvenir laminate
Premium Ticket: $74.99 (currently discounted at $52.49)
– Cushion rental
– Limited edition poster
– During Off-Peak Days $64.99 ($45.49)
Basic Ticket: $69.99 (currently discounted at $48.99)
– Admission only
– During Off-Peak Days $59.99 ($41.99)
Child Ticket: $29.99 (currently discounted at $20.99)
– Admission only
– Ages 6-16 (5 and under do not need tickets)
– Child tickets are not subject to a change-of-date fee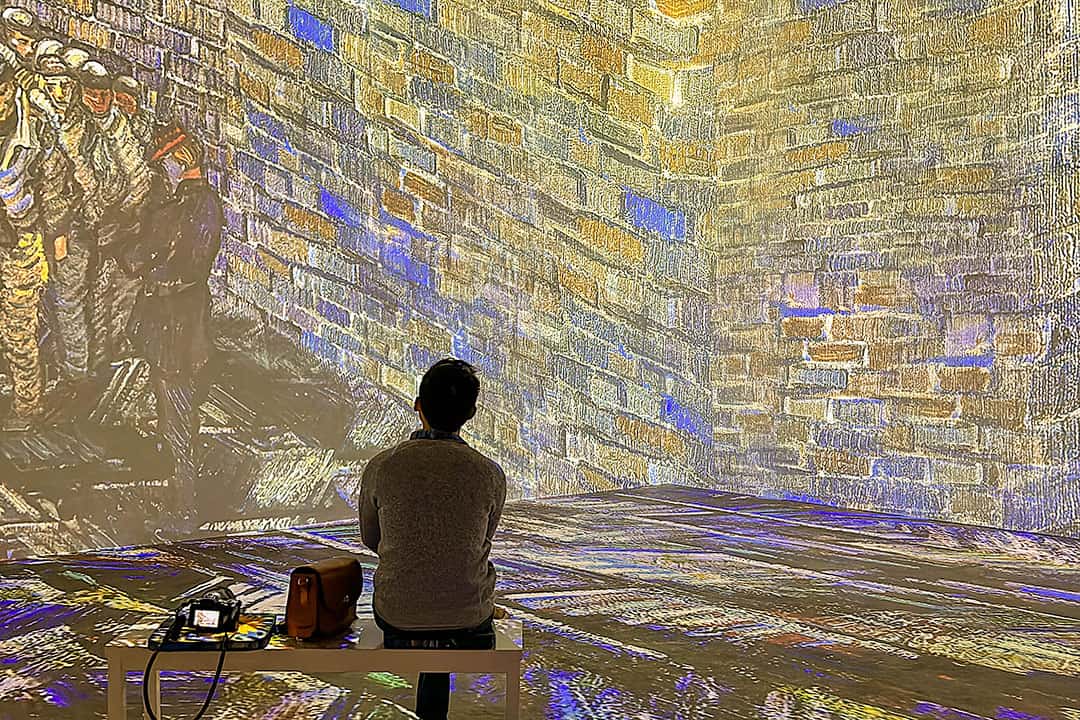 Immersive Van Gogh Las Vegas Location and Directions
The Immersive Van Gogh Exhibit is located at Lighthouse Las Vegas at The Shops at Crystals on Level 3.
Immersive Van Exhibit Address
3720 S Las Vegas Boulevard
Las Vegas, NV 89109 (map)
Parking Options:
There is Free Valet parking available at Crystals with the following hours:
Monday | 11 AM – 9 PM
Tuesday | 11 AM – 9 PM
Wednesday | 11 AM – 9 PM
Thursday | 11 AM – 9 PM
Friday | 10 AM – 10 PM
Saturday | 10 AM – 10 PM
Sunday | 11 AM – 9 PM
You can also park at the ARIA parking deck:
MGM Hotel Guests – Free
Visitors – Free for the first hour, $15 for 1-4 hours, $18 for 4-24 hrs
NV Residents – Free 3 hours of parking with ID
MGM Rewards Members – Free self-parking for Pearl, Gold, Platinum, and NOIR
More:25 Fun Indoor Activities in Las Vegas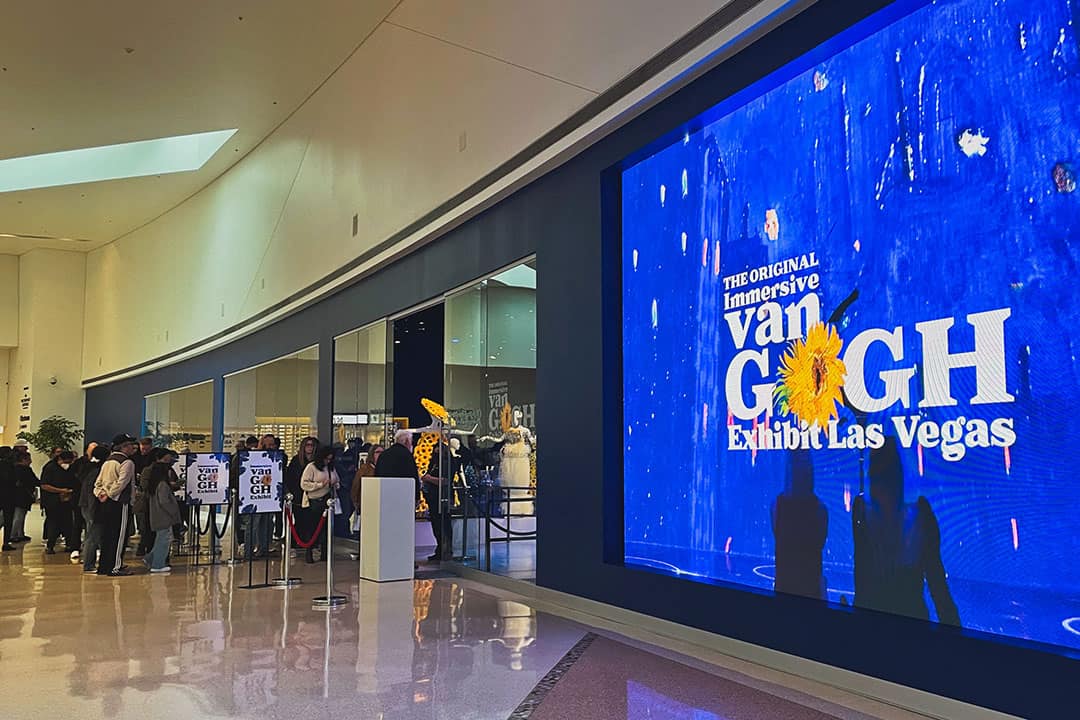 Our Experience at Immersive Van Gogh Exhibit Las Vegas
Lighthouse hosted us with VIP tickets, but we went in to experience it like the general public, unlike press events, which are often entirely different experiences. When we arrived, we saw there was already a line, but you can skip it with VIP access, which had no line (click to see price differences). After they handed us our seat cushions and souvenir badges, we headed inside.
We started off by picking a seat in the quietest corner we could find and stayed there the entire show. I took some time to sit on the floor for a different perspective. There aren't enough bench seats for every person, so while we arrived early, others enjoyed the show from the floor.
After the show, we received our souvenir poster and sunflower and browsed the gift shop and other displays they had outside. We then got a VIP tour, where a host took us through the exhibits we had missed initially, including how color is portrayed in his work. It was a great way to get more insight into the space and Van Gogh's work.
We spent slightly over an hour and only sat through the show once but saw that some people stayed longer since it was so peaceful and relaxing inside.
They used to have circles to show where to stand for social distancing, but when we went in January, they weren't there anymore.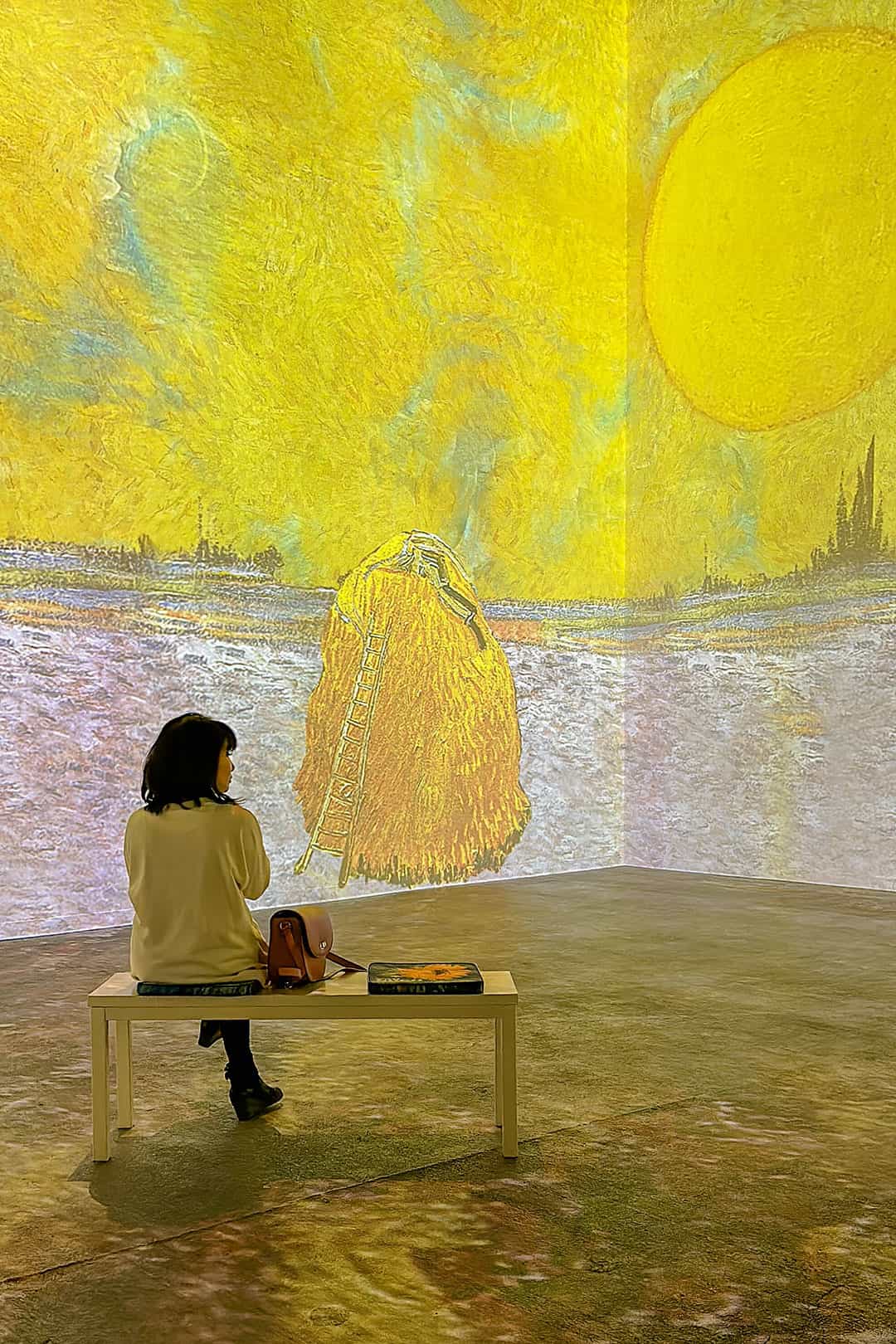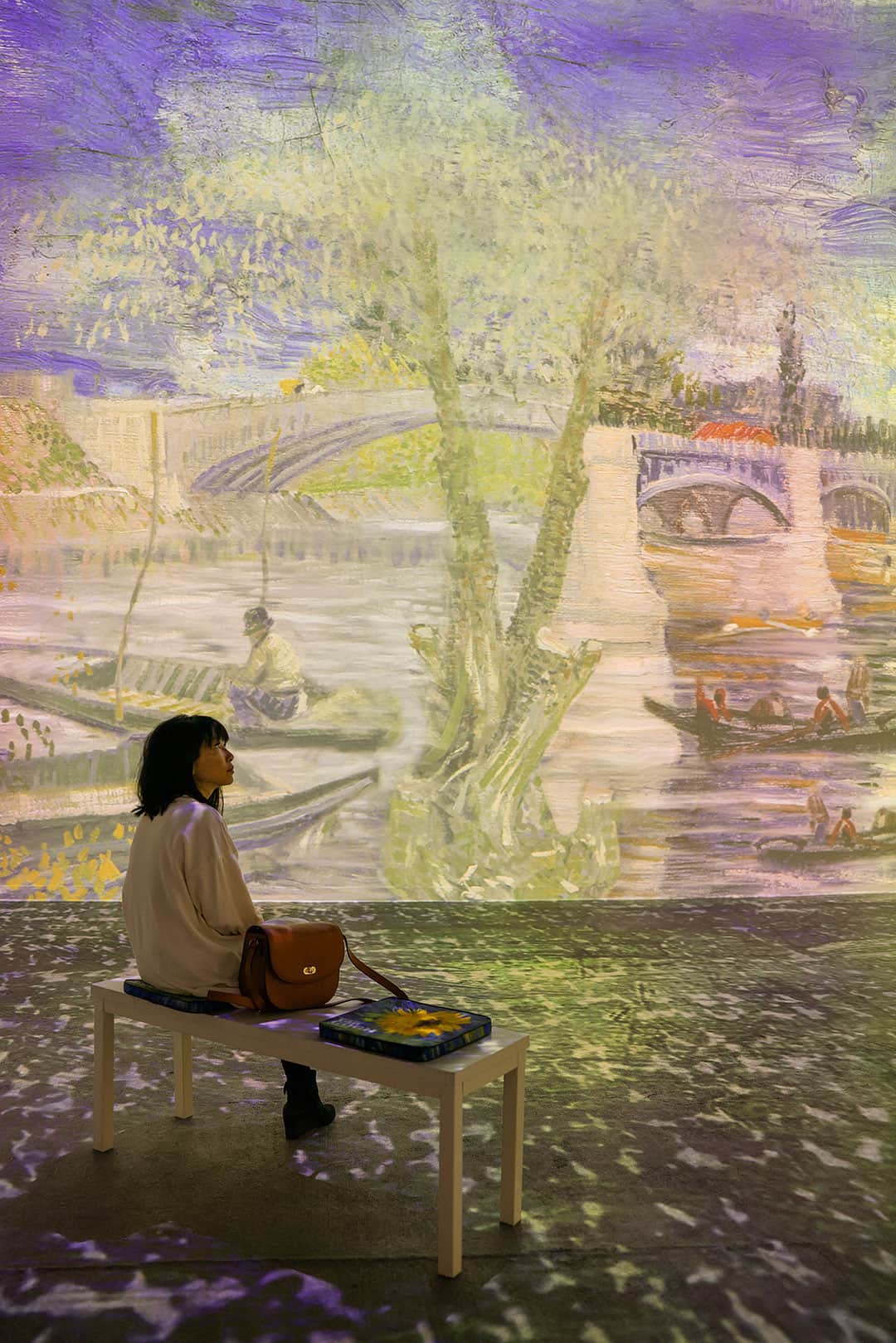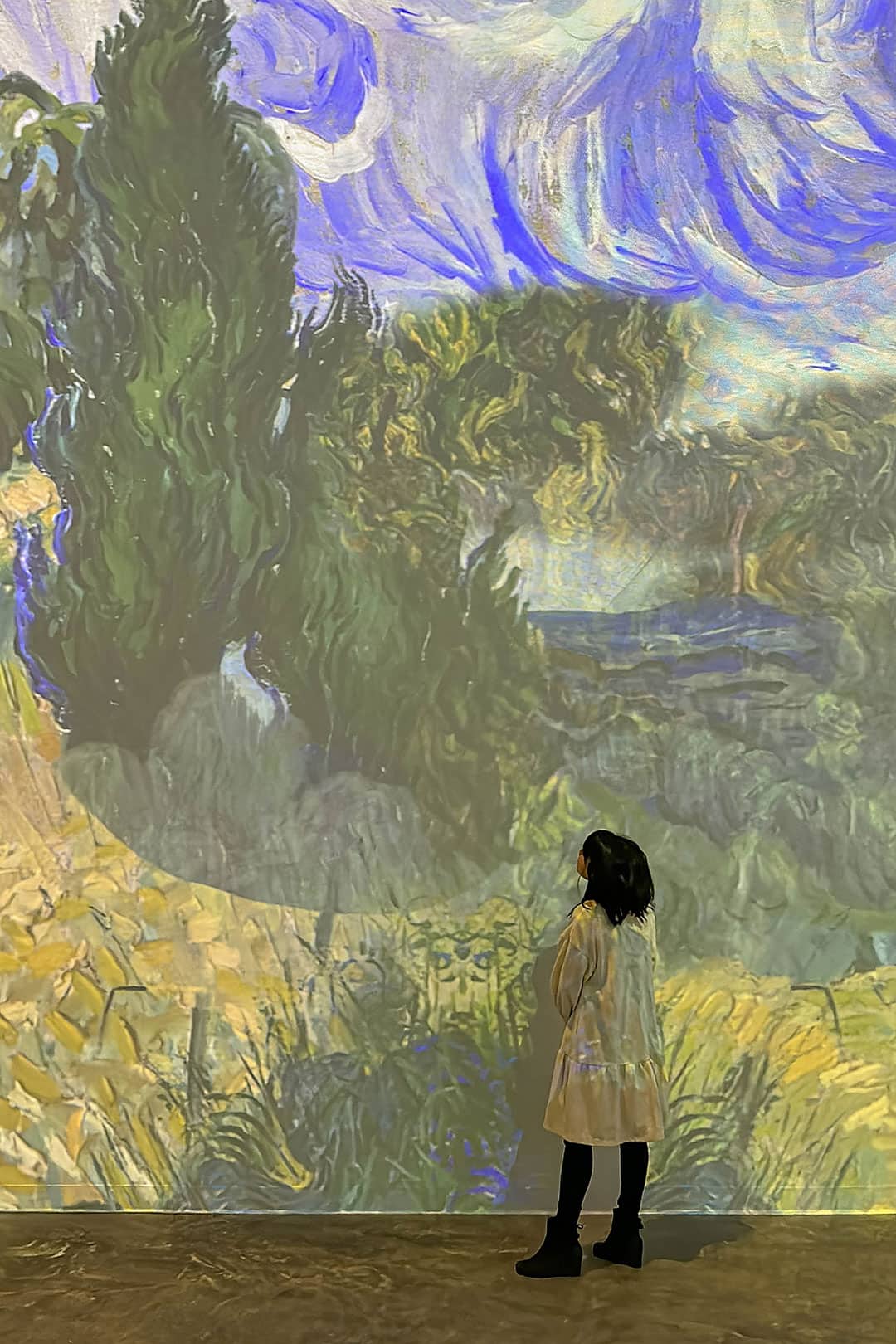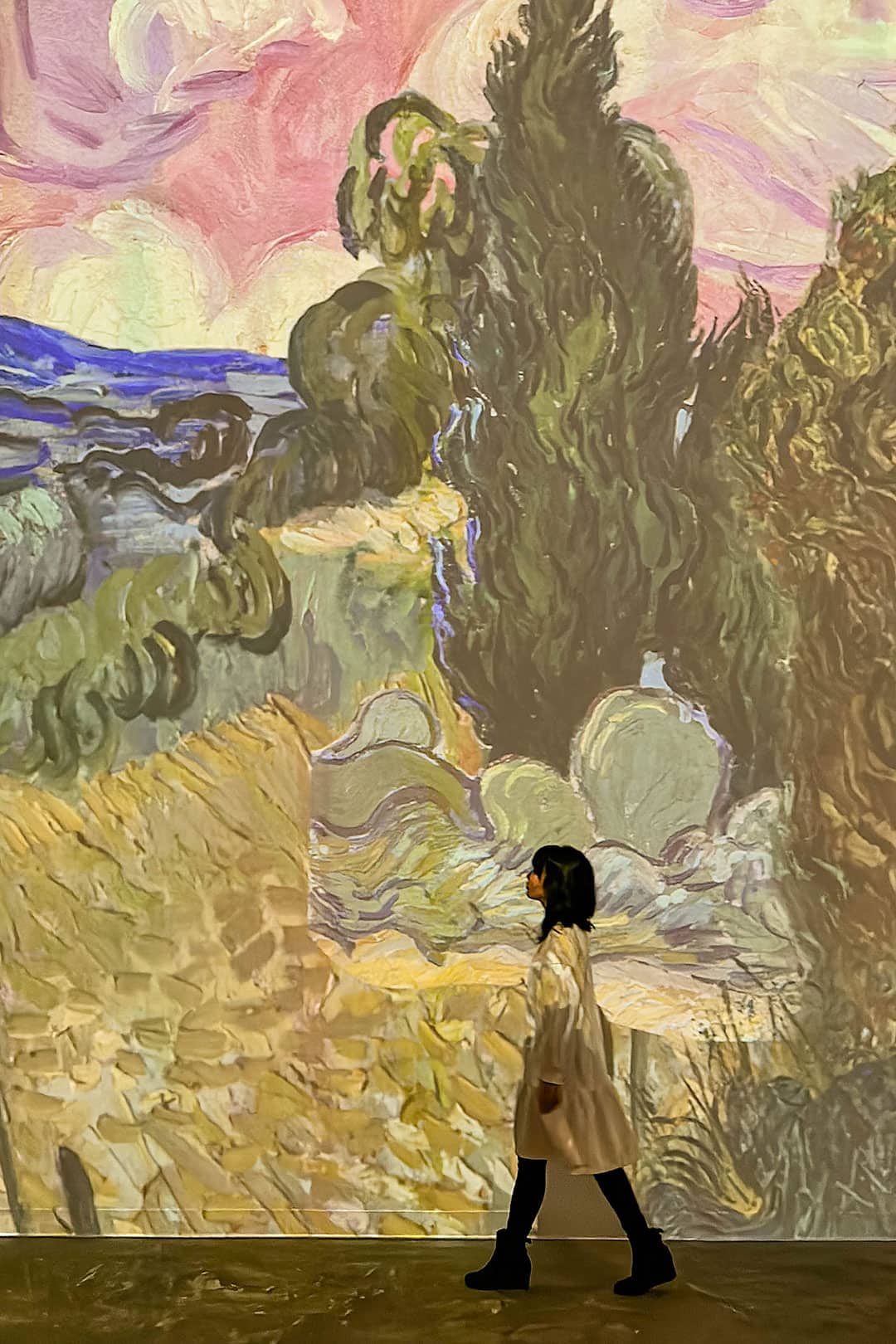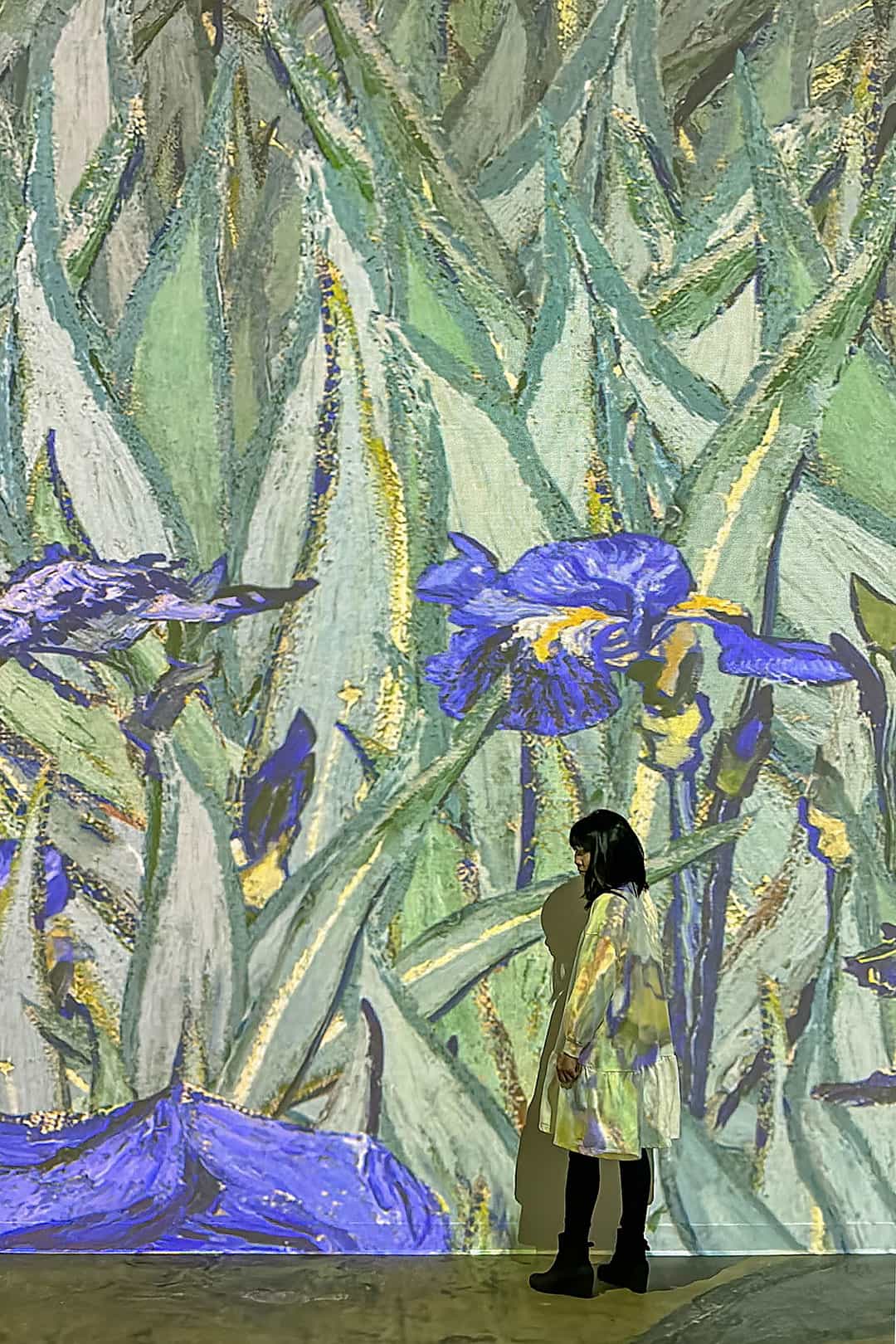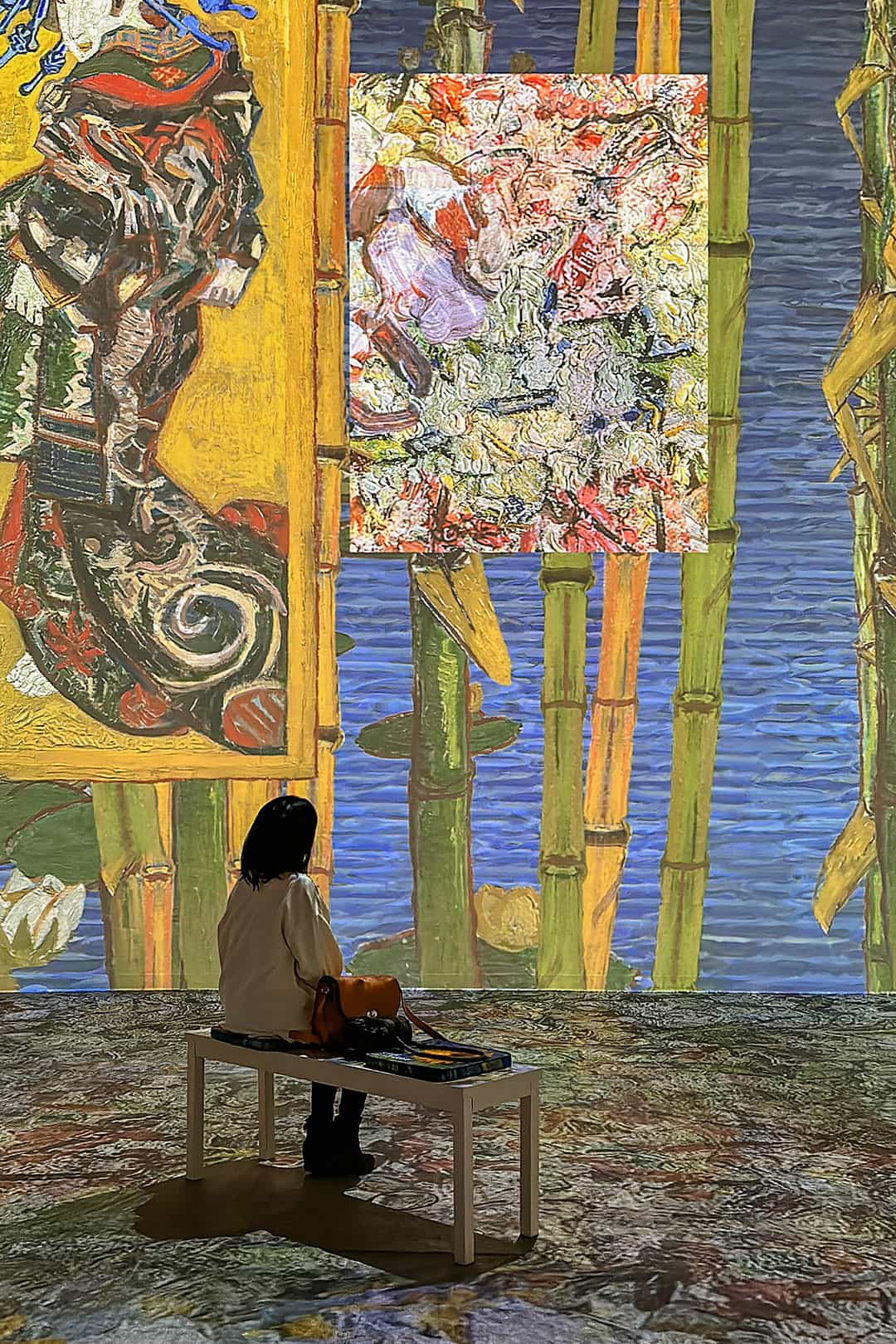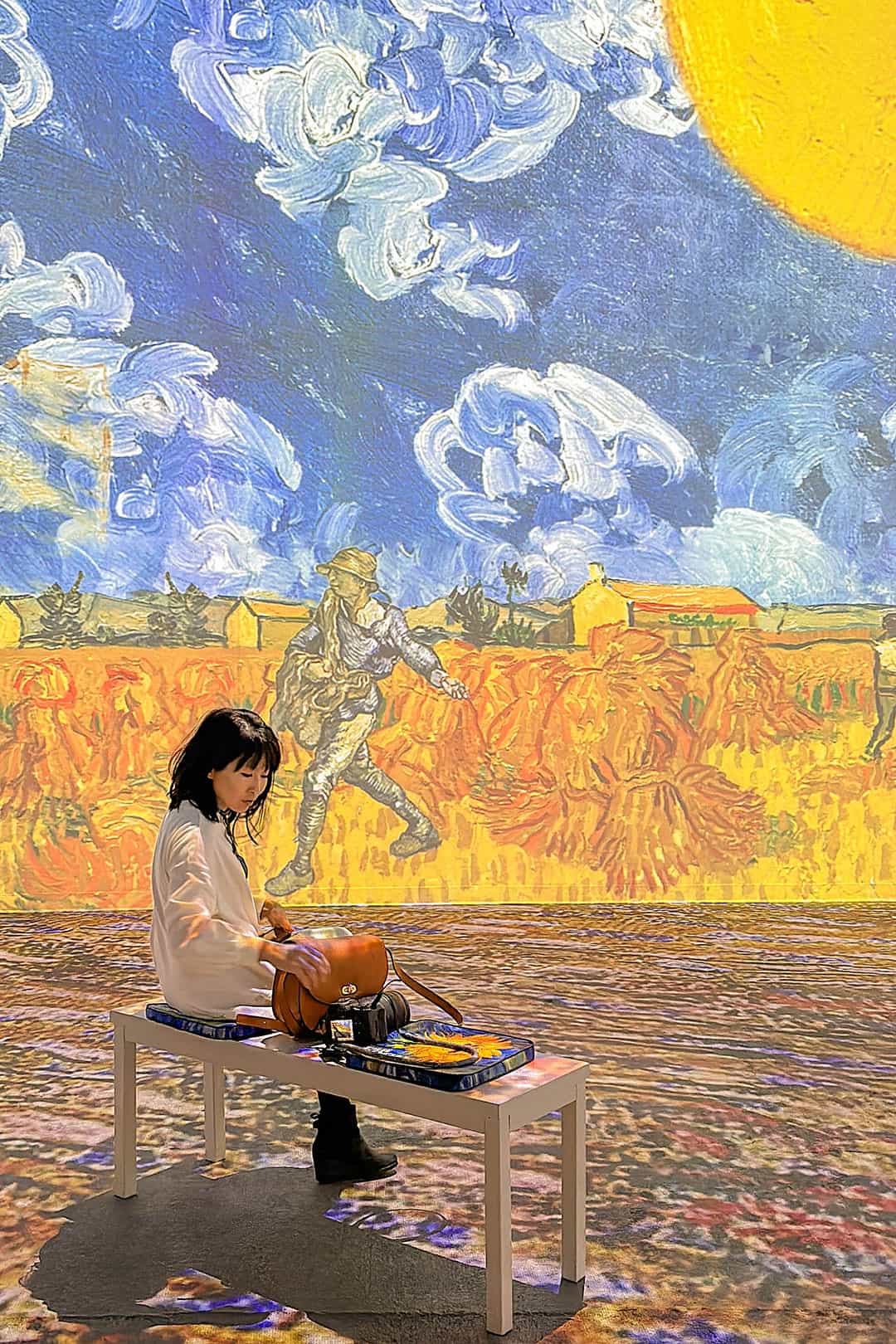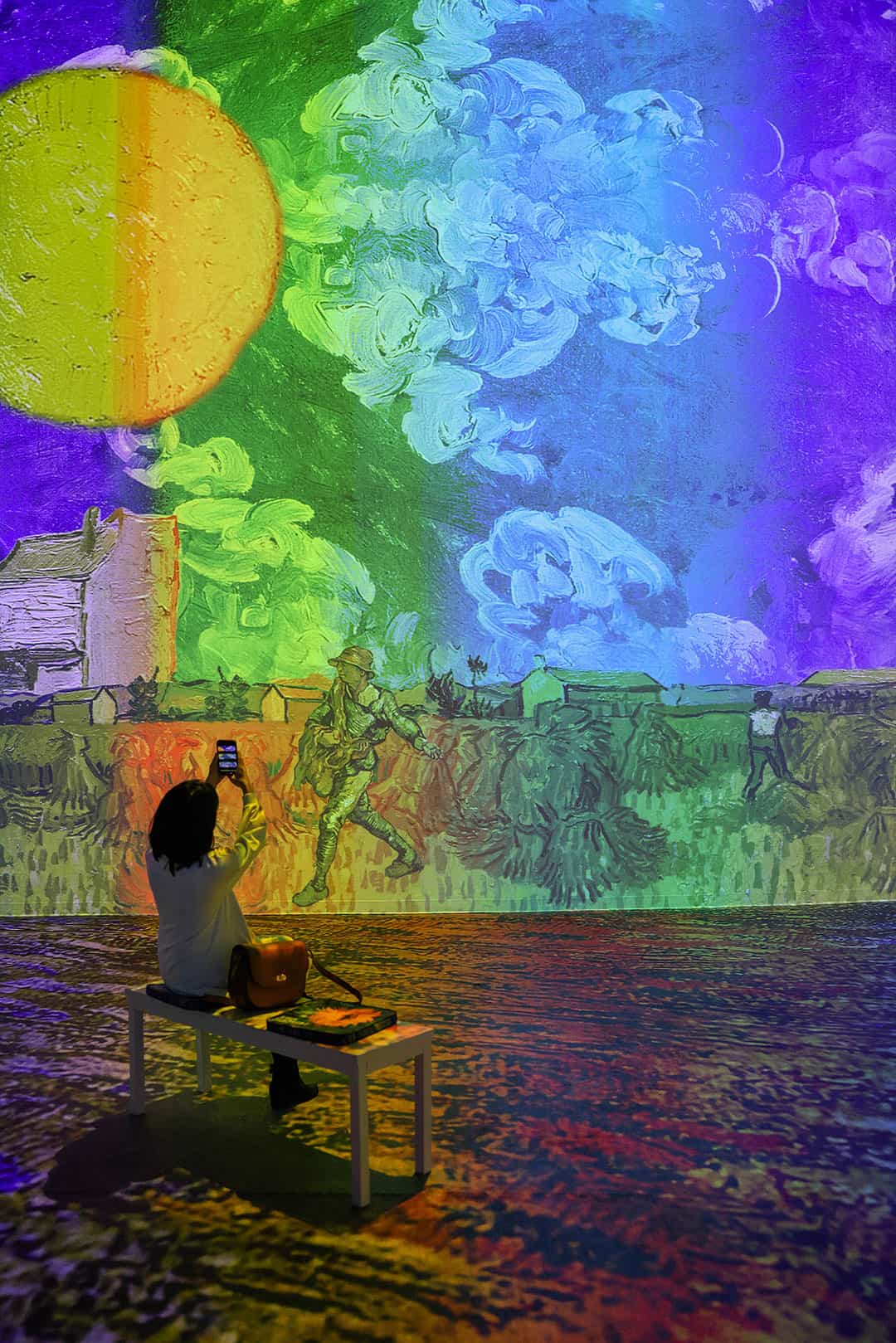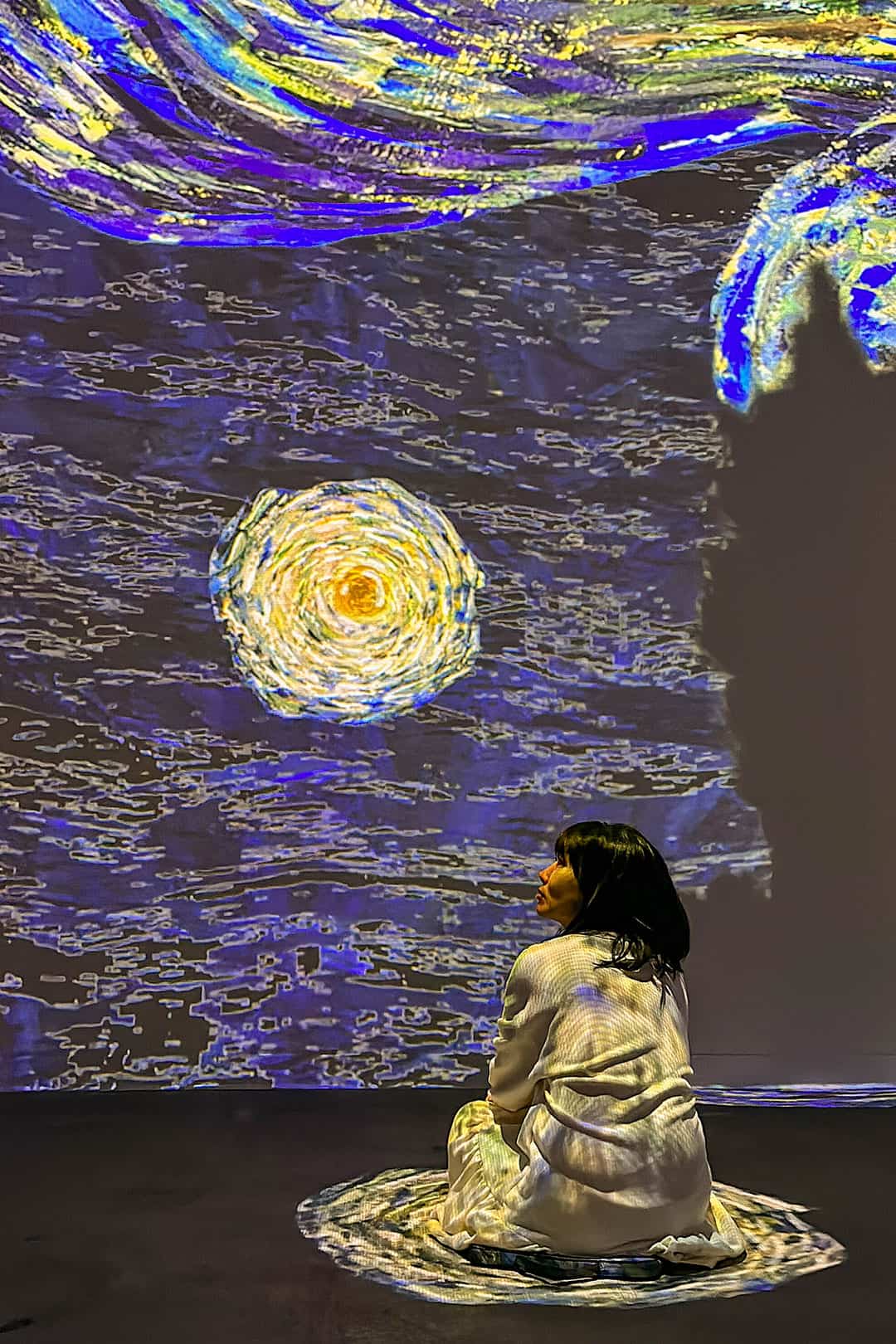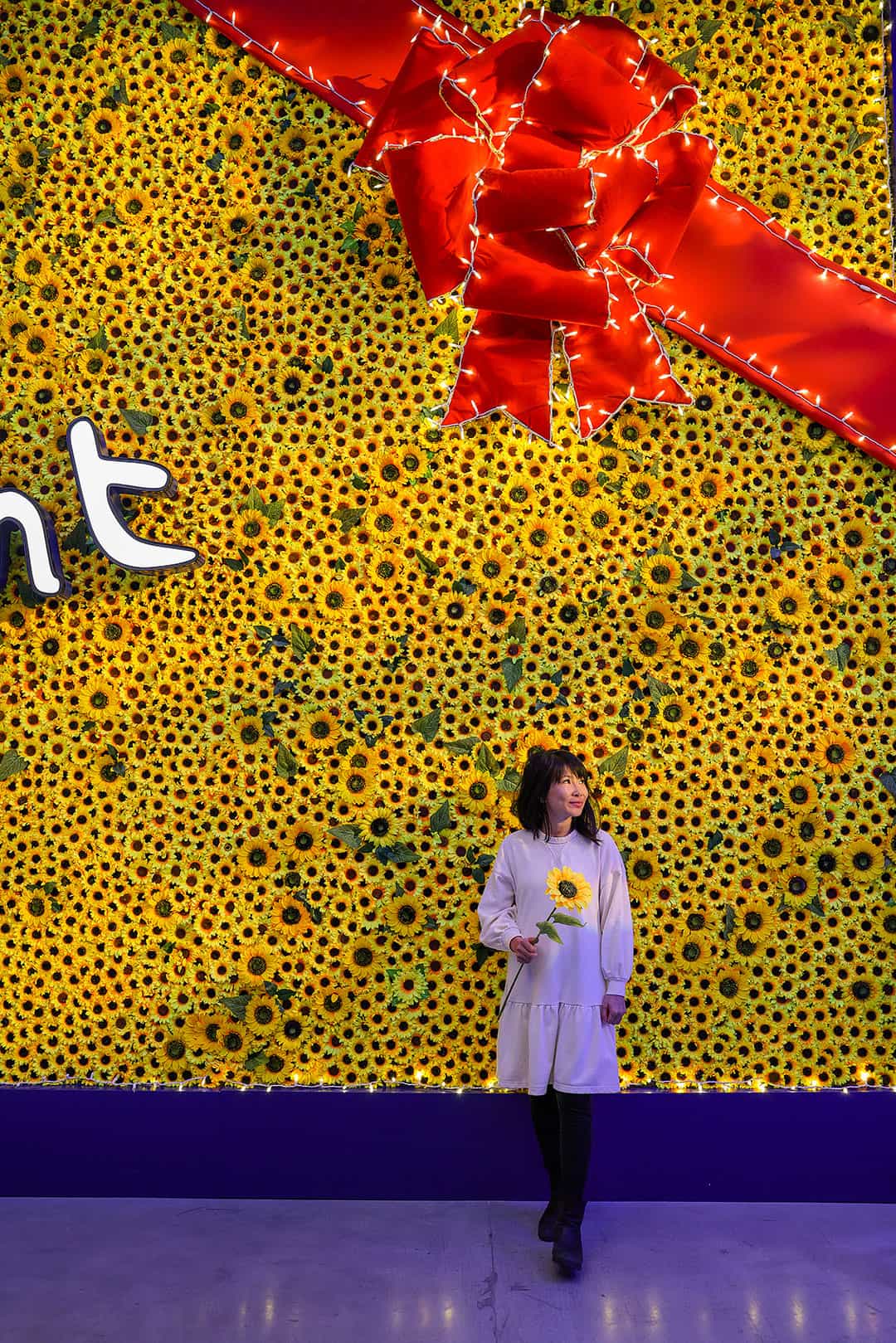 What's the difference between the two Van Gogh Shows?
Don't worry, you're not crazy to be confused about the Van Gogh show. There were, at one time, two different immersive Van Gogh shows in Las Vegas.
This one is called The Original Immersive Van Gogh Exhibit, while the other is called Van Gogh: The Immersive Experience. We've been to both, and while the concept is similar, the vibes are entirely different. This one felt more tranquil with music, like in a spa, and we liked how they executed the animation better, while the other had more dramatic storytelling with a narrator. If you're there mainly to see the Starry Night, though, Van Gogh: The Immersive Experience spent more time on it.
When it comes down to it, most cities won't have both simultaneously. We had a short period where they were both in town, but it wasn't very long. And if you enjoyed one of them, the shows are different enough that you may enjoy both. If you were only planning on going to one, though, this one is better and is the original.
See More: Van Gogh Immersive Experience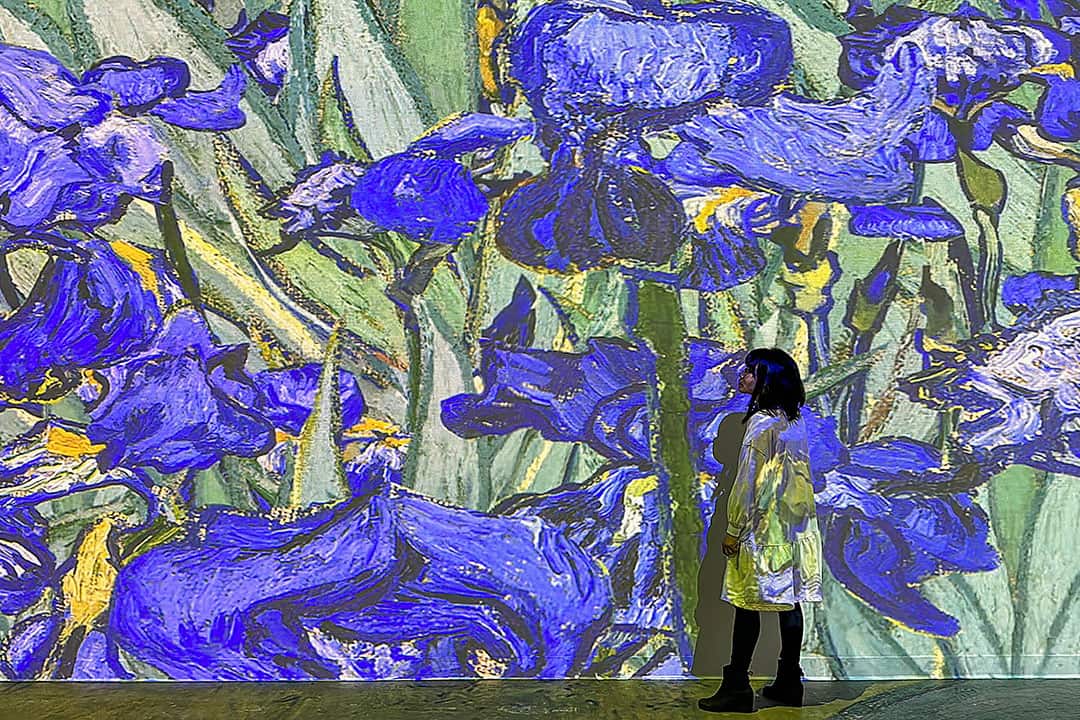 Essential Tips
Arrive early to grab a seat. If you can't find open seats, you can sit anywhere on the floor. Most people leave after one loop, which will open up seats if you want to stay for the next loop.
The show runs for 35 minutes on a continuous loop, so if you miss something or enjoyed it, you can stay for repeats.
Free valet parking is available at The Crystals, and NV residents can park at ARIA for 3 hours for free.
If you've never been, give yourself extra time to walk around The Crystals and check it out.
Check out the free James Turrell exhibit when you leave. Look for the giant windows with color-changing lights. It's just to the right, and there is one on the 3rd floor as well as the 4th floor.
The show will close at the end of March, but Lighthouse will be bringing in an Immersive Disney show next. Tickets are already available. During the holidays, they also had a Nutcracker show.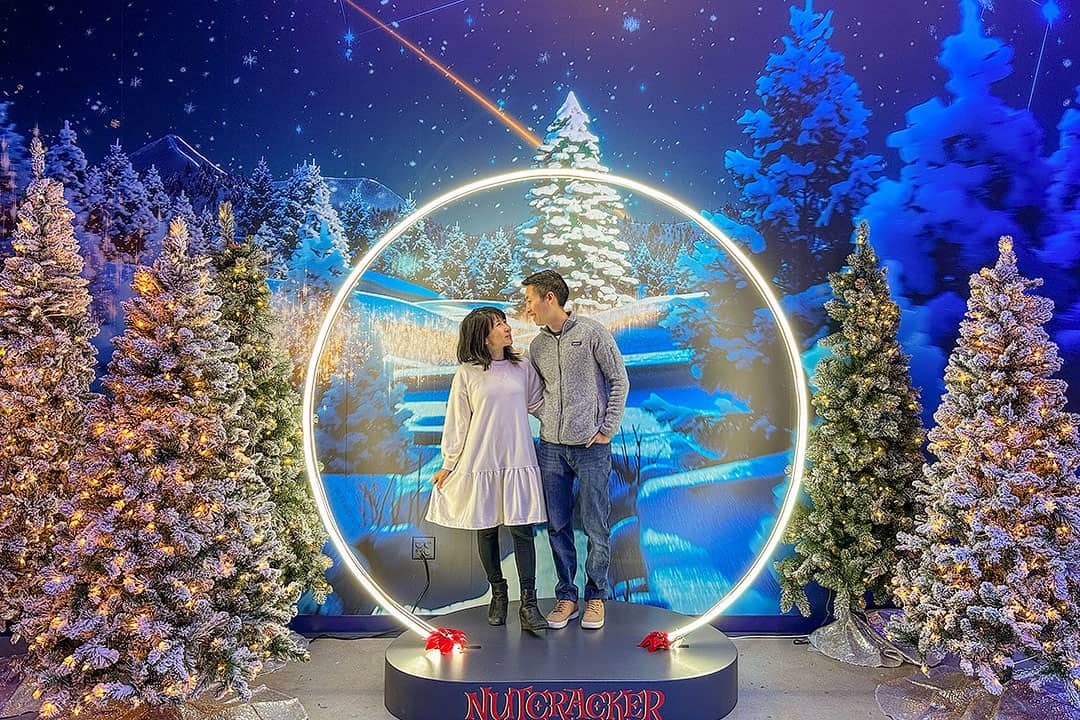 Frequently Asked Questions
CAN I BRING A BACKPACK IN?
Backpacks and duffle bags are not permitted in the exhibit. Purses are subject to inspection.
WHAT ELSE IS PROHIBITED?
Paints and aerosols
Indelible markers
Weapons of any type
Outside food or beverages
Alcohol
Any item deemed by exhibit security or venue management to be inappropriate
Bikes, helmets, skateboards, rollerblades etc
Camping chairs
Tripods
CAN I TAKE PHOTOS AND VIDEO?
Yes, but flash is not allowed. They also ask that you keep videos to less than 2 minutes.
WHAT CAN I BRING?
You can bring your cameras, personal belongings, walkers, mobility scooters and other mobility aids, service animals (for non-traditional service animals, please get in touch with the exhibit beforehand), and strollers.
CAN I RESCHEDULE MY TICKET?
To request a reschedule of your tickets, please see this form. Note that there is a $9.99 rescheduling fee per ticket. Last-minute changes of date will not be honored.
CAN I UPGRADE OR DOWNGRADE MY TICKET?
You can email them at [email protected] to upgrade your ticket before arrival. Unfortunately, you cannot downgrade your ticket.
Have you been to either Immersive Van Gogh exhibit? What are your thoughts?
Did you enjoy this post? Pin it for later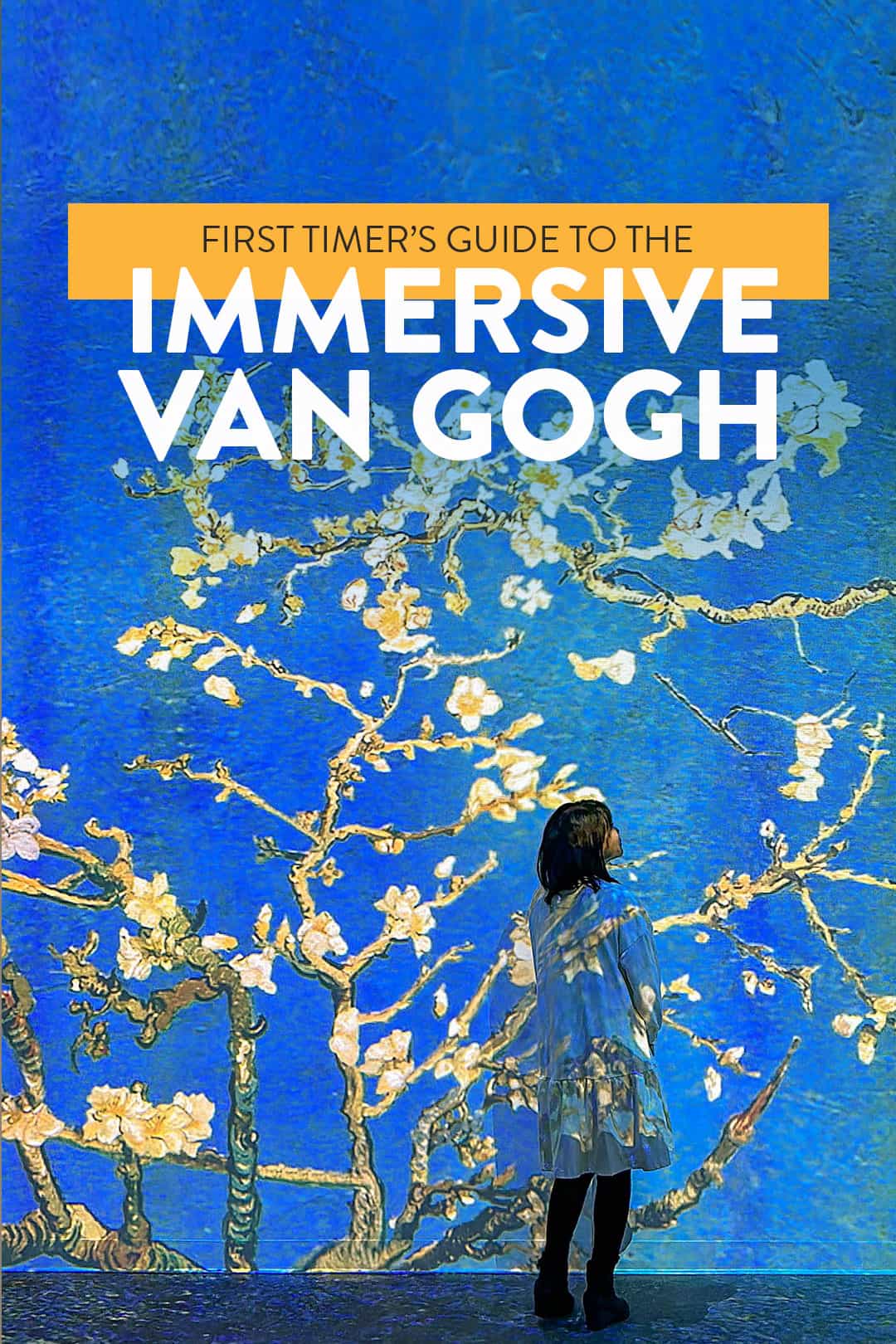 SEE MORE LAS VEGAS GUIDES
⟡⟡⟡⟡⟡
"Discovery consists not of seeking new lands but in seeing with new eyes" – M. Proust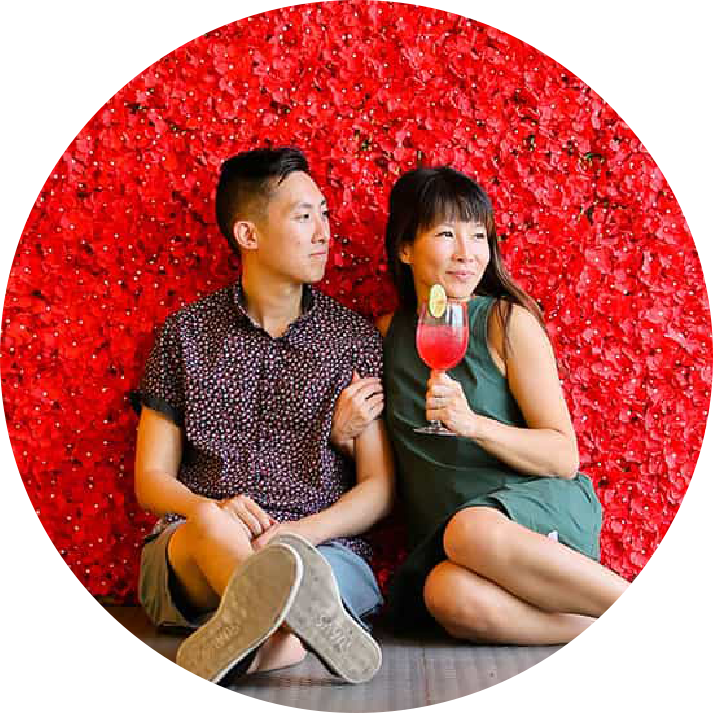 Esther + Jacob
Esther and Jacob are the founders of Local Adventurer, one of the top 5 travel blogs in the US. They believe that adventure can be found near and far and hope to inspire others to explore locally. They explore a new city in depth every year and currently base themselves in Las Vegas.
Follow on Instagram (E + J), YouTube, TikTok, and Pinterest.