Visiting Golden BC? Don't miss the must-visit attraction, the Golden Skybridge.
Golden Skybridge is a new attraction to Golden, BC, and is the highest suspension bridge in Canada. It's also the perfect place for families with kids to enjoy a day away from the crowds in Banff. We've always wanted to try a mountain coaster, and what better place than Golden to experience a first? When we arrived, we bee-lined our way to the coaster.
If you're visiting Golden, we've compiled a guide to help you maximize your time at the Golden Skybridge!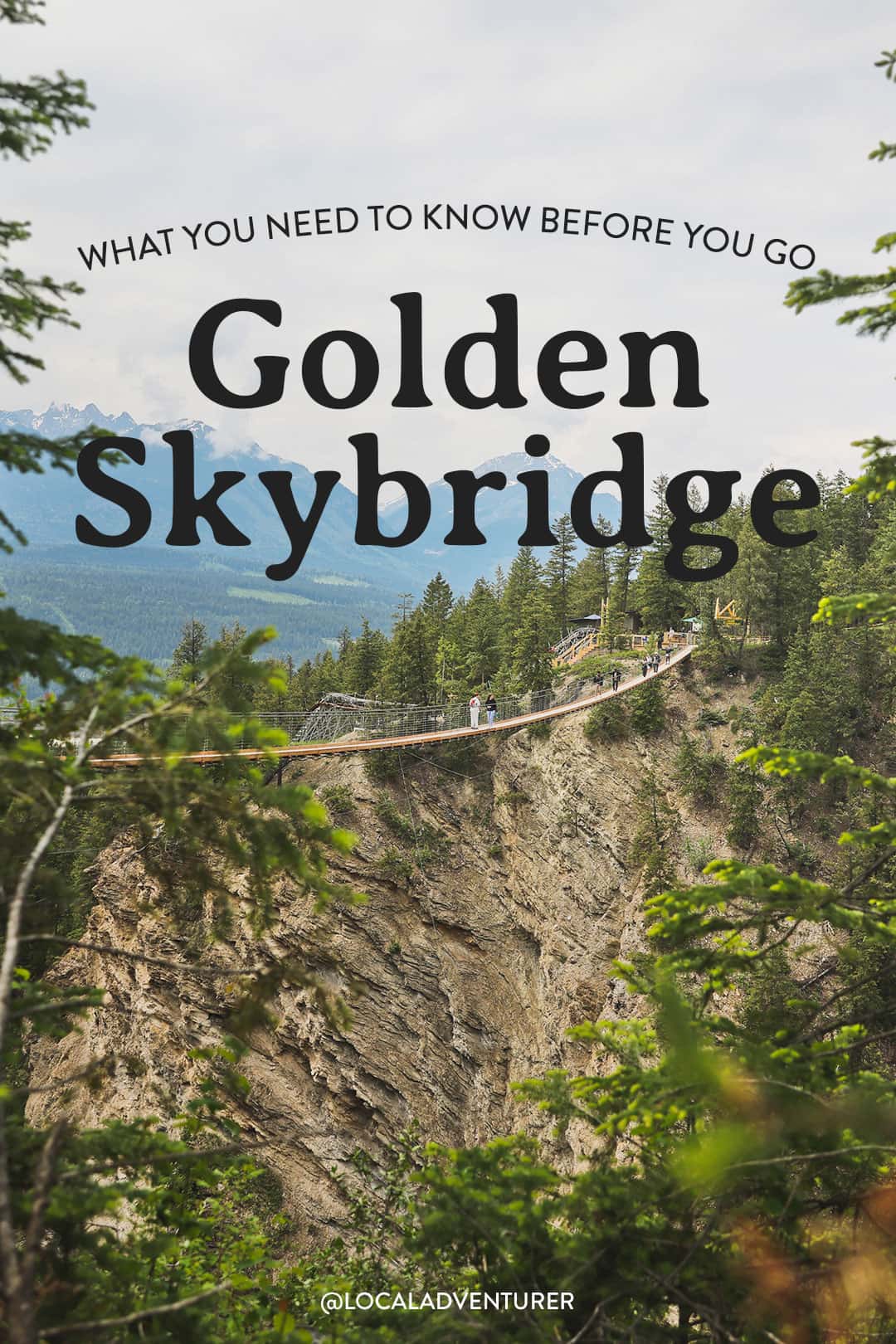 This post may contain affiliate links, where we receive a small commission on sales of the products that are linked at no additional cost to you. All opinions are always our own. Read our full disclosure for more info. Thank you for supporting the brands that make Local Adventurer possible.
Last Updated: July 17, 2023
About Golden Skybridge
The Golden Skybridge is Canada's highest suspension bridge at 426 feet above the canyon, where you get amazing views of the Columbia Valley, Canadian Rockies, and Purcell mountain ranges. Besides the two sky bridges, they have trails, a mountain coaster, a zipline, axe throwing, a canyon swing, and more.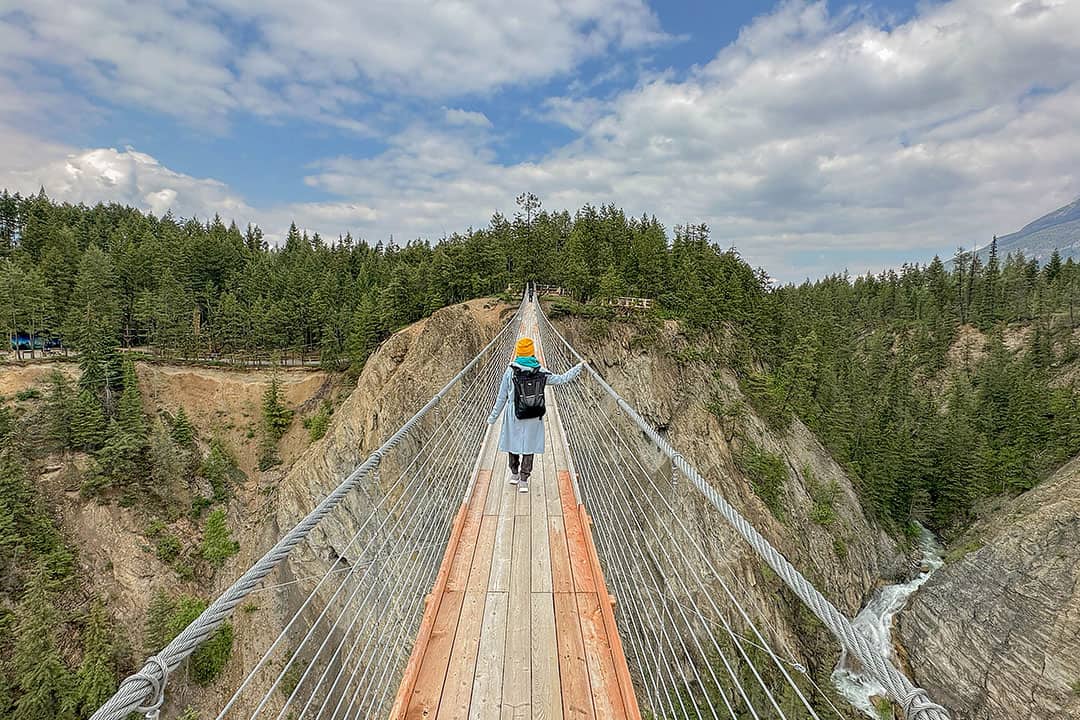 Golden SkybridgE Ticket Prices & Hours
There are a few different ticket types at the Golden Skybridge.
General Admission – CA$40 per adult // CA$30 per child
This ticket gives you access to the grounds, sky bridges, and trails.
Golden Hour (after 5 PM) tickets are CA$32.2 per adult // CA$21 per child.
Adventure Pass – CA$80 per adult // CA$70 per child
Includes General Admission + one-time admission to the Railrider Mountain Coaster, Canyon Edge Course, Sky Zipline, Axe Throwing, and Climbing Wall
Golden Hour (after 5 PM) tickets are CA$64.2 per adult // CA$56.2 per child.
Adventure Pass Replay – $15 for one or $30 for 3
Additional admission for the Railrider Mountain Coaster, Canyon Edge Challenge Course, Sky Zipline, Axe Throwing, or Climbing Wall
Season Pass (only available onsite)
The season pass gives you admission to Golden Skybridge
You can upgrade to an Adventure Pass for $20 (Mon-Thurs excluding holidays) or $40 (Fri-Sun)
Receive 15% off at the retail store and on food & beverages (excluding alcohol)
Bypass the line with the Season Pass
2023 Daily Operating Hours
May 12 to June 23: Mon-Fri 10 AM – 6 PM / Sat-Sun 10 AM – 8 PM
June 25 to September 4: Mon-Sun 9 AM – 8 PM
September 5 to October 9: Mon-Fri 10 AM – 6 PM / Sat- Sun 10 AM – 8 PM
The last General Admission entry is 30 minutes before close, and the final Adventure Pass entry is 2 hours before close. Golden Hour passes are available from June 24 to September 4 and on weekends only from September 5 to October 9.
Local Tip: You can save 10% on ticket prices by booking online. They also offer packaged deals if you visit the Banff Gondola, alpine lake cruises, or glacier walks. See the packages here.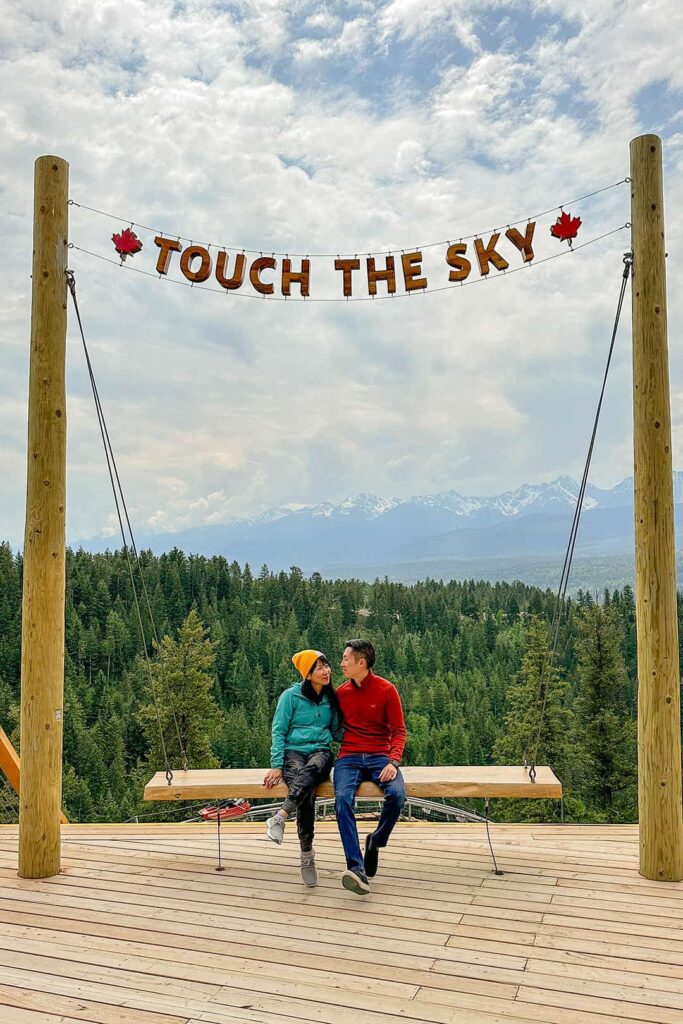 The Best Things to Do at the Golden Skybridge
There is plenty to do at the park to keep you entertained, but if you don't have all day, you should prioritize your activities!
1. Upper and Lower Skybridge
These beautiful bridges give you amazing views over the canyon while testing your fear of heights. You cross them when you're going to the Canyon Edge Challenge, Zipline, and RailRider Mountain Coaster.
From the Upper Skybridge, you'll be able to see the waterfalls below you, but one of the best views of the bridge is near the Giant Canyon Swing.
Local Tip: When the park is busy, they limit it to 60 people on the bridge at a time (although it can handle more weight).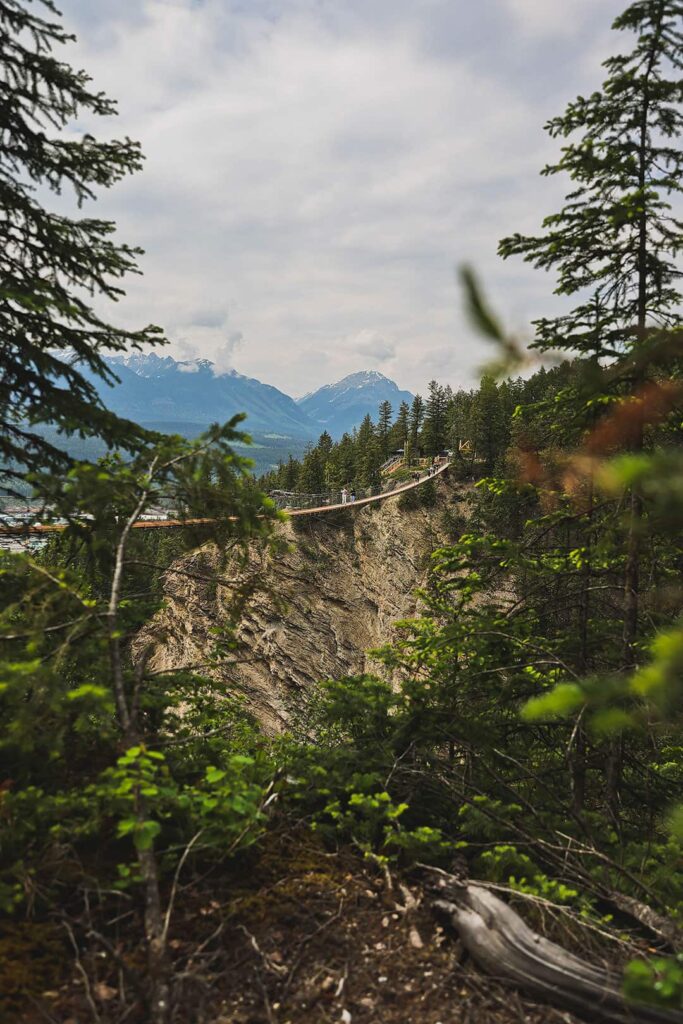 2. RailRider Mountain Coaster
The RailRider was the first mountain coaster we rode! The ride starts with a slow incline. When you reach the peak, you control your speed. There are two handlebars you hold onto that default to a brake position (up). When you push it down, you turn the brakes off. I highly recommend keeping it down the whole way. It makes the coaster so much more fun.
Local Tip: Each car has a sensor to help you avoid running into the person in front of you. If it's not busy and you want to fly down the whole coaster full send, ask for extra space between you and the previous rider.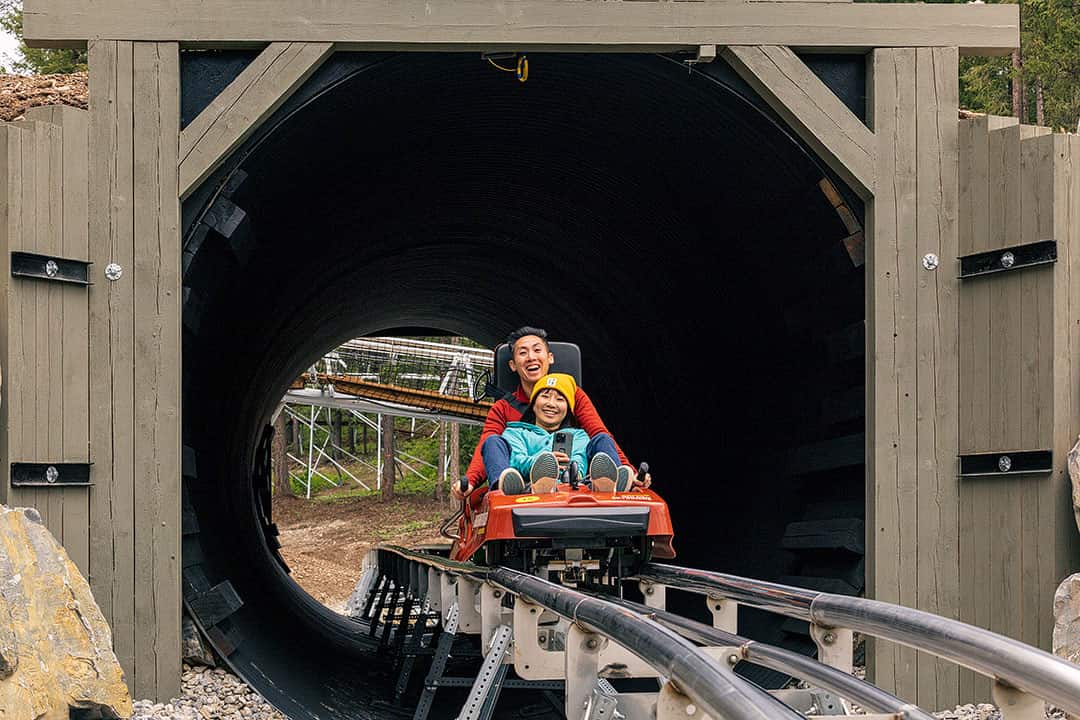 3. Sky Zipline
After the Mountain Coaster and Canyon Edge Challenge, the best way to get back across the canyon is the 1000-foot zipline. You get to soar above the canyon floor, and it takes you to the village. You will miss the Lower Skybridge, but you can always backtrack to check it out.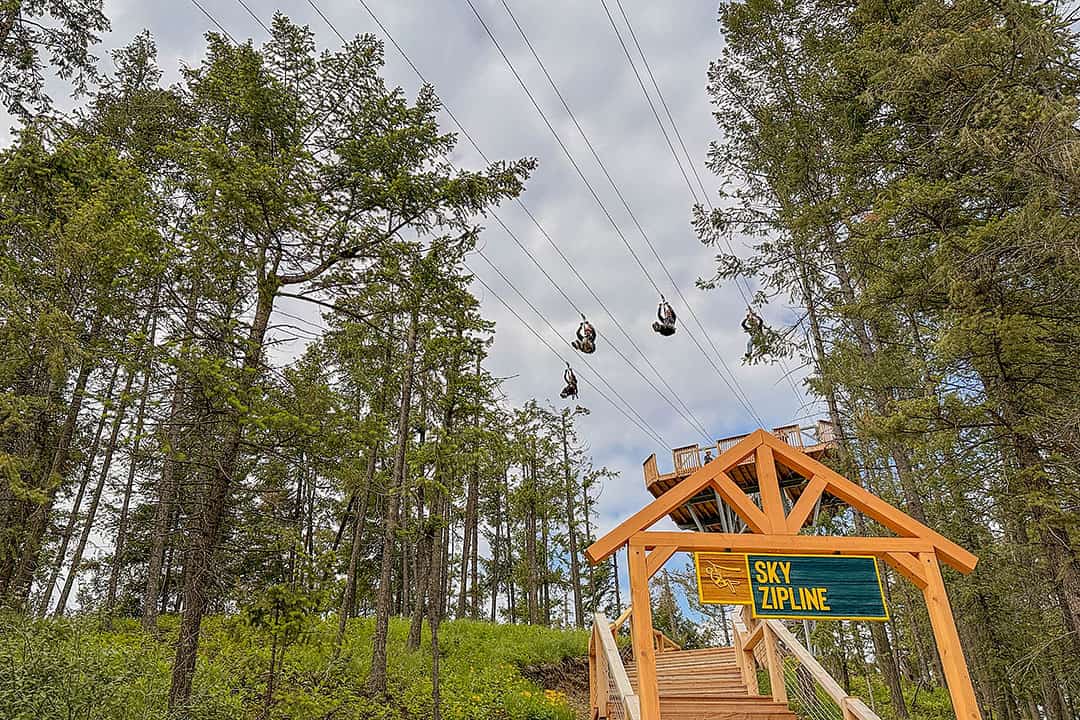 4. Giant Canyon Swing
When we visited, the Canyon Swing wasn't open yet, so we'll have to revisit to try it. An employee we talked to, who tried it during training, made it sound like a lot of fun. It's the most extreme thrill experience at the park. After a short free fall into the canyon, the swing softly catches you and gives you a much closer look into the canyon. Would you try it?
5. Canyon Edge Challenge
The Canyon Edge Challenge is a tree-top challenge with three different difficulties. The most challenging course takes you 40 feet in the air.
We didn't have time to do the course since it takes about 2 hours, including orientation. Be sure to allow plenty of time if you want to test your mettle.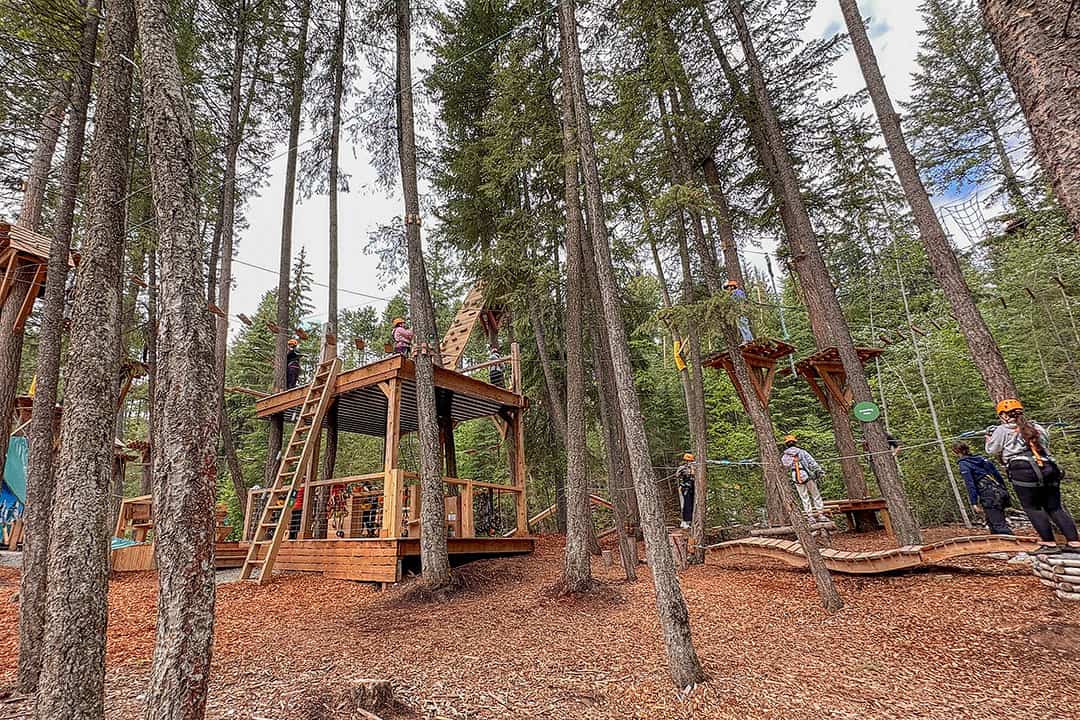 6. Axe Throwing
Unlike other axe-throwing facilities, trying it in the middle of the forest felt like the perfect setting. There are four axe-throwing lanes located to the left of the entrance. Participants must be 16 or older.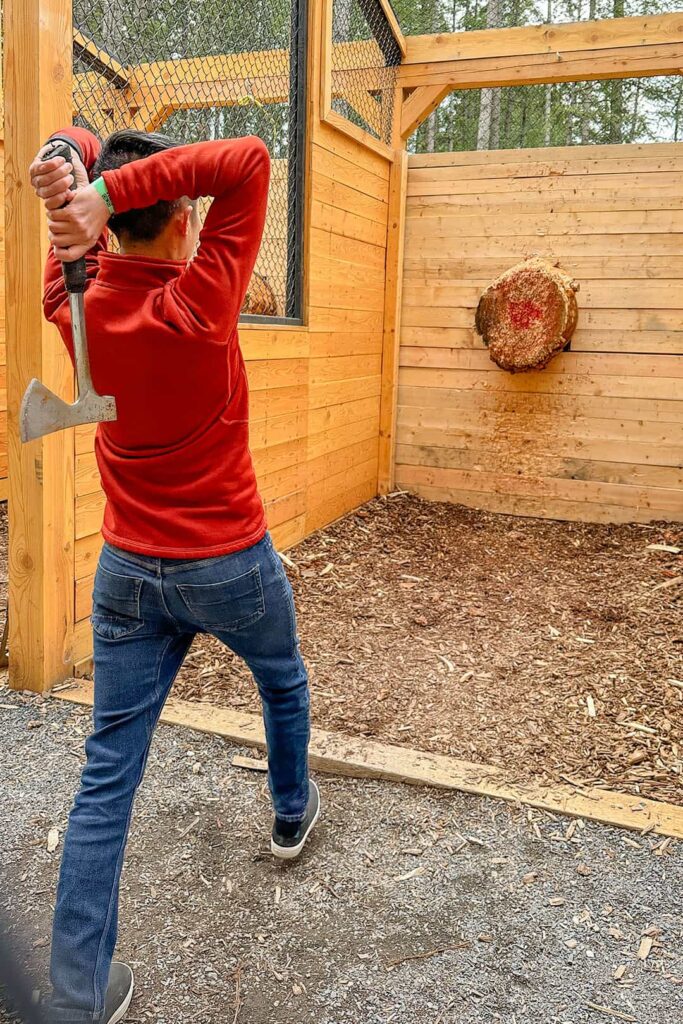 7. Climbing wall
You know how much we love rock climbing, so we had to hop on the 28-foot rock wall. It's a great introduction to climbing since the routes are easier. Up to six climbers can climb at the same time so that you can race your friends up the wall.
Rather than climbing with climbing shoes, you wear your regular street shoes, which can feel precarious in comparison. But all the climbs are beginner-friendly.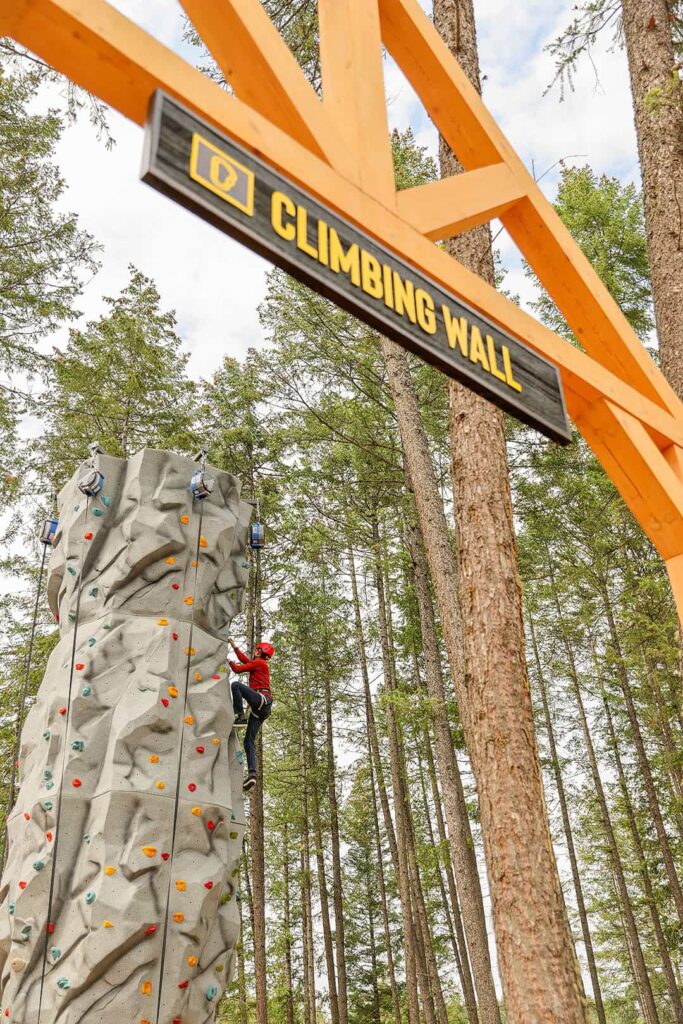 8. Treetop Play Area
This area is perfect for kids. It's a large playground area with different features and swings. There's even an area across the trail for the little ones, so they don't get trampled by older kids when it's busy.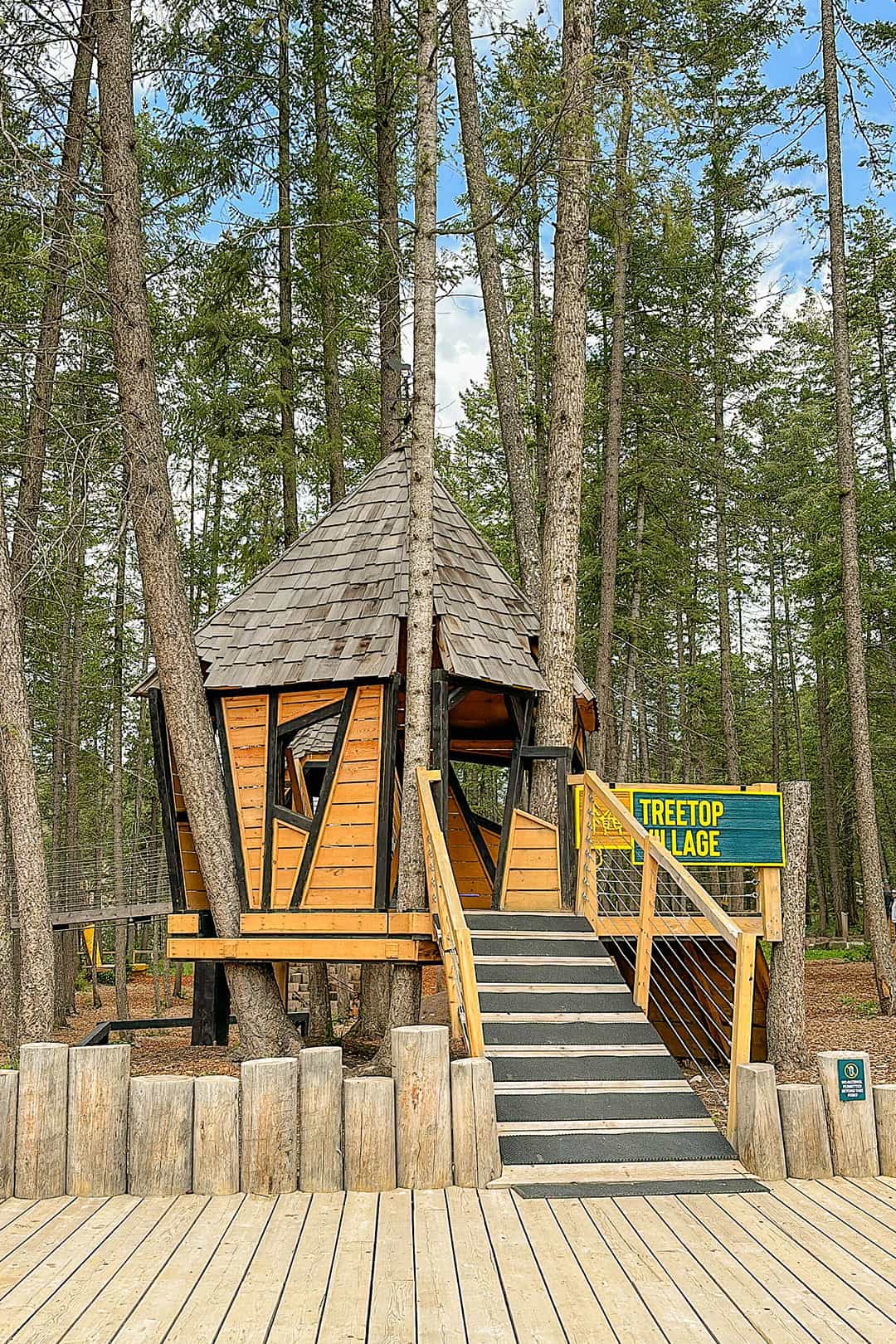 9. The Village
The Village is the central hub where you start your adventures at Golden Skybridge. You can hang out at the picnic tables, fire pit, take photos with a giant Adirondack chair, use the bathroom facilities, and eat at the Village Grill. We had the Nashville Chicken Sandwich and Impossible Burger.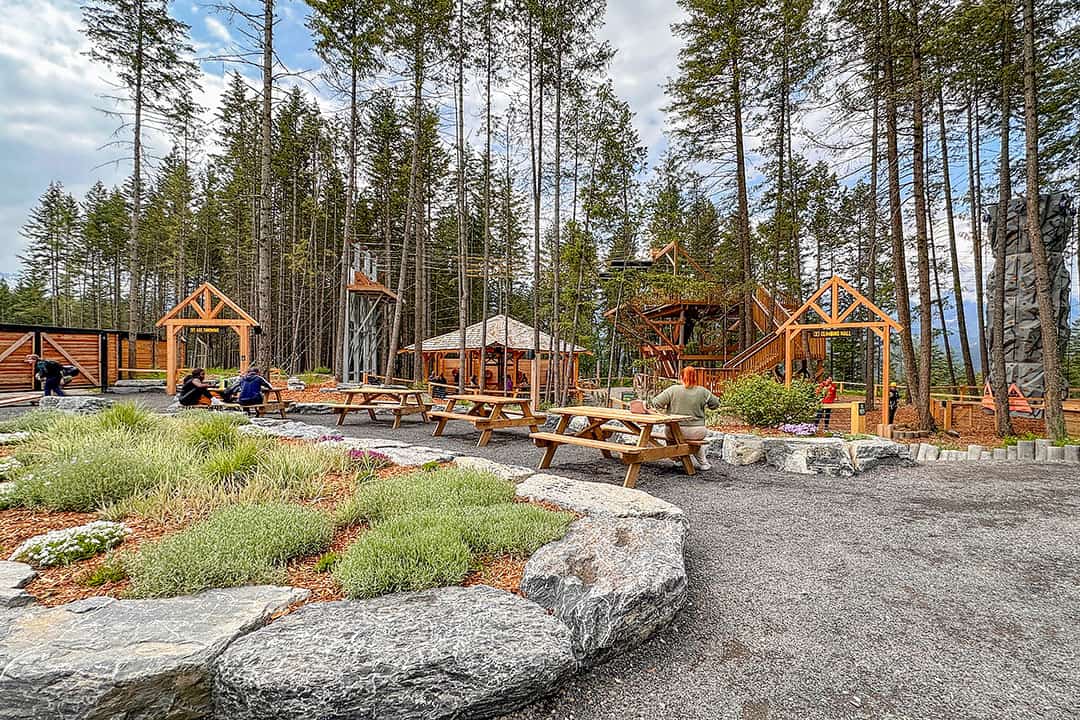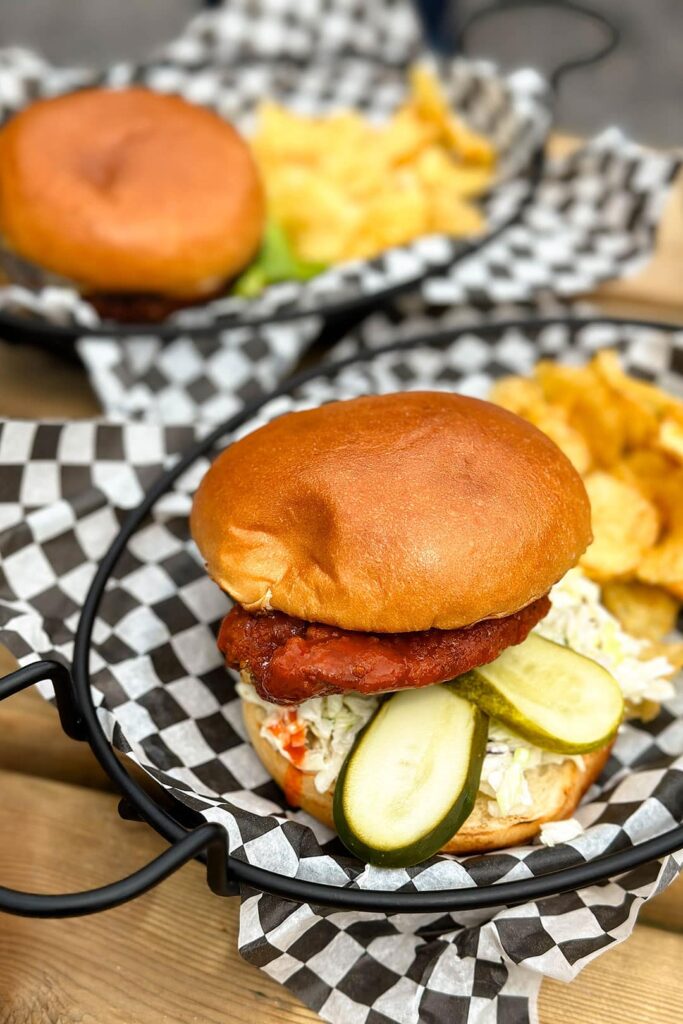 Directions to the Golden SkybridgE
The Golden Skybridge Address:
503 Golden Donald Upper Rd
Golden, BC V0A 1H1, Canada (map)
It's located just off the Trans-Canada Highway, making it easy to find. Plus, they have plenty of parking, whether you're in a car, motorcycle, or RV.
From Banff/Lake Louise (going Westbound): ~2 hours from Banff / ~1 hour from Lake Louise
Follow Trans-Canada Hwy/AB-1 towards Golden
Take exit 780 to Golden Donald Upper Rd
Turn left onto Lafontaine Rd
At the roundabout, take the first exit onto Golden Donald Upper Rd
From Revelstoke/Golden (going Eastbound): ~90 min from Revelstoke / ~5 min from Golden
Follow Trans-Canada Hwy/AB-1 towards Golden/Lake Louise
Continue past the town of Golden exit for two kilometers and take exit 780 to Golden Donald Upper Rd
Turn left onto Lafontaine Rd
At the roundabout, take the first exit onto Golden Donald Upper Rd.
Frequently Asked Questions
Do I need to book a time for my visit?
General Admission tickets are good for any time, even if you book tickets in advance. Adventure Pass tickets have a specific arrival time.
What time does the zipline, ropes course, and mountain coaster open and close?
You can find the current park hours here. The thrill rides, like the zipline, ropes course, and mountain coaster, open 30 minutes after opening, and the last admission is 30 minutes before closing. The final Adventure Pass admission is 2 hours before closing.
How long and how high are the suspension bridges?
The first bridge is 130 meters (426 feet) high and 150 meters (492 feet) long. The second bridge is 80 meters (262 feet) high and 140 meters (459 feet) long.
Are you open if it's raining?
Yes! The park is open, rain or shine, although not all services may be available.
Can I bring my own food?
Outside food is not allowed. There is food available at the Village Grill. You can eat at the picnic tables outside the park if you want to bring your own food.
Are pets allowed?
Pets are not allowed in the park, but you can take them to an off-leash area for pets next to the parking lots. Service animals are welcome when accompanied by their owners, and you must present appropriate accreditation. Emotional support animals are not permitted.
Are you wheelchair accessible?
Only portions of the park are wheelchair accessible due to the outdoor and gravel terrain. The Canyon Trail, the Adventure Hub, Skybridge, and bathrooms are accessible for motorized wheelchairs.
Can I fly a drone?
Drones are not allowed in the park.
Can I exit and reenter?
No. Once you exit, you need to purchase a new ticket to re-enter.
What are the requirements for the Canyon Edge Challenge Course and Sky Zipline?
Participants must be at least six years old, weigh at least 60 lbs (27 kg), and be at least 5'1″ (158 cm) with fingertips stretched overhead. The max weight is 250 lbs (113 kg). These requirements ensure that the harness fits correctly.
What are the requirements to ride the Railrider Mountain Coaster?
Riders must be at least three (kids between 3-8 must ride with an adult (16+). The minimum height for the driver is 4'4″ (132 cm) and 3′ (91 cm) for the passenger. The max weight combined per cart is 310 lbs.
How Long is the Railrider MOUNTAIN Coaster?
The RailRider Mountain Coaster runs 1,029 m or 3,375 ft descending a total of 669 m or 2,195 feet. On average, the ride time is 5 minutes.
How much time will I spend?
If you are solely checking out the bridges, you can spend as little as an hour here. If you want to do all the activities, you will spend at least a half day there, depending on how long the lines are. The Canyon Edge Challenge Course takes the longest; you want to allow at least 2 hours for it.
Can I drive my RV to Golden Skybridge?
Yes! There is a large parking lot with plenty of parking for RVs and Trailers.
Where to Stay
We took a day trip to the Golden Skybridge from Banff, where we stayed at the Elk + Avenue Hotel, but if you're looking to stay in Golden, check the map below.
Essential Tips for Visiting the golden skybridge BC
Wear close-toed shoes. Most rides require them. We both wore our Vessis to stay comfortable and dry if it happened to rain.
Weather can change throughout the day. Check the forecast, and having a light raincoat is always a good idea in BC.
A daypack is handy to put away anything you don't need. On the coaster, you can store your bags at the beginning of the ride or in the lockers where you get in line.
Save 10% by buying tickets online.
Visit on weekdays during the mornings to avoid the crowds. It gets busy during the summer.
Travel Planning Checklist
Which of these activities would you be most excited to try at the Golden Skybridge? Have you ridden a mountain coaster?
Did you enjoy this post? Pin it for later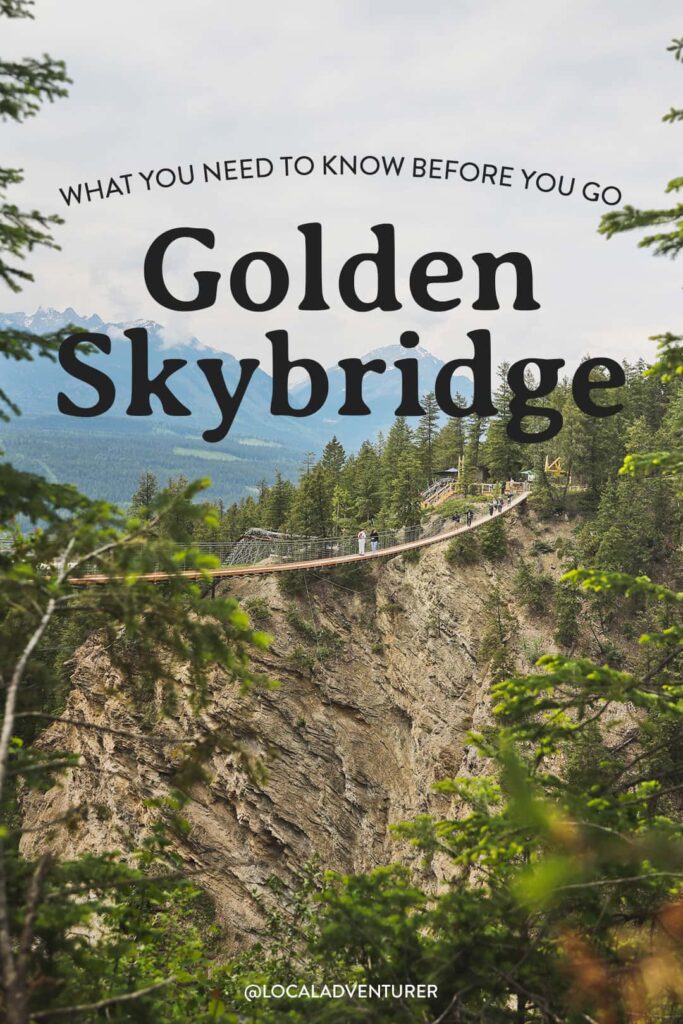 SEE More International City Guides
⟡⟡⟡⟡⟡
"Discovery consists not of seeking new lands but in seeing with new eyes" – M. Proust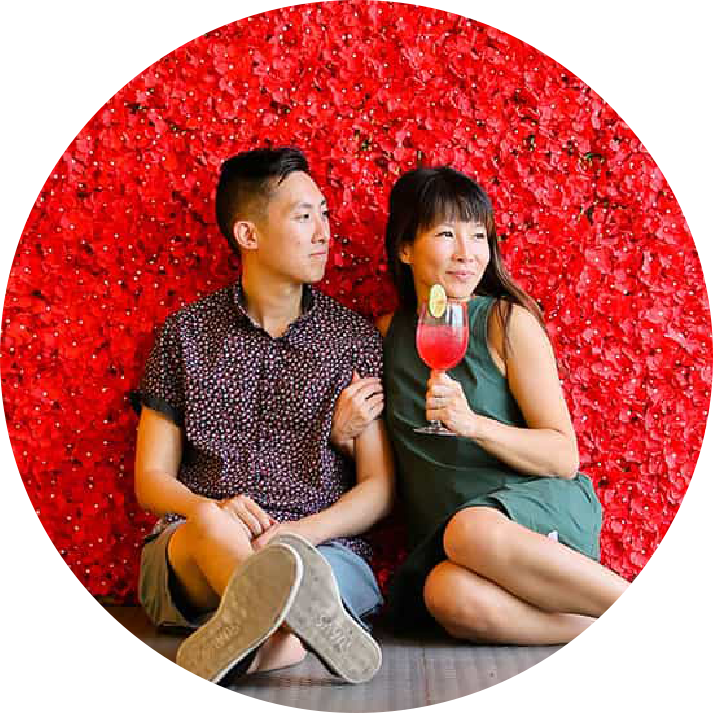 Esther + Jacob
Esther and Jacob are the founders of Local Adventurer, one of the top 5 travel blogs in the US. They believe that adventure can be found near and far and hope to inspire others to explore locally. They explore a new city in depth every year and currently base themselves in Las Vegas.
Follow on Instagram (E + J), YouTube, TikTok, and Pinterest.