Our iPhone 6's finally came in! We traded our souls old ones in and signed on for a another couple years with Verizon so that we could get a free upgrade. Though we have a great protection plan and I love how the iPhone 6 looks sans case, I know I'm way too clumsy to go without protection. If you're also looking for new phone cases and you're always on the go like us, OR if you're looking to do some holiday shopping, these are our picks included in our travel gift guide this year.
5 BEST TRAVEL PHONE CASES FOR THE IPHONE 6 // a travel gift guide
1. SPECK'S CANDYSHELL CARD CASES [best wallet case] + see giveaway at the end of post!
These are hands down our favorite wallet cases. Or cases period. I included these in last year's Traveler's Gift Guide, because they've been a favorite of ours for the past 5 years or so. We had them also on our iPhone5's and also our iPhone4's, and naturally as we upgraded our phones, we upgraded to these cases as well. We like the sleek and clean look of it, and I like that I can leave my purse and wallet behind and just have my ID, 2 credit cards, and phone all in one place.
This is what our happy phones look like at the moment: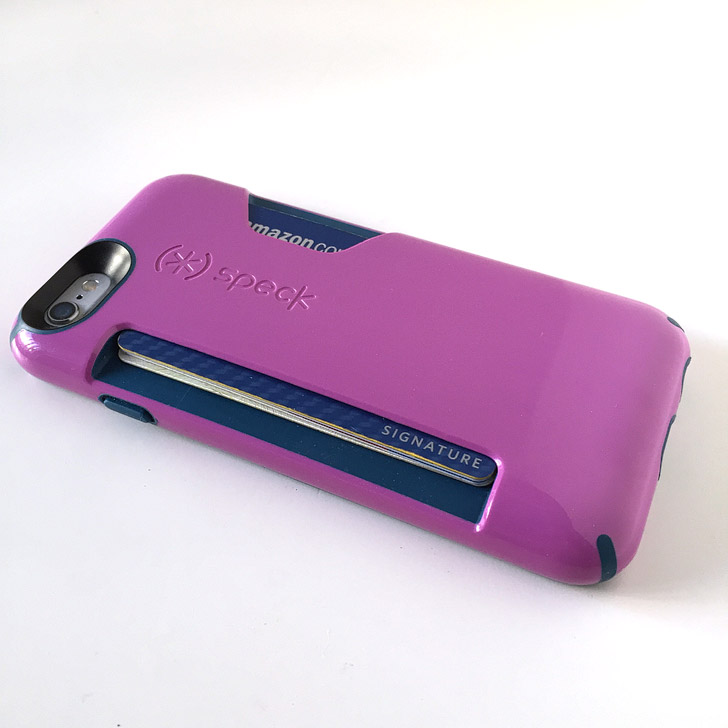 2. LIFEPROOF NUUDE [best waterproof case]
It's waterproof, dirtproof, snowproof, and shockproof. I like the fact that with the LifeProof cases you can go to the beach, go hike the Narrows, etc and not have to have a death grip on your phone. We personally love these cases for special occasions or trips, but not for everyday.
I was also sad to find out on a snorkeling trip that water plays tricks on the screen making it impossible to focus. You can use the side buttons and you may get lucky with a few shots, but most of our photos came out blurry. There really aren't any iPhone cases so far with the technology for great underwater photography though. Another waterproof and shockproof case I hope to check out next is inDepth cases.
3. SWITCHEASY ULTRA CLEAR NUDE CASE [best minimalist case]
We're all about packing light and every little bit seriously helps. Don't underestimate all the little stuff especially if you're on a backpacking trip. This case is a 0.6mm ultra thin casing and doesn't hide the original design of the phone.
4. ALPATRONIX ULTRA SLIM BATTERY CASE [best battery case]
The slimmest battery case out there (so far). When we're on the go, we definitely drain our batteries a lot. Though it adds weight and is bulkier, it's nice to have the assurance that your phone will last you all day or multiple days for backpacking trips. Right now we we use the Anker Mini instead, a lipstick-sized portable external battery charger that plugs in with your standard USB chord. Having the chord can be annoying, so Alpatronix is a nicer option for you, but for now it works fine for us.
5. CASE MATE and CARVED [best travel themed cases]
These cases are more for form than function, but they do protect your phone. I like that you can pick the design you want and then customize the thickness of the case to barely there, tough, or tough xtreme.
1. Cool Blue World 2. Vintage World Map 3. Nautical Anchors 4. Passport Stamps on Maple
Not all of them have hit the market yet, especially a lot of the bigger companies, so there's many more to come in the next few months. We're keeping our eyes peeled for the new ones, so I'll update these categories as we go. [Last updated Nov 10, 2014]
We got in touch with Speck letting them know about our post and how much we love their cases, and I'm so excited that they were willing to do a giveaway of our favorite iphone 6 wallet case to one of our readers so that you can find out for yourself why we love it so much. Or you can win it and give it as a gift, since the holidays are coming up! :)
What phone are you currently using?
What are your favorite cases / phone accessories?
What do you love / hate about your case?