I can't believe we've been married for 5 years! The date completely snuck up on us. I was trying to write out a thoughtful post on new lessons we learned during year 5 (something catchy like "5 lessons in 5 years), but as I am sitting at my computer to type it out, I realized it hasn't been much different from year four. We're still beating the same ol' lessons into our heads.
Lately, I feel like we've gotten in a good groove. We have a lot of fun together. Of course, we still fight a decent amount too (I'm Korean, and we love a good fight!), but for the most part, life seems calmer… maybe TOO calm even. Calm sometimes makes me feel uneasy. I've taught myself that marriage is always an uphill battle, and when you're not growing, you're most likely going backwards. But is there a wading pool in there somewhere where we can relax?
So instead of sharing lessons learned, I'll share something completely superficial. Haha! For our 4th anniversary, I made Jacob a bouquet of strawberry roses for the traditional gift (fruit/flowers), and we got ourselves this Vitamix for our modern gift (Appliance).
Every year, it's been hard to find something meaningful that we'll want to keep around the house permanently.. and in our case, move with it every year. Here are some ideas we found worthwhile.
5 TRADITIONAL FIVE YEAR ANNIVERSARY GIFT IDEAS (WOOD)
We loved the idea of getting these wooden maps of each city we've lived in and wanted to start with NYC since it has nice lines. Don't you think?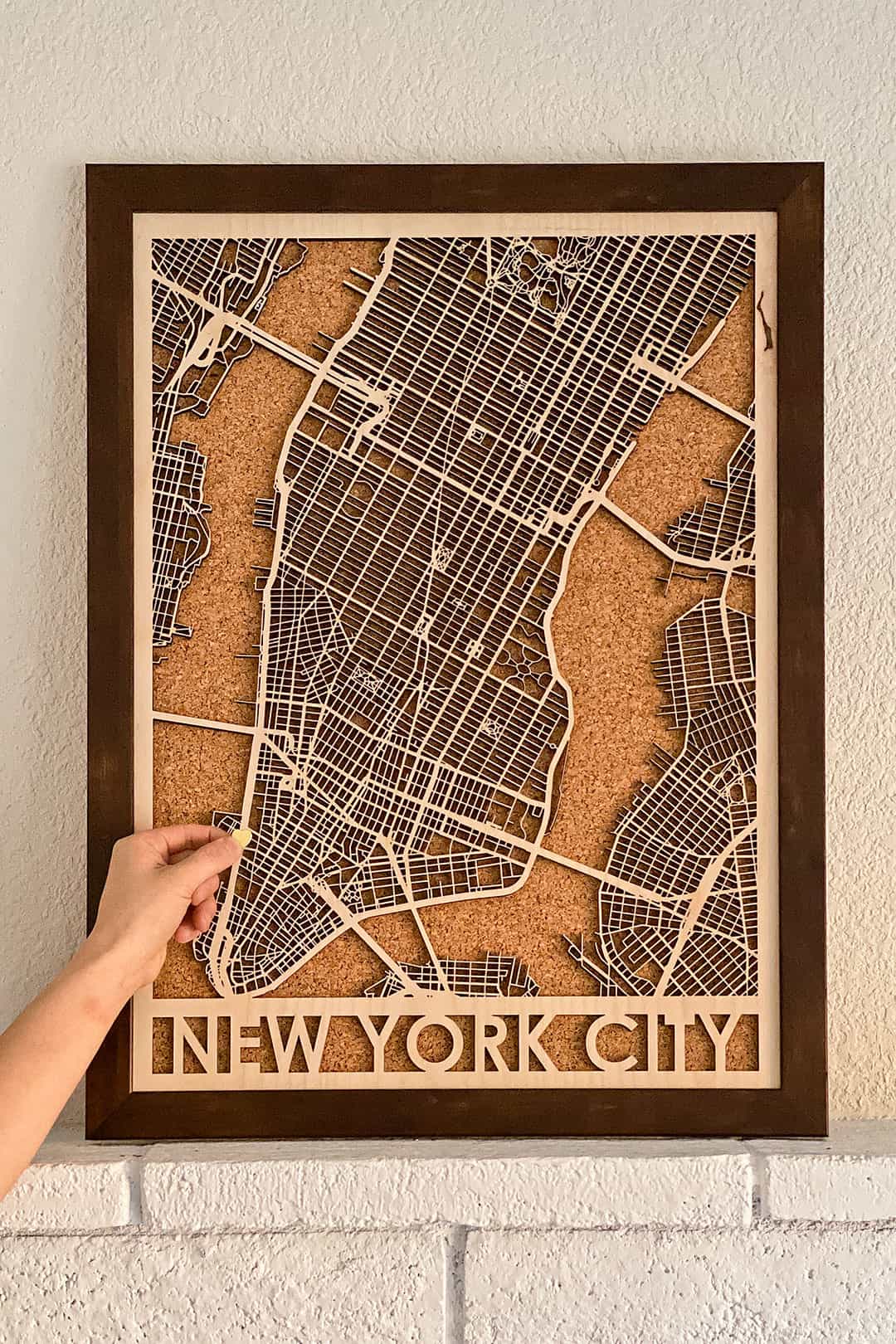 We chose this with our wood anniversary date!
They make all the different states, but I like the Georgia one best.
I'm sure there are even more practical ones out there that are easier to carry like picnic backpacks, but I've always romanticized the idea of having a more vintage-looking wicker picnic basket. Can't you just picture yourself as the couple from UP?
5. Tree for Your Home
This year we decided to buy some faux fiddle leaves because the real ones wouldn't last a month in our house. For those of you who have less of a black thumb, a real tree would make a perfect 5-year anniversary gift.
BONUS: Plant a tree together. Perhaps you can go back to the same place 20-30 years later and carve your name in the tree. How cute would that be!
5 MODERN FIVE YEAR ANNIVERSARY GIFT IDEAS (SILVERWARE):
1. Silverware Artwork "Spooning Since …"
You can buy one on etsy or get a metal stamping kit and make it yourself! :) You can also flatten your spoons and use the stamping set to make garden markers too!
2. Chef Knife
We need a new one since the handle on ours is now loose. Jacob doesn't think I cook enough to buy a nicer one. But I think I don't like cooking because I don't have a nice one. haha jk. I really just don't like cooking.
Bc why not?
If you like camping and the outdoors, this is a great way to combine your hobbies with your anniversary gift.
5. Just Plain Silverware
If you didn't get a set already on your wedding registry, it's a good time to upgrade your old college silverware.
There were so many cute wood ideas, but I was really struggling with creative ideas in the silverware category. Good thing for year 6, wood is repeated again as the modern gift (Iron/candy is the traditional gift). Gotta start brainstorming earlier now. :)
You can also consider:
Gemstone: Sapphire / Pink Tourmaline
Color: Blue, Pink, Turquoise
Flower: Daisy
We also reached out to the Apothecary Bee and are teaming up to do a $40 gift card giveaway for you! The Apothecary Bee creates beautiful and rustic decor for the home and for weddings. Don't you just love all these wooden signs?
She also does custom mugs, wedding signs, namecards, etc, so go check out her store for more!
MORE: 15 Best Romantic Getaways in USA to Take This Year
What are some anniversary gifts that you've received and loved?
What about anniversary gifts that you've given?