Since the past two months was full of travel and transitions, we weren't as ambitious with our monthly goals. We're picking up the slack and going full force this month though! I really want the focus in March to be…
creativity
whether it's dusting off my old paint brushes to start painting again, or drawing, or free writing, or a diy project on my "i can make that!" pinterest board. I might even use this time to decorate the new apartment. Or perhaps even play around more with light painting like the photo below: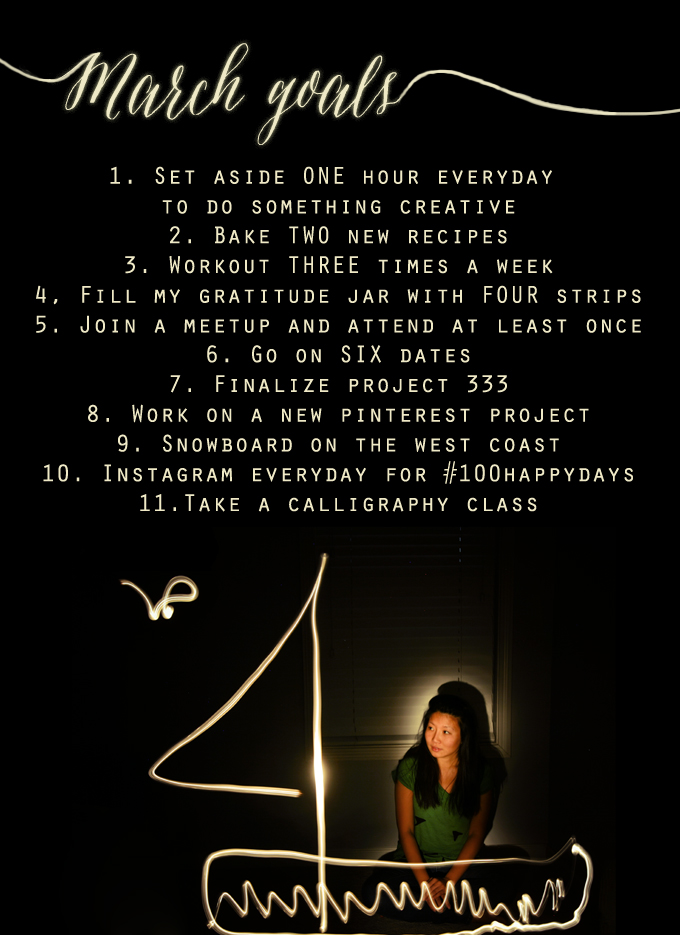 Pin
Too ambitious? Probably. I know I'm supposed to set SMART (which includes realistic) goals here, but I'm going to use this month to see where my limit is. :) Who knows! I might be able to handle much more than I think.
Last month's highlights on the blog:
How we did on February's Monthly Goals:
I had 6 goals for February: We packed, moved, and unpacked! Woohoo! That was the big one to knock off the list last month. I tried new two baking recipes, one of which I liked. I filled my gratitude jar with 4 strips (one per week). I made my first youtube video, which will be released on Wednesday! And thanks to my friends (old and new), I had the most kickass birthday ever!
The one that got put on the backburner was dating. Oops! We managed to fit in 2 dates and one was Valentine's. It's okay. We will be on a rollover plan (hence the six dates)! And we've been spending time together here and there working on the 3-year couple journal. That's some quality time.
What's something creative that you want to work on this month? What else is on your list of personal goals to achieve?
You can check out some of my previous weekly and monthly goals by clicking the banner below:
Pin