January was a crazy month, and it doesn't look like anything's slowing down for February either. We're packing up and moving from LA to Vegas in 6 days, and I still have yet to process everything from the Philippines. Even amidst the craziness, I still wanted to put together goals for the month of February. Although because it's my birthday month, other than moving, I am tempted to let myself be as lazy as possible and lounge around until March arrives! ;)
When it comes to setting goals, I normally wouldn't be easy on myself two months in a row especially so early on in the year. But after the Philippines trip, I promised myself time to REFLECT and RECOVER.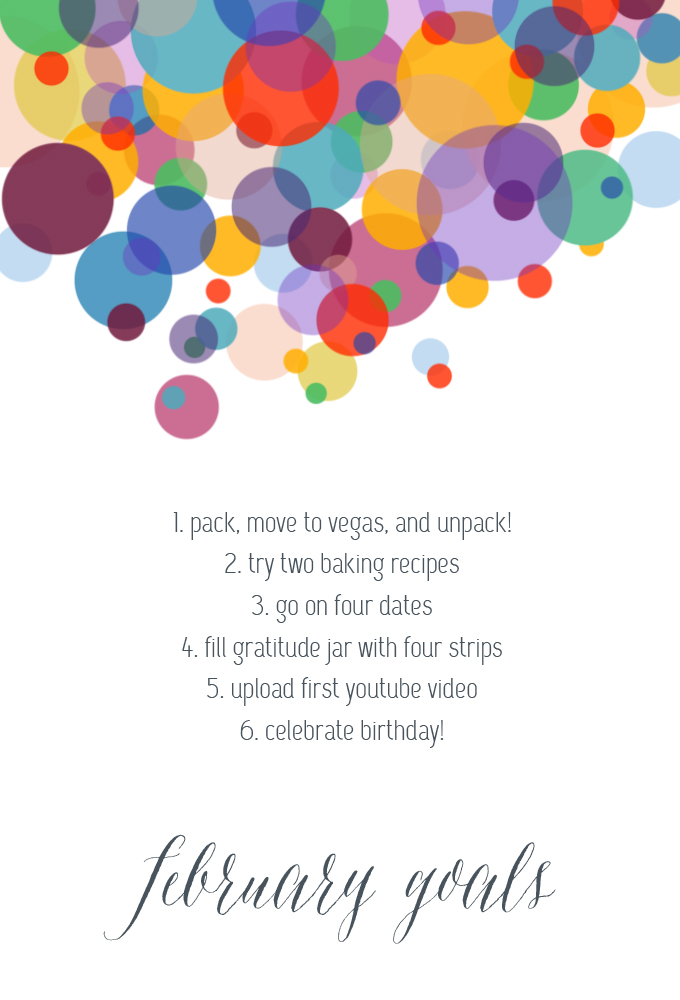 Pin
Last month's highlights on the blog:
How we did on monthly goals for January:
Starting off the year, I had 5 monthly goals for January and completed four out of five. I know that the four was only possible because I adjusted for how busy the month was going to be. As a perfectionist, I know I can be very hard on myself and realized that I need the reminder to also be easy on myself.
I blogged 3-4x a month and scheduled several weeks of posts ahead – I've never been able to do this! We went on four dates so far since we're trying to date more seriously this year. We started packing up our closets and almost finished picking out the 33 pieces of clothing that will be going in our wardrobe for the next 3 months (project 333). I started a gratitude jar and wrote something to put in once a week. Plus, we just got back from the Philippines a few days ago. Lots to process. LOTS. How I will process… I do not know.
I did not try a new baking recipe, but I think I will be making up for it next month because of our move. There will be neighbors to say goodbye to and neighbors to say hello to, so it will be easy to double up! Gotta take my southern hospitality and kick it up a notch. :)
What are some good tv shows/movies you've been watching lately? I need to schedule in some serious R&R.
You can check out some of my previous weekly and monthly goals by clicking the banner below:

Pin