"It feels like Florida, but in the mountains," Josh pointed out as we drove down Parkway filled with quirky attractions, mini-golf, and amusement parks.
Growing up in Georgia, we loved being a couple of hours away from the Appalachian Mountains. The drive is easy, there are always tons of things to do outdoors, and you just can't beat fresh mountain air.
We figured it was about time to escape the Atlanta noise for a few days. We rented a cabin with Bear Camp Cabins, packed our bags, our dog, and took a short road trip to Pigeon Forge TN.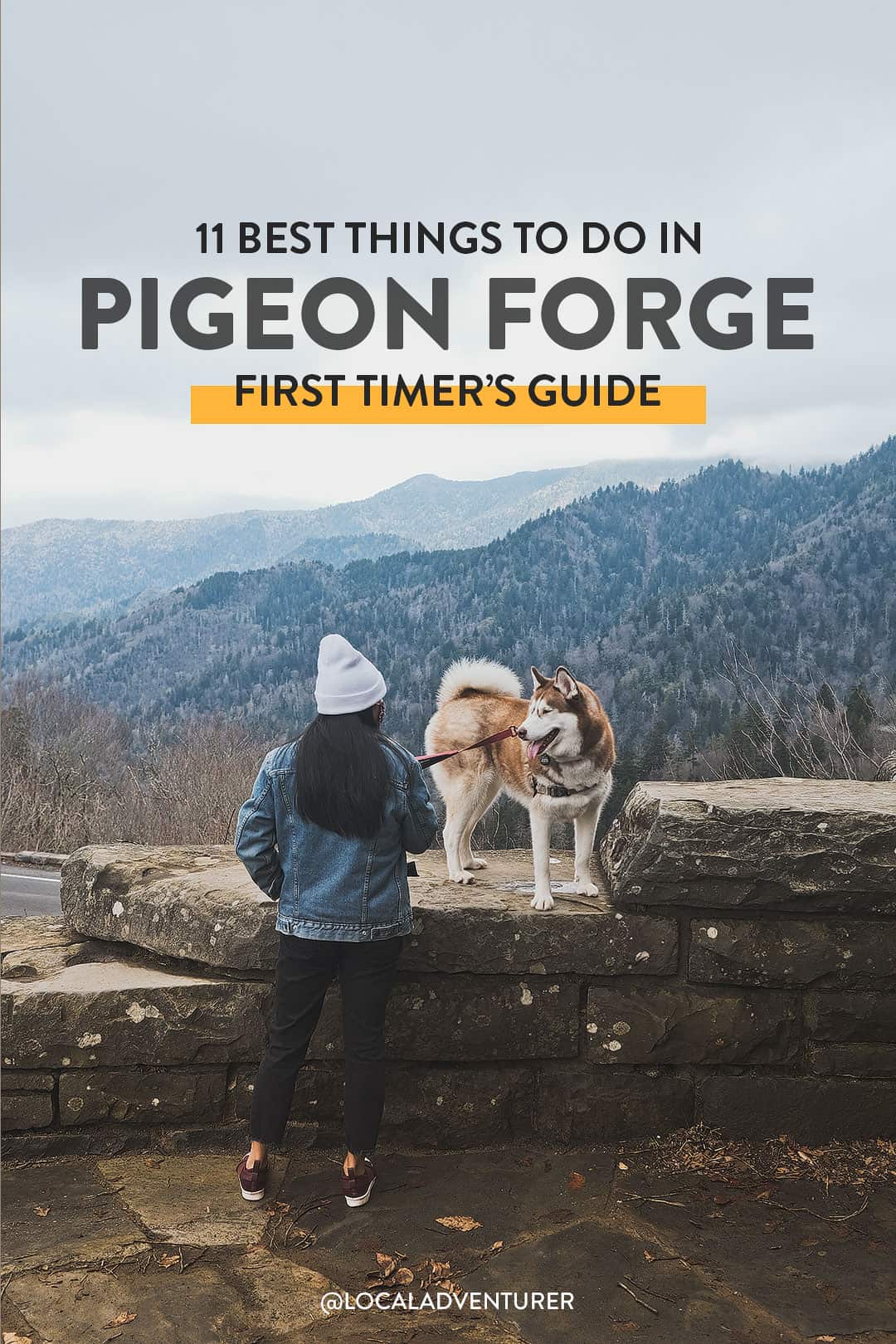 A big thank you to Bear Camp Cabins for sponsoring this post. All opinions are always our own.  Read our full disclosure for more info. Thank you for supporting the brands that make Local Adventurer possible.
Last Updated: November 3, 2022
11 Best Things to Do in Pigeon Forge
We loved the ease of booking with Bear Camp Cabins, the selection of accommodations that they offered, and their free tickets program. While we enjoyed the sights and sounds of Pigeon Forge, our cabin alone was a highlight of our trip.
If you're planning a trip, we've put together a list of our favorite things to do in Pigeon Forge.
My heart will go on… in this Titanic Museum. I had an unhealthy obsession with the Titanic when I was a kid, so this museum was a real treat. It houses several artifacts and an impressive replica of the grand staircase. Touch an iceberg in 28-degree water, and listen to real stories via audio packs. Our favorite part was the re-creation of a third-class cabin. Get tickets here.
Pro Tip: Go early morning since it can get crowded in the afternoons.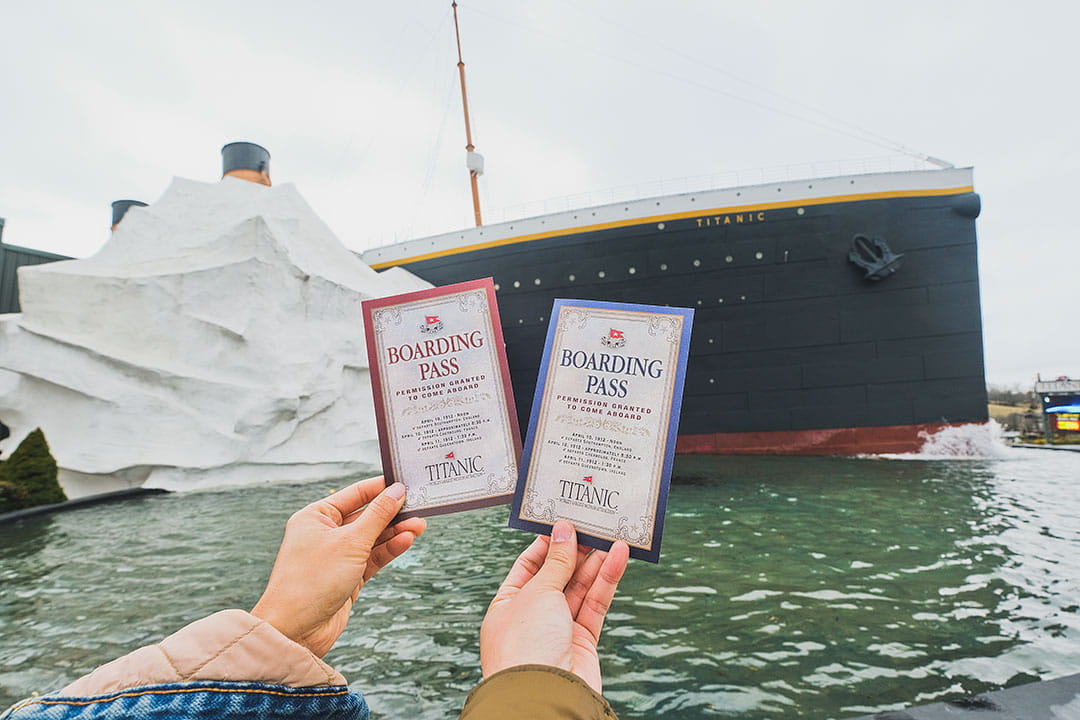 Take the chairlift up to the top for a beautiful view of the Smoky Mountains. There are several activities atop like ziplining, treetop walking bridges, and roaming the gardens. There are also several photo-ops for couples and kids. We passed through a few shops and restaurants, too, which were perfect for a drink and a quick bite.
Pro Tip: If the chairlift seems too scary, we recommend opting for the bus that also takes you to the top.
3. The Island in Pigeon Forge
The Island in Pigeon Forge is the most popular attraction in town. It reminds me of a boardwalk by the beach. Here, you'll find several amusement park rides, restaurants, shops, and the Great Smoky Mountain Wheel, a 200-foot-high observation wheel. There is also a beautiful water fountain show every 30 minutes with plenty of seating to sit and watch.
Pro Tip: As with any amusement park, expect waiting times to be long for rides and restaurants. Going early in the morning is best to avoid lines.
Part show, part adventure park, Paula Deen's Lumberjack Feud is fun family entertainment. You can watch professional lumberjack athletes compete in various contests, such as ax-throwing and log rolling. Then, head over to the adventure park to try your hand in logger sports. Get tickets here.
Pro Tip: Wear comfy clothes and waterproof sneakers if you choose to participate. You might get wet!
5. Legacy Mountain Ziplines
Legacy Mountain Zip Lining has a total of 6 thrilling ziplines, with one being 3,400 feet long! It's among the longest in the world.
6. Ripley's Aquarium of the Smokies
Got the kids with you? Ripley's Aquarium of the Smokies is a great spot to take the entire family. See over 10,000 exotic sea creatures and take a glass-bottom boat ride. The kids will love the giant play area and the interactive exhibits.

Local Tip: Anakeesta is right across from the aquarium, so pay for parking at either attraction for the entire day ($15).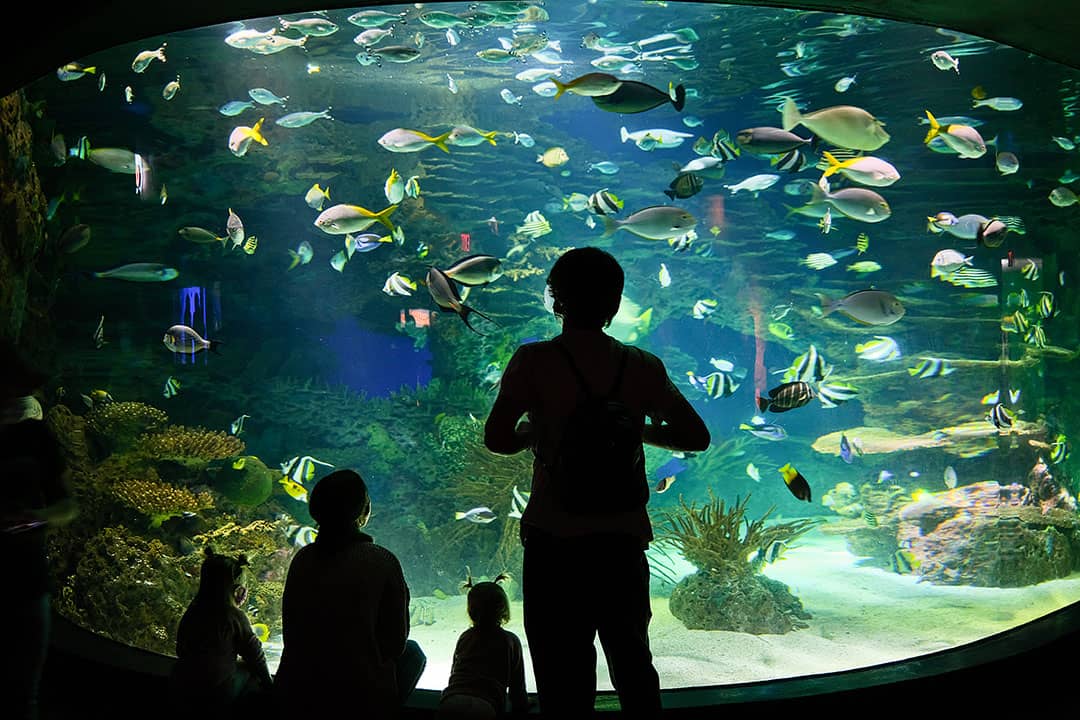 If you're seeking a watery thrill, Big Creek Expeditions got you covered. Go whitewater rafting or take a relaxing scenic float down the Pigeon River.
8. Great Smoky Mountains National park
From wildflowers in the spring to amazing colors in the fall, the Great Smoky Mountains National Park is one of our favorite spots along the Appalachian. There are so many things to do, including horseback riding, fishing, camping, and of course, hiking over 800+ miles of trails.
Endless waterfalls hug the National Park, which are beautiful year-round.
Dollywood is recognized as one of the world's best theme parks. Come watch one of the award-winning shows, ride some cool coasters (Tennessee Tornado is a must!), and eat top-notch BBQ. You can easily spend an entire day here, so come well-rested for a good time. I mean, it's named after Dolly Parton. That alone demands a visit if you ask me.
Pro Tip: We recommend visiting during Christmas for the most elaborate holiday decorations you'll ever see.
With over a mile of track, the Smoky Mountain Alpine Coaster is the longest downhill track in the US. It's a lot faster than you think, but you can easily adjust the cart speed to your liking.
Pro Tip: We recommend visiting at night. The track is lit up in fun colors, and it feels like you're going down Rainbow Row in Mario Kart.
Try zorbing at Outdoor Gravity Park, where you can roll down various tracks in huge, watery transparent orbs. Rolling around in a giant inflatable ball is just as fun as it sounds. Get tickets here.
Pro Tip: We recommend going during the summer, although they do pour warm water into your Zorb during colder temps.
Map of the Best Things to Do in Pigeon Forge
Best Places to Stay in Pigeon Forge
During our visit, we were hosted by Bear Camp Cabins. Our cabin, the Amazing View Lodge, was conveniently located just 20 minutes from both Pigeon Forge and Gatlinburg and was central to all of our adventures.
We loved that they have a variety of lodging styles, from motel rooms right on the Pigeon Forge Parkway, to cabins that can sleep up to 30+ people. Soon, Bear Camp Cabins will also have unique treehouse rentals. We'll definitely come back to check these out!
The modern log cabin was cozy and well-kept, which was especially important to us during a pandemic. We could tell that Bear Camp Cabins really took care of their properties. Beautiful natural light spilled into every bedroom, and of course, the view was nothing short of spectacular.
We loved the big balconies where we sat outside and enjoyed our morning coffee before heading out. There was also plenty of space for activities including a hot tub, pool table, an arcade game console, and even a movie theatre.
Other cabins have different unique features, like this one with an indoor pool, and this one that has a basketball court. Bear Camp Cabins have a broad selection of cabins that are perfect for a small gathering of friends, large family reunions, or even business trips.
We recommend reserving your cabin or room directly through Bear Camp Cabins, which is cheaper than booking through external booking sites.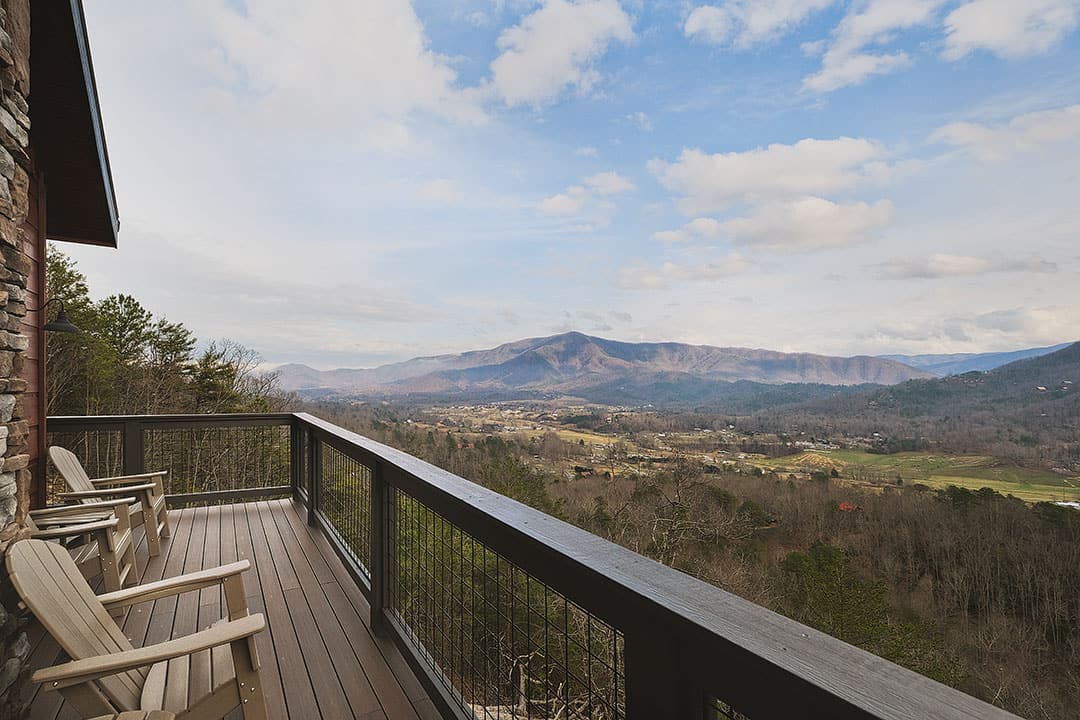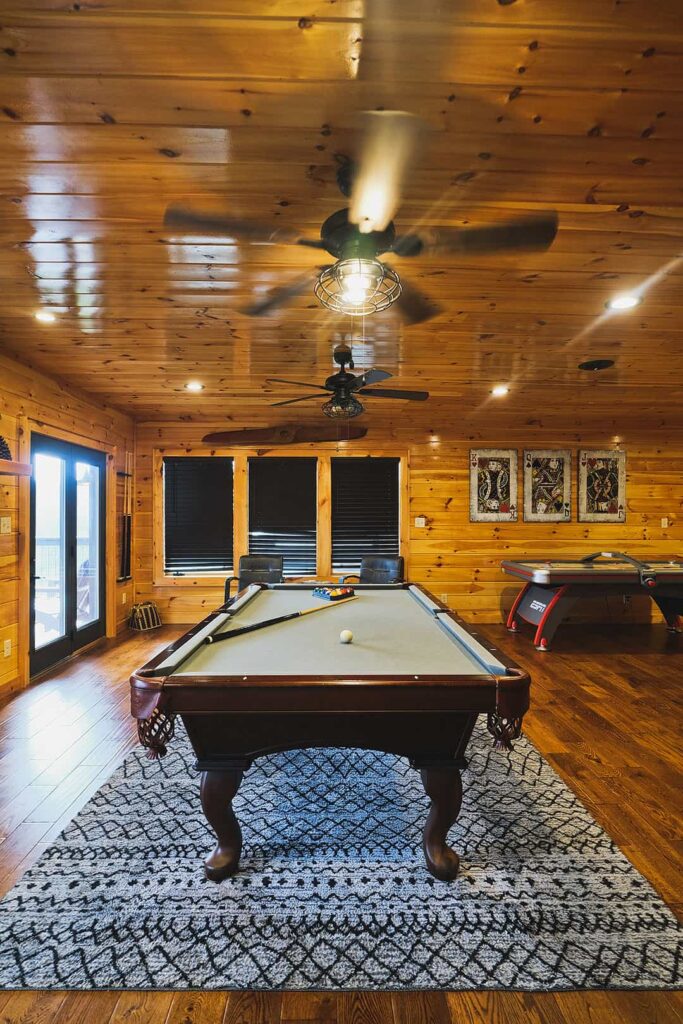 How to Get Free Tickets to Attractions
One of the best parts of staying with Big Camps Cabins is their "Keys To Bear-A-Dise" free tickets program. As part of your reservation, Bear Camp Cabins offers 1 free ticket to each attraction per night, as well as free movie rentals.
Guests can receive 1 free ticket to 15 different attractions each night of a stay. That means you could go to all 15 attractions every day of your stay, depending on how long you're staying. However, only 1 ticket is provided per day and they expire nightly, meaning if you stay a week, you could get 1 person into Dollywood for free all 7 days, but you can't save them up and get 7 people in all on the same day.
It's a great deal, especially for couples because that's like getting 50% off on all of the attractions. Be sure to take advantage of free activities and top attractions in Pigeon Forge and Gatlinburg, including some on our list. We wish we had enough time to check out all of them! Click here to learn more.
You can also get this Pigeon Forge Attraction Pass to save money.
More Things to Do in Pigeon Forge
Alcatraz East Crime Museum – Check out OJ Simpson's infamous White Bronco and Ted Bundy's VW Beetle.
Rocky Top Wine Trail – My favorite was the Muscadine Wine from Little Bear Winery.
Yee-Haw Brewing Company – Well-known Tennessee-based brewery.
Pigeon Forge Pink UTV Rentals – Drive around the Blue Ridge Parkway in a UTV.
Parrot Mountain and Gardens – You can touch and feed parrots here.
Rowdy Bear Mountain – Tubing sans water.
Free Things to Do in Pigeon Forge
Clingman's Dome – A little further out of town, but the views are worth the drive.
The Old Mill – A water-powered mill built-in 1830 that is still in use today.
Patriot Park – Nice park along Little Pigeon River, where you can see all 50 state flags.
Go Hiking:
Best Places to Eat in Pigeon Forge
Seasonal Things To Do in Pigeon Forge
St. Patrick's Day at the Island – See the Great Smoky Mountain Wheel light up in bright green with other fun Irish-themed events.
Great Pumpkin LumiNights – Thousands of lit-up Jack-O-Lanterns at Dollywood.
Shadrack's Winter Wonderland – Christmas lights and a decked out Santa's Village.
Winterfest Tour of Lights – Drive through 5 million holiday lights.
Check the weather before your trip with TDOT SmartWay to see conditions and road closures. It snowed the week before our trip, so some roads were closed. The roads can also be harder to navigate up in the mountains.
Always pack layers (even during the summer). Temps are generally cooler in the morning and evenings, but you may be warm during the day from all of your activities. Also, be sure to pack a raincoat and waterproof shoes (these are our all-time favorites).
Make reservations and call the attractions before you go. Hours may change due to Covid and they're constantly updating to ensure social distancing.
You might see wild animals such as elk, deer, and even black bears. Do not approach the animals. You can read more about bear safety here.
Pigeon Forge is a year-round destination; however, summertime is peak vacation season especially for families. October can also be a busy month, especially since most visitors come to see autumn leaves changing. Book your cabin or hotel early before rates increase for peak seasons.
Pigeon Forge is located in Sevier County, Tennessee and nestled in the foothills of the Great Smoky Mountains of East Tennessee. It is just 12 miles off of Interstate 40.
How to Get to Pigeon Forge
Knoxville's McGhee Tyson Airport (TYS) is just 47 miles from Pigeon Forge. Once you arrive you'll have to rent a car. 
Driving to Pigeon Forge is easy. It's located off of I-40 and close to I-75 and I-81. If you're visiting from one of the major cities in the Southeast, here are the distances:
Atlanta, GA – 3 hrs and 45 min, 248 mi
Charlotte, NC – 3 hrs and 41 min, 203 mi
Nashville, TN – 3 hrs and 21 min, 214 mi
Louisville, KY – 4 hrs and 21 min, 279 mi
Birmingham, AL – 4 hrs and 24 min, 291 mi
What can adults do in Pigeon Forge?
Take the Rocky Top Wine Trail

Mountain Valley, Hillside Winery, Apple Barn Winery and Sugarland Cellars, or Eagle Springs

Moonshine Distilleries

Old Forge Distillery (Located in Pigeon Forge)
Old Smoky Moonshine (Located in Gatlinburg)
Sugarlands Distillery (Located in Gatlinburg)
Tennessee Legend (Located in Sevierville, which is where our cabin was right next to Pigeon Forge)
Is Pigeon Forge worth visiting?
The Smoky Mountains alone are a great reason to visit Pigeon Forge; however, most people come for the attractions, which are unique and really fun.
How far apart are Pigeon Forge and Gatlinburg? Which is better: Gatlinburg or Pigeon Forge?
Pigeon Forge and Gatlinburg are only an 8 mile drive away from each other. Without traffic, you can get there in about 15 minutes! Pigeon Forge is more spread out and is much less walkable than Gatlinburg, but both have a ton of fun things to see and do. Because of its close proximity to one another, it's easy to visit both cities at once.
What is Pigeon Forge known for?
Pigeon Forge is known for family-friendly attractions and theme parks, such as Dollywood and The Island in Pigeon Forge.
What food is Pigeon Forge known for?
You'd never guess it, but Pigeon Forge is known for pancakes! This area of Tennessee has a long history in the logging/lumber industry. Long work days call for a cheap, yet hearty breakfast that wouldn't weigh you down throughout the day, so pancake houses popped up and never went away. Not sure where to go? There are 8+ famous pancake houses on Parkway, alone.
Is Pigeon Forge walkable?
Things to do in Pigeon Forge for Couples
There are tons of romantic things to do in Pigeon Forge! You can spend a spa day with your sig o, go horseback riding, enjoy a dinner show, or visit a winery.
Things to do in Pigeon Forge when it rains
Rain check? Check out some museums (above mentioned Titanic was our favorite, and Elvis and Hollywood Legends Museum shouldn't be missed). Dinner shows, comedy shows, and escape rooms are also great options!
Have you been? Can you think of any other fun things to do in Pigeon Forge that we missed?
Did you enjoy this post? Pin it for later
SEE MORE CITY BUCKET LISTS
"Discovery consists not of seeking new lands but in seeing with new eyes" – M. Proust