If you follow me on instagram, occasionally I post up photos from a kit kat exchange we have going between two of my gfs and I where we try random new japanese kit kat flavors. We take turns visiting Japan and bringing them back home to share.
We've been collecting them since 2012, but there are so many more to try!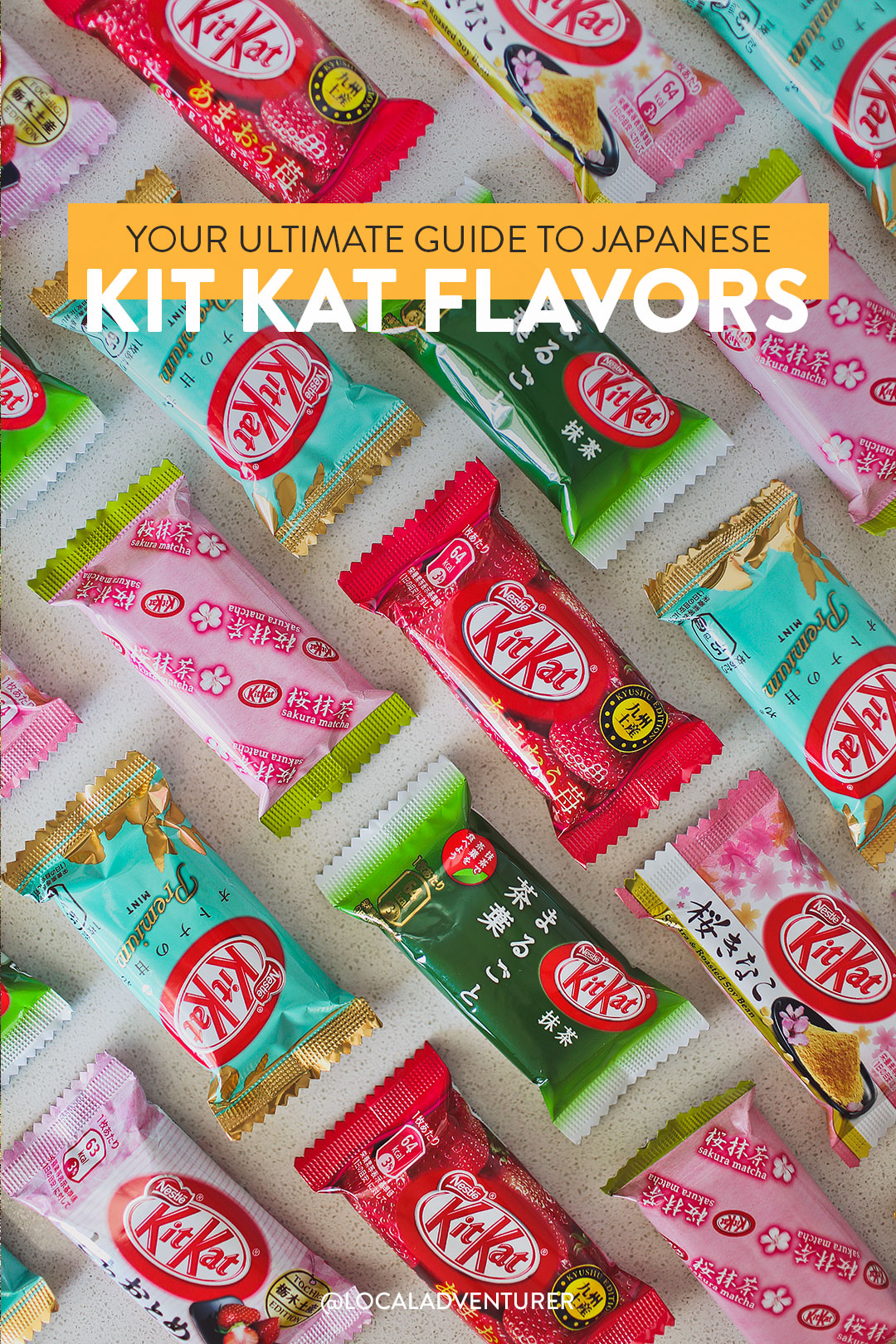 This post may contain affiliate links, where we receive a small commission on sales of the products that are linked at no additional cost to you. All opinions are always our own. Read our full disclosure for more info. Thank you for supporting the brands that make Local Adventurer possible.
Last Updated: August 26, 2019
Your Ultimate List of Kit Kat Flavors in Japan and Beyond
 Banana
 Blood Orange
 Blueberry / Hascapp from Hokkaido
 Cantaloupe
 Citrus Golden Blend (Lemon, Sudachi, Mandarin Orange) ✓
 Chocolatory Special Strawberry Maple ✓
 Fruit Parfait
 Green Grape Muscat
 Kiwifruit
 Lemon Chocolate, V-day limited edition
 Mango
 Orange ✓
 Passion Fruit ✓
 Peach
 Pear ✓
 Pickled Plum
 Pineapple
 Pumpkin
 Raspberry, Adult Sweetness ✓
Salt and Lemon, Setouchi Region
 Strawberry  ✓
 Strawberry Adult Sweetness ✓
 Triple Berry
 Watermelon and Salt
 Cacao 61%
 Cacao 72%
 Chocolatory Sublime Bitter, Milk, Ruby – the fourth type of chocolate ✓
 Dark Chocolate Adult Sweetness ✓
 White Chocolate ✓
 White Chocolate Express
Almond – Men's Almond ✓
Chestnut (Wa Guri)
 Chocolatory Pistachio & Raspberry ✓
 Sake Masuizumi, Toyama Prefecture ✓
Sakura Sake, Mini
Candy and Dessert Flavored Kit Kats
 Bakeable Custard ✓
 Black Sugar / Kokuto
 Blueberry Cheesecake ✓
 Brown Sugar Syrup ✓
 Bubblegum with Blue Chocolate
 Cafe Latte with Hokkaido Milk
 Caramel and Salt
 Caramel Macchiato
 Cinnamon Cookie ✓
 Cookie Dough Kit Kat
 Cookies and Chocolate
 Cookies and Cream
 Cookies Plus
 Honeycomb
 Ikinari Dango ✓
 Kobe Pudding
Momiji Manju Taste, Hiroshima Edition ✓
 Red Bean Soup

Sesame Seed Bun ✓

 Tiramisu
 Beet from Hokkaido Prefecture
 Candied Sweet Potato (Daigakuimo)
 Cucumber
 Edamame Soybean ✓
 Grilled Corn / Yakimorokoshi, Hokkaido Prefecture
 Mashed Edamame Beans (Zunda), Yamagata and Miyagi Prefecture
 Potato (Jyagaimo), Hokkaido Prefecture
 Sweet Corn
 Veggie
Misc and Weirdest Flavored Kit Kats
 Apple Vinegar
 Chocolatory Special Butter
 Ginger Ale
 Hot Japanese Chili ✓
 Lemon Vinegar
 Pepper
 Ramune

 

Rose
Soy Sauce, Tokyo Limited Edition
Soybean Flour (Kinako)
 Toasted Soy
Japanese Kit Kat Flavors Explained
There are flavors suitable for adults who have different taste buds than children and different flavors for men than women. I guess the Japanese know what they are doing. They did invent "umami," which is now the 5th taste. Also, according to Dr. Oz – Women have more taste buds than men, which makes women more sensitive to flavors. Good to know. We tasted the adult sweetness kit kat, and we found it less sweet and more tart than the regular strawberry.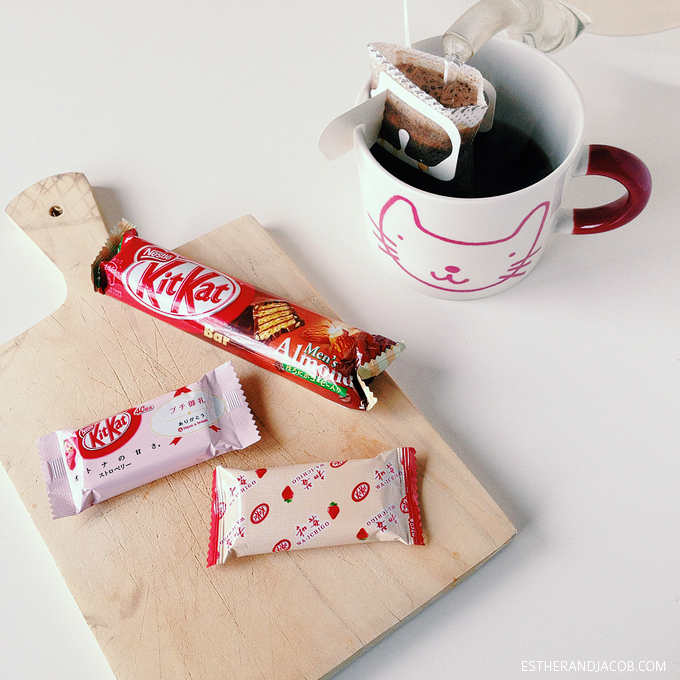 Our Favorites and Least Favorites
Shinshu Apple was collectively our least favorite. All the strawberry ones are winners and the wasabi was surprisingly subtle and enjoyable.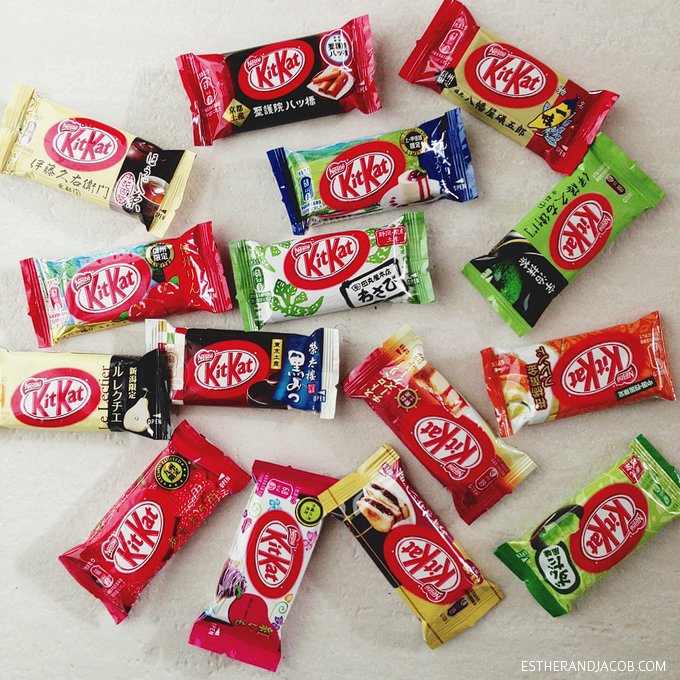 I'm always thankful to find these treats in the mail. I love snail mail, and it's most likely my ultimate love language. Even though the three of us live in different cities (Sophia in Boston, Hsiao in San Francisco, and me in LA), it helps us stay connected. Whenever we are on the hunt for new flavors, we always keep the others in mind. 
I know it's probably impossible because some flavors are discontinued, but we hope to one day try every flavor we can get our hands on. :) I'm also trying to get everyone else hooked on crazy flavored Kit Kats too. 
If you haven't yet, you should give them a try. If you come across some new ones, please let me know!
Which of these Japanese kit kats have you tried? Any other flavors we're missing?
Did you enjoy this post? Pin it for later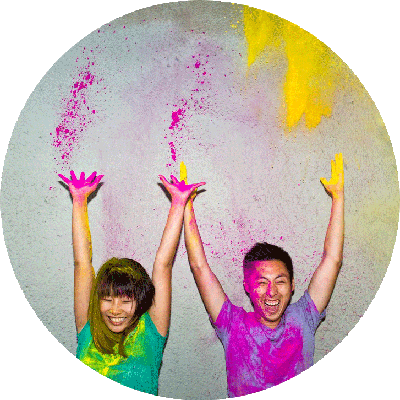 Esther and Jacob are the founders of Local Adventurer, which is one of the top 5 travel blogs in the US. They believe that adventure can be found both near and far and hope to inspire others to explore locally. They explore a new city in depth every year and currently base themselves in Las Vegas.