Visiting Biloxi MS? Don't miss these things.
Next up on our cross country road trip was Mississippi (state number 2 of the 50 states). Naturally, we headed over to Biloxi, which is the closest gambling destination to Atlanta.
A lot of our friends talked about their road trips here to hit up the casinos when they couldn't make it all the way out to Vegas. Neither of us gamble much, but we couldn't resist leaving at least a couple dollars in the slots. When in Biloxi, right?
In this post we share what to do in Biloxi including what we checked out on our short visit and what we want to see next time we're there.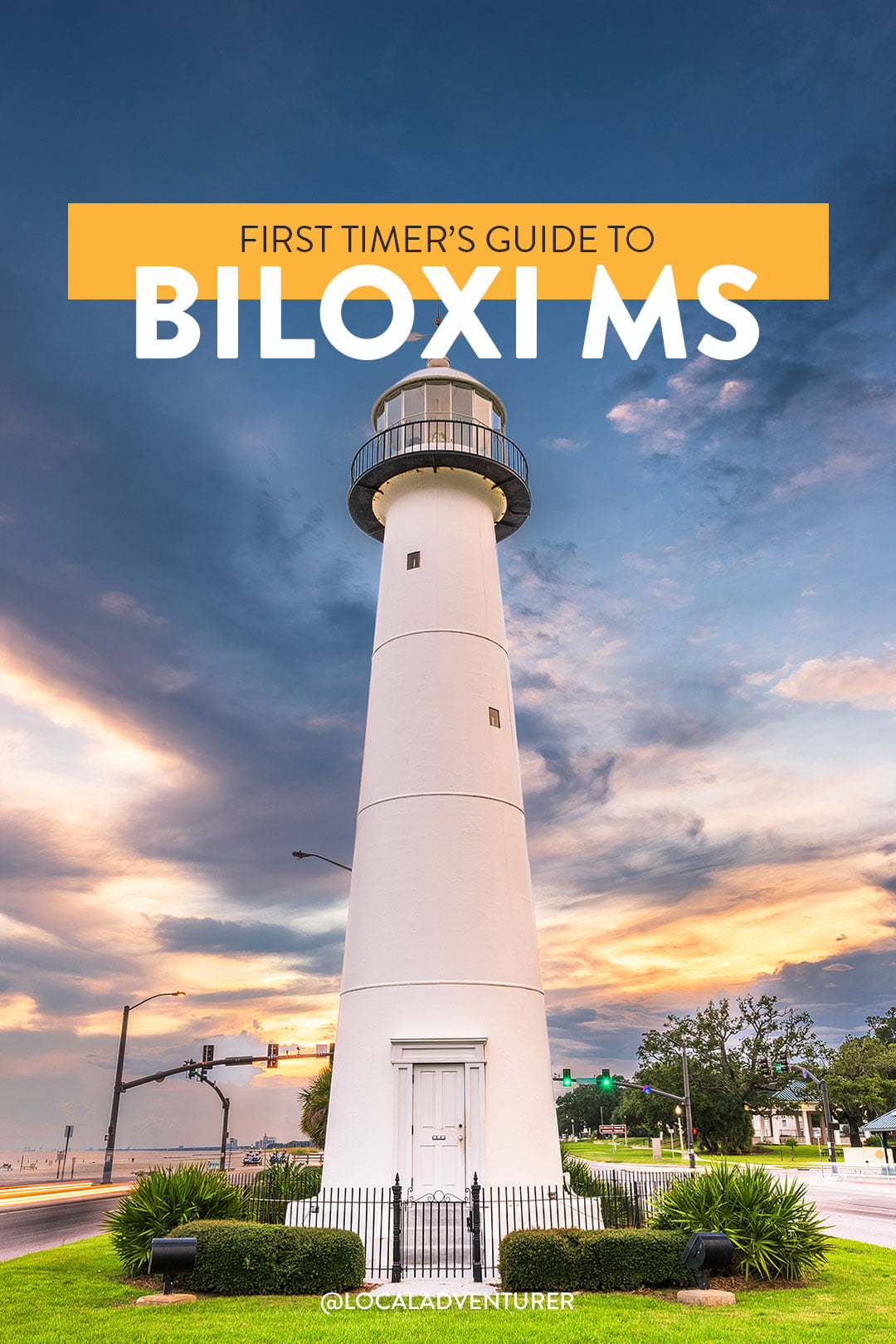 This post may contain affiliate links, where we receive a small commission on sales of the products that are linked at no additional cost to you. All opinions are always our own. Read our full disclosure for more info. Thank you for supporting the brands that make Local Adventurer possible.
Last Updated: August 13, 2023
11 Best Things to Do in Biloxi MS
875 Beach Blvd, Biloxi, MS 39530, map
Since casinos are the entertainment center in Biloxi, we decided to stop by Beau Rivage first. You can try your luck at this riverfront hotel and casino, but it that's not your thing, it also happens to have a nice view of the gulf.
The casinos are definitely the main attractions in Biloxi MS. You can also check out Golden Nugget Biloxi or Palace Casino Resort as other options. And if you're looking for a spot with things to do in Biloxi with kids, check out Margaritaville Resort. They have a lot of fun things to do including a lazy river, slides, and more.
See More: Living in an RV – the Good, Bad, and Ugly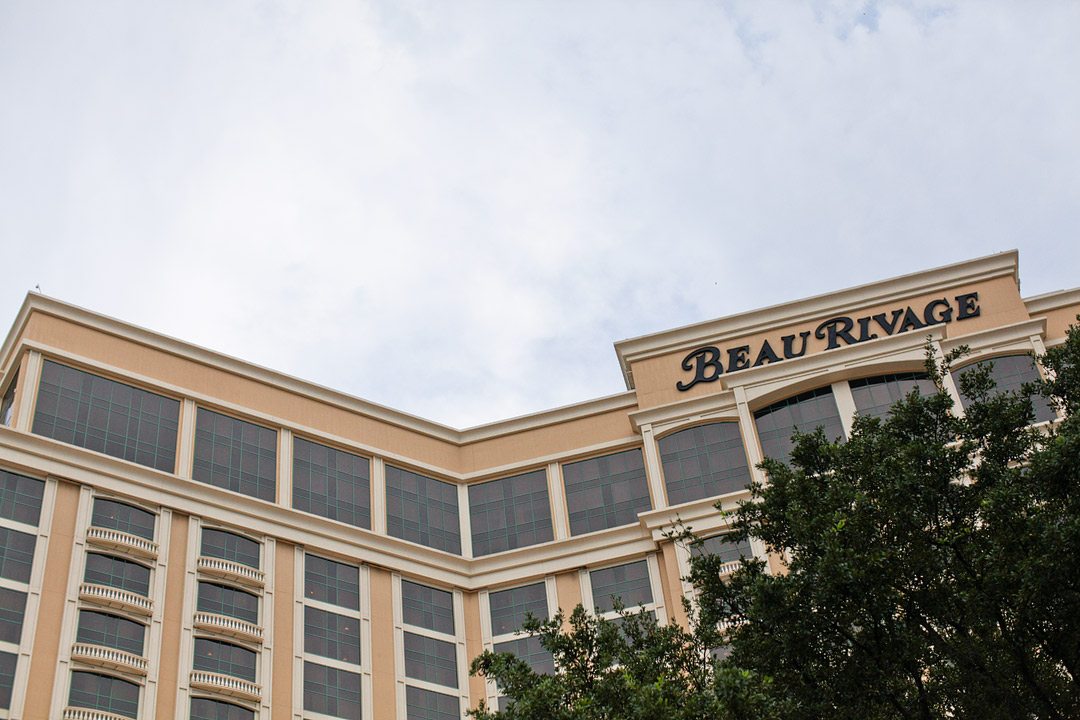 1050 Beach Blvd, Biloxi, MS 39530, map
This cast iron lighthouse was built in 1848 and added to the National Register of Historic Places in 1973. It was civilian operated from 1848 to 1939, and it special because it had a few female lightkeepers.
During Hurricane Katrina, a third of it was covered and a lot of the windows were broken. After a large restoration project, it reopened for tours in 2010. You can go on guided tours of the lighthouse each morning or just admire it from outside. It's definitely worth stopping by and is one of the best Biloxi attractions if you're a photographer. Be sure to check out the Biloxi Lighthouse Pier too!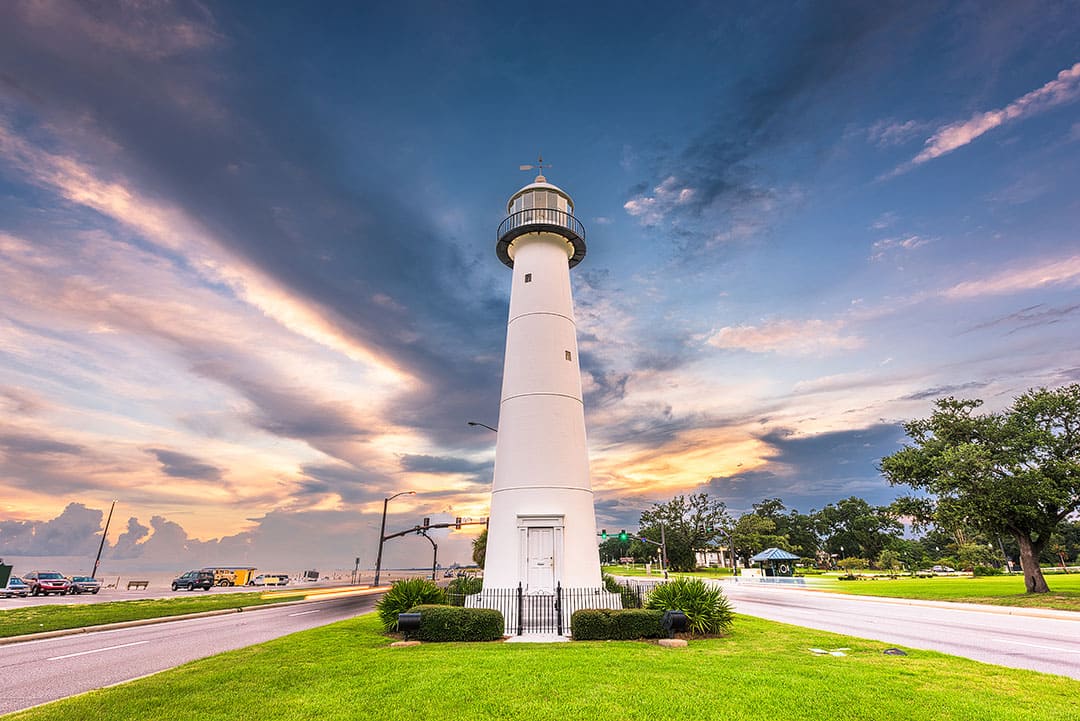 777 Beach Blvd, Biloxi, MS 39530, map
Enjoy everything rock and roll, whether you're looking for a place to eat, try your luck at the casino, or just walk around to check out the hotel. If you plan on staying here, be sure to check out their pool that overlooks the gulf.
280 Beach Blvd, Biloxi, MS 39530, map
Harrah's is another long standing casino in the Biloxi. It's known for its 18 hole golf course and nice outdoor pool.
133 Main St, Biloxi, MS 39530, map
Hurricane Katrina is one the worst natural disasters to his the United States and it definitely affected this city. Many of the towns hit hardest in 2005 are still rebuilding. This sculpture that represents the high water mark is dedicated to those who lost their lives during Hurricane.
It's a quick stop and one of the best free things to do in Biloxi.
119 Rue Magnolia, 39530, Mississippi Biloxi map
Learn more about Mardi Gras' 300+ year history at this museum. You can check out memorabilia from the celebrations, costumes, photographs, and more.
7. Biloxi Beach
119 Rue Magnolia, 39530, map
With 26 miles of beach that runs all along Beach Blvd, you're sure to find a spot for yourself. The soft, white sand makes it a great place to relax on the shore or play in the water and the center for all things water. Plus it's one of the best outdoor things to do in Biloxi. With most casinos and hotels lining the beach, you're usually just steps away.
From April to October, the water is typically above 70 degrees making it really swimmable, so don't forget your bathing suit! And if you're looking for romantic things to do in Biloxi, go for a stroll during sunset.
115 E 1st St, Biloxi, MS 39530, map
Water is a big part of Biloxi's history and present day. This museum not only covers the maritime history, but also the seafood industry, including shrimping, oystering, recreation fishing, and more.
9. Shrimping
Go on a real shrimping expedition out of the Mississippi Gulf Coast. You'll learn about the history of shrimping in the area and how you catch shrimp. There are multiple outfits that do this and it's best to get a reservation.
386 Beach Blvd, Biloxi, MS 39530, map
Known as the "Mad Potter of Biloxi," this art museum focuses on the ceramics of George E. Ohr. The O'Keefe name comes from Annette O'Keefe, wife of former Biloxi mayor Jeremiah O'Keefe Sr, who played a huge role in donating money and raising money to complete the campus.
There are five buildings on site designed by Frank Gehry, so even the architecture is worth visiting. You can even take pottery classes on site.
11. Have Mississippi Mud Pie
We made a quick pitstop for Mississippi mud pie at Palace Bakery in Biloxi. Yelp failed us for the first time, so do yourself a favor and don't eat there. Eater says Mary Mahoney's Old French House is where it's at! We had a reader report back that it wasn't available when they visited, so call ahead to see if it's on the menu before you go.
Learn more all about the dessert and where else to eat it here. We need to go back and redeem this dessert.
Has anyone tried other places that you think has the best Mississippi mud pie?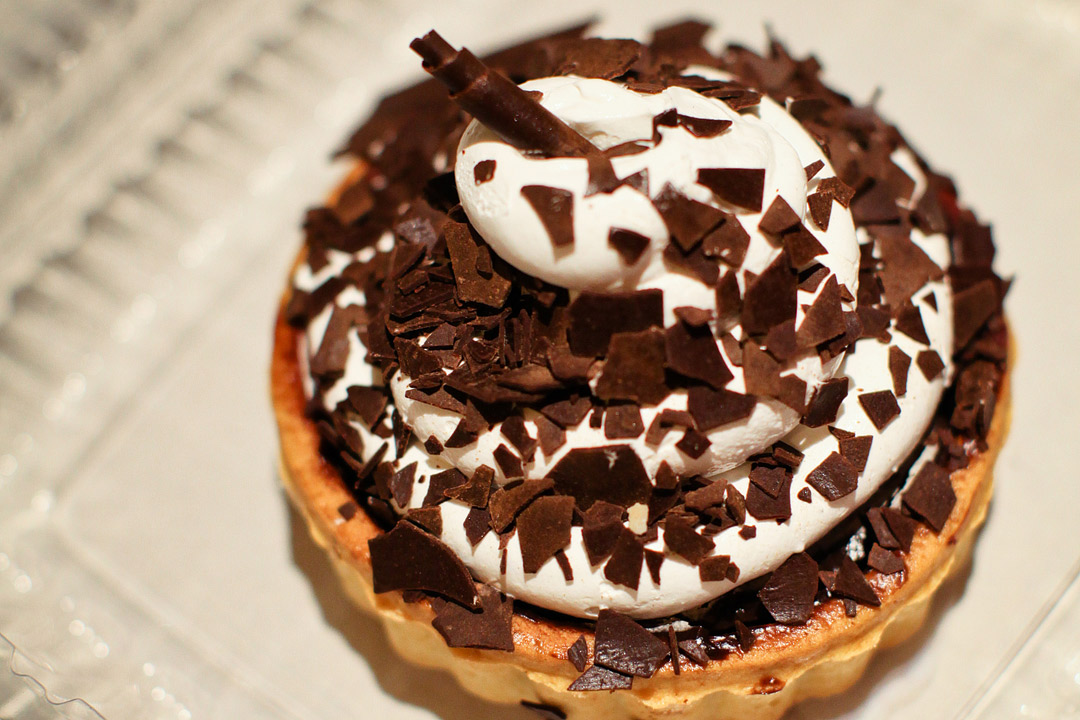 More Things to Do in Biloxi
Beauvoir, Jefferson Davis Home and Presidential Library
Biloxi Bay Bridge
Biloxi Brewing Company (CLOSED)
Biloxi Historic Tours / Biloxi Tour Train
Deer Island
Gulf Islands National Seashore
MGM Park / Biloxi Shuckers
Old Biloxi Cemetery
Ship Island
St. Michael's Catholic Church
The Historic Redding House
Walter Anderson Museum of Art
State Symbols + Photography Ideas
Mississippi State Slogans: Feels Like Coming Home, The South's Warmest Welcome
State Flower: Magnolia
State Animal: White-tailed Deer
We had to take a cheesy state sign photo on our road trip.
Have you ever been to Mississippi? Can you think of other things to do in Biloxi MS?
Did you enjoy this post? Pin it for later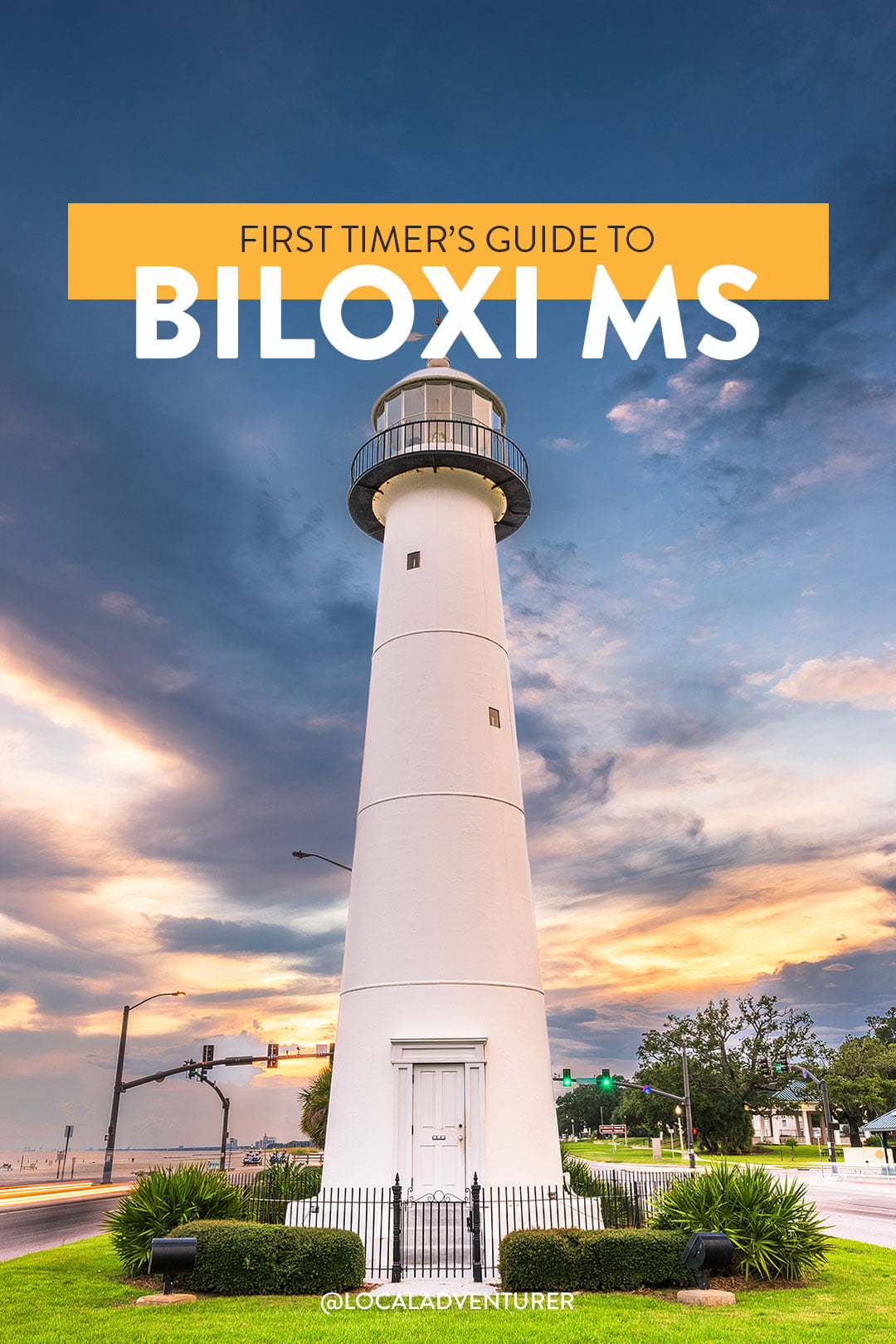 SEE MORE FIRST TIMER CITY GUIDES
⟡⟡⟡⟡⟡
"Discovery consists not of seeking new lands but in seeing with new eyes" – M. Proust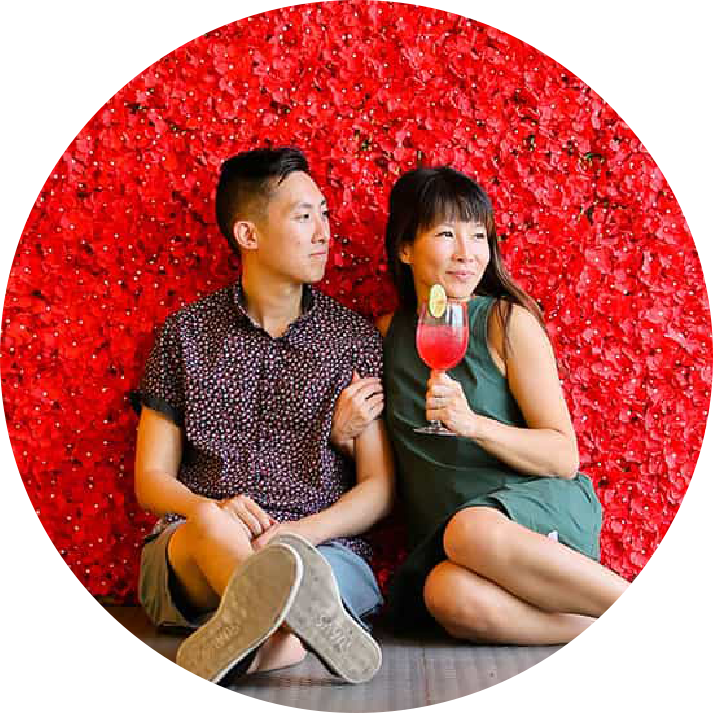 Esther + Jacob
Esther and Jacob are the founders of Local Adventurer, one of the top 5 travel blogs in the US. They believe that adventure can be found near and far and hope to inspire others to explore locally. They explore a new city in depth every year and currently base themselves in Las Vegas.
Follow on Instagram (E + J), YouTube, TikTok, and Pinterest.