More than 80% of Americans live in urban areas making urban parks more important than ever. Thankfully, the National Park Service has sites in 40 out of 50 of the most populous cities in the United States. That's good news for people who crave the outdoors but whose life demands they keep an apartment in the city.
On a recent trip to the Golden Gate National Recreation Area in San Francisco, I met a man who grew up near the bridge but whose family never visited the park. They never even knew the park existed. After hearing this story I felt compelled to compile a list of ways to get out there and 'ramble 'round even if you're in a city.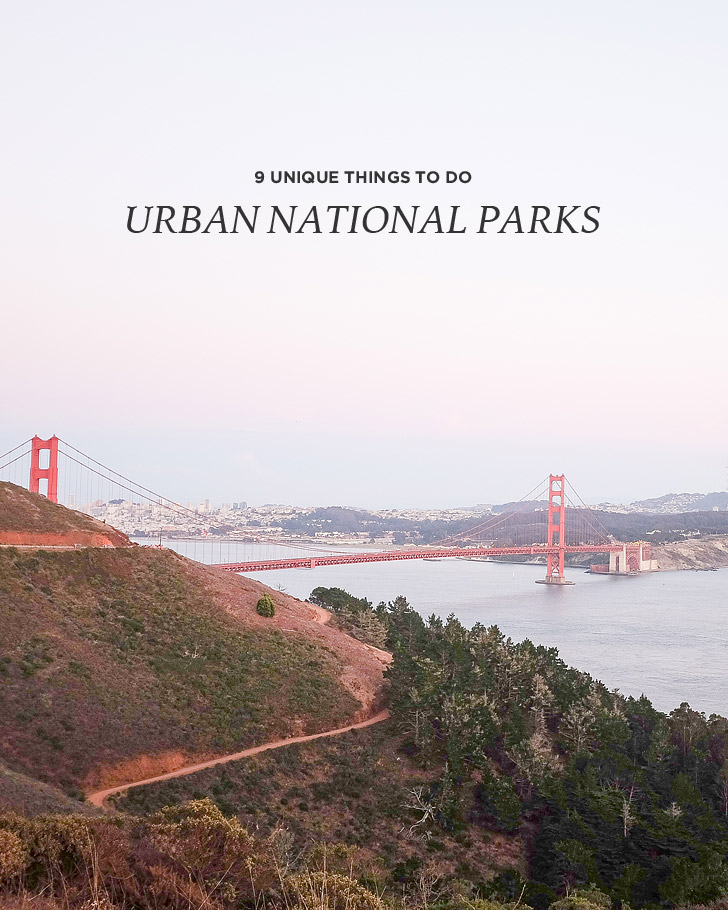 National Parks By Month – Aug | Sep | Oct | Nov | Dec | Jan | Feb | Mar | Apr | May | Jun | Jul
9 UNIQUE THINGS TO DO AT URBAN NATIONAL PARKS
1. Go Jogging with a Park Ranger
Did you know that in some places you can go for a jog with a park ranger? In DC, it's completely free and the route starts at the iconic Washington Monument. You don't need to be incredibly fast. The pace is about ten minutes per mile, and several stops are along the route. Call Laura Abbot at (202) 570 – 2785 to sign up.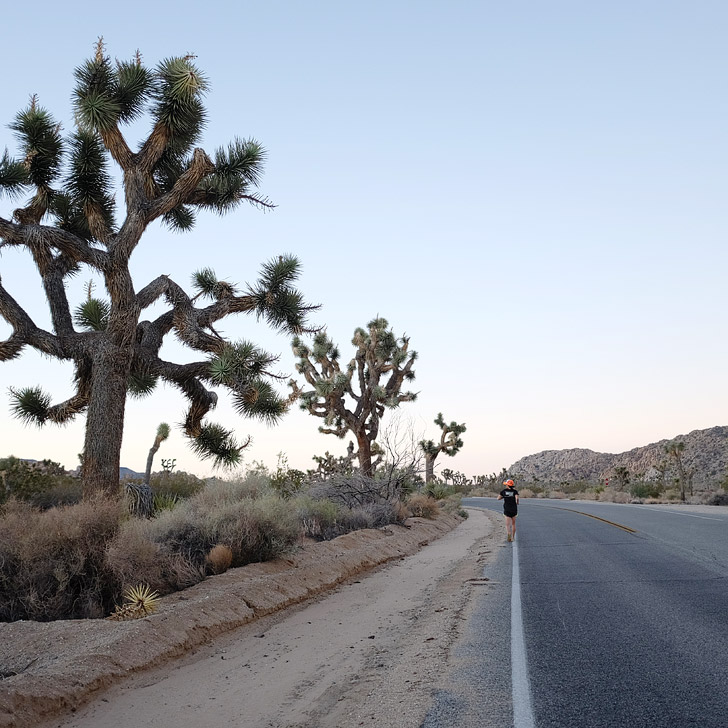 2. Enjoy an Outdoor Concert
Chances are there's an outdoor concert in a park near you. The New Orleans Jazz NHP hosts live educational programs most days of the week at either the U.S. Mint or the French Market location on 916 N. Peters Street. This isn't just any live show. New Orleans is the birthplace of jazz and a city with a history and tradition as old and as rich as they come. Even better is that most of the performances are streamed live so that if you can't make it to the show, you can tune in at home (or work. We promise we won't tell your boss).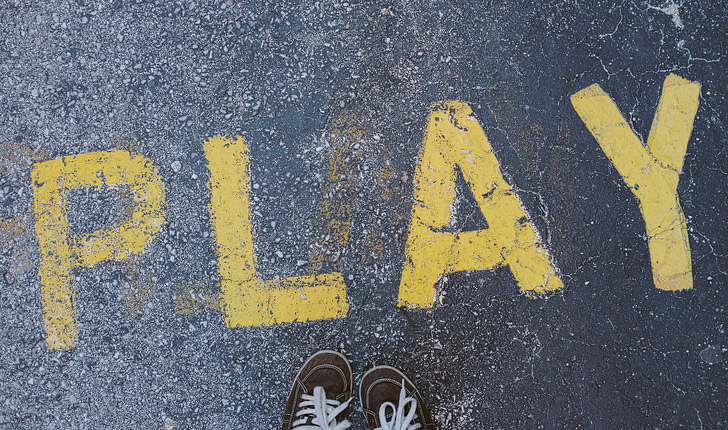 3. Attend a Virtual Ranger Talk
Use your device to learn something new! There are several parks where you can access narrated ranger talks while moving at your own pace. At the San Francisco Maritime National Historic Site (CA) you can listen to stories about adventure and danger on the high seas. If an audio tour isn't quite your thing, there are a ton of visually-driven apps that can enhance your experience. One of my favorites is a nighttime app called SkyView. It's free and it helps you identify stars, constellations, and satellites simply by pointing your device at the sky.
At the same time, don't forget to unplug. You might be surprised at how much you see, hear, and feel when you look up from your screen.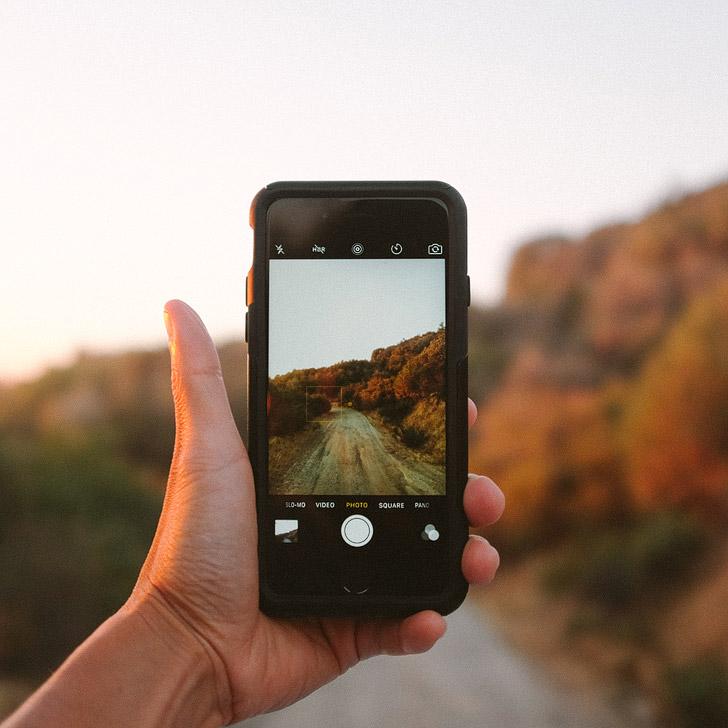 4. Attend an Instameet!
Glacier National Park and Yosemite recently held Instameets, events that brought park rangers, photographers, and others interested in social media into the park to get creative. Don't see one in your area? Start one! All you need to start is a smartphone or camera and a friend or two. More tips on hosting an Instameet can be found here.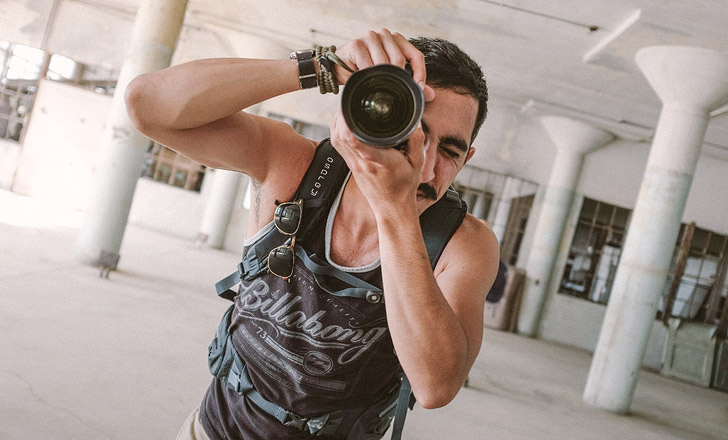 5. Make S'mores
Many parks have barbecue pits and picnic areas that allow you to cook outdoors. Some parks, including Greenbelt Park in the Baltimore-Washington DC area have campfire programs at the ranger stations that help bring people together for storytelling and good old fashioned fun.
6. Organize a Scavenger Hunt
You can organize a scavenger hunt for your family and friends and then get out there and explore! Make the items on the list specific to the place you'll be visiting. For example, in Philadelphia, you could require participants to take a photo with a statue, standing next to the Liberty Bell, and even running up the steps of the Museum of Art (the Rocky soundtrack is optional). See if you can get something donated to give to the individual or group that finds all the items first.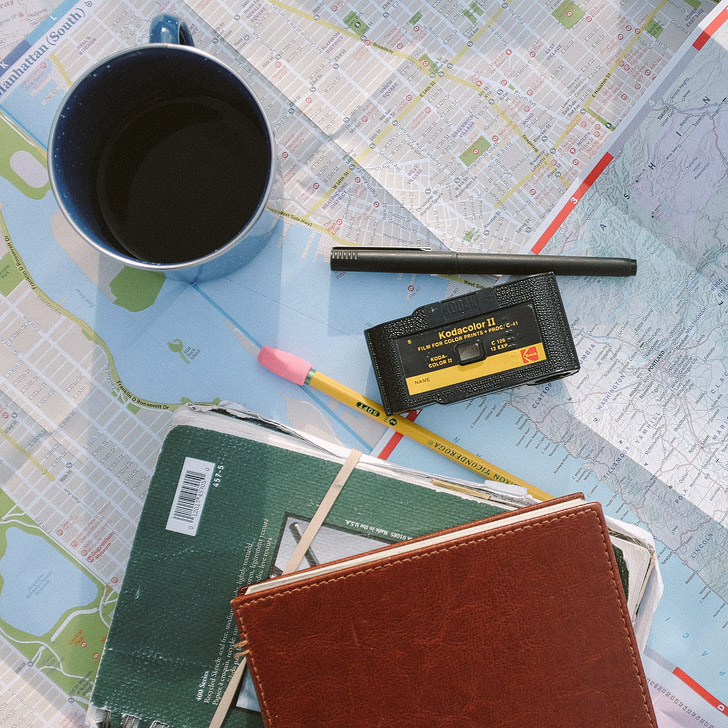 7. Get Your Blood Pumping!
Running isn't your thing? No worries. Lots of parks offer other ways to get a workout. Bikes are welcome in many national parks and some parks even rent them. One gem that cyclists rave about is the Mississippi River Trail which is over 3,000 miles long. Don't be fooled by the name; it wanders through ten states and ends up in the Gulf of Mexico! Not into cycling but love the water? There are several national parks such as Padre Island and Cape Cod where you can learn to surf, kayak, and stand-up paddle board.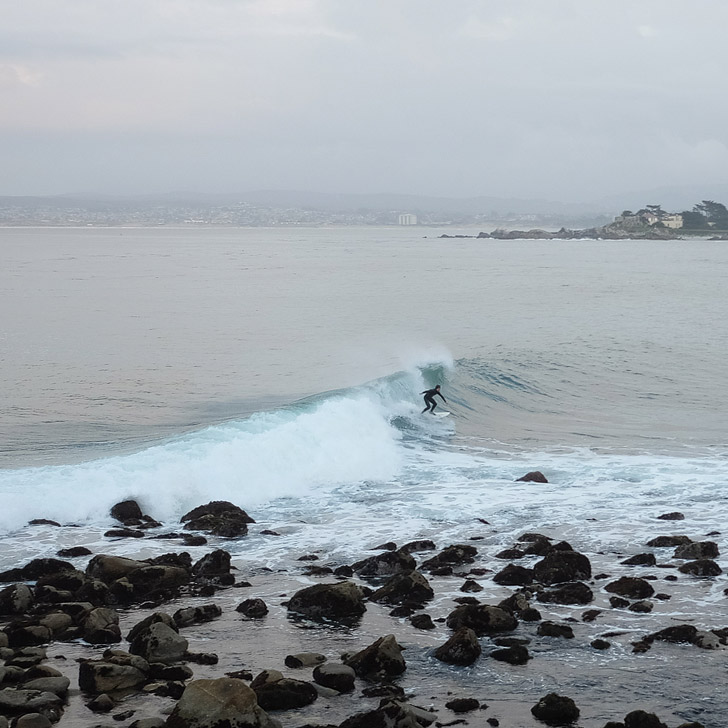 8. Eat in an Urban Park
If you're anything like me, I'm always thinking one meal ahead. And I love parks. So, naturally, I try to combine the two whenever I can. My girlfriend is REALLY good in the kitchen, so oftentimes we have a cooler that we bring with us to our favorite spot. Before we met, I was the queen of takeout and would oftentimes get carryout and sit in the back of my hatchback at an overlook just to watch the sunset.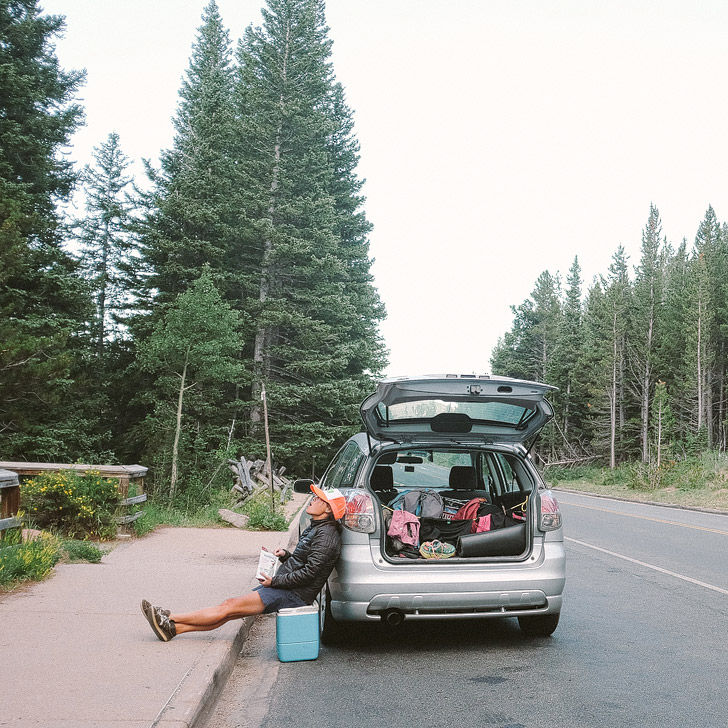 9. Be the Early Bird that Gets the Worm
They say that New York City is the city that never sleeps, but I've watched the sun come up from a boulder in Central Park with a hot cup of coffee in my hands and not a soul in sight, save for the pigeons. I don't remember the rest of how I spent that day but every so often I'll remember that morning and it brings me front and center as to why our urban parks are so important.
Related: 45 Central Park Secrets Plus Famous Attractions You Can't Miss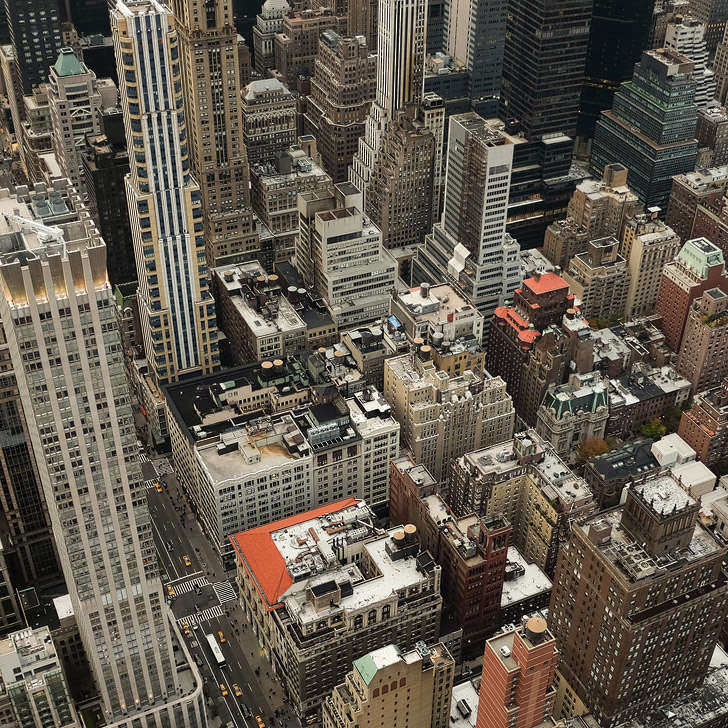 Did you enjoy this post? We'd love for you to pin it!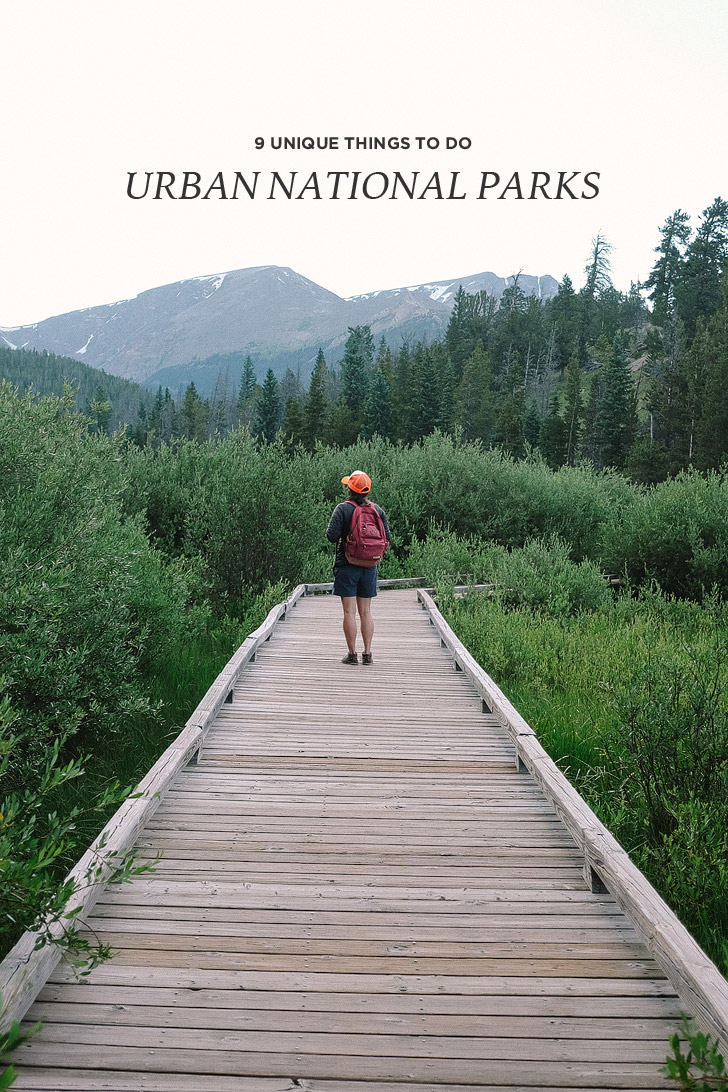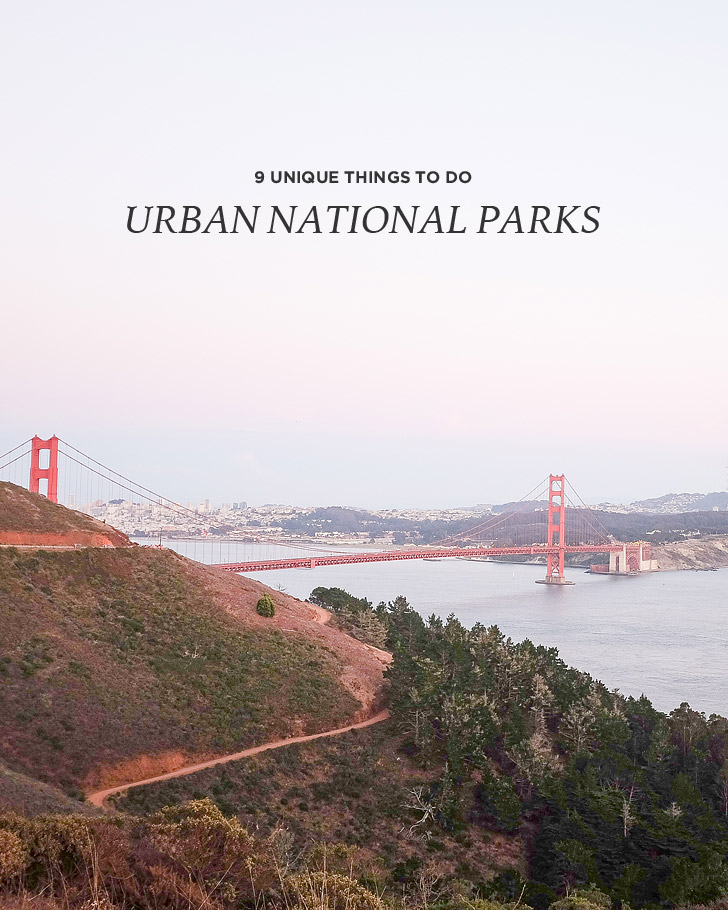 I (Jacob) was one of the finalists of 2016 Find Your Park expedition, and the highlight of my trip was getting to meet amazing creatives like Erin! Be sure to check back for more amazing posts and photos from her.
Have you visited any urban national parks? Did you know there are 413 national park units in the US? You can find one near you here.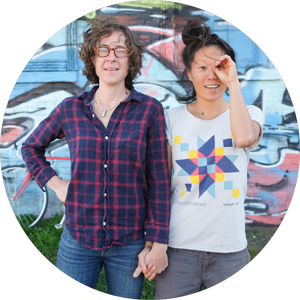 CAROLINE + ERIN
They are entrepreneurs and creatives who are good at finding adventure, both big and small, everywhere they go. The two have made a daily practice of sharing vulnerabilities, truth telling, and side splitting laughter. Both value being able to spend time getting to know a place but understand that life doesn't always allow one to really settle into a place. So, they've honed the art of travelling fast and seeing and doing all of the things that an adventurer can do in a day or two. The couple lives in Asheville, North Carolina and spend as much time as possible in the mountains.