We just got back from Iceland two days ago and learned so much about traveling in cold weather. It might not be a big deal for you adventurers used to cold climates, but San Diego has made us weak!! The weather had a high of 39 and low of 25 F (-3.9 C) PLUS WINDCHILL. Since we knew we'd be outside for hours at a time hunting down the Northern Lights, we needed to gear up!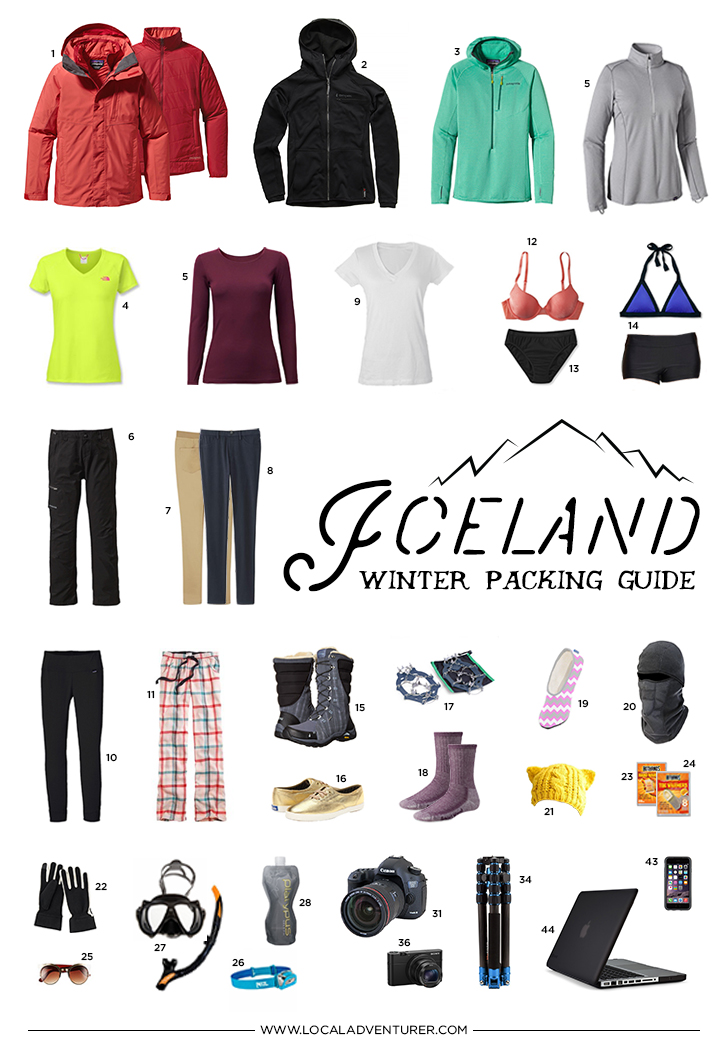 Pin
WHAT TO PACK FOR ICELAND IN WINTER - 10 DAYS IN A CARRY-ON
On the way to our layover,
Delta broke my roller suitcase
 (don't worry they are paying to get it fixed!), but it was amazing how it all worked out for the better. Over my birthday in Atlanta, Kim gave me a 17-inch roller. We've been looking for smaller sized rollers forever, but she had found it in Europe and brought it back with her stateside. I'm really digging the European size, which happens to be smaller than
my personal carry-on item
. We had to play a little bit of tetris to squeeze in all my winter gear, but it fit! Can't wait to travel any other season, because it's going to be waaaay easier. Jacob packed everything in his
60L Patagonia Duffel
 and 
Lowepro Pro Runner BP 350 AW II Backpack
. He carried all the electronics and camera gear with the exception of Gorillapod and Laptop that went into my
Osprey Backpack
.
CLOTHES (from the outer layer working our way in)
Patagonia 3-in-1 jacket is comprised of two jackets that can zip into each other. It can be worn as a rain shell, light insulated jacket, or as a waterproof insulated jacket. We were matchy-matchy.
Dry Fit Tee x 5 – Good for travel.
Patagonia Alpine Pants – this was our outermost layer. Our legs were still cold, but it wasn't unbearable.
Bottom Base Layers – You rarely sweat so we could wear them for 2 days. I only had to wash overnight once. Some nights Jacob doubled up on them.
Bras x 6 – I had 4 sports bras and 2 wireless ones. You can wear them for more than one day since you don't really sweat in cold temps. Honestly, some days I decided to be extra comfy and go braless since I'm wearing 3+ layers, but then again if you want your boobs to stay perky, maybe you should bring all the bras to keep them supported. Up to you! ;)
Underwear x 9 – I brought 2 Exofficio bikini briefs for active days and cotton underwear for the rest. Jacob only brought 3 ExOfficio Boxer Briefs, which you can wash and it quick dries.
Swim Suit – This is for if you're planning to soak in the Blue Lagoon or any geothermal pool. Don't make the same mistake as me! I was so preoccupied with making sure I would stay warm that I completely forgot about it even after making a note for myself. I ended up picking one up at Target during our Atlanta layover.
Winter Boots – These are our current favorite hiking boots. They both were really comfortable during the day, but our toes did get cold while we were hunting down the Northern Lights even with two layers of socks and toe warmers. None of us had the right combination of gear to escape the cold. It was in the 20s F (-6 deg C), but our toes were even colder standing in the snow for hours at a time.
Casual Shoes – these are waterproof!
Crampons – so many spots were hard to get around because the path was frozen over. Bring these if you're only carrying on or these ones with spikes if you're checking a bag in.
Socks x 12 – We each had 10 midweight socks and 2 winter socks that we wore as a second layer for our Silfra snorkeling excursion and Northern Lights excursions.
Balaclava – We both brought balaclavas. It's windproof and really kept us warm for something that isn't big and bulky.
Hand Warmers – We love this rechargable one.
Toe Warmers – We had one per night that we wanted to see the Northern Lights. We figured the weather and activity would at best work out for half the time we were there.
Sunglasses – especially if you're the driver or if you plan on going on any snowmobiling excursion. The snowy landscape can be blinding in the day time.
Headlamp – you'll need this to get around at night to find your Northern Lights photo spots.
My Mask and Jacob's Mask and Snorkels – for our Silfra excursion.
Water Bottle – We brought our collapsible one but in hindsight wished I brought a vacuum water bottle to hold hot water too for extra warmth. Iceland has some of the cleanest water, so you can fill it up anywhere. However, the water in several rural locations tasted very sulfuric, and we ended up filling up during breakfast.
Ziploc Bags – 2 big, and 2 sandwich size. Kim brought these, but this will be a new addition to all our future packing lists. They come in so handy! We needed them for when we cooked ramen and to store our lunches.
Sriracha2go (optional) – I didn't bring this because I thought I wouldn't need it, but I regretted it on several occasions.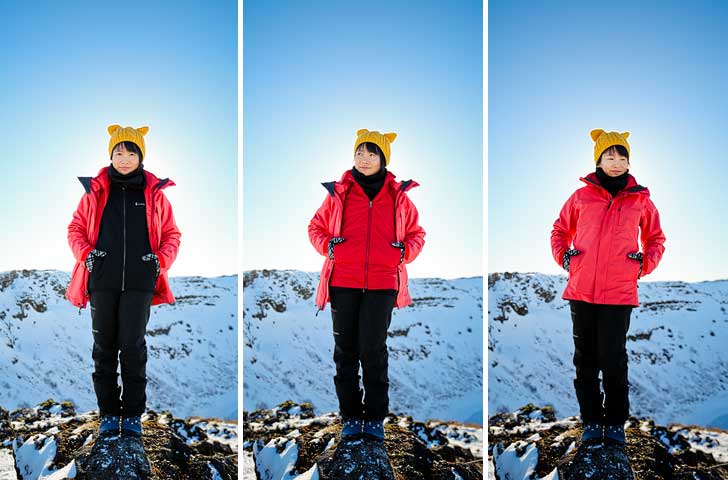 Pin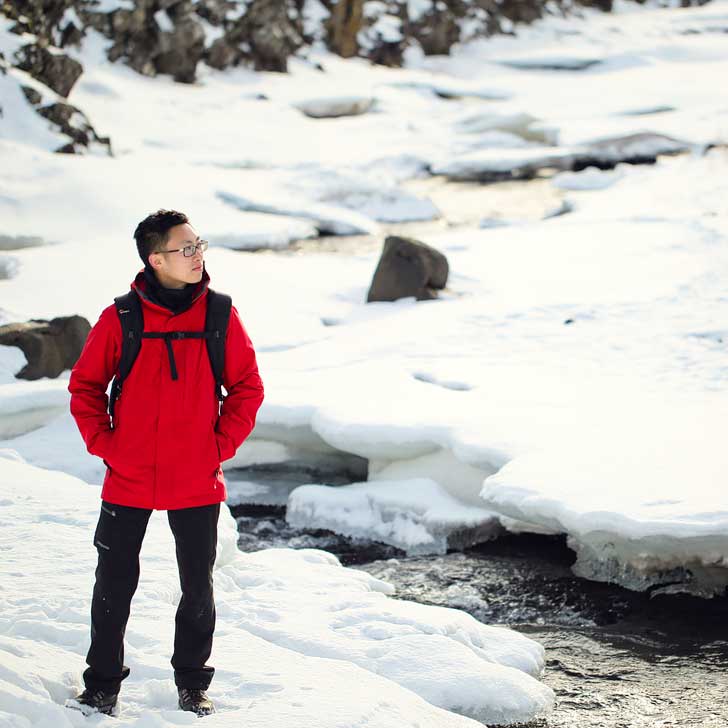 Pin
Shampoo – Use GoToobs to bring your favorite.
Conditioner
Face Wash
Multi-Purpose Soap – We use GoToobs to bring them with us.
Hand Cream – hands got so dry in the climate humidity that they started cracking and bleeding. This one has always worked best for me, so I've stuck with it. Do you have a go-to hand cream?
What are your must have winter travel items? Am I missing anything from my Iceland packing list?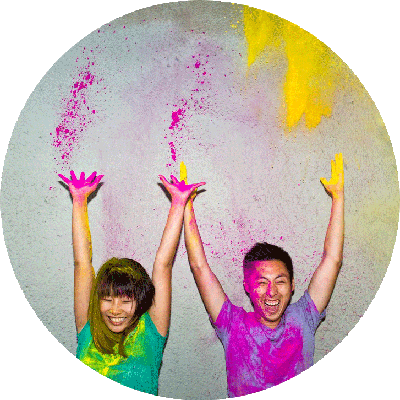 Esther and Jacob are the founders of Local Adventurer, which is one of the top 5 travel blogs in the US. They believe that adventure can be found both near and far and hope to inspire others to explore locally. They explore a new city in depth every year and currently base themselves in Las Vegas.