It's no surprise that we love to take lots of road trips. Now that we've done Atlanta to LA four times, any drive less than that is no big deal. We drive from Vegas to LA at least once a month, and we've even done four bigger road trips so far this year. I would say we have a system down that we like.
Our essentials to take on a road trip are in the order of SNACKS, subscription to spotify, and then a few other items to stay comfortable. We take our snacks very seriously.. so seriously that I decided to carry a giant bag haribo gummy bears on my back on a 4 day hike to Machu Picchu. I about died.
Can't say no to the Haribos, but we do try our best to mix in some healthy snack options since most of the time we are stopping for fast food or whatever happens to be convenient.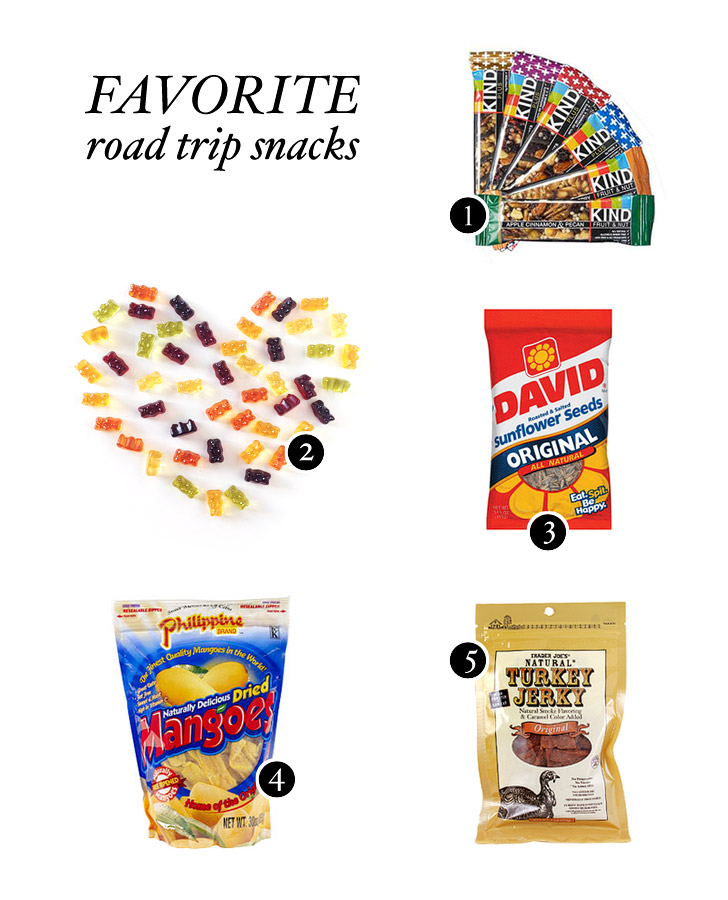 Pin
Our Favorite Road Trip Snacks:
Kind Bars – my favorite energy bars at the moment and a healthy pick unlike some of these.
Haribo Gummies & Sour Spaghetti– We can finish a whole 5 lb bag on a cross-country road trip. Beware if the temperatures get really high, they will melt together into one gigantic gummy. It still tasted good. Also maybe stay away from the sugar free ones. I haven't tried them yet, but the amazon reviews should convince you to just eat the sugar!
Sunflower Seeds – Jacob likes these to keep him awake.
Dried Mangoes – I've been obsessed ever since we went to the Philippines this year.
Beef Jerky – Is it even a road trip without this classic road trip snack?
If you're looking for more healthy options, we love that FitSnack subscription box gives us a lot of ideas. Not all of them are the best fit for us, because healthy tends to be bland, but every so often you find some great gems. Here's our full review of FitSnack.
Here are some of our favorite road trips that we've blogged:
What was your favorite road trip you've taken?
What are your go-to road trip snacks?