Sooooooo this was a pretty bad month for goals. Missed the last three weeks of goals after having to last minute fly back home to spend time with halmoni. Then I thought I got out of there safely, but I caught the pneumonia that everyone in my family had. I fought it as long as I could. I refused to believe I was sick and went about my business as usual (which happened to include some karaoke.. probably not the best idea). I suppose it eventually caught up to me.
I was hoping that last month and this month would be focused on catching up, but I know health and family comes before going down my check list and getting things done. Plus, I feel awful, so ain't nobody making me go to the gym.
I guess it's time to catch up on some tv. Now that's serious business. :) Parks and Rec is over, and I'm feeling like I need a good replacement. What should I watch next? I'm more into light hearted comedies, but every now and then I get into shows like Breaking Bad. I currently watch Mindy Project & New Girl, and all this talk about Scandal has gotten me curious.
Last month's highlights on instagram: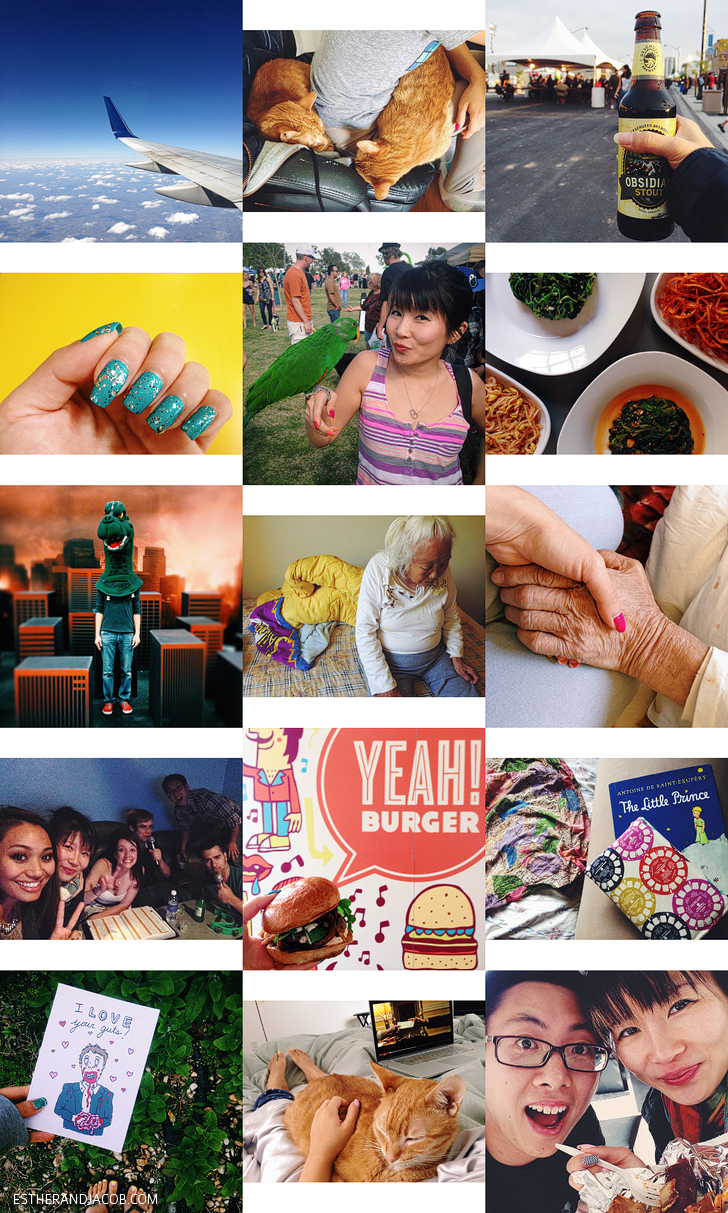 Pin
I've been trying this new thing where I alternate between squares and horizontally taken photos. It creates a new set of challenges, but it's a good thing. If you want to follow along daily on instagram (esther's & jacob).


Try the Couch to 5k running plan. Nope. Did well the first week, and then it was downhill from there. I did manage to walk a mile with my mom, dad, or dog every other day.
Don't drink diet coke for a month. I technically did this. Although, I did have some cokes and dr peppers instead. It's not the same, right? I was under a lot of stress. -____-
Read a new book this month. Yes! I read  Le Petit Prince for the first time since high school french class and I'm almost done with Orange is the New Black, a memoir on prison life. It has way less drama than the tv show, but still entertaining nonetheless.
Go on four dates. Got 1/4.
Fill gratitude jar with 4 strips. Yes.
Bake one recipe. No. But I did learn a ton of korean recipes from my mom. Can we do a swap?
One pinterest project. I have two more days, so fingers crossed. I'm going to pick a really simple one.

Get back to health.
Bake two new recipes.
Read 3 books. Finish Orange, and then I'm thinking about this and finishing this, but I'm still open to suggestions.
Do two new pinterest projects.
Fill gratitude jar with four strips.
Schedule blog posts two weeks in advance since I will be in SF for a week and a half!
Continue Couch to 5k when I start feeling better.
Go on 7 Dates to make up for last month. Wow. Can we make this happen?
Yep. It's going to be an interesting month.
What's your current favorite tv show and/or book you would recommend?
Every month I've been doing monthly goals. You can see how we're doing on our 14 in 2014 resolutions or check out some of my previous weekly wishes and monthly goals by clicking the banner below:
Pin