We just got our dive certification packets, and we're super excited to get that started, but in the meantime, we have been enjoying our snorkeling trips – especially when they involve whale sharks, manta rays, and sea turtles! If diving intimidates you (like it has us for the longest time), snorkeling is a great way to get comfortable in the water and still get a glimpse into the underwater world.
Until our last trip, we always used the snorkeling equipment provided to us by tour companies, but it hasn't always worked out well. On numerous occasions, my mask wouldn't fit right, and I would spend half the time trying to keep water out. Other times, the fins would be too tight or loose, and we would end up with blisters. Plus, with the snorkels, I try my best not to think about putting the same snorkels others have used into my mouth. Does that weird you out, too or am I just OCD? haha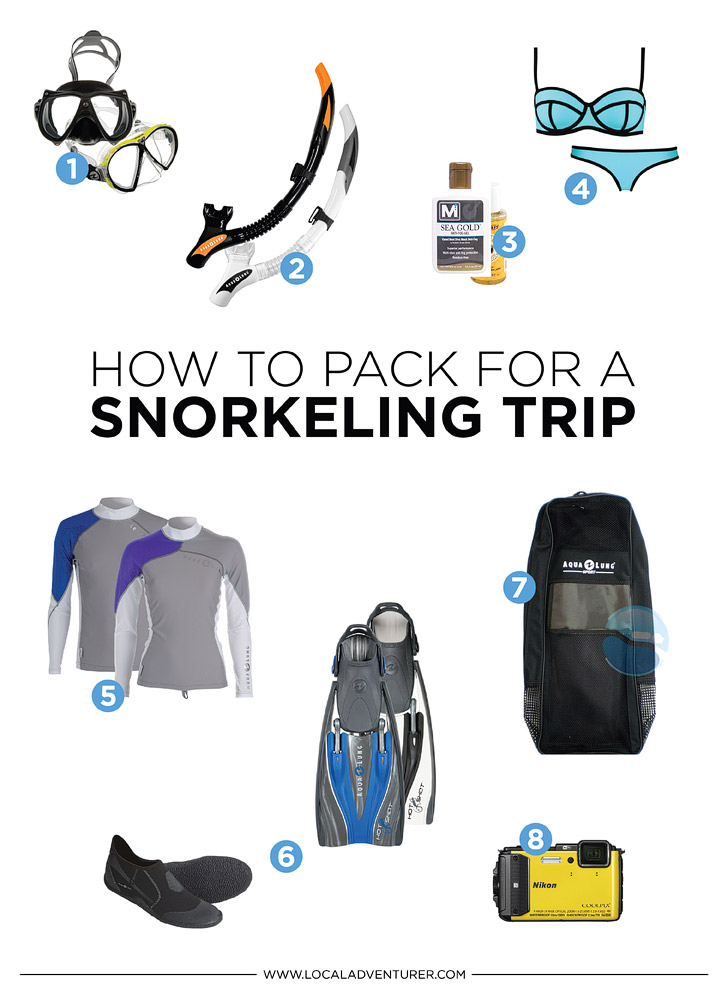 Pin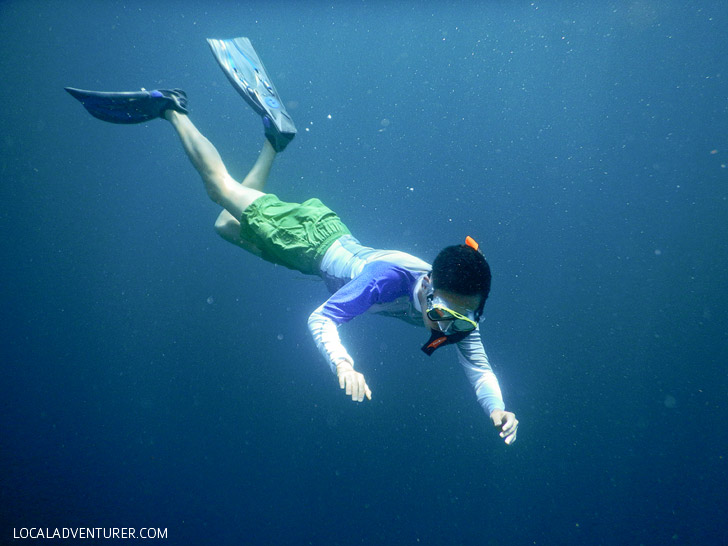 Pin
ALSO READ > 15 BEST PLACES TO SCUBA DIVE IN THE US
Our main concern with adding snorkel gear to our packing list is that we like to pack light, but on our most recent trip, we still managed to make our clothes for 25 days, plus snorkel gear fit within our carry-on bags. It helps that at most destinations that are great for snorkeling, you'll be wearing summer clothes that take up less space.
WHAT TO PACK FOR YOUR SNORKELING TRIP:
1. Mask
This should be your first purchase if you're on a limited budget. A mask that doesn't fit correctly could ruin your experience. We use the Teknika (black) and Favola (clear/hot lime).
You can get better deals online, but you should try on several masks in person to see which ones fit your face best. To figure out the fit, gently place the mask on your face and press slightly (without the strap on). A well-fitting mask will stick to your face without having to hold it in place. Also, be sure not to inhale or exhale. Inhaling will keep almost any mask on.
Clear vs. Black Skirt – The clear ones will give you better peripheral vision and helps if you tend to get claustrophobic, but you will sometimes get glare from the sun. The black ones give you tunnel vision and are better for photography, but it's harder to see what's around you (I must have ran into people a dozen times but later ended up getting the hang of it. oops!). Jacob and I switched back and forth depending on who's taking photos.
2. Snorkel
As for the snorkel, we use this one and highly recommend it! When you start shopping for snorkels, you might get overwhelmed with how many different models there are out there. One thing to keep in mind is that simpler can be better. Some of the snorkels that use moving parts to keep water out usually end up getting jammed or broken. The Impulse 3 has a simple design to keep water out and doesn't require a big breath to clear it. We were free-diving a lot with it and never had any issues.
Some people say that defogger is just really expensive baby shampoo while others say it harms the environment. Anyone have more information on this?
4. Two Swim Suits
If we're swimming every day, we like to have an extra pair in case it doesn't dry off the next day after a wash.
When I was younger, I hardly gave sun protection a second thought, but now we are all about it (may have had one too many bad sunburns!).  This is a must for anyone who likes to spend a lot of time out in the water. It has SPF 50 to protect you from the sun and is also a thin barrier from any critters that will sting or scratch you (really helps with those annoying water lice). We each packed one and rinsed them each night, but we might consider getting another if we go on longer snorkeling trips. Sometimes they don't completely dry overnight, and I know you'll be back in the water soon enough anyways, but wet ones are so cold when you put them on! 😅
6. Fins (& Boots)
When it comes to fins, we were looking for something packable and good quality. We've been on plenty of snorkeling trips where they didn't have our size or ran out of our size, and we'd end up with blisters.
We ended up deciding on these Hotshot Fins, because they are compact and fit into our carry-on luggage. The Hotshots are recommended for snorkeling and warm water diving only. We might give them a try on our upcoming cold water dive and let you know how they manage.
Boots – we decided to pick fins that use boots for a couple of different reasons. First, we are getting dive certified soon and wanted fins we could also use for diving! Second, the boots make it easy to slip the fins on and off and also help protect our feet when we're walking around on the boat or the island. It's much easier than dealing with flip flops or another pair of shoes. The Polynesian Boot was the perfect companion to our fins.
This is something we didn't pack on our most recent trip, but we plan on taking one on future trips. Though traveling days were OK with them in our carry-on luggage, we didn't think about how troublesome it would be to carry all the pieces to and from the boat daily. Fortunately, we had a makeshift bag that helped us out, but we need a more permanent solution.
8. Underwater Camera Gear
For photos, we used the EWA-marine housing for DSLRs. If you want more of a point-and-shoot, the Nikon Coolpix AW130 is a great choice.  For videos, we used a goPro. You can also check out our ultimate underwater camera gear guide to see what would best fit your needs.
When was the last time you went snorkeling?
Have you ever decided on a destination based on snorkeling?
We reached out to Aqualung and received the gear we requested in exchange for an honest review.
As always, all opinions are our own. Thank you for supporting the brands that make Local Adventurer possible.