Turks and Caicos has a handful of companies that offer snorkeling excursions. Since we stayed at Ocean Club West, we took our first excursion with Silver Deep. They offer different options, whether you're interested in fishing, diving, snorkeling, or visiting other islands.
We kept hearing how Turks and Caicos has some of the top diving spots in the world, so we were hoping to get scuba certified before our trip but didn't have enough time. The next best thing was snorkeling, so we went on their Snorkel Safari with three stops.
A bus picked us up at the hotel and took us to the marina, where we hopped on a boat. It was a glass bottom boat, but we couldn't see much. At the end of the trip, they dropped us off on the beach in front of our hotel, which was convenient.
Our first snorkel site was in shallower water. The water was at most 15 feet deep and you could get up close and personal with the fish. We spent about 45 minutes at this spot.
Afterward, we headed to deeper waters (up to 60 ft) in hopes to see larger fish. Some other folks on our excursion spotted nurse sharks, lobster, and barracuda, but we didn't see any!
Brain coral
Can you see the peacock flounder in both photos? It's fascinating that he can constantly change colors to camouflage himself against the background. I barely noticed him.
On the way back, our friend caught a leatherback sea turtle on our GoPro, but we missed this also!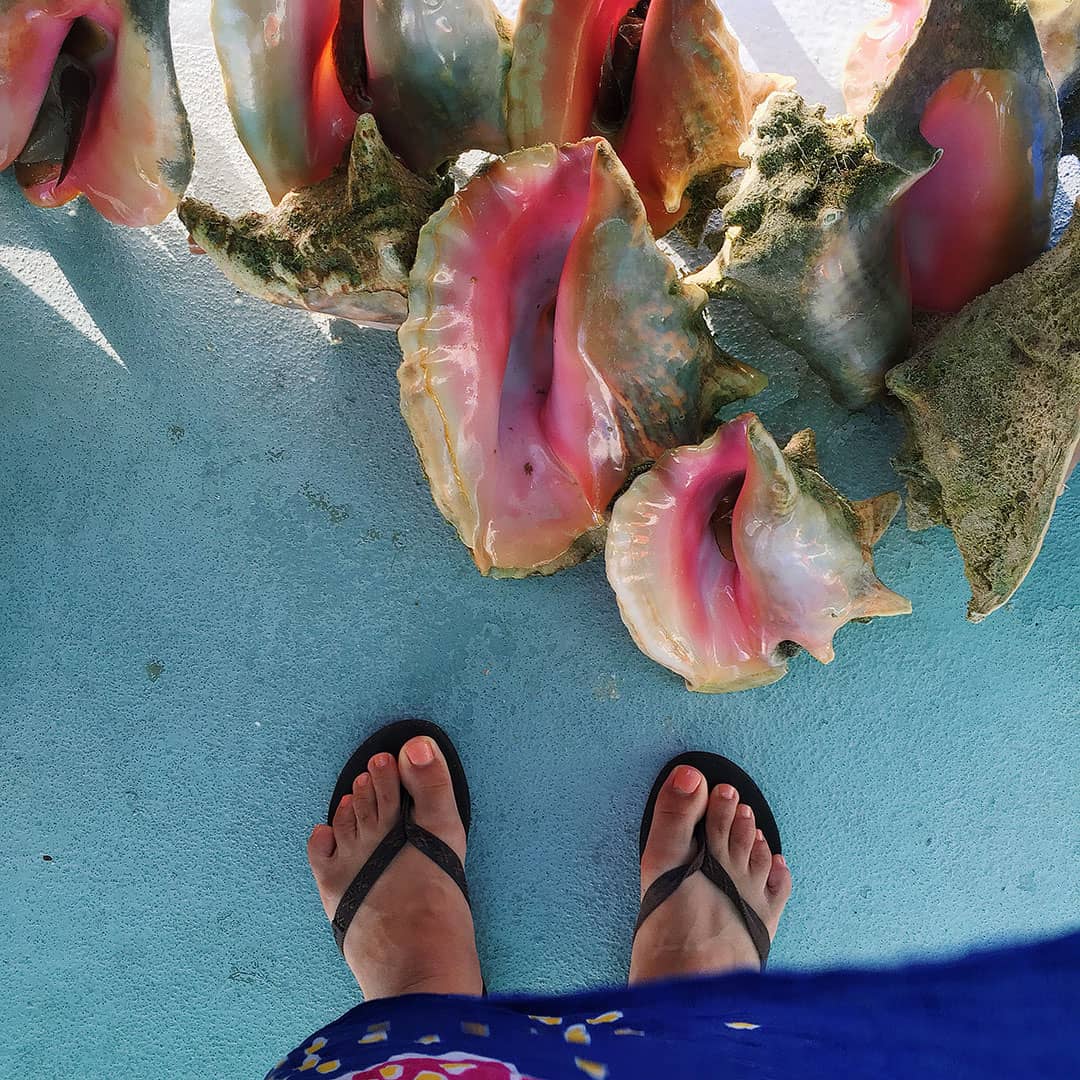 Our photos were all shot with a Canon 5D Mark III and 35 / 1.4 L lens in an Aquatech Elite Underwater Sport Housing and a Panasonic Lumix with Ikelite Housing.
Is This Turks and Caicos Snorkeling Excursion Worth It?
Overall, if you're looking to do a lot of snorkeling, this is your best option. It's about as much as you can get. I'm not as strong of a swimmer, so I was completely exhausted during our 2nd stop, and most everyone was beat by the 3rd that we headed back to the boat early.
In hindsight, I would recommend the Beach Cruise (the most popular excursion with up to two snorkel stops, and you spend some time on another island) or the conch cruise, which was what we originally wanted to do but wasn't available when we were booking. The conch cruise has two snorkel spots; at your second spot, you free dive for your own conch. Afterward, they make a salad out of it, and you are free to take your conch shell home as a souvenir. If you do this excursion, let us know how it is!
Pro Tips for Turks and Caicos Snorkeling with Silver Deep:
They provide you with snorkel gear, but I hope to bring my own next time. I had trouble with water getting into my mask even after I tried switching them out.
They also provide soft drinks, snacks, and rum punch (the island specialty). They even showed us how to crack and remove the conch and let us try some on the boat!
Be sure to get fins that fit you correctly. Jacob's was a little too small, and he got blisters.
To help protect the coral, get coral-safe sunscreen. Some tours do not allow you to participate unless you have coral-safe sunscreen on.
You can dive for any conch that you see and bring it on the ship. They'll help open it.
There is a thing called water lice (basically jellyfish larvae) that isn't visible to the naked eye. We would get annoying stings periodically, so pick up some of this lotion to protect yourself from jellyfish and sea lice.
Check out our vlog! At the end of the vlog you can see the conch "dancing" to music. :P
This video was shot with our GoPro and the Panasonic Lumix with Ikelite Housing.
Snorkel Safari $105 per person
Conch Cruise $99 per adult and $60 per child age 2-10
Beach Cruise $99 per adult and $60 per child age 2-10
Silver Deep
[email protected]
(649) 946-5612
Have you been snorkeling before?
Where has your favorite snorkeling destination been?