This post and trip were made possible by Discover Kyrgyzstan and the support of the American people through USAID (United States Agency for International Development). As always, all opinions are our own and do not reflect the views of USAID or the United States Government. Thank you for supporting the brands that make Local Adventurer possible.
Our eyes grew wide as they placed dish after dish of food on our table. We spent all morning walking around and exploring Karakol and had worked up quite the appetite. For our Dungan dinner, we had 9 courses, but some dinners can have up to 150!
Karakol is the largest town in the Issyk Kul region. It's at the eastern edge of Issyk Kul Lake and foot of Terskey Ala-Too Mountain range. If you're in Kyrgyzstan to explore the mountains, you will most likely pass through Karakol, so you should do yourself a favor and spend a few days in the town learning more about the culture (and eating of course).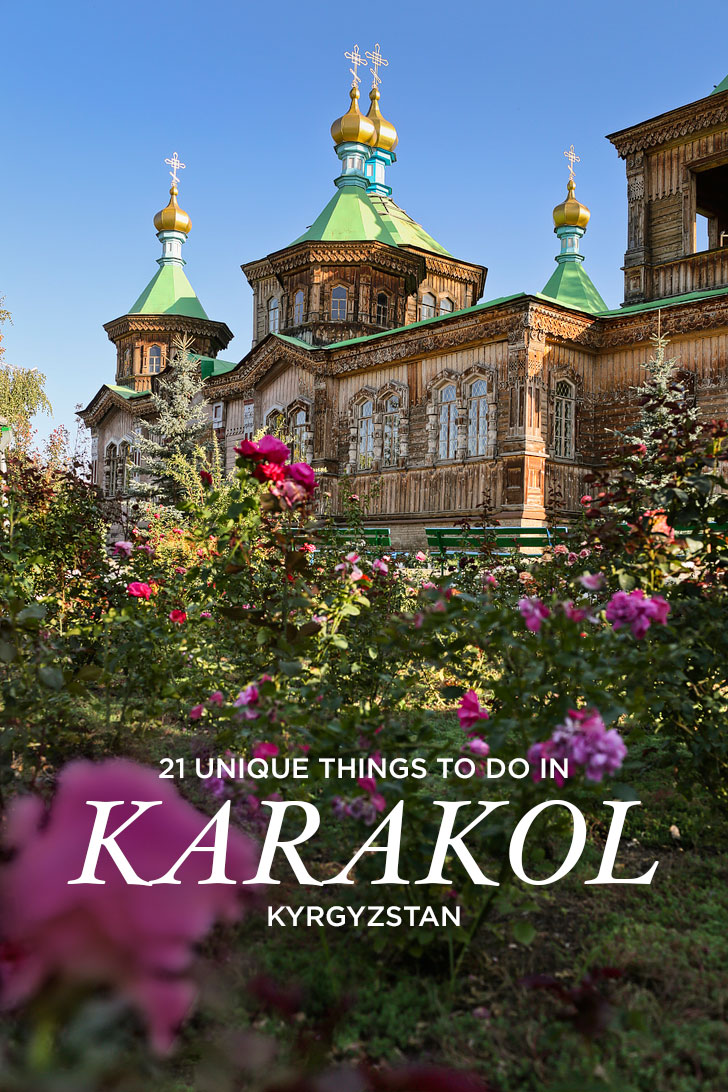 Pin
21 UNIQUE THINGS TO DO IN KARAKOL KYRGYZSTAN
1. The Holy Trinity Cathedral
This beautiful Russian Orthodox Church is scheduled to be painted in late 2017. Peek inside to find a number of icons, including some saved from Svetly Mys and a copy of one of Saint Troitzy by Andrei Rublev, a famous Russian painter. You are allowed inside and women are required to wear a head covering that is provided. (Map)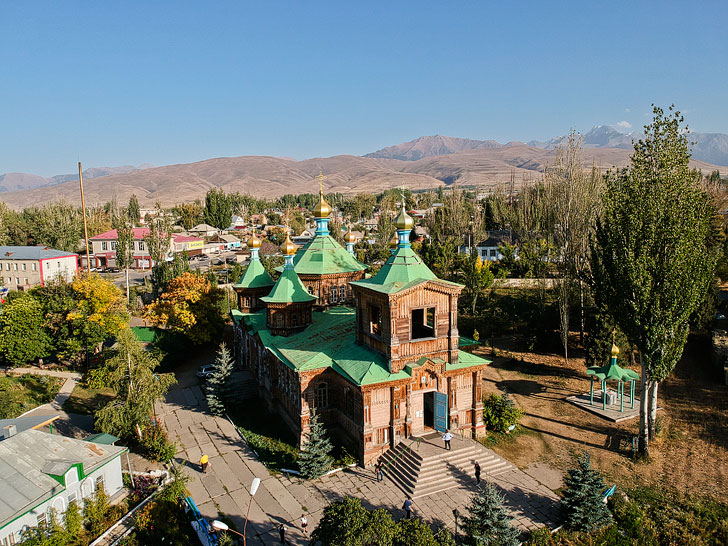 Pin
2. The Dungan Mosque
The Dungan Mosque is a unique mosque in that it was designed and constructed by Chinese artisans. It was completed in 1910 and is still used to this day. You can stop by to see the colorful wooden structure that was initially constructed without any nails. Women will be required to put on a head covering provided by the mosque. (Map)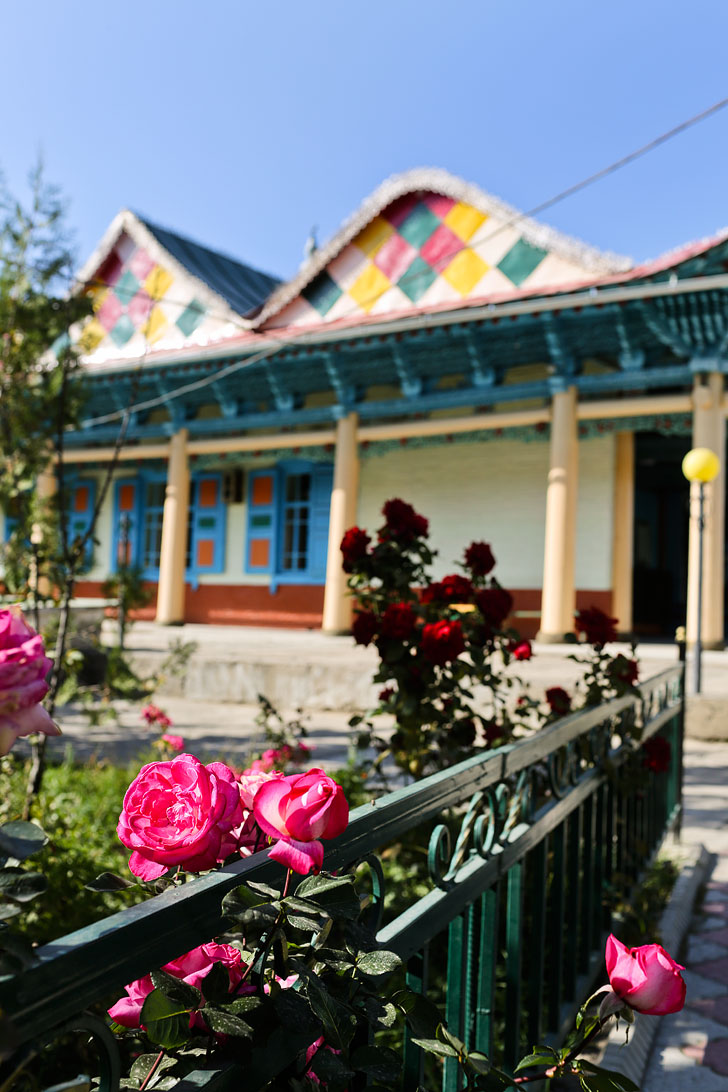 Pin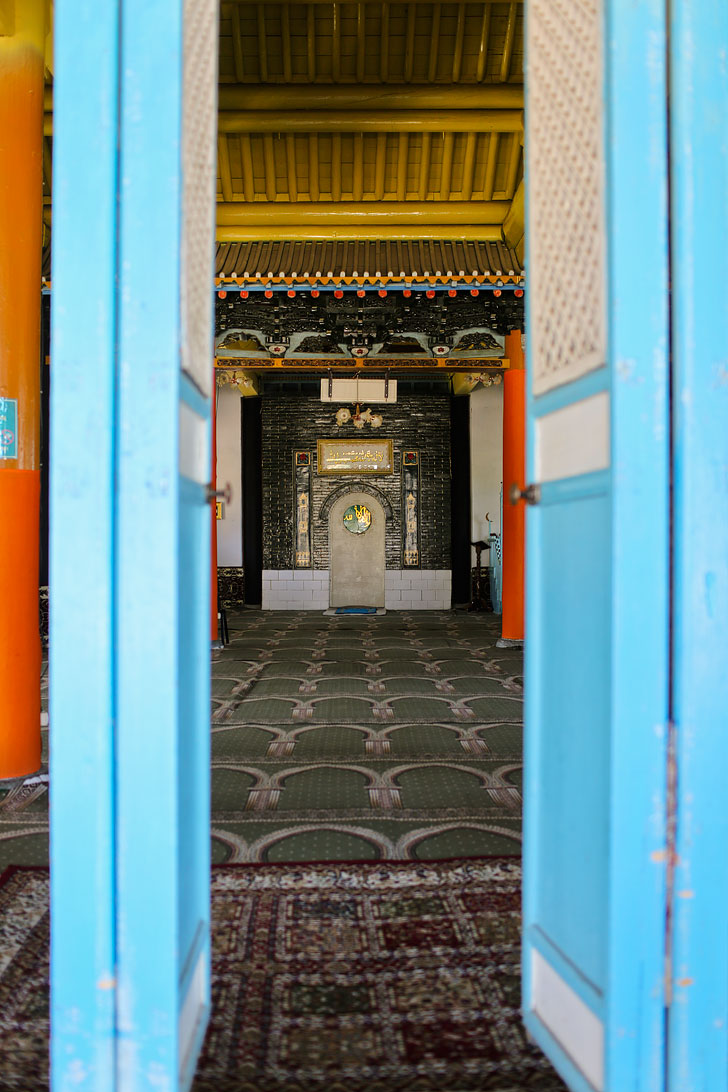 Pin
3. Antique Shop
We've been to antique shops before, but this one was one of the most impressive we've seen. It was almost a museum with all the items they had. You can find pins, patches, postcards, uniforms, and more from the Soviet Era, but what caught our attention the most was the old cameras. I almost walked out of there with ten of them cameras, and we were told all of them still work. How I'm going to find the film is another story. (Map)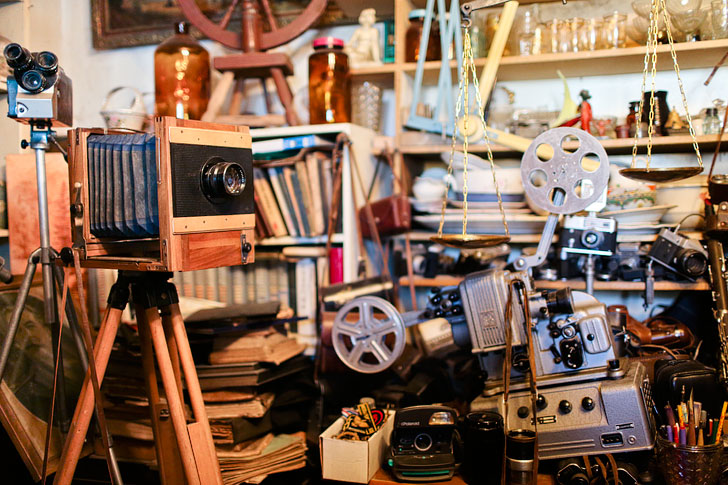 Pin
4. Take a City Walking Tour (It's Free!)
A great way to see the city is by exploring it on foot. Destination Karakol leads walking tours where they take you to the Holy Trinity Church, Dungan Mosque, Tatar Mosque, the antique shop, plus a few more historical sites with insights from a local perspective.
5. Karakol Food Tour
One of the best ways to get to know a city is to eat your way through on a food tour. Try the different local cuisines and see if you can find a favorite.
They make stops at Bugu Bazaar to try Ashlyan-Fu, Zarina Cafe for Laghman, Kaynar Cafe for Azuu, Kochevnik Cafe for Oromo, and Fat Cat Karakol for desserts. Hungry yet?
6. Karakol River Park
Enjoy the benches, grills, and a small stage where concerts are held along the Karakol River. You can enter near the intersection of Shapak Batyr and Ishakov.
7. Happy Nomad Yurt Camp
Go glamping these beautiful yurts right amidst a garden. It's a great place to base yourself while exploring the city. They have wifi, warm water, and kept their bathrooms very clean. (Coordinates, 30 min walk / 5 min drive from City Center)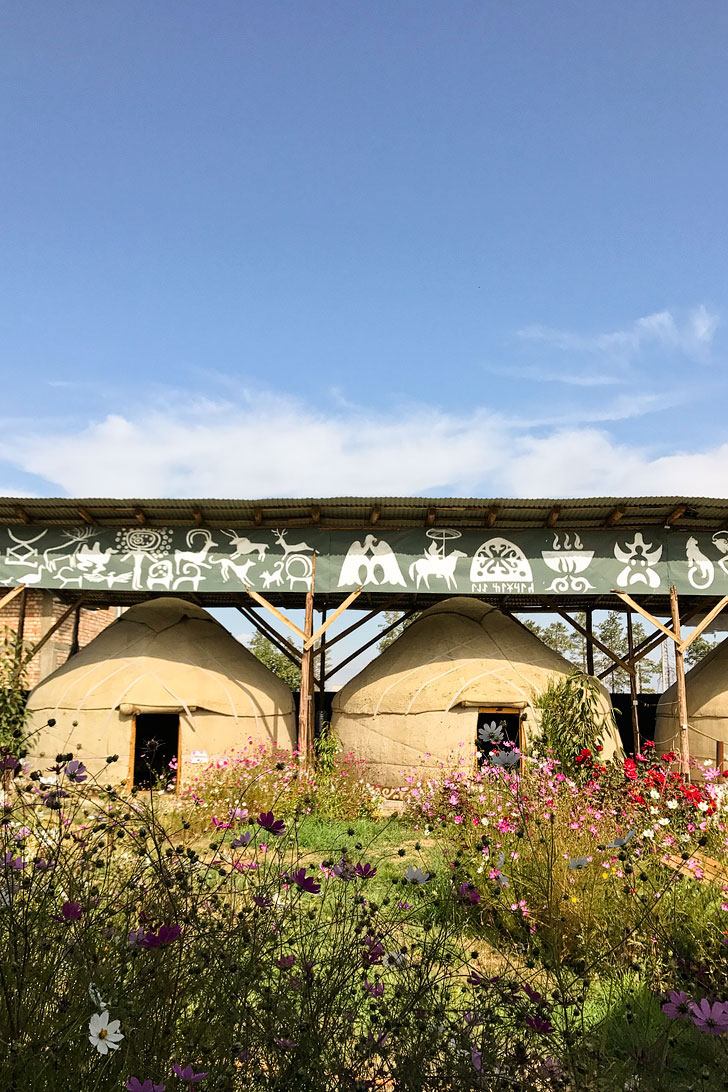 Pin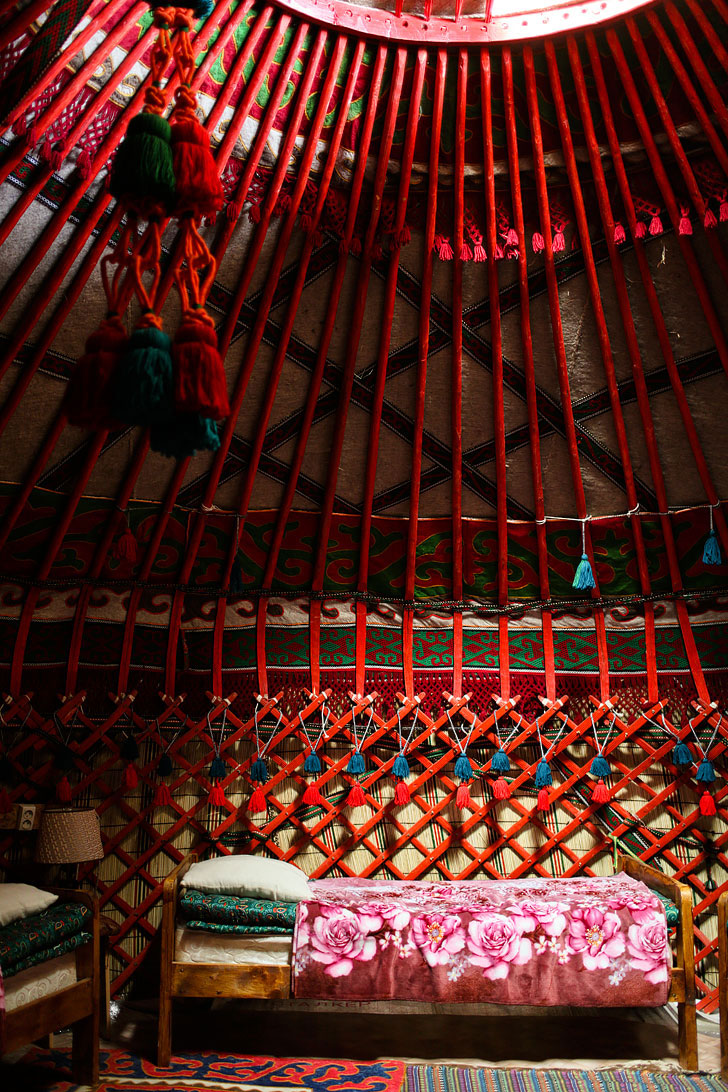 Pin
8. Fat Cat Cafe – Have Coffee and Hang with the Cats
This is one of the most popular cafes in town. It's also right next to the Destination Karakol office, so you can get more info and knock out two birds with one. Grab a bite to eat or enjoy a pastry. You can wash it all down with beer, coffee, or liquor. It's not a cat cafe, but there were several friendly strays that like to hang around.
Your purchases also go towards giving back to the local community by helping the homeless, low-income families, and victims of abuse. See photos of how they've been helping their local community here.
You can also check out Karakol Coffee, Lighthouse Coffee, and Vista Coffee.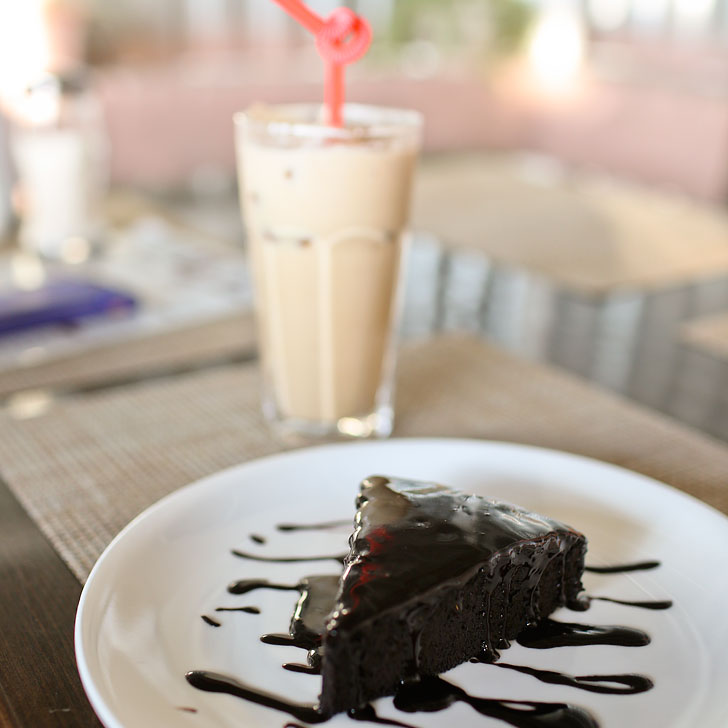 Pin
9. Karakol History Museum
Located in a typical Russian home from the 1880s, this museum has artifacts, local tools, and musical instruments. Unfortunately, the only portion of the museum that is in English, is an area exhibiting the photography of Swiss explorer Ella Maillart. Ella visited in 1932 and gives a unique look into that time period.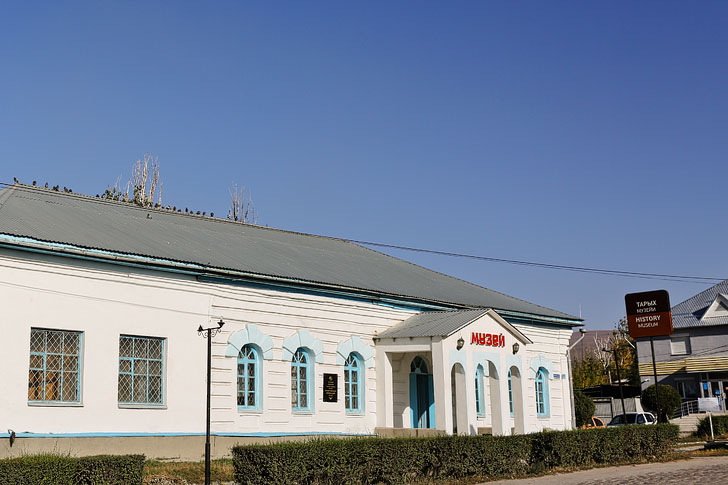 Pin
10. Sunday Karakol Animal Market / Livestock Market
Early each Sunday morning, you'll find one of Kyrgyzstan's biggest animal markets in Karakol. It's an amazing site to see and you can even try to purchase, sell, or barter for livestock with the Kyrgyz people. Read more about the animal market here.
There is also a used car market near the Animal Market. It is open every day from 6AM to 1PM but is most crowded on Sundays since people head over here after the Animal Market.
11. Dungan Family Dinner
If you're a foodie, you need to experience the Dungan Family Dinner. They have a unique cuisine that is different than other local dishes and you get a chance to hear about the history of the Dungan people and how they ended up in Kyrgyzstan. After a visit to the museum, you get to make your own Ashlan Fu (everything is prepped, you just mix the ingredients into your own bowl) and enjoy it along with all the other dishes.
Book a dinner with the folks at Destination Karakol. The experience lasts roughly 3 hours.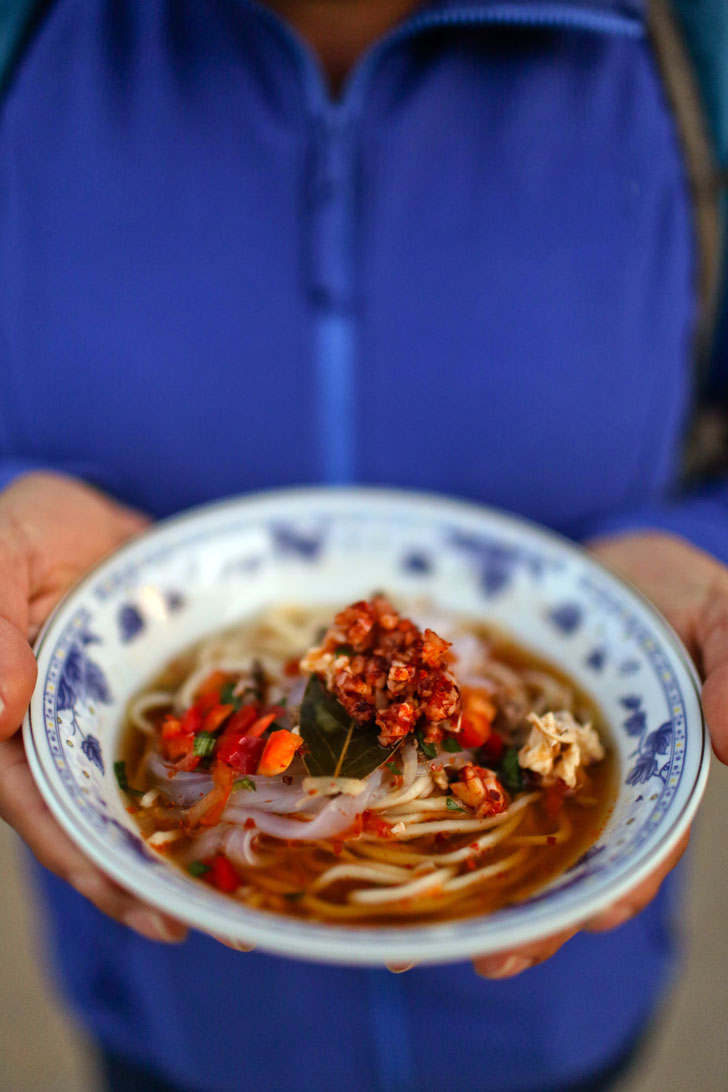 Pin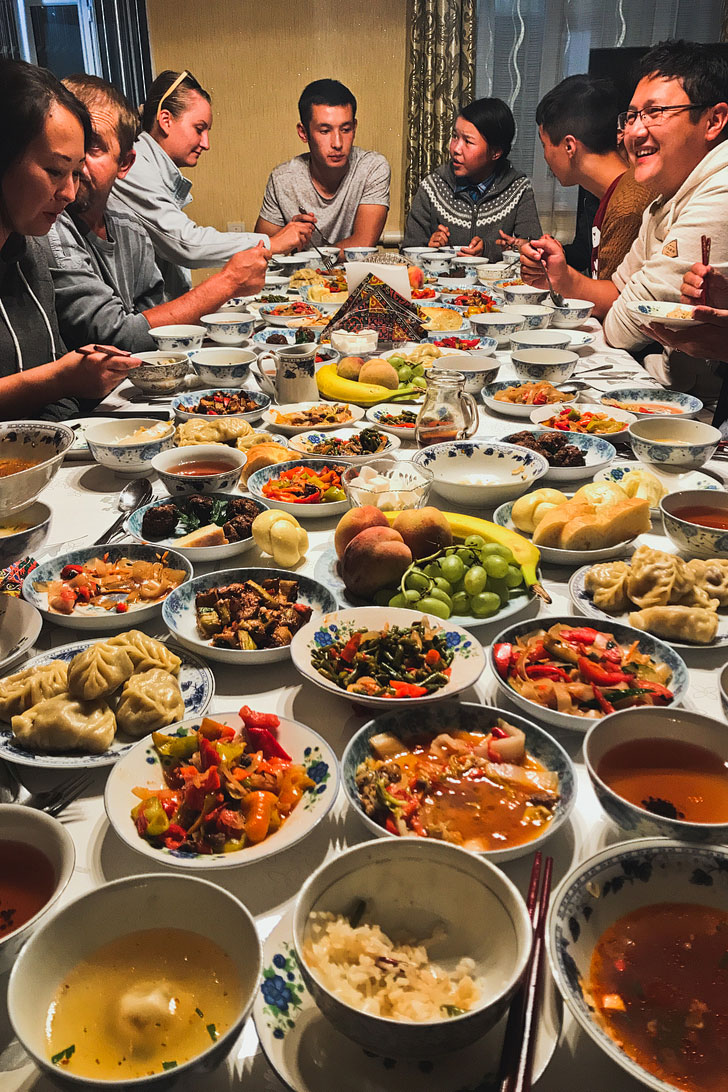 Pin
12. Dungan Museum
If you don't have time do the Dungan Family Dinner, but still want to learn more about their history, check out the Dungan Museum. When you book your Dungan Family Dinner, you stop by the Dungan Museum first. (Map)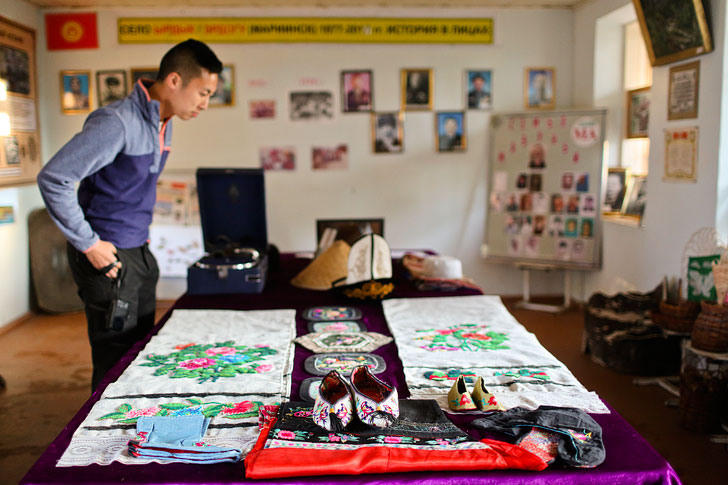 Pin
13. Przhevalsky Museum
Nikolay Przhervalsky was a famous Russian explorer that made several journeys in Central Asia. The garden and museum are dedicated to his travels. A lot of the exhibits are in English but you'll need a guide if you want to get a full understanding.
14. Victory Park and Victory Monument
When you enter the park, be sure to check out the monument to the right. It is an interesting monument to the victims of Stalinist repression.
15. Laghman Noodle Pulling Class
Get the full experience of shopping for your ingredients, learning how to make noodles, and chowing down on delicious Laghman. You can also get an abbreviated experience with just a noodle pulling demonstration with lunch or simply lunch.
Book an experience through the folks at Destination Karakol.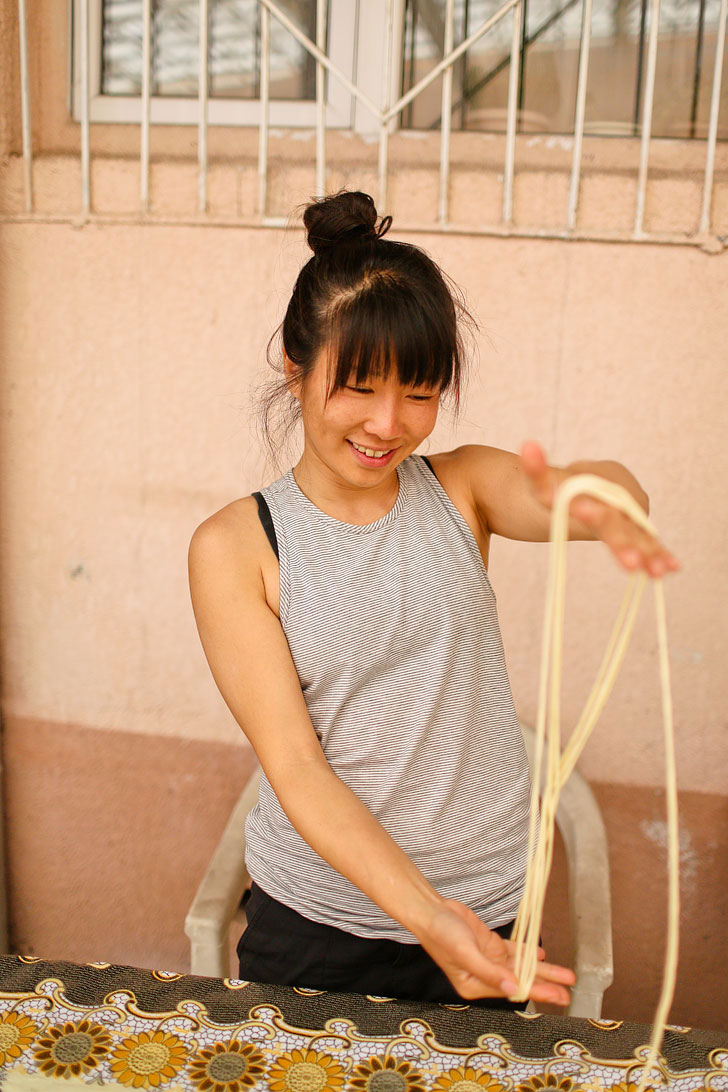 Pin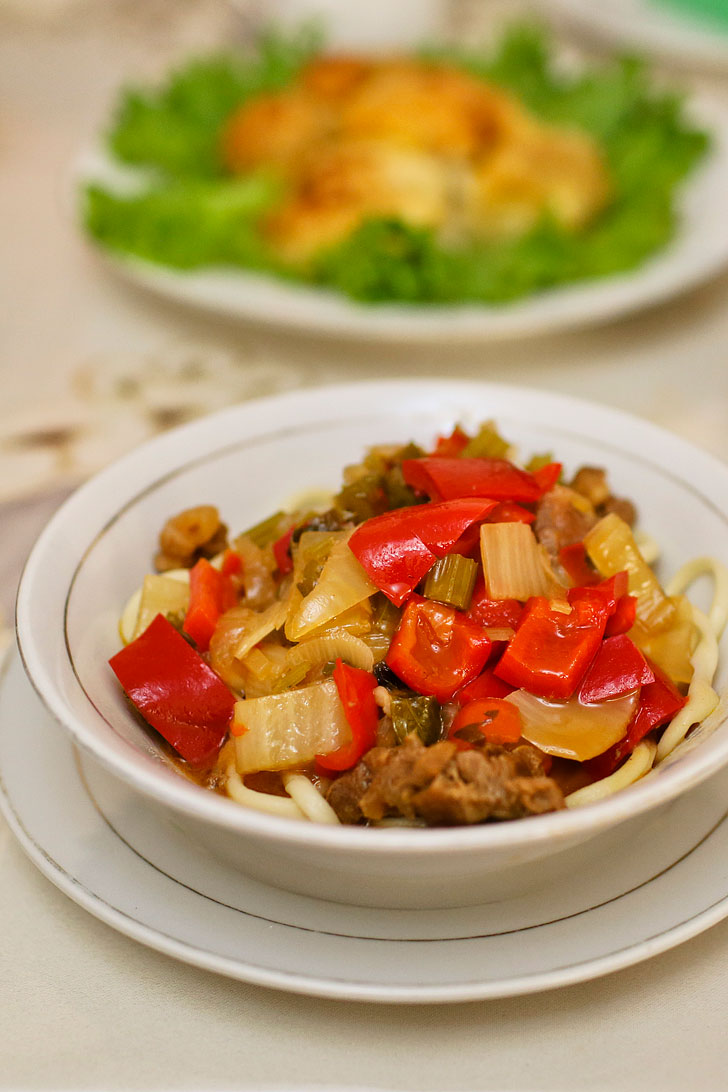 Pin
16. Visit the Local Markets
If you want to hang out with the locals, go to the local market where they shop for food, clothes, and everyday items. Ak Tilek Bazaar is the big bazaar where the locals go and is 10 minutes from the town's center.
There are also small bazaars like Bugu Bazaar, Makish Bazaar, and Center Bazaar. Center Bazaar is a great spot to find a little bit of everything.
If you're looking specifically for souvenirs, check out Kork Souvenier Shop (Map) or Tsum, which is located on the first floor of Central (Map).
Local Tip: Pick up and try some fried fava beans. They're addicting. We didn't get to try the large egg-shaped melons, but we kept hearing they are the best-tasting melons in the world.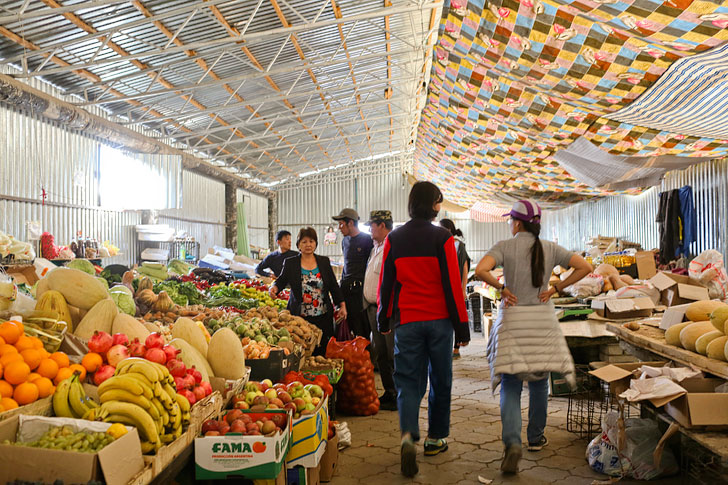 Pin
17. Banya Bathhouse
A banya is a traditional Russian bathhouse. Take a long soak and enjoy a beer… naked. Or be a tourist and wear your towel.
18. Craft Classes with One Village, One Product
Located on Toktogula Street, "One Village, One Product" is a great spot to shop for local souvenirs. You can even take classes to understand the intricate work that goes into each carpet, handicraft, or jam. You can contact them to organize visits and even partake in soap or felt workshops. Check out their facebook page for more info.
19. Issyk Kul Sunset Cruise
See Issyk-Kul Lake from the water by taking a sunset cruise. It's a great way to spend the evening relaxed and with a great view.
Book a cruise with the folks at Destination Karakol.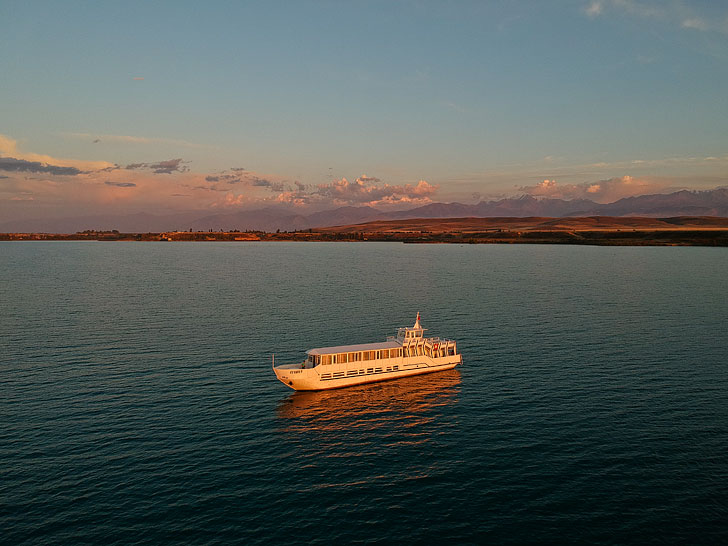 Pin
20. Bugu-Ene Zoo
This is the only zoo in Kyrgyzstan and is located close to the center of town. It's relatively small but they have bears, wolfs, fox, lama, yak, eagles, and more. We didn't go ourselves and read reviews that they may not have the best conditions for the animals.
21. Jolgolot Viewpoint Hike
The majority of the hike reminded us of Southern California or Nevada. From Jolgolot, a suburb of Karakol, the hike is between an hour or two to the viewpoint. From here you can see Mount Przhevalsky and the Karakol Ski Lodge that brings visitors in the winter.
If you've already spent time in the mountains, it doesn't have the most impressive views, but if you haven't, you should definitely do this easy hike.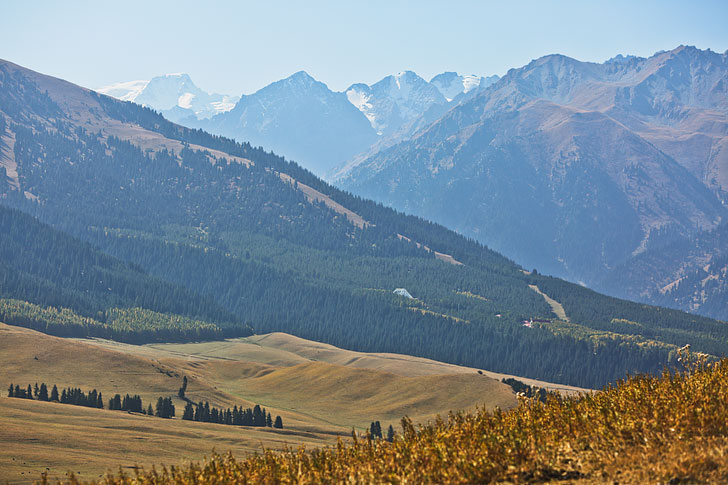 Pin
NEARBY ATTRACTIONS
1. Seven Bulls / Jeti Oguz / Djety Oguz
22.5 km / 25 min West of Karakol
If you look at postcards of the Karakol area, then you'll probably see these red rock formations. Located 25km SW of the town, you'll find the Seven Bulls landmark and Broken Heart Rock. Each has its own set of legends.
We were disappointed to see power lines crisscrossing in front of the rock formations from the road, but climb the hill across Seven Bulls to get a clear view or you can send your drone up for photos.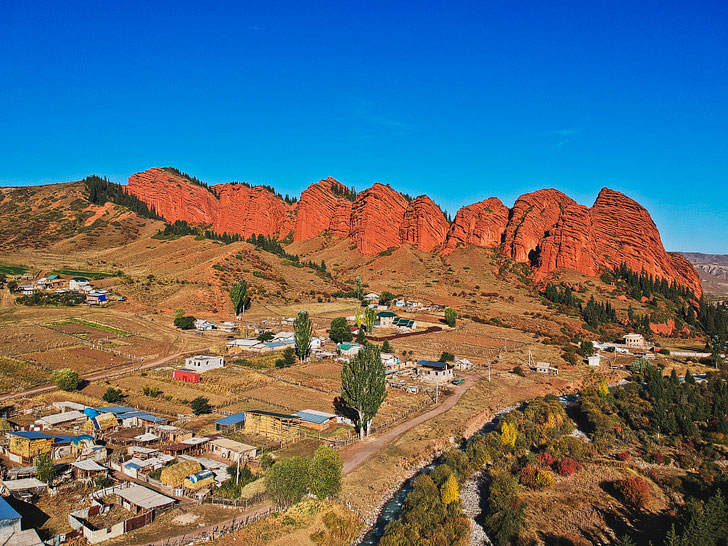 Pin
2. Karakol Ski Base / База "Каракол"
11.3 km / 27 min South of Karakol
Winter time brings a new flock of adventurers who are looking to hit the slopes on skis or snowboards. You can even paraglide during the winter!
3. Karakol Gorge
9.9 km / 23 min South of Karakol
Near the ski base, is Karakol gorge. It is adjacent to the Terskey Ala-Too ridge and runs 40 km. Find wildlife, beautiful views, meadows, forest, and more.
4. Barskoon Waterfall and Barskoon Valley
102 km / 1 h 36 min Southwest of Karakol
The main cascade of Barskoon Waterfall is 24 meters and a beautiful site to see. There are several other falls in the valley as well.
5. Skazka Canyon / Fairy Tale Canyon
101 km / 1 h 30 min West of Karakol
This area is full of unique rock formations shooting up from the ground. Some of them look like walls, others like dragons, and even ones that look like full-on castles. If you climb up to higher views, you can see beautiful panoramic views with Issyk Kul Lake in the background.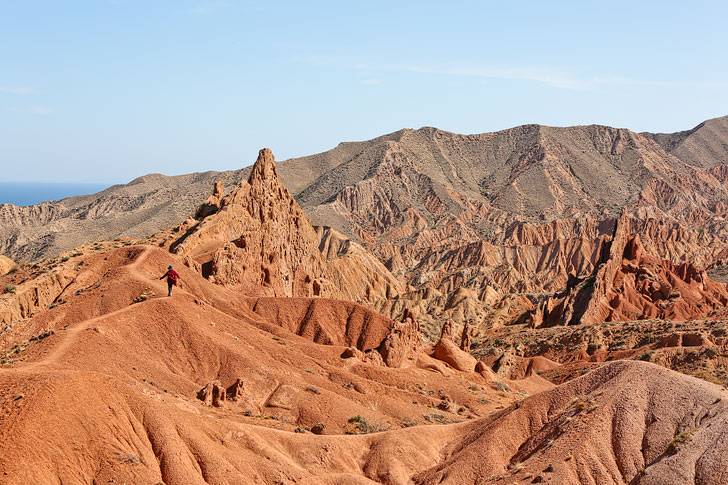 Pin
6. Salty Lake / Tuz-Kol / Myortvoye Ozero
Known as the "Dead Sea of Kyrgyzstan", the water in the lake is so salty, you float on the surface. The road to get there isn't very developed so it takes over 3 hours to get there.
7. Jyrgalan Valley
46.8 km / 50 minutes East of Karakol
Located an hour away from Karakol, the Jyrgalan Valley is the perfect spot for anyone who wants to enjoy the outdoors. Take a horse ride, hike, or get a jeep tour of the beautiful landscape.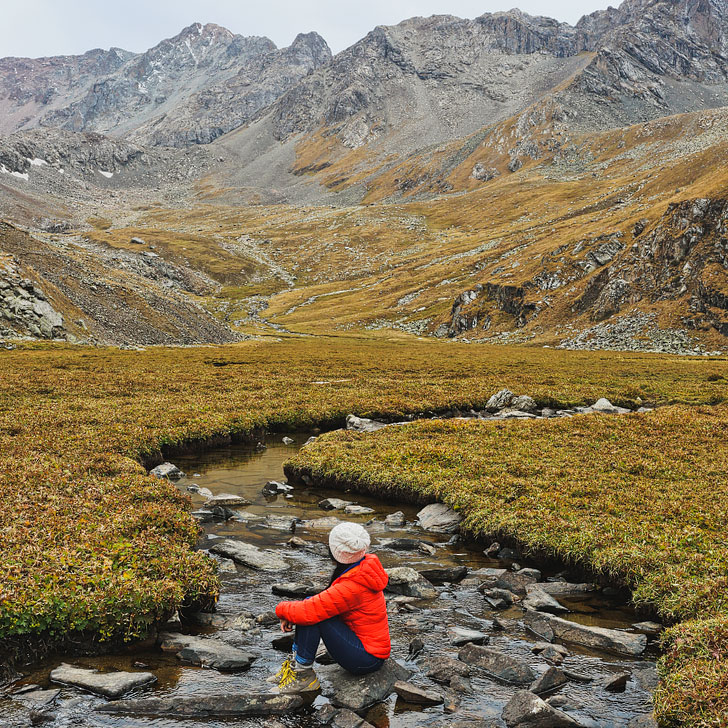 Pin
8. Ak Orgo Yurt Building Experience
84.8 km / 1 h 19 min Southwest of Karakol
Ever wanted to learn, see, or try to build a yurt on your own? The Ak Orgo Yurt Building Experience is a great way to see how intricate these structures are. You can also make a custom felt carpet at this workshop. Check out our video showing how we constructed one. (97 Lenin St Barskoon Village 722005 Issyk Kul Oblast; 996-39-26-96-754)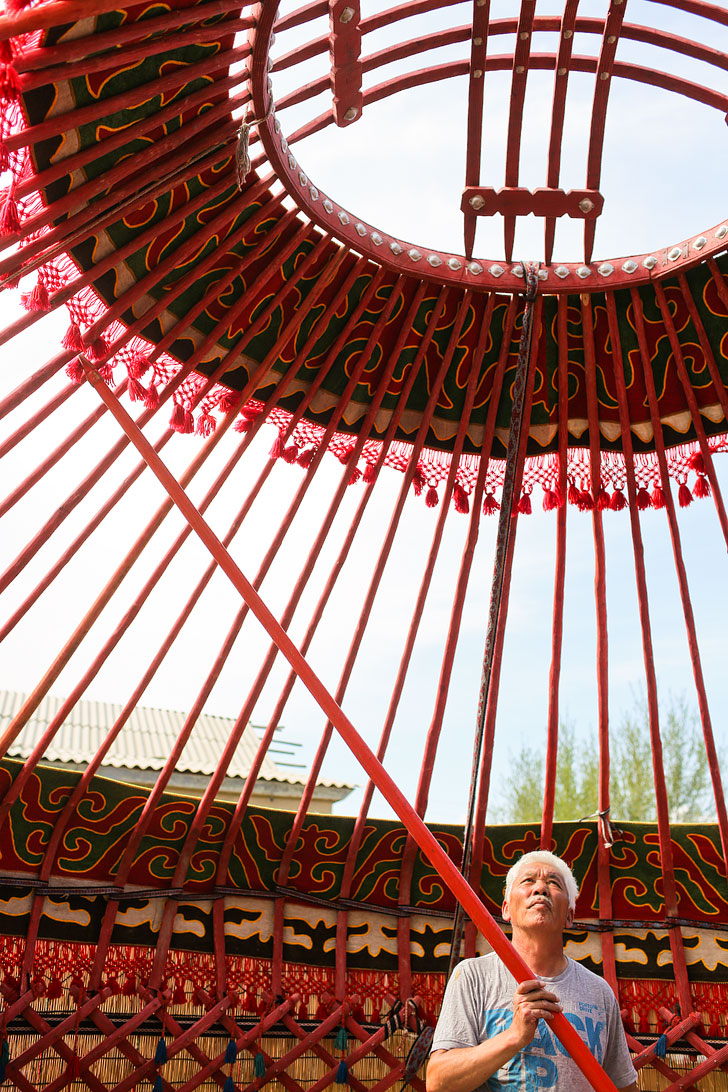 Pin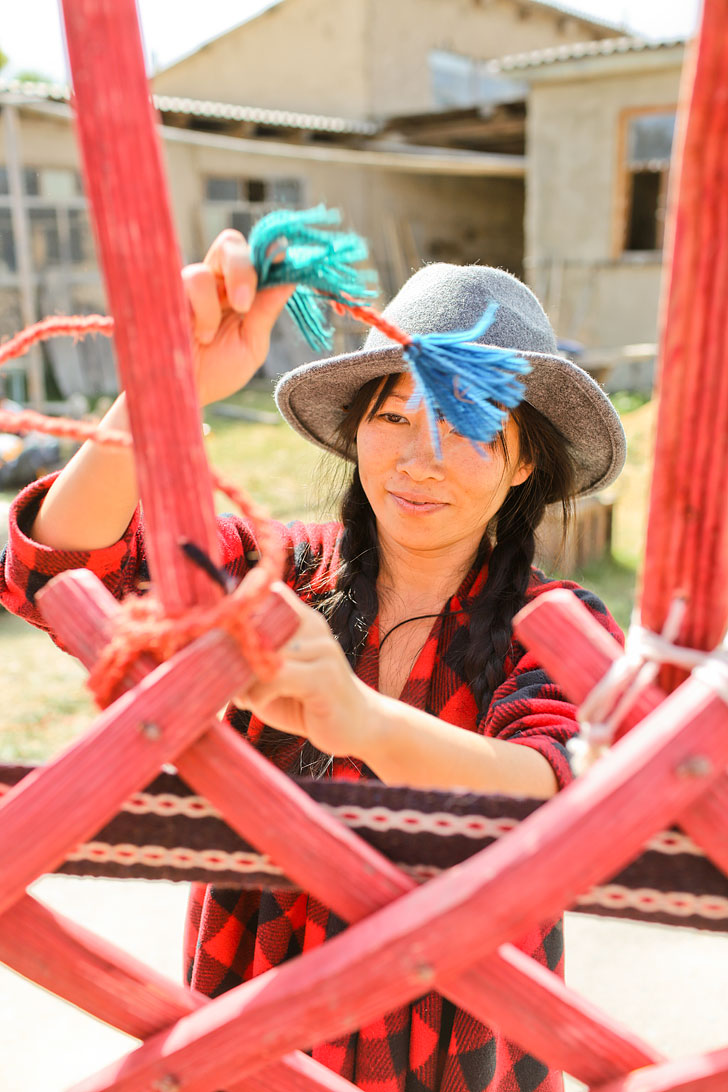 Pin
9. Altyn Arashan
29.5 km / 51 minutes SE of Karakol
A popular stop for people hiking in the backcountry, Altyn Arashan is an area with natural hot springs. There are a few places to stay here and you can get access to private hot spring rooms.
Alakol Lake is probably the most recognizable hike and natural feature in Kyrgyzstan. The spectacularly blue lake is worth the multi-day hike to get there.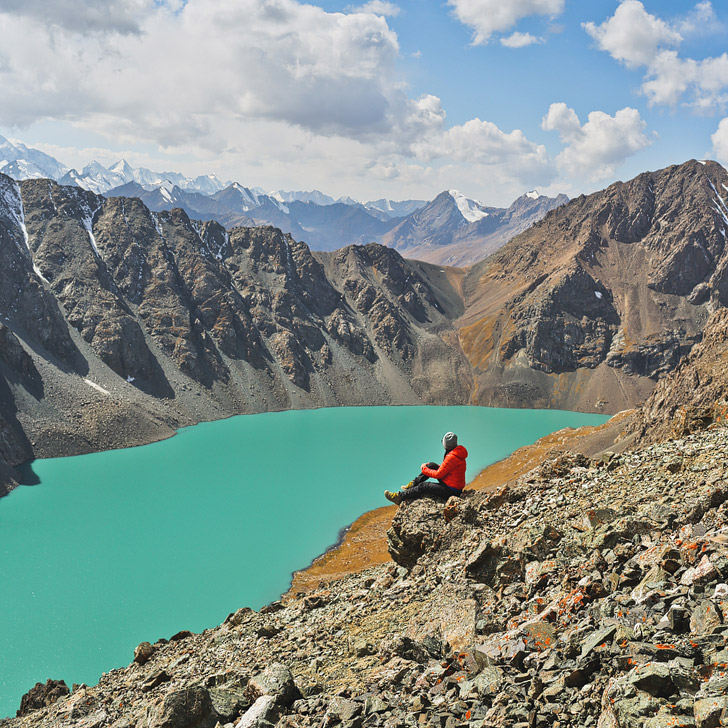 Pin
Travel Tips for Every Trip
MORE RESOURCES
DID YOU ENJOY THE POST? PIN IT FOR LATER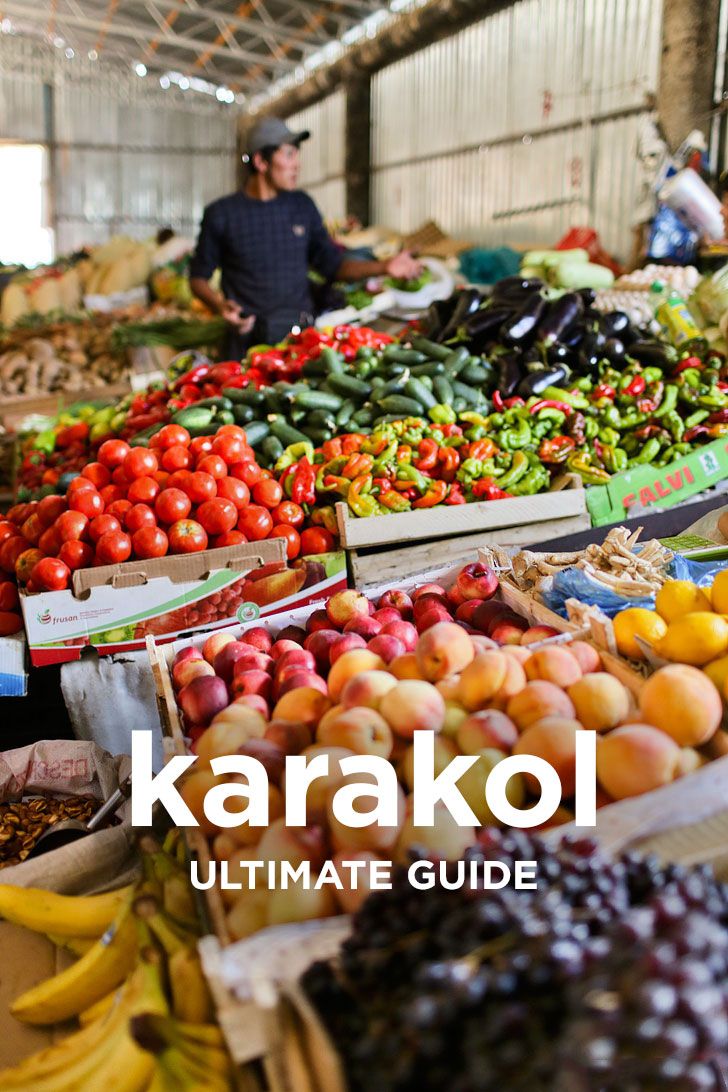 Pin
Pin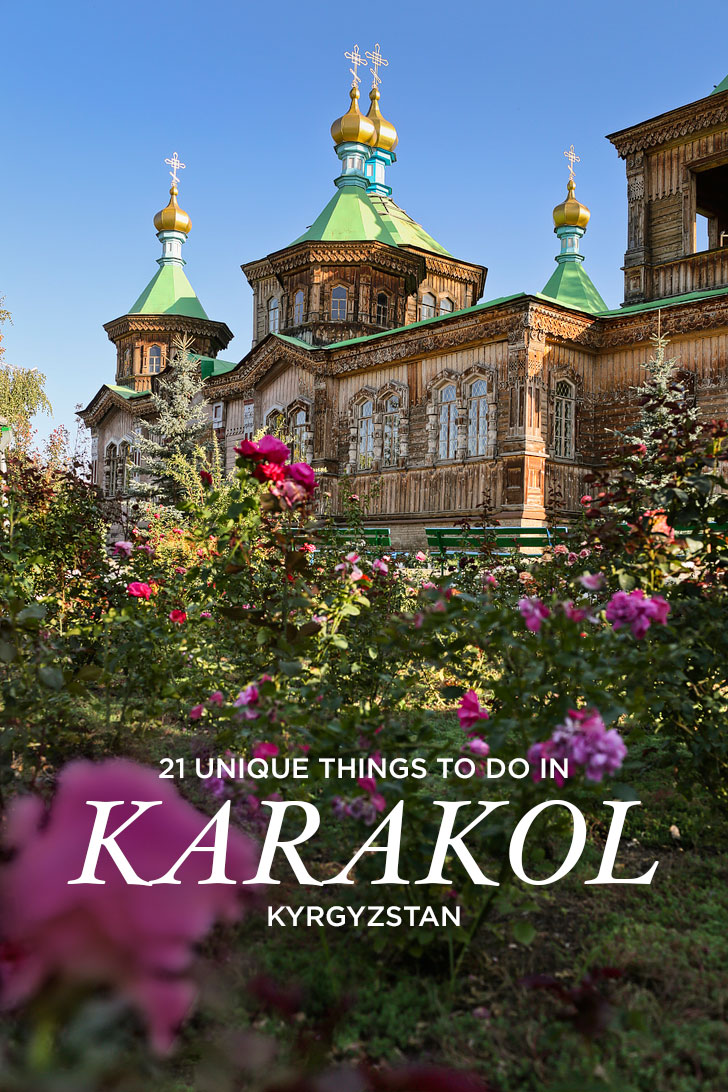 Pin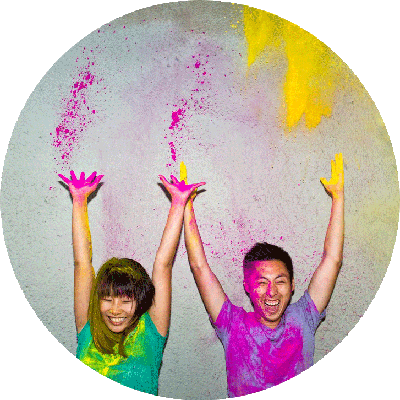 Pin
ESTHER + JACOB
Esther and Jacob are the founders of Local Adventurer, which is one of the top 50 travel blogs in the world. They believe that adventure can be found both near and far and hope to inspire others to explore locally. They move to a new city every year and currently live in Portland, Oregon.