Did you know that you can snorkel or dive with whale sharks at the Georgia Aquarium? After getting dive certified last April, we were eager to do our first fun dive but put it on the backburner when we ended up living on the road. We were hoping to go within the 6 months, so we wouldn't have to take the PADI refresher course, but an island trip wasn't happening anytime soon.
Fortunately for us, we knew we were going to be in Atlanta, so we started looking into diving at the Georgia Aquarium. It's the second largest aquarium in the world, and if you're new to diving, it's a great controlled environment for your first dive. It's good to know that all the sharks and fish are well fed. haha Plus, our friend did the dive there a week before us (and survived)!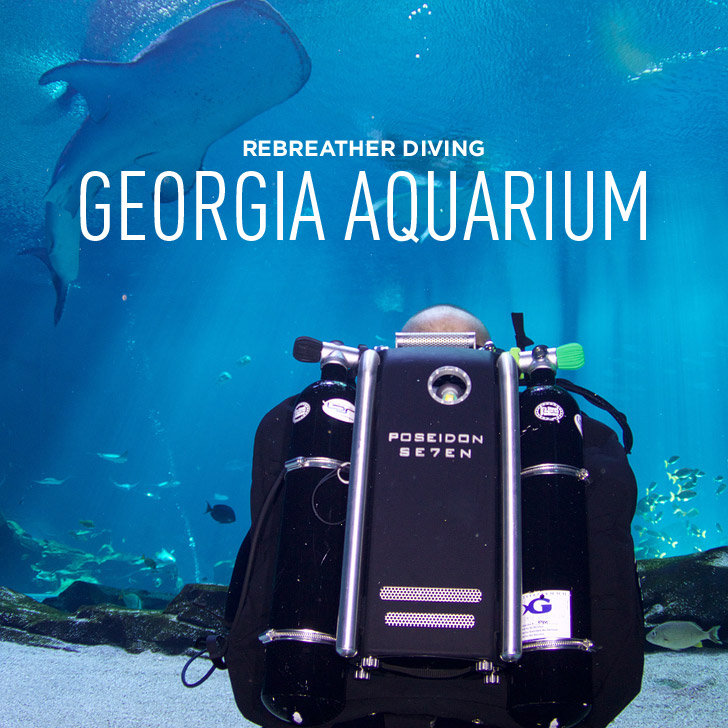 Pin
Now if you're an avid diver, this is probably no biggie, but diving is something I had been too afraid to try. I didn't think it was for me, but this year has been the year of conquering fears (or at least facing them 😜).
When we started to schedule our dive, we learned that they have a new Rebreather Dive Program. It allows you to stay in the water much longer. (I need that extra time because it takes me so long to get in a headspace where I'm not freaking out and I can finally enjoy the dive!)
ALSO READ > 15 BEST PLACES TO SCUBA DIVE IN THE US
What is the Rebreather?
Rebreather equipment uses technology that recycles the air you're breathing. This means that you get more time in the water. It also doesn't produce bubbles, which typically disturb the sea life and scare them away.
Rebreather versus Traditional Scuba?
With traditional scuba, you can only stay in the tank for 30 minutes. With the rebreather, you can dive for over an hour. During the dive, most of it feels the same. The main difference is that you can't adjust your buoyancy with your breath since you are no longer breathing out bubbles. Our instructors mentioned that it's actually easier for people to adjust if they are new to scuba diving since you haven't gotten stuck in your ways with the traditional system.
The Journey with Gentle Giants Experience
After arriving, you get a behind-the-scenes look at the tank you'll be diving in.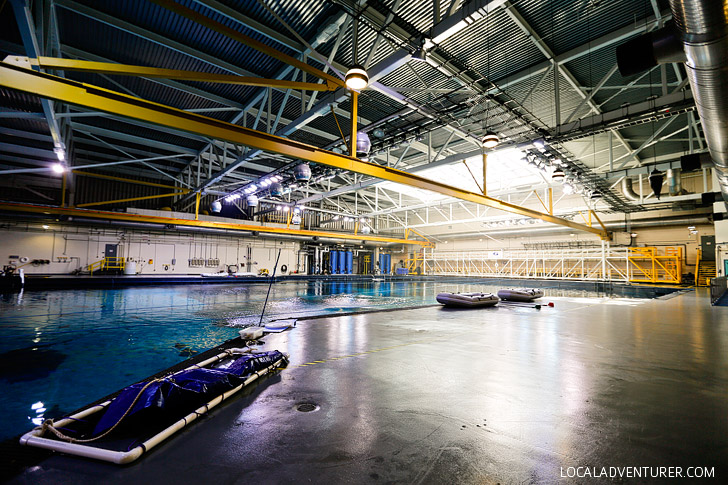 Pin

Pin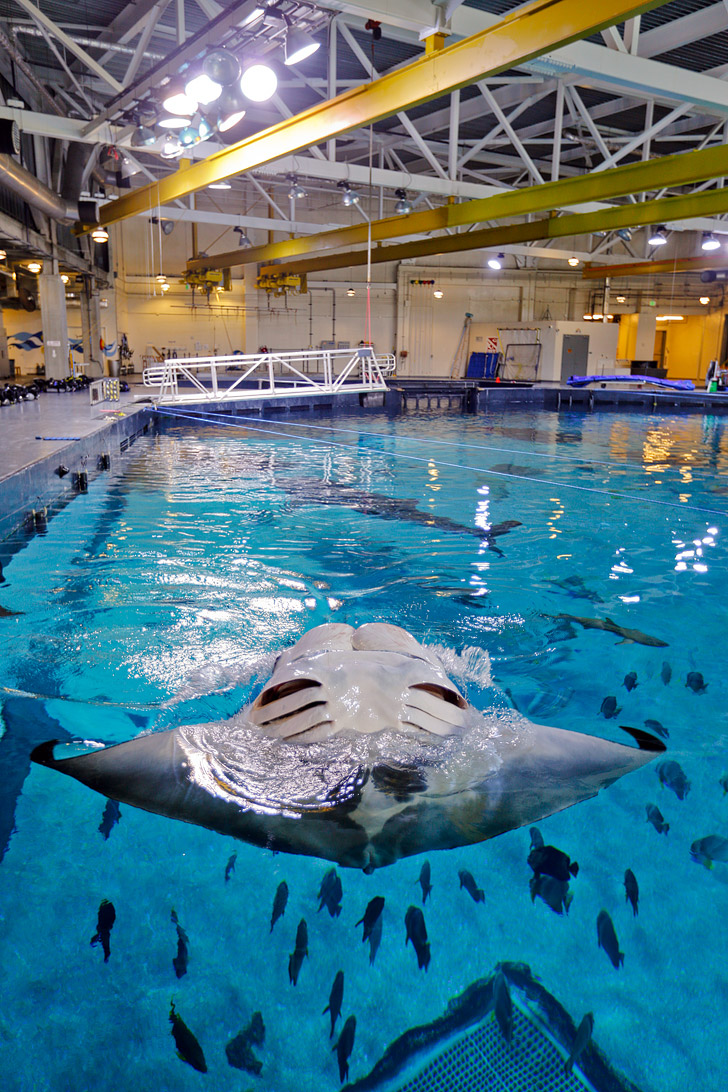 Pin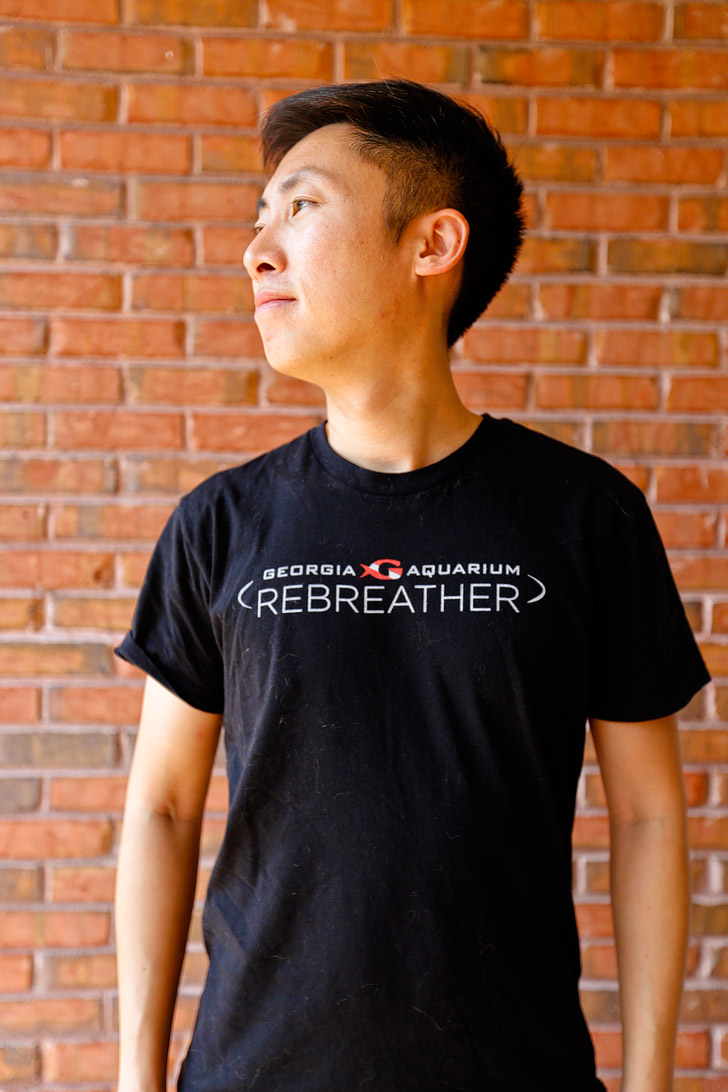 Pin
Then they give you an overview of the Rebreather system, and you learn how to prep your gear. It's pretty easy since it's all electronic.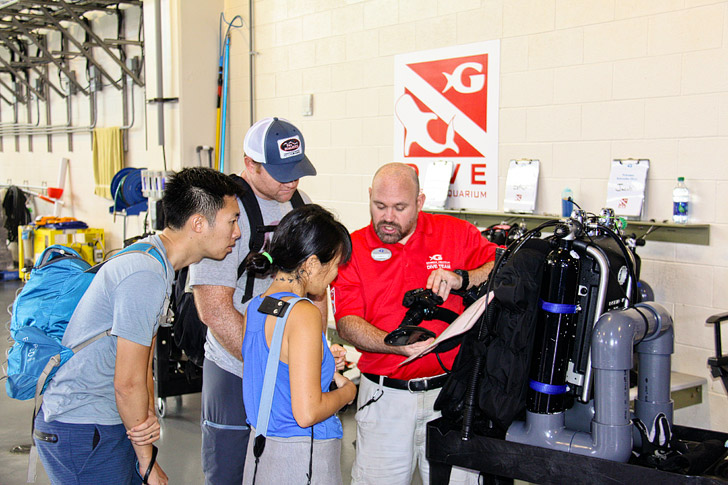 Pin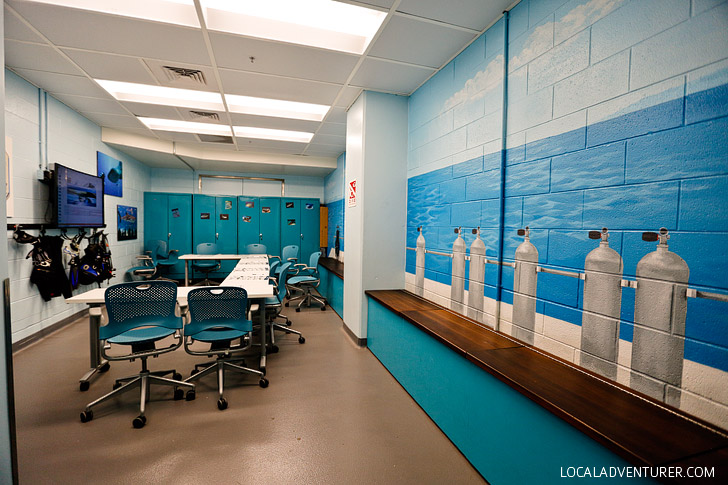 Pin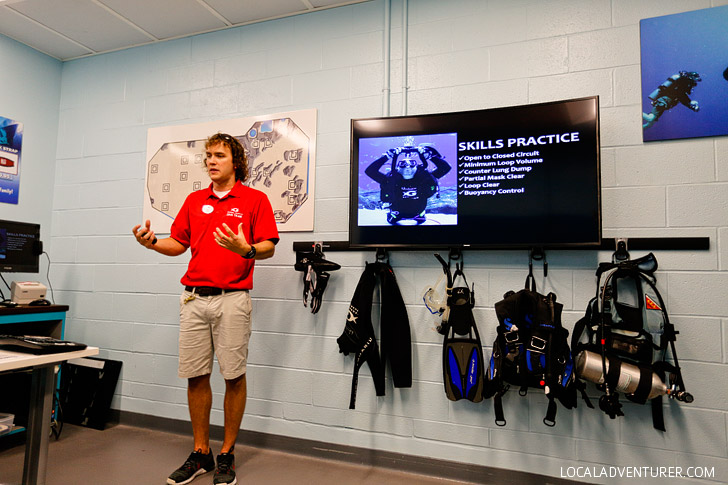 Pin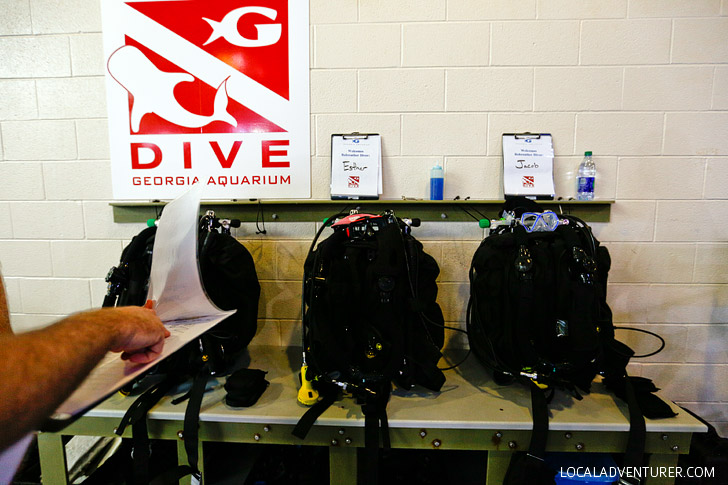 Pin
Then you put on your wetsuits, strap in, and get in the tank!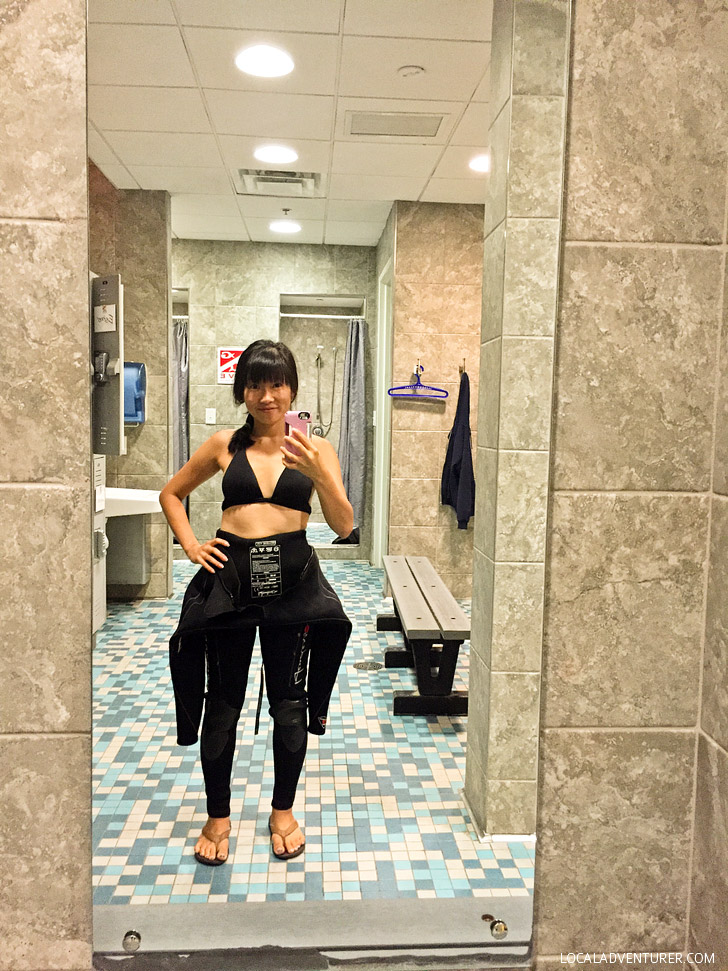 Pin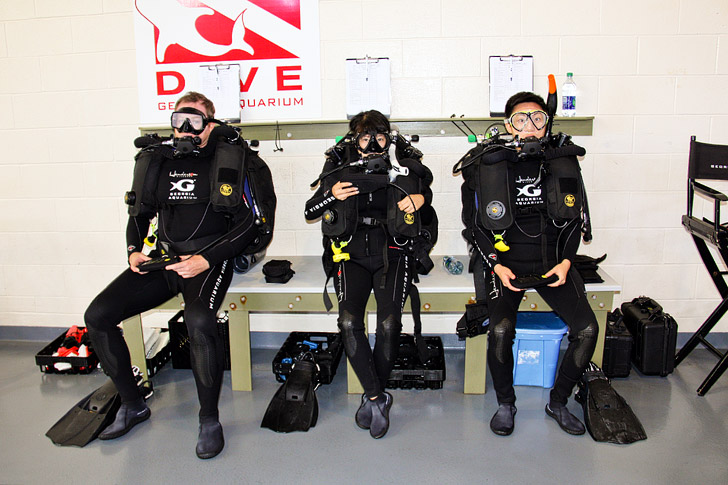 Pin
Look ma! I'm diving!
After you take a small lap around to make sure you're comfortable, you can spend the rest of the time exploring. The tank is massive. It felt like a maze when we were going to all the different windows to wave hello to the visitors.
We couldn't bring our camera into the tank, but here are some screen grabs from the video that's included in the dive. Video coming soon!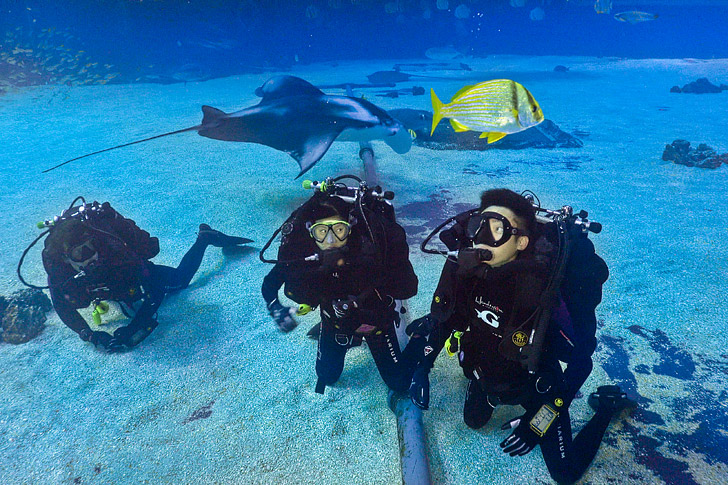 Pin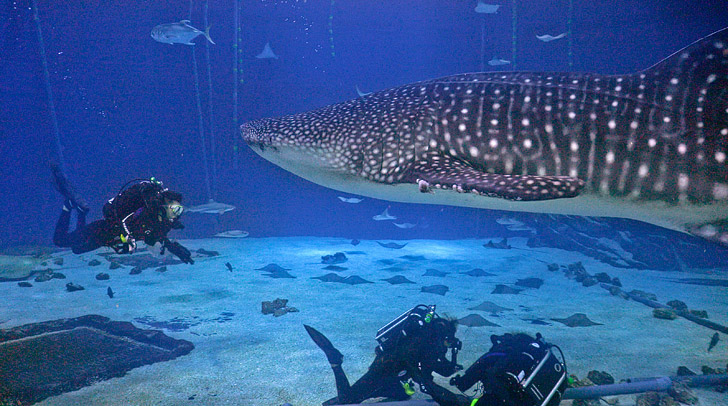 Pin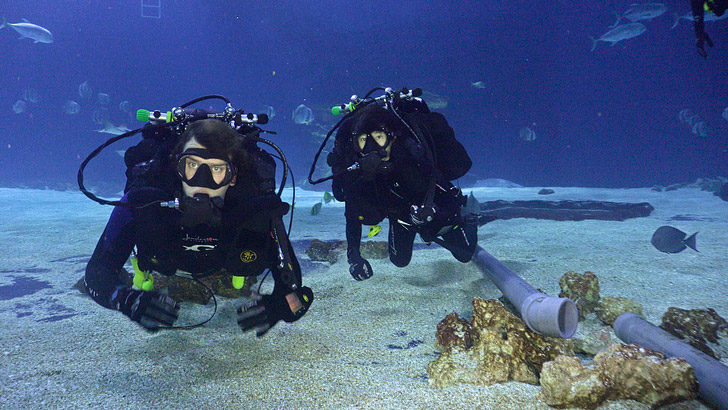 Pin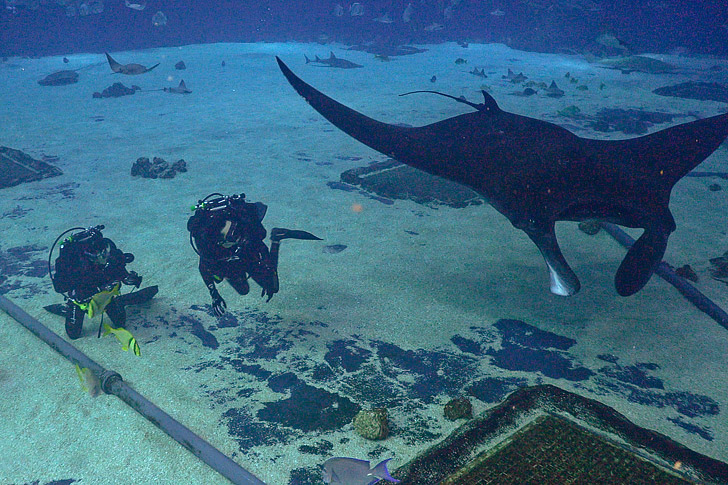 Pin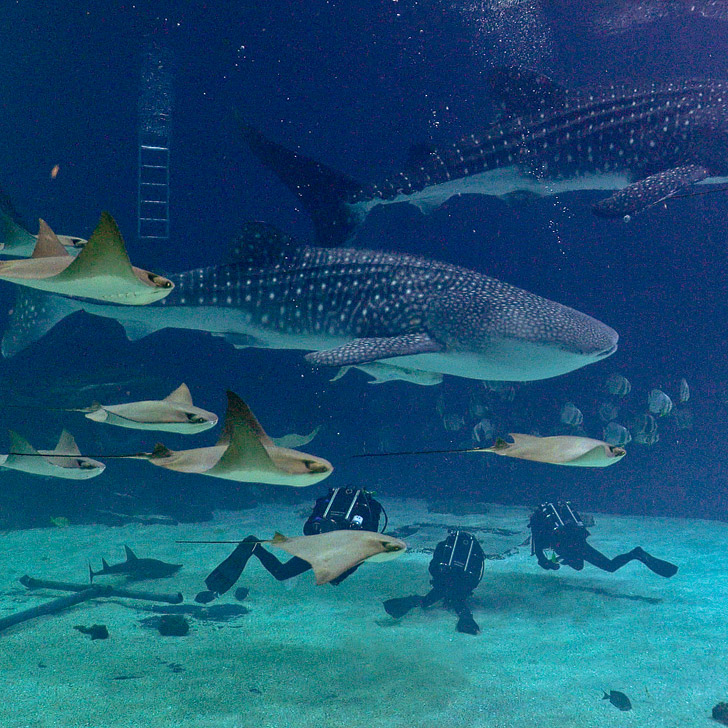 Pin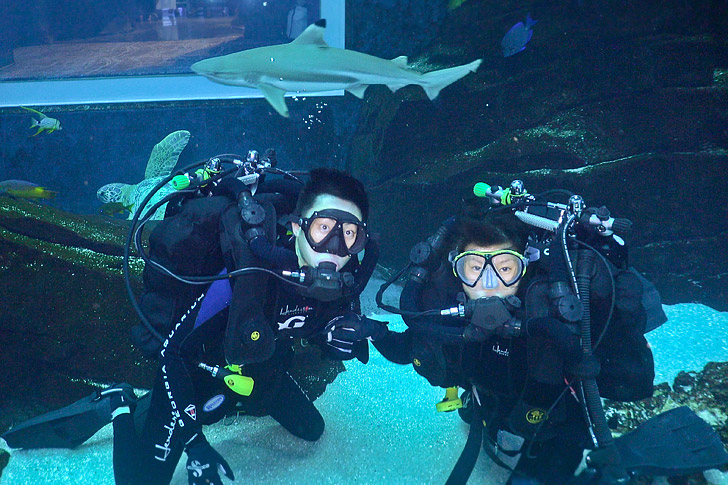 Pin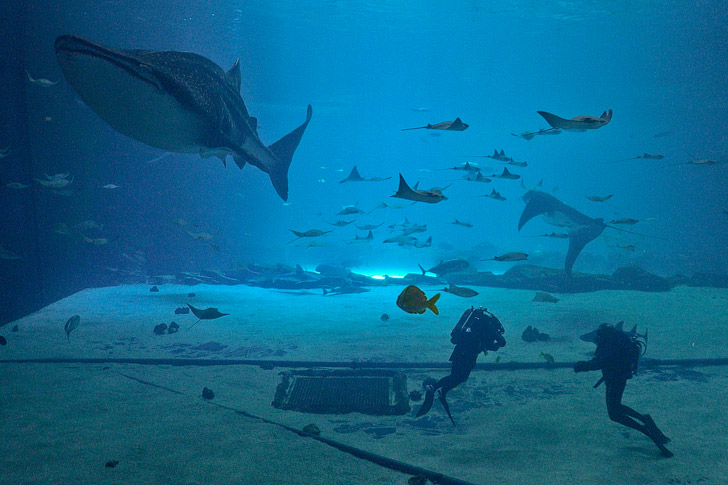 Pin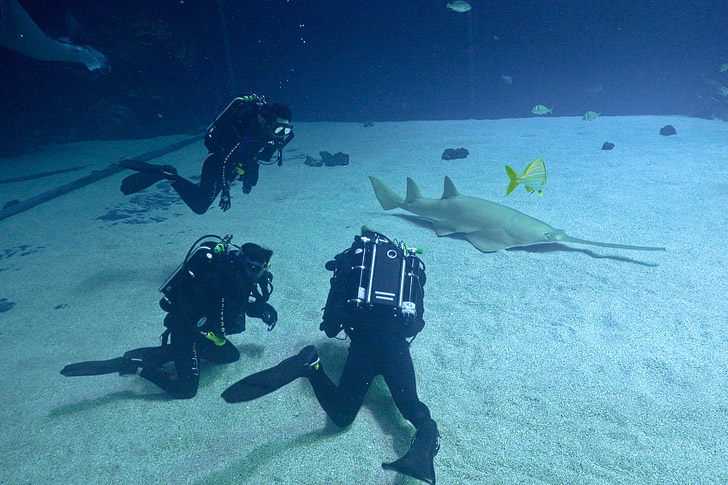 Pin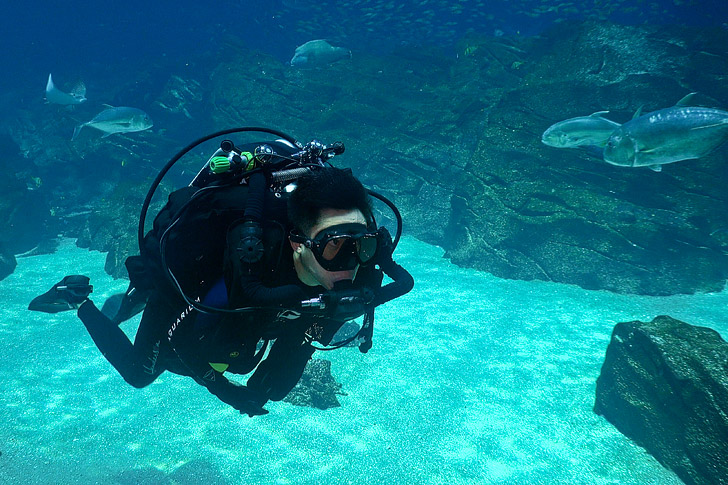 Pin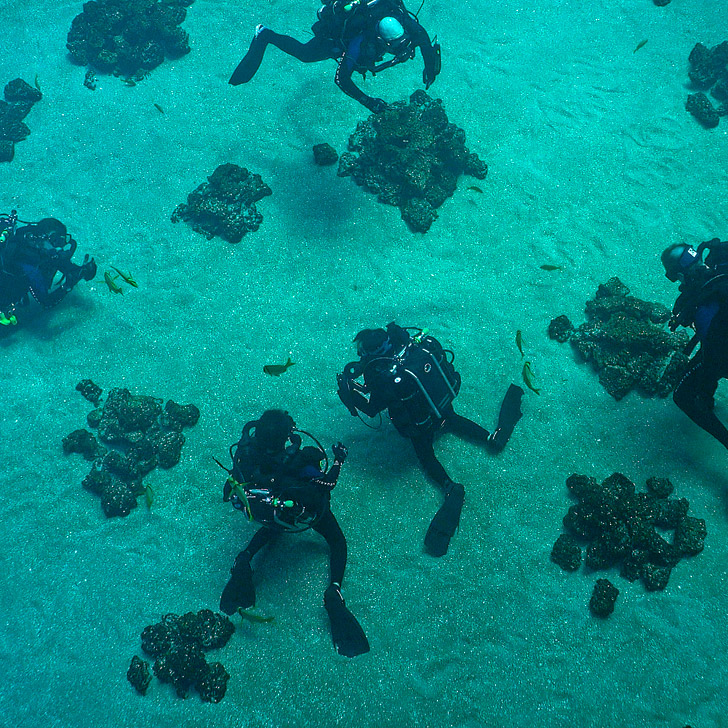 Pin
The sharks had no interest in us, but at one point a giant grouper swam close to me. Whenever a big fish comes near me, I close my eyes and pretend it's not there.
Like most things, Jacob took to it right away, while I was having some major struggles. If you were visiting the big tank at the aquarium and saw someone floating up to the top, that was me! It wasn't until near the end of the dive that I started getting more comfortable.
Can you tell I'm terrified? Don't eat me, fish! This was probably my facial expression the entire time.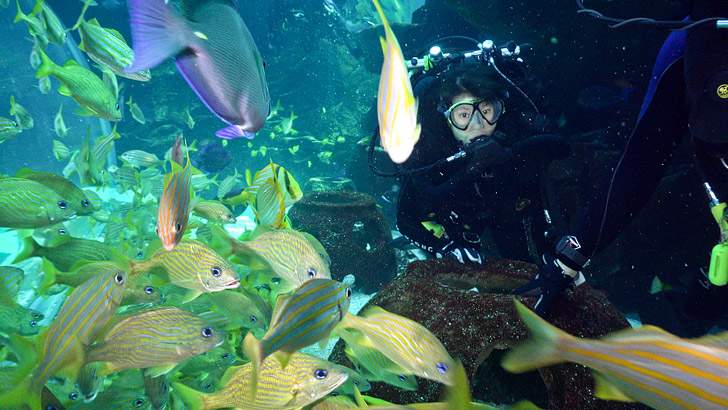 Pin
I probably need dozens of dives before I can say I've conquered my fear, but now I'm teeny bit less afraid. We highly recommend it to anyone looking for a new diving experience.
PRO TIPS FOR DIVING IN THE GEORGIA AQUARIUM
You need to be over the age of 15 and dive certified.
Dives happen only on the weekends.
Set aside 3-5 hours for your dive and instruction. Ours ended up being roughly 2.5 hours.
The rebreather dive group is limited to 4 divers, so you can have a more intimate experience, whereas the traditionally dive program will be in groups of up to 8.
You can do the traditional open circuit diving if you're not interested in the rebreather.
If you're not certified, you can snorkel. Whale sharks tend to stay closer to the surface, so you might see them more often if you are snorkeling.
Besides your own snorkel and mask, you can't bring any of your own diving or camera gear into the water due to the sensitivity of the water and sea life.
They provide everything you need other than a bathing suit.
Bring some dry clothes if you want to explore the aquarium after.
They have a bathing suit spinner in the locker rooms to help you dry your wet gear after, but it helps to bring a plastic bag to keep your things in.
They provide you with lockers, towels, and a warm shower.
Your experience includes admission to the aquarium. You also get a t-shirt, a souvenir photo, some behind-the-scenes, and HD video.
If you just want a regular visit to the aquarium, you can see the Georgia Aquarium exhibit photos here. We highly recommend getting the CityPASS if you're hoping to check out a few attractions in Atlanta. We did it before moving from Atlanta, and it saved us a lot of money. P.S. The coke museum is literally right next to the aquarium.
This was #2 on our Ultimate 101 Atlanta Bucket List
WANT TO STAY NEARBY? Click Here For Best Prices and Hotel Reviews
Would you try diving or snorkeling with whale sharks at the aquarium?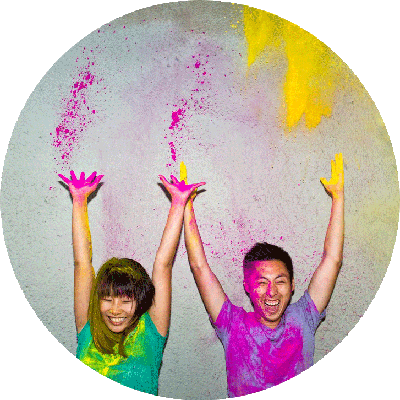 Pin
ESTHER + JACOB
Esther and Jacob are the founders of Local Adventurer, which is one of the top 50 travel blogs in the world. They believe that adventure can be found both near and far and hope to inspire others to explore locally. They move to a new city every year and currently live in Portland, Oregon.