Puesto is definitely a popular spot in San Diego. They now have two locations that serve Mexican street food using all-natural meats, sustainable seafood, and local organic greens.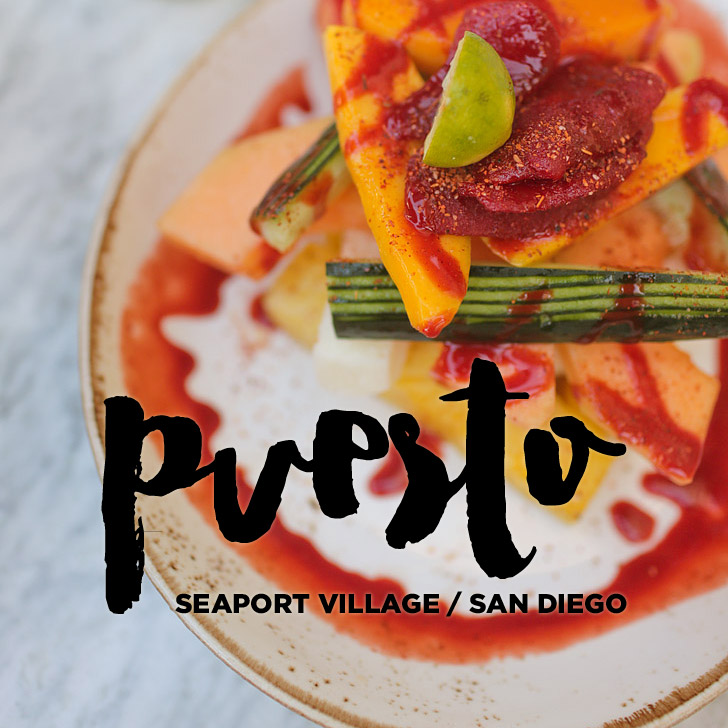 Pin
We've walked by their La Jolla location a few times, and it's always busy, so we decided to check out the Puesto at the Headquarters in Seaport Village. It's still busy but not as packed as La Jolla.
Pin
Pin

Pin
The first thing that we noticed was the colorful décor. We loved the relaxed vibe of the place, and decided to sit outside to enjoy the amazing San Diego weather. We orderd the Puesto Perfect Margarita with Mango and Frozen Peach Horchata. The margarita was good, but you seriously need to try the Frozen Peach Horchata!
Pin
Pin

Pin
Pin

Pin
Pin
We enjoyed the Guacomole Nogada with avocado, pomegranate, tomato, mango verde, chile de arbol, and candied walnuts. YUM! I thought I'd be bothered by the texture of the pomegranate seeds, but I really loved the flavor it added. We also recommend the Mexican Street Bowl. Not only is it delicious, but it's really pretty for photos! win-win
Pin
Pin

Pin

Pin
Pin

Pin
Tacos above from top to bottom: Chicken Al Pastor, Carnitas, Filet Mignon, Lamb, and Shrimp with our sides: traditional black beans (this had a little kick) and Esquite Corn. We loved the texture of the tortillas. It had just the right amount of chewiness, and by far, our favorite tacos were the Tamarindo Shrimp Tacos. We'll be ordering them again!
Pin
Pin
Pin

Pin
Pin
There's no question as to why it's such a popular spot, and now we can't wait to try more of their food. Don't forget to take advantage of their Happy Hour and #TacoTuesday! During happy hour (Mon, Wed, Thurs, Fri 3-5PM), you can get $3 tacos and $5 Puesto Perfect Margaritas. During Taco Tuesday (3PM – Close), you can get $2 tacos and some drink specials.
Our Favorites:
Frozen Peach Horchata
Mexican Street Bowl
Tamarindo Shrimp Tacos
PUESTO
San Diego Location
789 West Harbor Dr.
San Diego, CA 92101
619.233.8880
Mon – Sun: 11am – 10pm

La Jolla Location
1026 Wall St.
La Jolla, CA 92037
858.454.1260
Sun – Thu: 11am – 9pm
Fri – Sat: 11am – 10pm

Pin
What are your favorite kinds of tacos?
Have you had fruits with salty and spicy seasoning?
Thank you Puesto for hosting our meal.
All opinions, photos, text are our own.
Thank you for supporting the brands that make Local Adventurer possible.