One of the best ways to enjoy the beautiful weather here is heading out to the ballpark! Before the season comes to an end, we had to catch a San Diego Padres game at Petco Park. Even if you don't follow baseball, it's always a good time when you have good food, craft beer, and good company!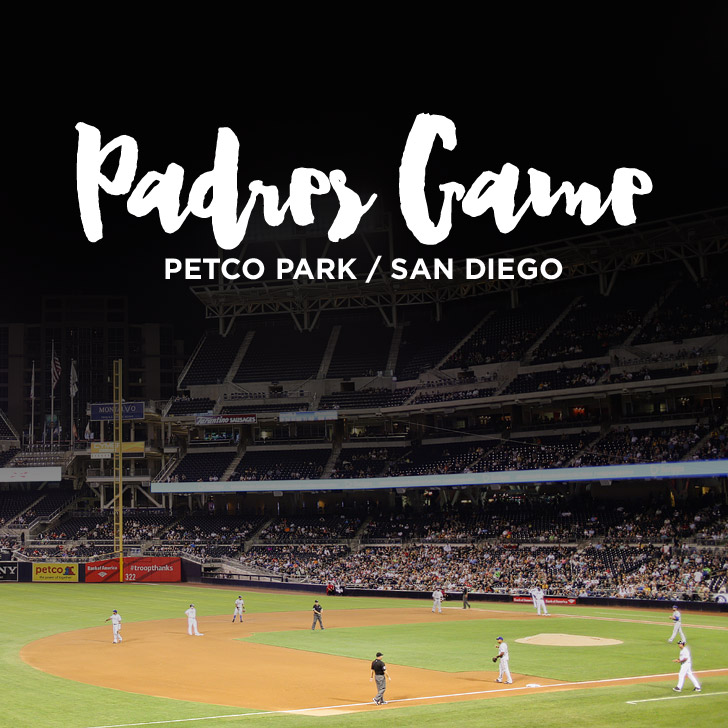 Pin

Pin
10 THINGS YOU NEED TO KNOW BEFORE YOUR FIRST SAN DIEGO PADRES GAME:
1. Ticket Prices
Tickets can range anywhere from $10 to $162 depending on who they are playing and what seats you want. You can find all the details here. For the cheapest tickets, they have standing room tickets where you can roam around. Park in the Park, which is a grassy hill in out the outfield is a great place to sit and watch the game.
Pin
Pin

Pin
2. How to Dress
Depending on the time of day the temperature can vary. Best bet is to bring layers. Since the stadium is right next to the water it can get breezy and cool in the shade or when the sun goes down. This is an obvious one, but it's probably a good idea to dress in your team's colors (navy for Padres). Esther doesn't follow any sports, so she wore a red hoodie, which happened to be the opposing team's colors. Also, if you're not in a shaded area, it's good to bring a hat for shade.
Pin
Pin
3. Parking
There are plenty of paid parking spots downtown that range from $5-20 depending on what day it is and the time of day. You can also prepay for parking to save some money. If you're willing to walk, we parked at meters (on 15th and G Street) that are free after 6PM. It only took us 12 minutes.
4. Ticket Window
In case you need to pick up your tickets at the game like we did, the ticket window is outside the home plate gate on Park Boulevard.
5, Food
Do yourself a favor and get the Tri-Tip Nachos (not those other sorry standard nachos)! They were delicious! Also, if you're on a budget, you can bring your own food in as long as it's sealed.
Pin

Pin
Pin
6. Craft Beer & Alcohol
You can't bring in any alcohol but they have plenty of options for you at Petco Park! If you're looking for the largest selection of craft beers, check out the field level near home plate. It changes from year to year, but here's the 2015 list of all the craft beers and microbrews. They stop serving alcohol after the 7th inning stretch, so be sure to get your last round before then.
Pin
7. Outside Beverages
You can bring factory-sealed bottle waters that are 20 ounces or less into the park. You can also bring soft-sided single juice or milk containers. Anything else is prohibited.
8. Cameras
You're welcome to bring in cameras and video cameras as long as you're not blocking someone else's view when using it. We forgot our long lens, but we probably could have gotten some pretty awesome photos since we had good seats.
Pin
9. Bags / Backpacks
You can bring any bags that are smaller than 16x16x8. It will get searched at the entrance. Unfortunately, you can't take in hard-sided coolers, hard bags, or backpacks with metal frames.
10. 2016 ALL STAR GAME
Yep! San Diego is going to be home to the 2016 All Star Game. If you want to get tickets, check out all the info here.
Pin

Pin
If you've already missed this season, keep an eye out for the 2016 schedule! Games typically start at the end of March or the beginning of April. And don't forget to pick up some his and her Padres gear before you head to the game.
Pin

What's your favorite thing about going to a baseball game?
What team do you root for?