In the past 5 years, we've moved to 5 different cities and learned a few things about the art, or shall we say, pains of moving. We've lightened our load as we moved into smaller and smaller spaces and made some pretty stupid mistakes along the way too. Hopefully, these tips will teach you how to move like a pro and help your move go smoothly.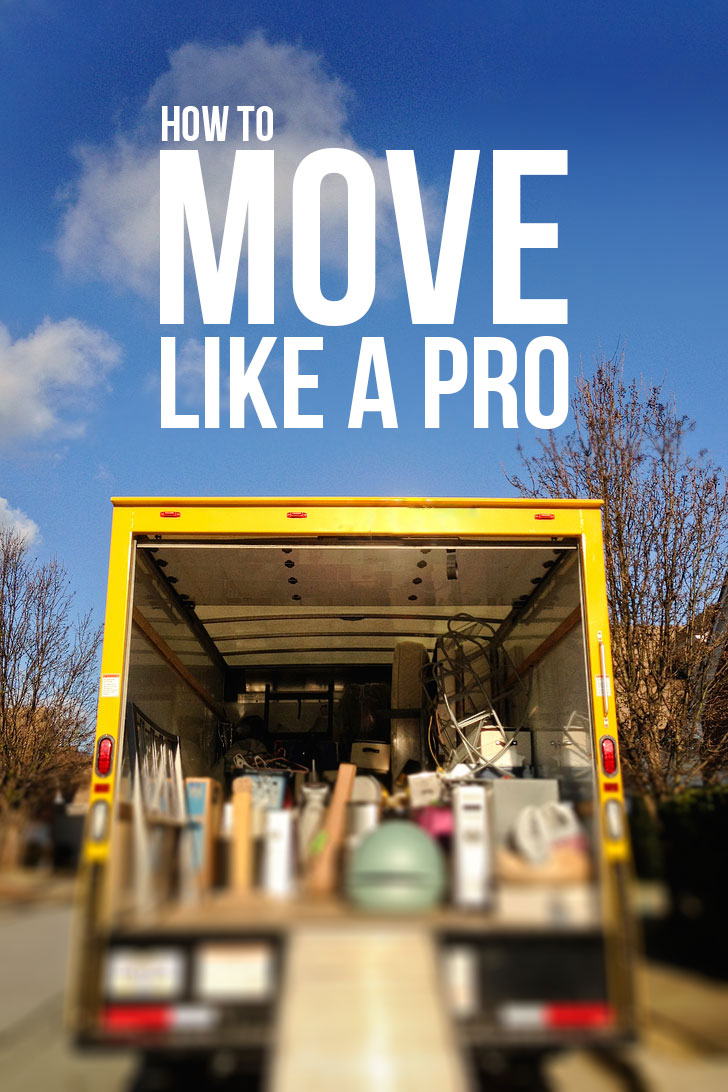 Pin
HOW TO MOVE LIKE A PRO
WHAT WE COVER [ CLICK LINKS TO SKIP AHEAD ]
BEFORE YOU MOVE
Before starting anything, figure out your moving strategy. Here are some questions to ask yourself:
What's your budget? Is a company paying for it or is it out of pocket?
Do you have the time and energy to do everything yourself or should you get movers?
What kind of vehicle are you taking? How are you transporting your cars (driving, towing, shipping)?
What's your timeframe?
Are there any other considerations like kids or pets?
Whether you're trying to do everything on your own or hiring someone to do it all for you, there are pros and cons to each. Generally, movers cost more than pods, pods cost more than renting a truck, and trucks cost more than driving your own car. But unless you are hiring a company to do it all for you, you'll probably be looking at doing a hybrid of DIY and renting.
MOVERS
Movers are the best option if you are limited on time but not constrained by a budget. This is going to be the most expensive option and will also come with a whole set of choices to make. You can hire a moving company that does everything for you, including packing up and unpacking your stuff or just hire them to move everything from point A to point B.
PROS
Less stressful and time-consuming for you.
Most companies come with insurance in case anything gets damaged (although you should read the fine print carefully).
They typically know how to best pack your items into a truck.
They might provide you with packing materials and supplies.
They can typically store your items if there is a lag time between move out and move in date.
You don't need to ask people for favors.
CONS
No one else cares about your stuff more than you do.
You won't always know where all your stuff will be when you arrive. Even if it's well marked, they may leave it in a different room.
Although they have a delivery date, things are out of your control, and the delivery may be delayed.
If you don't have much, your belongings may be moved along with other people's stuff.
Moving Scams 
There are moving scams out there and you'll have to do the research the be sure you find a reputable company. Here are some red flags: They refuse to visit your home to give a quick estimate, they don't have a website or local address, they demand cash or a large deposit, and/or their vehicles are unmarked.
Don't forget to photograph the condition of your belongings before the move in case there are any disputes. Communicate with your movers as often and thorough as possible so that there are no surprises. Read through your contract carefully so you know what is included and what they cover. These companies exist to help you move but also to be profitable, so they will ultimately be looking out for themselves. Not necessary, but it's good to treat your movers well, keep them hydrated, and perhaps provide food and snacks.
MOVING POD
This is a relatively newer way to move and there are multiple companies doing this now, but it's basically when they drop a container off at your property, you pack it up, then they ship it to your new location. Once it's there, you are responsible for unpacking it. Typically this will be cheaper than full-service movers, but will probably cost more than doing it on your own.
PROS
You can take your time loading and unloading the pod.
You don't have to be home to accept the delivery (assuming you're allowed to leave a container lying around).
There are different sizes depending on your needs.
Your pod can be stored if there is a time gap between move out and move in.
CONS
Not all locations will allow a container to sit on their property.
You may still need help to load and unload your larger items.
Shipments can be delayed, which is out of your control.
You have to guess how much space you'll need and may not know the optimal way to pack everything in.
DIY: MOVING TRUCK, YOUR OWN CAR, OR RENTING A MINIVAN?
This is what we have the most experience in. We've moved in a big truck, in just our sedan, and we've rented a van for our most recent move to NYC. This will typically be the cheapest option of the three but also the most labor intensive.
Depending on how much you have, look into regular rental cars as well (like minivans). They may be cheaper and more gas efficient than moving trucks, and also much more comfortable. Those seats in moving trucks are not comfortable especially for longer distances.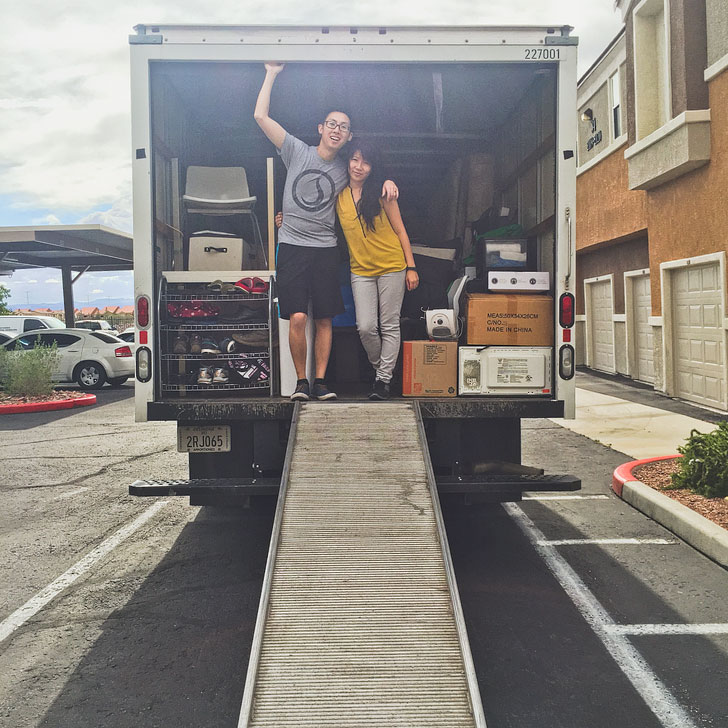 Pin
PROS
Move on your own timeline.
You can make a trip out of it. It's easiest if you have a moving truck towing a car where you can leave it in a safe parking lot and unhitch your car to get around. Though, from our experience, it's not easy as easy as you would think. You have to worry about all your valuables, and you have to consider things like makeup melting in hot weather. We've driven 36 hours straight so that we don't have to worry about this.
Be in control of your stuff and know where everything is when you pack and unpack.
Typically the lowest cost option, but remember there may be hidden fees like labor, gas, hotels along the way etc.
CONS
It can be intimidating driving a big moving truck if you've never done it before. You also have to drive incredibly slow, so I hope you like driving!
Depending on what time of year, you may run into inclement weather.
You will need help loading and unloading.
You have to guess how much space you will need for the rental.
If you are moving over multiple days, you have to think about where to park the truck.
You have to deal with finding space to park your truck at your destination.
If something goes wrong, you can't blame anyone but yourself.
To Bring Your Mattress or Not To Bring Your Mattress
Disclosure: Leesa provided us with a mattress to be included in this post. All opinions are our own. Thank you for supporting the brands that make Local Adventurer possible.
On our first 3 moves, we rented a big moving truck, primarily because we wanted to bring our king-sized mattress with us that we got as our wedding gift. Everything else we probably could have fit into something much smaller. It was the single most difficult item to move, and on our third year, we were finally able to let go.
Now, each time we move, we get one shipped to our new home. There are a few options, but we have a Leesa® mattress, which comes compressed in a box directly to your door, and it's easy to move it to your bedroom before you let it expand. It doesn't get easier than that. No need to figure out how to get it up the stairs and squeeze it through tight spaces anymore.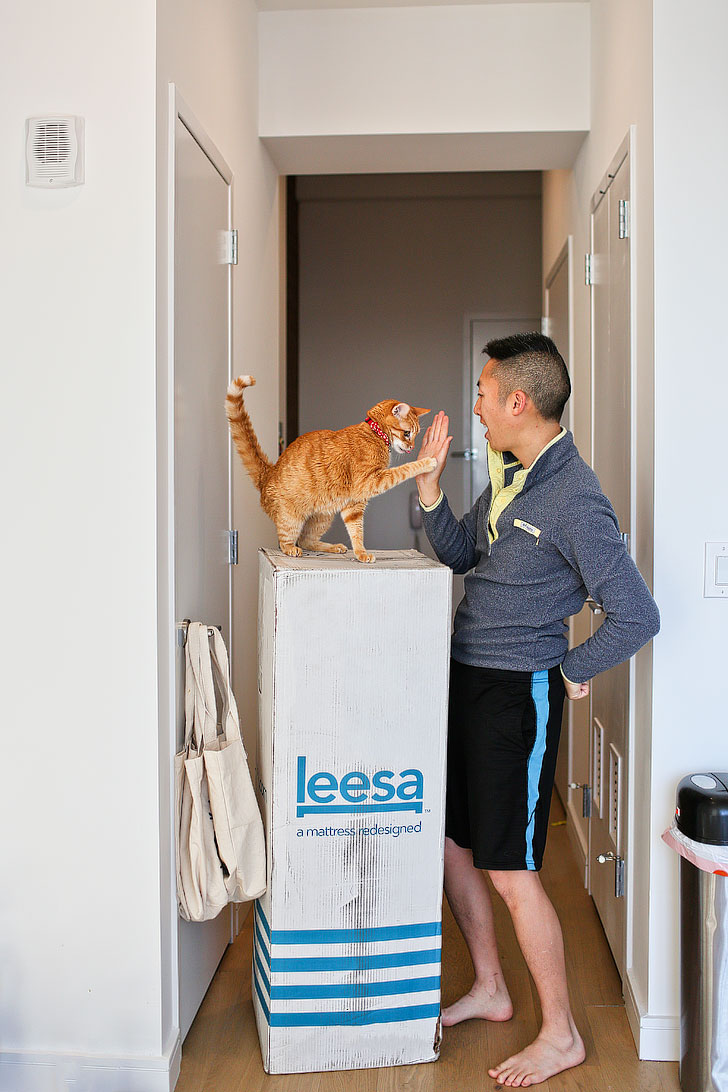 Pin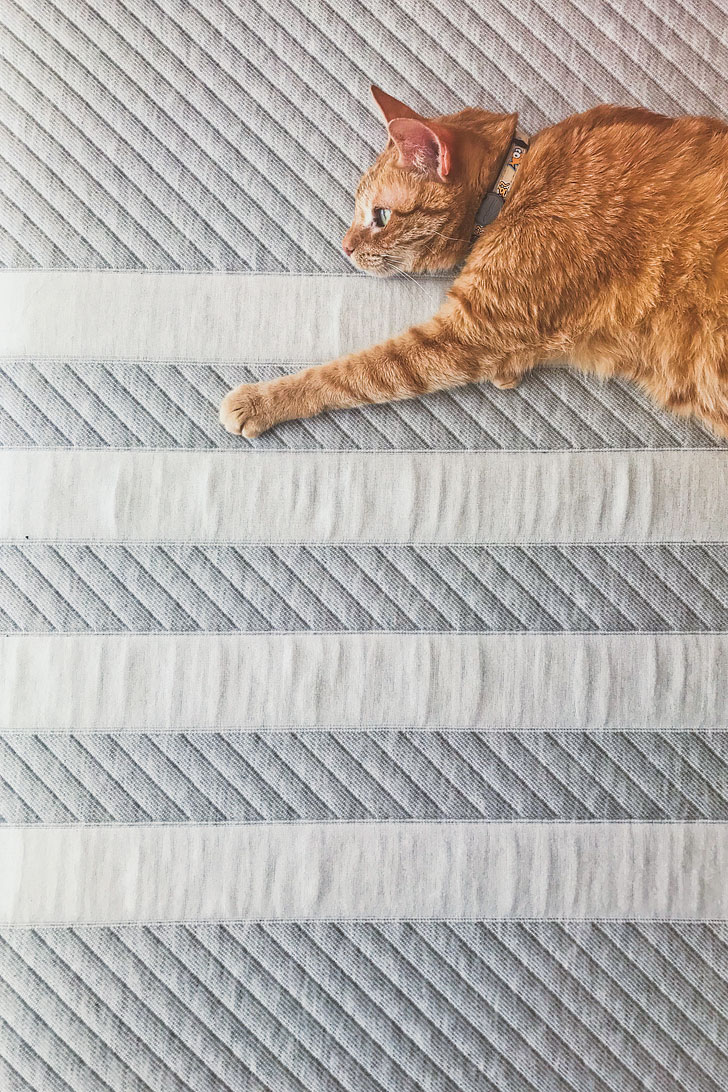 Pin
Most importantly, the 10″ hybrid foam mattress is super comfy! I know that everyone has their own preferences, so if you're skeptical, they even have a 100-night sleep trial so you can give it a go at no risk to you.
How to Move with Your Pets and Kids
We have two cats, and because we've never flown with them before, we typically like to drive whenever possible (P.S. here are some tips for traveling with cats and traveling with dogs). Some of our friends with both kids and pets told us when they move cross country, it's easier to hire movers and drive with the family since they need to take their cars anyways. Just make sure you have enough entertainment for the kids the whole way.
If you've moved with your kids and/or pets, leave us a comment below. We'd love to hear more tips from you!
PURGE & PACK
Each year we moved, we learned to make our load a little lighter.
BEST WAY TO PURGE
Make Four Piles: 1. Keep 2. Donate 3. Trash 4. Maybe. You can do a quick pass and then be more critical in subsequent rounds.
What to do with your donate pile: you can sell it online, do a garage sale, donate to Goodwill or a local organization that actually cares about their employees, give freebies for friends who help you move, list them on craigslist or freecycle, or get a junk service to pick it up (P.S. broken electronics can still sell for a decent amount on eBay – just be sure to disclose that it's just for parts).
Box away what's remaining in your maybe pile, and mark a date on it to open in 3 months or one year. Chances are you probably won't use them again. When you see that you haven't used those items, it will make purging through that pile on the next round easier.
Sleep on it and see if you have a change of heart.
Keep purging as you go. Unlike, Marie Kondo in the Life-Changing Magic of Tidying Up, I like to purge in phases and do different challenges throughout the year to keep things interesting too. Here are a couple projects we've done in the past: 100 Days of Less (Spending, Your Rules), and Project 333 (3 months with 33 pieces in your wardrobe). We also like to use the rule of when you buy one thing, get rid of one thing. One day, we'll work towards the 100 Things Challenge.
7 THINGS YOU CAN DONATE OR TOSS
Something you can't remember the last time you've used.
Multiples. Only keep the best one.
Things you're keeping 'just in case' (like that partially used roll of ribbon you plan on wrapping someone's future gift in). You can always buy it again if you actually need it.
Things that are broken. Those items you keep around because you plan on fixing them probably won't get fixed if they haven't gotten to it already.
Gifts you're keeping out of guilt.
Collections. Consider digitizing nostalgic things like photos, cards, books, CDs, DVDs, and VHS. Hold onto a few that are near and dear, but you can get digital copies of most of them.
Specialized items or equipment that you use only once a year. Find things that are multipurpose you can use more often or you can rent equipment as you need them. This was our hardest struggle because we have a lot of random hobbies.
TIPS FOR PACKING
Packing and unpacking can be daunting and it's easy to procrastinate.
Start with the easiest room, then the next easiest, then the next. If a room feels too big, start with a drawer. When you can start checking rooms off your list, it will motivate you to keep going.
Where to Get Boxes: Ask stores at the end of the day (good options are liquor stores, bookstores, and grocery stores), friends who recently moved or who get a lot of packages, schools, your workplace, craigslist, freecycle, or lastly, you can buy them at shipping or office supply stores.
Plastic bins are a great alternative (we use 50-80 Qts) plus they can be used as storage or stacked (if you have all the same kind). Since we move so often, we actually prefer these over boxes. Plus, they have handles that make them easier to move.
Use your backpacks and suitcases to pack. They are made to carry stuff and you can easily move a bunch of them at once.
Don't pack huge boxes in hopes to consolidate. On our first move from Atlanta to Los Angeles, we used some MASSIVE boxes thinking it would be easier since it took fewer trips to unload. Unfortunately, it made these boxes hard to move and daunting to unpack. Use small boxes for heavy items.
Mark your boxes on all sides. Include both the room they belong to and what is in them to make it easier to find things.
Keep some clothes out for fragile items. This will save you from buying bubble wrap and reduce waste. We usually set aside some blankets too.
Keep your valuables in one place and easy to access. For us, that's computers, hard drives, and camera gear. We try to keep it all together so that on the road we can bring those boxes into the hotel.
When you're done with your boxes, don't just toss them. See if someone else needs them too.
MORE TIPS FOR THE WEEK OF AND DAY OF
Pack a separate overnight bag of things you'll need: change of clothes, toiletries, meds, etc. Refill your medication.
Don't Forget to Hook Up Essentials: Know what utilities need to be transferred so that when you arrive, your new home is ready for you. That's also true with cable. Cable companies usually need time to set up the internet, so be sure to take this into considerations.
Forward Your Mail: Don't forget to the change your address for important bills, credit cards, and info. Also, don't forget to forward your mail.
Take Photos Before and After Your Move: If you're in an apartment, take photos before and after you move your stuff. It's good to have the documentation in case there are any disputes with the landlord.
Set aside the things you want ready in your own home when you arrive. The last thing we want to do when we arrive at our new place is run to the store for supplies, so we bring a few things with us: cleaning solution, trash bag, toilet paper, paper towels. I want to make sure the place is clean before I start unpacking. We also like bringing a shower curtain. The last thing you want to worry about after a long day of moving is figuring out how to have a nice hot shower with no curtain.
Be a Good Host: Whether you have friends helping you move or you're hiring movers, it's good to have drinks and snacks for them provide them with plenty of fluids and nourishment. And don't cheap out on them. It's a big favor to ask people to move and you want to treat them right. It's not a necessity, but it's definitely nice. We've come across a few situations where we assumed that the company who hired the movers would provide simple things like water for a hot day, but some don't.
Create a Packing Playlist: I know this sounds ridiculous but having some good jams really helps the time pass as you get things done. Music is a powerful motivator sometimes. If you're driving to your new home, make a road trip playlist too!
MOVING CHECKLIST AND TIMELINE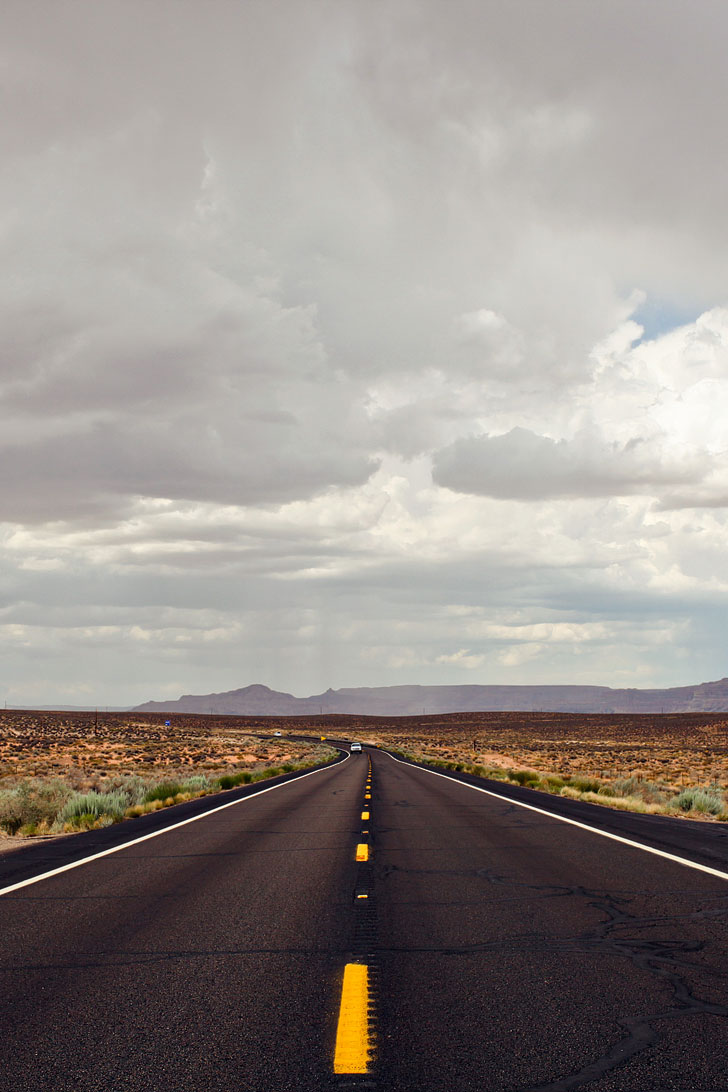 Pin
Have you moved before? What are some things that helped with your move?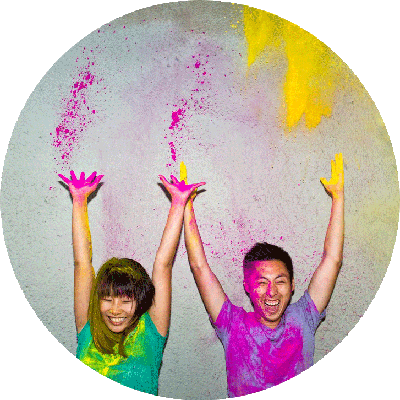 Pin
ESTHER + JACOB
Esther and Jacob are the founders of Local Adventurer, which is one of the top 50 travel blogs in the world. They believe that adventure can be found both near and far and hope to inspire others to explore locally. They explore a new city every year and are currently in NYC..