We have a nine-year-old Catahoula / German Shepard mix named Maybelle who is part of our family. At times when we've traveled, we've left her behind with friends and also twice with a kennel. But after our last trip without her, we decided we wanted to start bringing her with us. So far, the three of us have survived two camping trips and numerous hiking trips together! I'd go so far as to say we've more than survived; it's been a blast! Our main goal is to be able to bring her with us on extended trips in our renovated 1977 Toyota Chinook.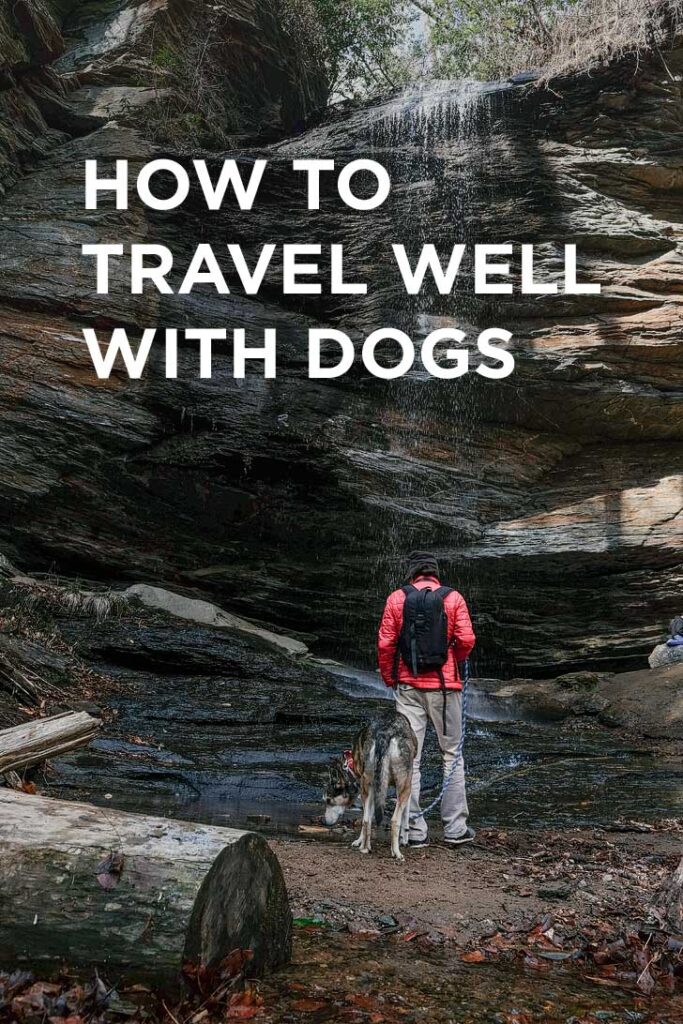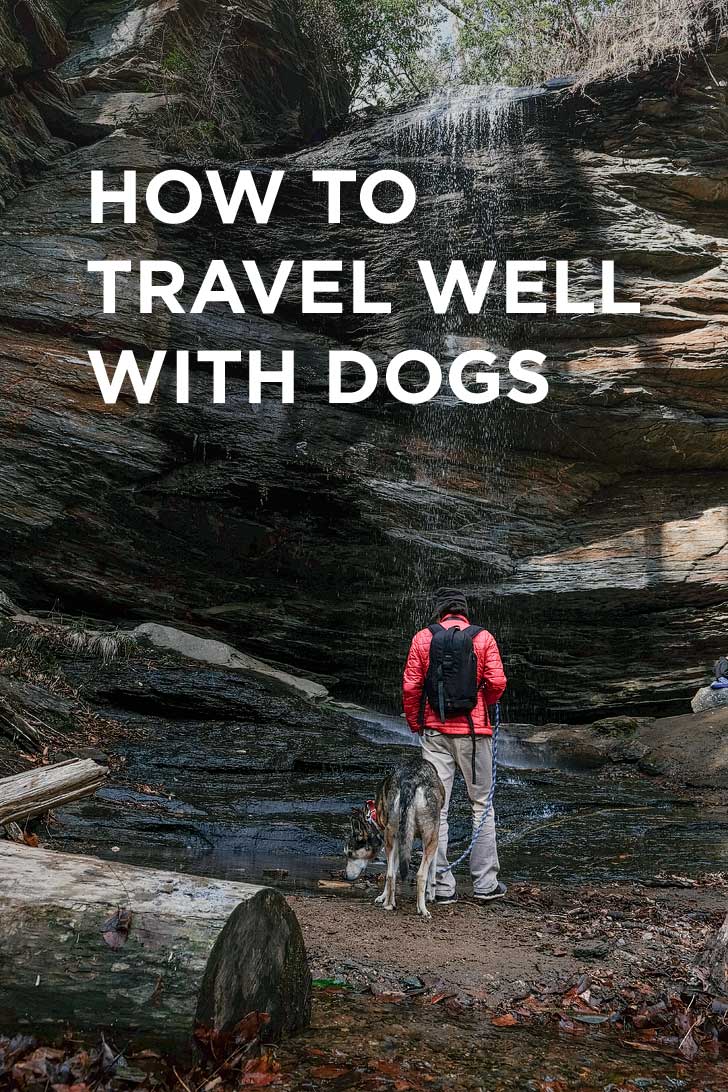 This post may contain affiliate links, where we receive a small commission on sales of the products that are linked at no additional cost to you. All opinions are always our own. Read our full disclosure for more info. Thank you for supporting the brands that make Local Adventurer possible.
Last Updated: November 3, 2022
For the most part, Maybelle has done extremely well in new environments. She gets freaked out when walking over bridges and overpasses. In the beginning, she didn't have much of an appetite on the road (thankfully we've found a strategy for that). Surprisingly, sleeping in a tent didn't phase her at all. She's completely at home on a new trail and seems to like exploring new cities as well (so many smells!). We keep her on a leash most of the time, but we're becoming pretty good at finding leash-free dog parks.
Taking Maybelle on adventures is still a work in progress. We're still figuring out the best ways to get her needs met when on the road but overall we're really excited at how well she has adjusted to travel. Below we're sharing our tips that will hopefully help your dog(s) enjoy travel as much as you do. Keep in mind that each dog has their own personality and what works for us might not be right for you and your pet.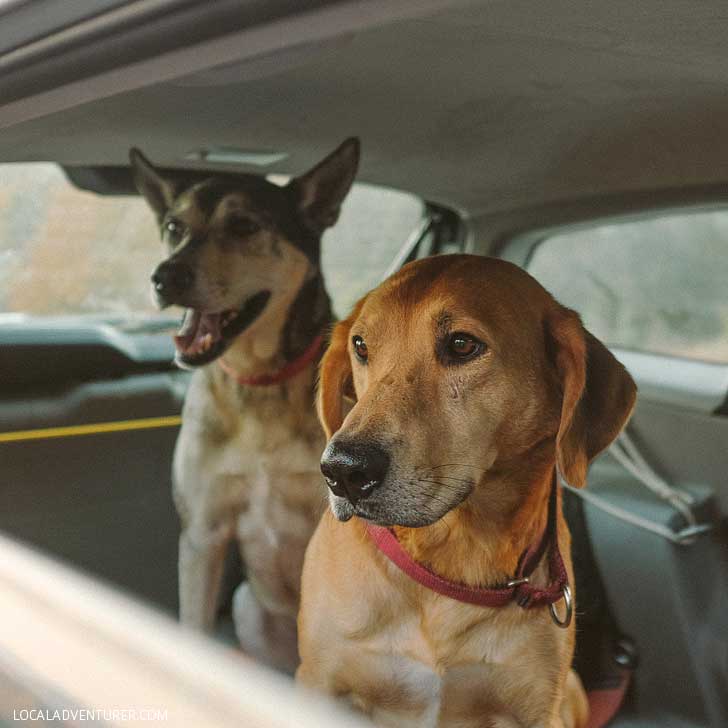 HOW TO TRAVEL WITH A DOG
1. Start small
Sometimes it's cool to just dive head-first into something. We don't actually recommend that for traveling with your pet though. If your end goal is to drive across the country, we suggest you start small and then work up to longer trips.
2. Collar and ID tags
Make sure your dog has a good-fitting collar and ID tags so that if he or she happens to get loose, there is a way for them to be reunited with you.
3. Microchip
A collar and ID tags are super useful in the event that your pet gets lost, but so is a microchip which can be scanned for pet/owner information. It costs about $45 to have a microchip implanted in your dog. (There's a clinic near us that has low-cost days and inserts them for $15, so check around!) Maybelle was adopted from the Humane Society so she already had a chip in her, which is common for most shelter pets.
4. Routine
We've tried to keep Maybelle's life on the road as close to "normal" as possible. When we're at home, she is used to getting a morning walk after we finish our run, so we've tried to make sure she still gets that when we're in a new location. We also try to make sure that she eats and goes to sleep around the same time every day.
5. Food
In addition to making sure meal times stay regular, we also make sure to pack the same food that she eats at home. On one of our first overnight adventures, she didn't have much of an appetite. We had the same food from home but for whatever reason, she didn't want any of it. We discovered that putting a little bit of peanut butter in her dish helped.
We would strongly advise not giving your dog 'people food', even if they're giving you sweet puppy eyes for a bite of your cheeseburger from some new local spot you discovered … even small amounts of food that's out of the norm could lead to stomach problems.
The Wag Swag bottle is also a great accessory! Having a bowl for both my dog to drink and eat from simplifies our dog to-go bag because I don't have to worry about looking for 2 extra bowls to take along with me. Also, the material feels premium and it keeps the water cold for a long time for both myself and our pup. Get it here and use code UNLEASHED15 for 15% off (expires Nov 7, 2022).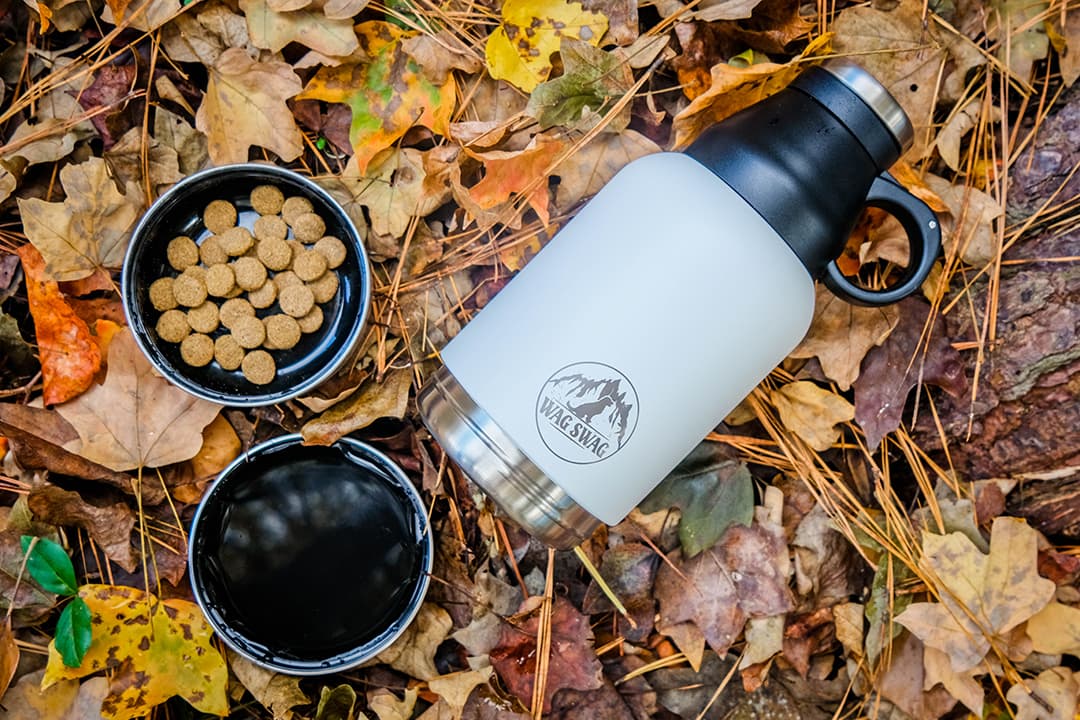 6. Exercise
Like we mentioned above, we try to make sure that we give Maybelle a morning walk, but we also try to give her two, if not three, walks a day. She's been on numerous hikes with us and we've found that it not only helps her have a better appetite but also helps her sleep more soundly.
7. Bedding
Our dog uses a padded bed and it's small enough for us to pack in both of our cars. She lays on it when we're in motion and then we lay it out for her when we get to our destination. Luckily it has a washable cover because even going camping once can get it REALLY dirty. We also bring a few old blankets with us to cover her up for warmth.
8. Plan Pit Stops
We always give Maybelle a bathroom break whenever we stop for food or fuel. If you put the leash next to the dog poop bags, it'll help turn the process into a pretty easy routine. Trust us, there's nothing worse than unpacking the entire vehicle to look for a poop bag.
Speaking of poop bags, dog poop is probably one of the least favorite things dog owners have to deal with but every dog does it, so it's best to travel prepared! Bring more bags than you think you will need so you don't have to worry about leaving an unwanted surprise for someone else. Our favorite bags are these Poop Bags. They sell plant-based (commercially compostable), USDA Certified Biobased and Recycled poop bags.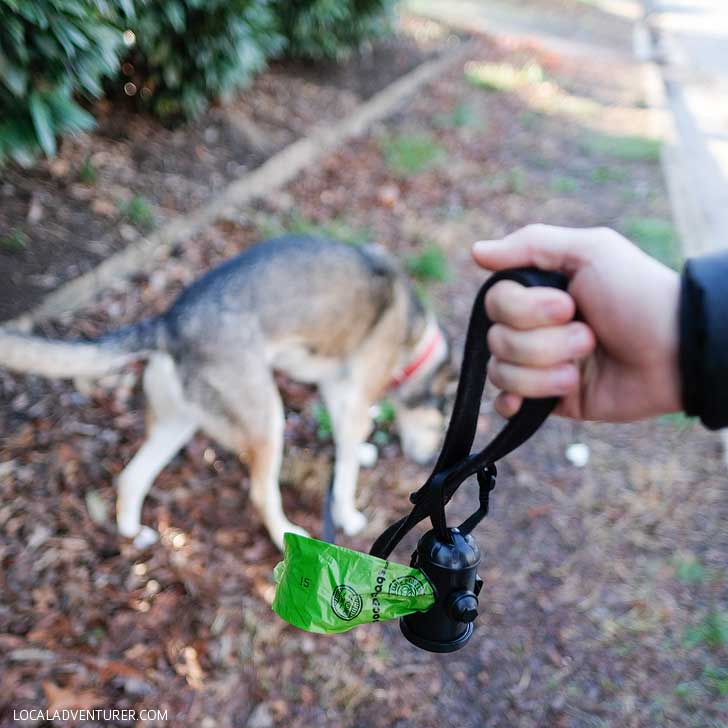 10. To crate or not to crate
The safest way for your dog to ride in a vehicle is inside of a crate that has been secured to the car with a seatbelt or other tie-down. The crate prevents the dog from roaming around and interfering with your driving. We know some people love to ride with their dog on their lap, but we don't advise this. In some states it's actually illegal! Whether or not your dog likes riding in a crate, though, is a different story. Maybelle weighs 66 pounds and as a result is too big for most dog booster seats and pet baskets. We did, however, try out a Solvit dog hammock and we love it!
If you're looking for a way to not only keep your dog comfortable on trips but also keep your car clean, consider a Solvit Dog Hammock. We have one for Maybelle. When we're done, it's pretty easy to unbuckle, shake out, and put back in place for the next ride. One thing we really value is that she's not in any danger of falling into the space where people put their feet.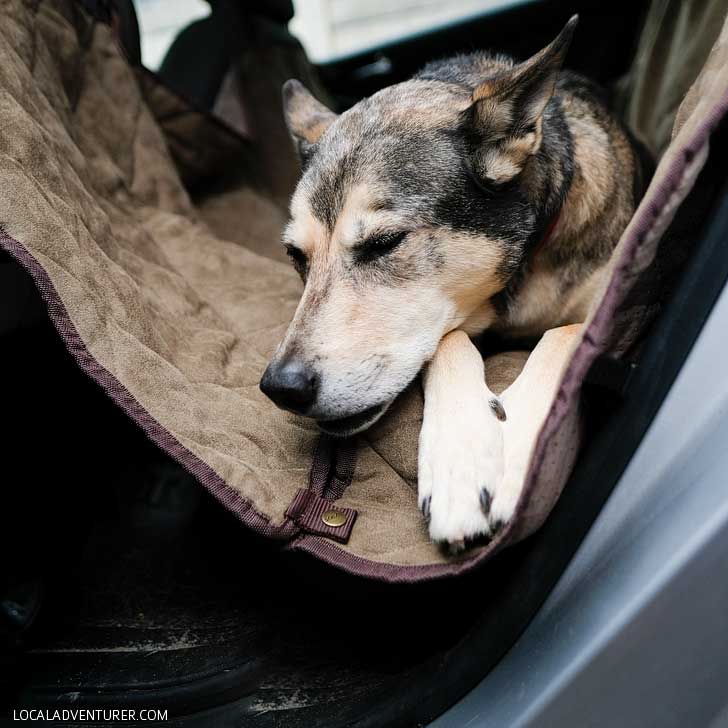 12. Take your pup to the vet
Before hitting the road, it might be a good idea to take your pup to the vet to make sure that they're up to date with all of their vaccines. There's a good chance they'll be meeting other dogs on the road and you'll want to make sure both your dog and others are protected from diseases.
13. H2O
There are numerous dog travel bowls on the market; some that store water and pour right into a bowl, bowls that don't store water but collapse so that they take up very little space, and bowls that are more like a bag and can be folded when not in use. We tend to use whatever is on hand. Last week it was an empty sour cream container that we had washed out. We've also been known to use plastic bags. Some people will say that you should bring along the same water for your dog because those with sensitive stomachs could end up having a problem all over the back of your car. So far, we've been lucky. Whatever method you use for storing and making water available for your dog, make sure it happens frequently!
14. Pet-Friendly Hotels
Sometimes you're going to want a break from the tent or the RV. Believe it or not, there are a bunch of hotels that will allow you to bring your pet into the room.
15. Motion Sickness
I had no idea that pets could get motion sickness. We haven't experienced this (yet?). Apparently some signs to look out for are constant lip-licking, excessive drooling, yawning or even unexplainable whining. We found out though that Dramamine is an option to help combat motion sickness but we recommend checking with your vet before giving it to your pet.
Also, remember that when it's hot outside you're going to need to take your pet with you. Temperatures in your car can rise really quickly and become a dangerous situation for your pet. Organ damage and even death can occur.
Have you discovered some new tips or tricks to keeping your pet (and their humans) happy on the road? Please let us know in the comments below!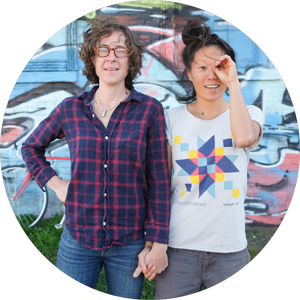 CAROLINE + ERIN
They are freelance web designers and photographers who love finding adventure, both big and small. The two make a daily practice of sharing vulnerabilities, truth telling, and side splitting laughter. They've honed the art of traveling fast and doing all of the things that an adventurer can do in a day or two. The couple lives in Asheville, North Carolina and spend as much time as possible in the mountains.