Time for September's Roundup. You may notice there are two new ones! :)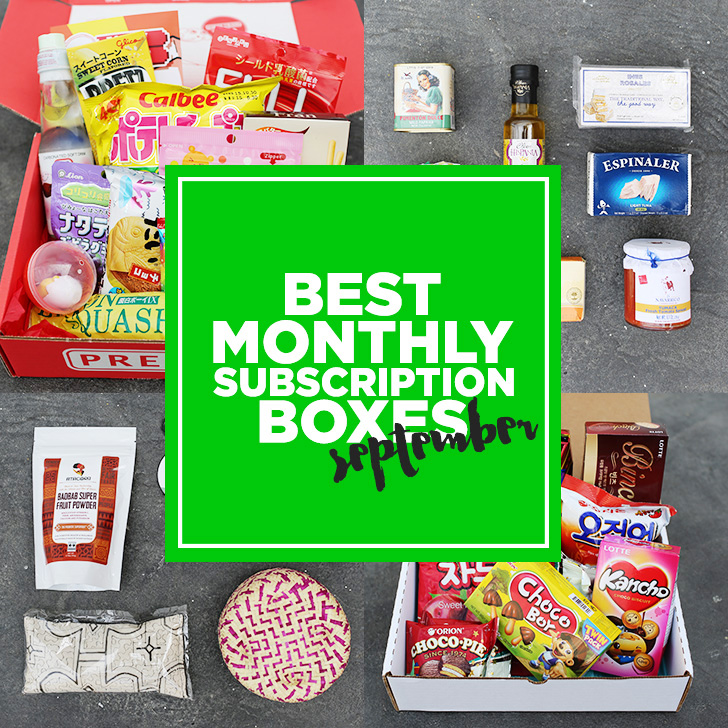 Pin

We're highlighting a brand new one this month that's different than your typical subscription box. ePantry delivers your favorite natural products to your door. I don't know about you, but I never feel like I have enough time, and I hate running to the store to pick up these home necessities. It's this big ordeal, and by the time you're back home, it seems like half the day is gone. With ePantry, you can select your favorite laundry detergent, hand soap, toothpaste, etc and pick a schedule where they'll make sure it's at your door when you need it. No more last minute runs to the store. PLUS, their prices are really competitive. That makes the decision easy!
1. ePantry
Pin
What it is: Natural products straight to your door.
Cost: Varies depending on the products and quantity.

Favorites: Method Grapefruit Hand Soap and Dr. Bronner's Magic Soap
Coupon: Click here for a Free Mrs. Meyer's Dish Packs + $10 & Free Shipping – A $21.30 Value!
What it is: They put together a box of gourmet food from a new city every month!

Previous Boxes: Japan, Buenos Aires, Marrakesh, Venice
Cost: $33-39/month
Favorites: Jasmine Petals Jam and Olive Oil
Coupon: Use coupon code LOCALADVENTURER for 15% off of the All Regular Subscriptions + Gift Boxes + Shop items!
What it is: Explore the world through food.
Previous Boxes: Japan
Cost: $12.95-$24.95/month
Favorites: Plum Candy, Squid Peanut Crackers?!! (I don't know how to translate that.)
Coupon: Use coupon code LocalAdventurer for 15% off your first box!
What it is: Each month has a theme with artisan-made products from around the globe.

Previous Boxes: Laundry, Wander, Entertain, Kitchen, Picnic, Bake
Cost: $30-35/month
Favorites: Blessing Bag!

Coupon: Use code WELCOME for 25% off your first box.
What it is: Get an assortment of Japanese candy sent to your door every month.
Previous Boxes: August, July, June, May, April
Cost: $12-30/month
Favorites: Lychee Ramune and Sweet Corn Pretz
I didn't include these previously, and I actually get really annoyed every time Jacob gets them. I'm not totally against nerd culture collectables, but I just don't like extra clutter. Since he loves them so much, every once in a while, I let him keep a few things.
What it is: Nerd culture goodies straight to your door.
Cost: $11.95-13.95/month
Favorites: Los Pollo Hermanos Apron from Breaking Bad!
Coupon: Use the code THEFU for 10% off your box!
See our reviews of our other favorite subscription boxes:
Causebox // FitSnack // KitNipBox // Craft Beer Club
OmNomBox // Golden Tote // Universal Yums
Bon Appetit // Cuisine Cube // Aloha Crate
Chococurb // Jerky Snob // Watanut // Camp Box
Gold Medal Wine Club
What errands annoy you the most?
Have sure you tried subscribing to any of your day-to-day used products?