Carnitas' Snack Shack is no stranger to being on the "best of San Diego" lists. When we started making our San Diego bucket list, it was one of the first few restaurants to earn a spot. Also, as a resident in North Park, we felt it was our duty to find the best eats in our hood first.
UPDATE: The one in North Park closed down, but you can still get the food in Embarcadero.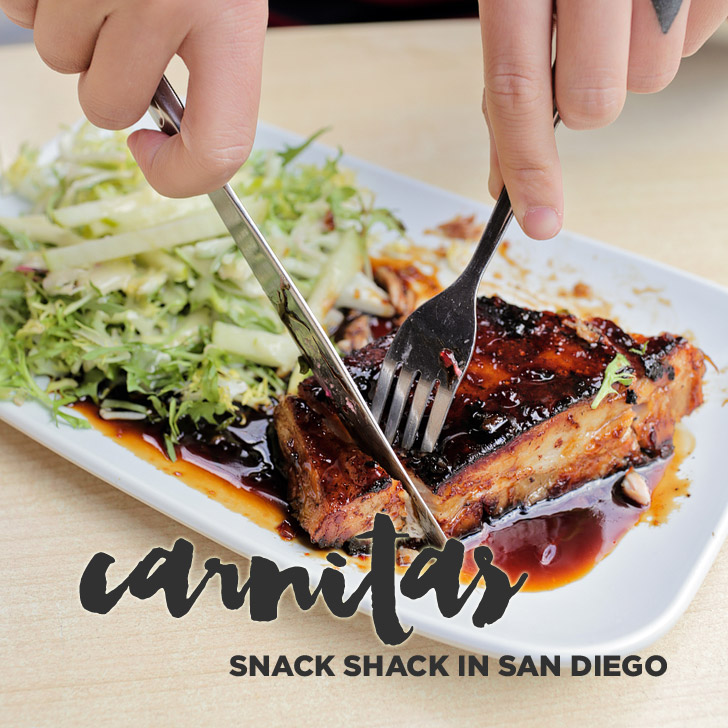 Pin

Pin

Pin
Pin
Carnitas' Snack Shack has been open for 3.5 years and is named after their pet pig, Carnitas Speck, who's kind of a big deal. The restaurant has a chill vibe with a great outdoor seating area.
The basic menu stays the same, but they have daily specials that are always changing. We tried a little bit of everything while we were there. We started off the Pork Belly App and Beet Terrine. The pork was tender and tasty, and it paired perfectly with the frisee salad. The Beet Terrine was also a great companion to the pork. I'll first say that I'm not a fan of beets, but I'm not sure what they did to these beets, because I ate them all! It was refreshing and all the flavors worked really well together.
Pin

Pin
Pin
There are a few raised garden beds with veggies that go straight into their specials. They partner with Urban Plantations to tend 3 garden beds with chiles, tomatoes, squash, lettuce, and all kinds of herbs.
Pin

Pin
Pin
The SnackShack Chicharrons was served with a spicy avocado hot sauce and the seasoned fries were served with bacon ketchup.
Pin
Our bellies were getting pretty stuffed at this point, but we still had to be sure to try their most popular dish: Triple Threat Pork Sandwich. That's a pork loin schnitzel, topped with pulled pork, topped with bacon, and slathered in pepperoncini relish and shack aioli.
Pin
Pin

Pin
As if we were gluttonous enough, we also shared a Carnitas Taco.
Pin

Pin
Pin

Pin
All their beer is San Diego local. They have 4 beers on draft and around 15 bottles.
Pin
Pin
It's such a great space to hang out, drink, and have great food. We can't wait to visit again!
Tips for Eating at Carnitas Snack Shack San Diego:
There are no reservations and you order at the front where lines can get really long.
Out of everything we tried, the Pork Belly App was easily our favorite.
They have a TV in the back if you're trying to catch a game.
Carnitas' Snack Shack
2632 University Avenue
San Diego, CA 92104
Open Daily 12PM to 12AM
Del Mar/ Carmel Valley Location
12873 El Camino Real, Suite M4
San Diego, CA 92130
Open Sun-Thurs 11AM to 9PM, Fri & Sat 11AM to 10PM

Pin
What would you most like to try here?
What are your top 3 eats in your neighborhood?