We've been eating our way through our new neighborhood in San Diego, which is known to be the hip, up-and-coming neighborhood. Among other good eats, we were excited to check out URBN Coal Fired Pizza, which is right next door to Hammond's, where we did the 32 flavor ice cream flight.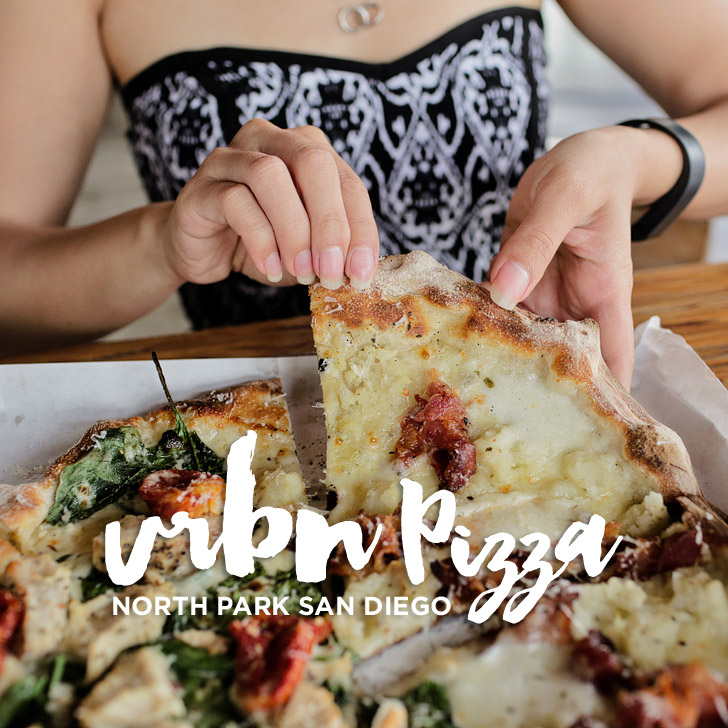 Pin
As you walk in, the first thing you notice at URBN North Park is the space! They have a huge restaurant with tons of seating. On nice days in San Diego, which is more common than not, they open up the garage doors, so it feels like you're in a big patio.
Pin
Jacob had a URBN St. American Brown (they brew their own beer at the El Cajon location), which he liked and would order again. I tried one of their signature cocktails, the Darby Smash. It has coffee infused whiskey, averna, benedictine, thai tea syrup, peychauds, mole bitters, mint, and lemon. Although the coffee flavor was interesting, I prefer lighter cocktails or my whiskey neat. :)
Pin
Pin

Pin

Pin

Pin
Pin

Pin

Pin
Pin

Pin

Pin
As we chatted with the waitress, we decided to do a split pizza. You can split any of the pizzas as long as they have the same base sauce (white or red). The Mashed Potato Pizza is their most popular, so we ordered that paired with the Gouda Alfredo Garlic.
The pizza came out shortly afterwards and we were both surprised by the size of the small. It was HUGE! We both enjoyed the Mashed Potato Pizza (a white pie with potato, bacon, fresh mozzarella, and parmesan). However, out of the two, I liked the Gouda Alfredo Garlic Pizza (white pie with chicken, spinach, and sundried tomato) better, since I generally like having a little bit of tart in my pizza. The sundried tomatoes did the trick. Next time, we'll have to try the red pies!
Pin
Pin

Pin

Pin

Pin
Pin

Pin
Pin
Overall we enjoyed the food and would go back. We loved the consistency and flavor of the dough and crust. They have a great drink selection and atmosphere. It's also probably one of the best spots for larger groups in North Park.
A LITTLE MORE ABOUT URBN PIZZA NORTH PARK:
URBN North Park opened in October 2011. The owner, Jon Mangini, wanted to bring his New Haven, CT background to CA with the coal fired style of pizza. They currently have locations in North Park, El Cajon, Vista, and Encinitas, and plan to open more soon. Also, they have a sister restaurant downtown called Bar Basic. It has a similar menu but more of a club atmosphere. We need to check it out!
URBN Coal Fired Pizza
3085 University Avenue
San Diego, CA 92104
619.255.7300
And if you're near Vista:
203 Main Street
Vista, CA 92084
760.724.8840

Pin
Red or white sauce?
Where have you had the best pizza pies?