One of our favorite things to do in Las Vegas is see the shows. We made it a point to see them when we visited and when we lived in Vegas for a year, we tried to go least once a month.
A couple of years ago, we saw our first Blue Man Group Las Vegas show. We initially wanted to see it because of all the gags on Arrested Development, but the show is so fun in and of itself. They do such a great job mixing humor with music, and they blend it all together in a production that leaves you grinning ear to ear. Since we last saw them, they've moved their show to a specially designed stage at Luxor Hotel and Casino that gets you closer to the action.
Thank you, Blue Man Group, for sponsoring this post. As always, all opinions are our own.
Thank you for supporting the brands that make Local Adventurer possible.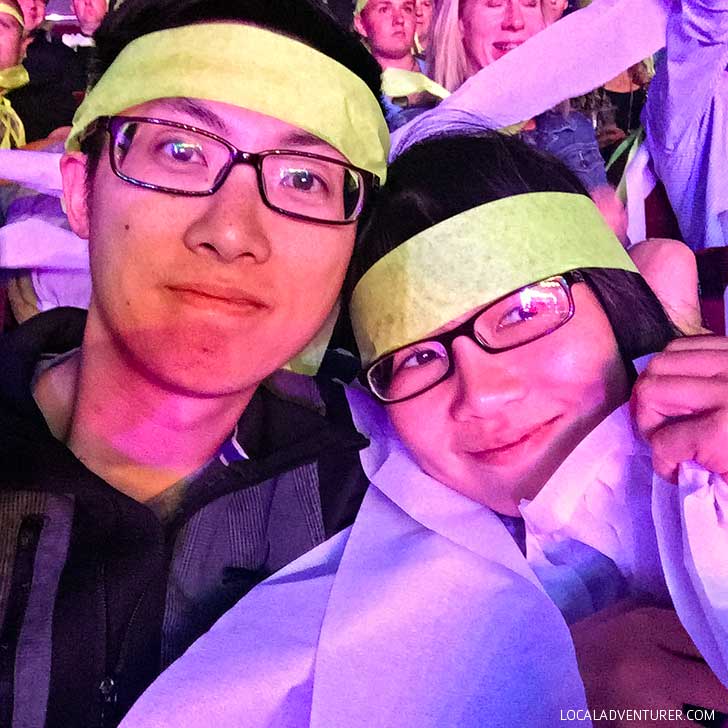 Pin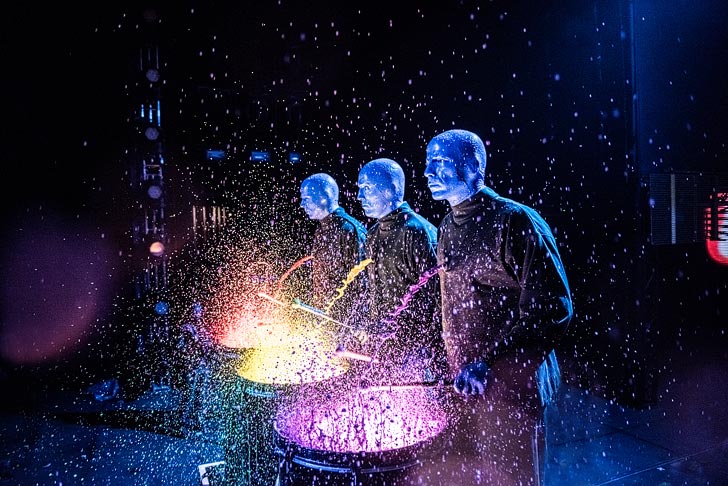 Pin
If it's anything like what we saw before, we know we'll love it, but since we never like vouching for things we haven't seen in person, we're headed to Vegas next week! Woot!
We'll update you on what we think of the new show. We're also doing the Behind the Blue tour to get an inside look on how they do everything. Besides that, we'll be stuffing our faces at our fave food spots, enjoying our stay at the Luxor Hotel and Casino, and seeing friends. We haven't explored Luxor much in the past, so we're excited to check out the restaurants and explore the casino. Can't think of a better way to spend the weekend.
[ UPDATE ]
BACKSTAGE AT BLUE MAN GROUP LAS VEGAS
We just got back from a weekend in Vegas and had a great time seeing friends and visiting our old stomping grounds (does it count as stomping grounds if we lived there for a year?). We also got a chance to explore Luxor Hotel & Casino for the first time.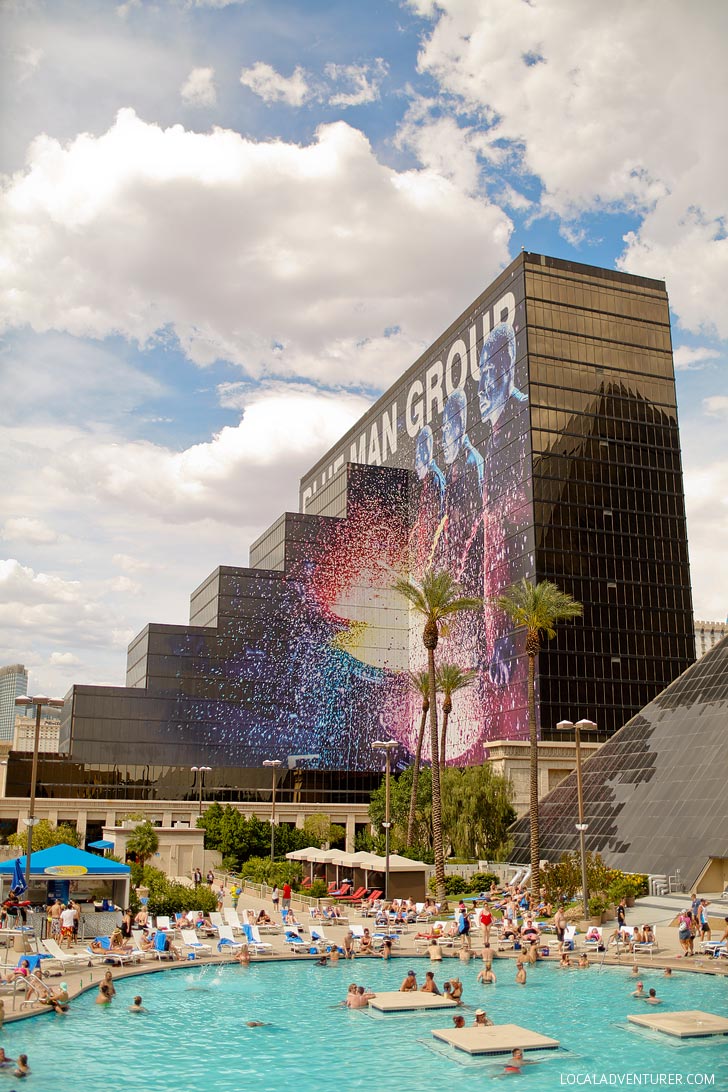 Pin
Just within Luxor, they have shops, shows, tons of restaurants, and of course gambling. They even have attractions like Bodies The Exhibition and Titanic: The Artifact Exhibition that are great for families. A couple of our friends who live in Vegas came by to meet us and we got tacos at Tacos & Tequilas to celebrate Cinco de Mayo weekend.
The highlight of the trip was seeing the Blue Man Group show! We both saw it twice before, but it's still one of our favorites. They are always adding new elements to it. If you've never been, a Blue Man Group show perfectly marries amazing music, comedy, visuals, and a lot of audience interaction. You have to try REALLY hard not to be stupidly smiling as you watch the show.
Before the show, we joined the Behind the Blue tour to get a behind the scenes look at how all the magic happens and you even get to play some of the instruments. I was nerding out hearing about all the intricate details that go on backstage and you even get to sit in a live sound check and see them before they become Blue Men!
If you want to make your experience even more memorable, you can be part of a private meet & greet after the show. We got a chance to interact with a Blue Man and take photos with him.
They're all incredibly talented and we learned that the hardest part is catching a ridiculous number of marshmallows in your mouth at once without gagging. ;)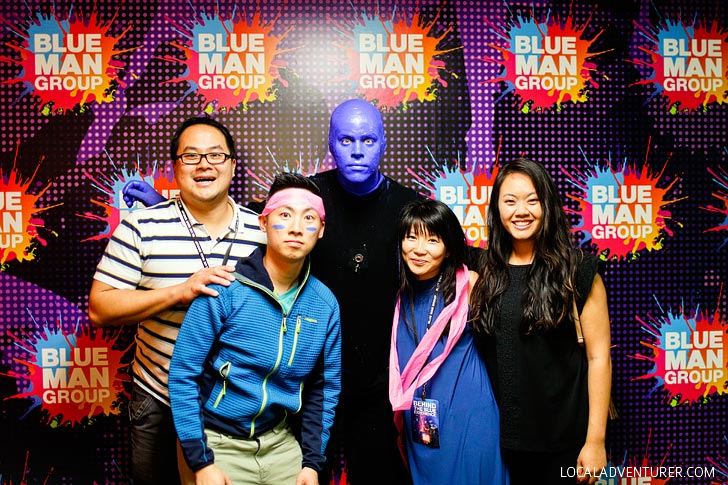 Pin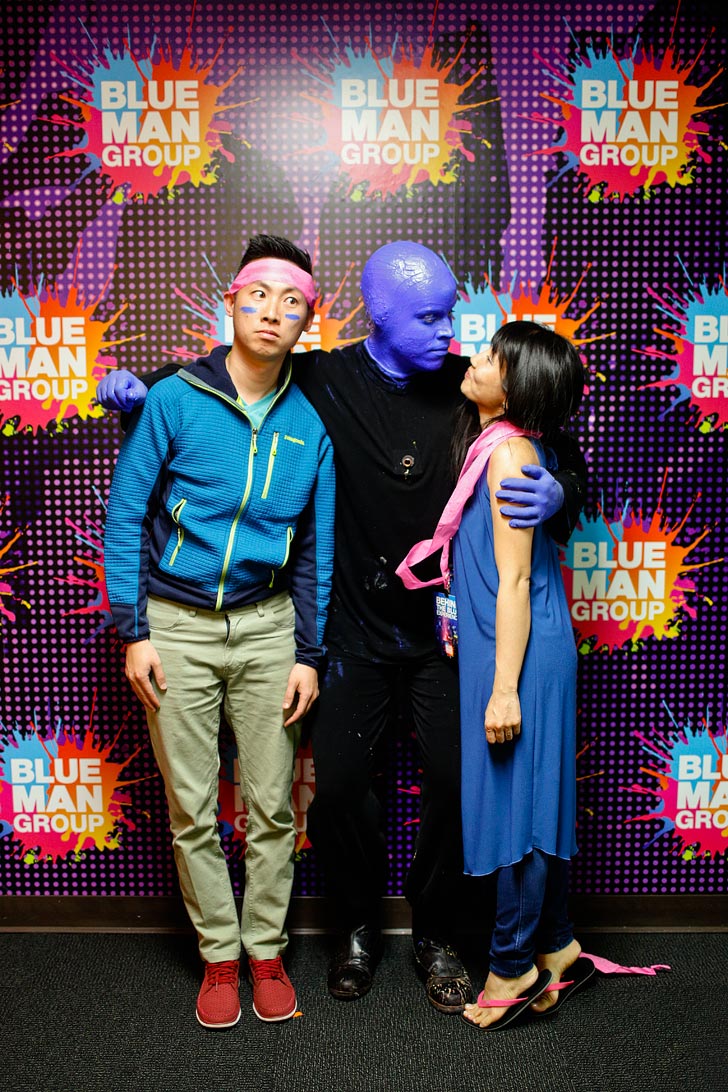 Pin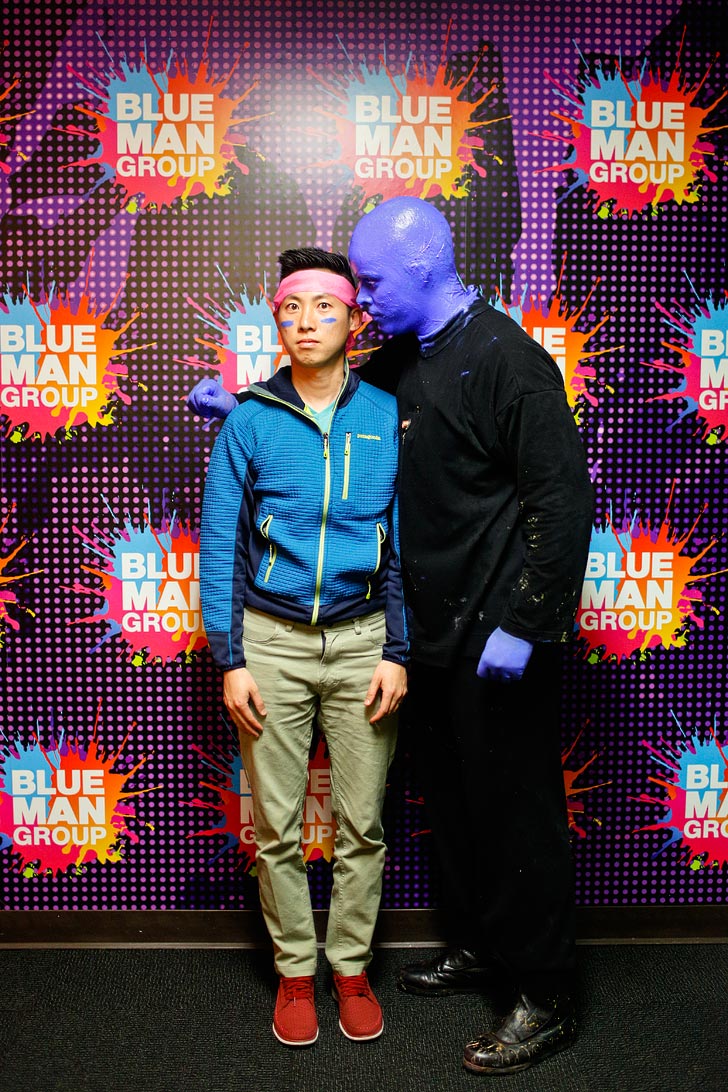 Pin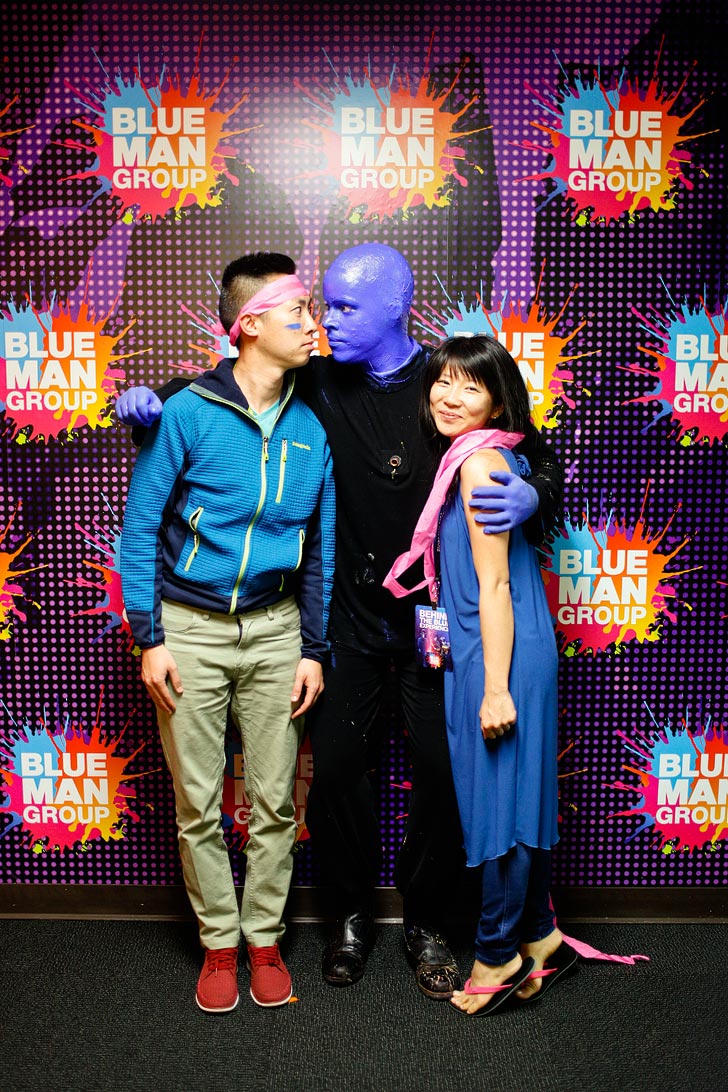 Pin
We always love visiting Vegas and now we have a new spot to revisit every time we're back. To get you started planning your next trip, we're giving away two more tickets to the Blue Man Group show. See below on how to enter!
Pin

Pin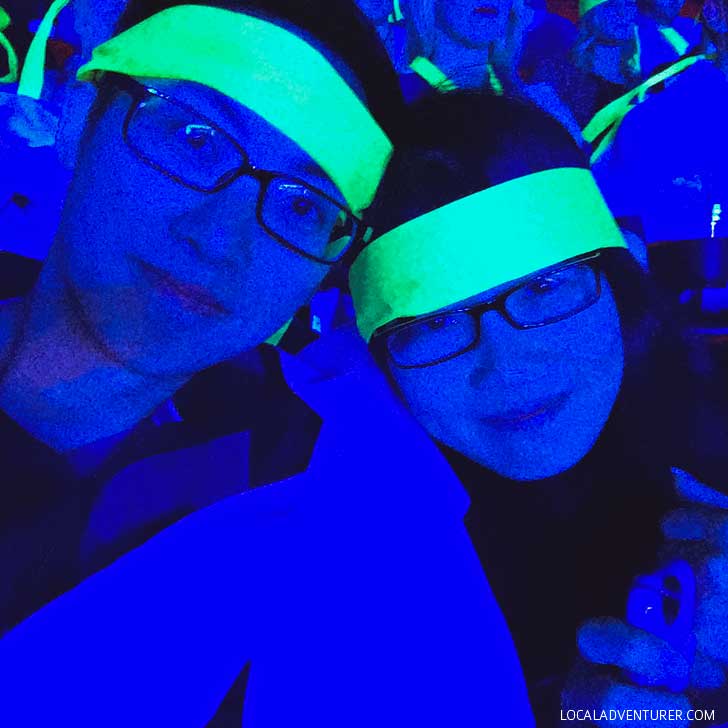 Pin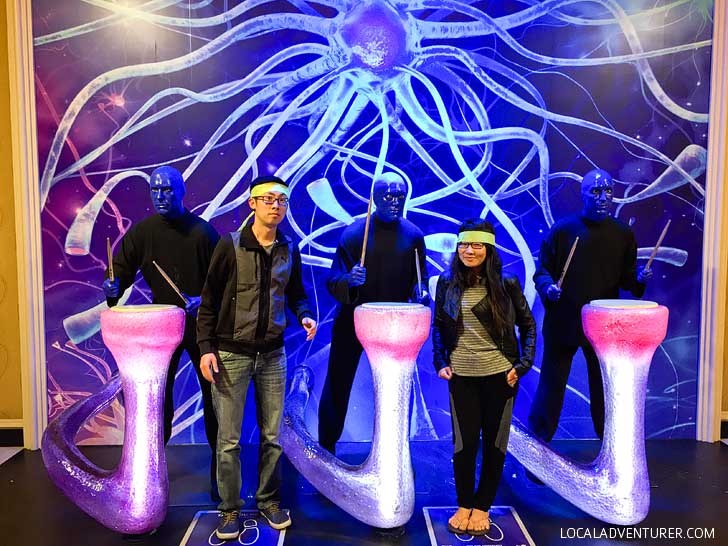 Pin
On top of that, we are giving away a pair of tickets to the show! See below for all the details and we can't wait to hear about your experience.
If you love Blue Man Group, you should also check out Wink World in Area 15, which is a psychedelic art house created by Chris Wink, one of the co-founders of Blue Man Group.
MORE THINGS TO DO IN LAS VEGAS
Have you ever been to a Blue Man Group show? What do you typically like to do when you visit Vegas?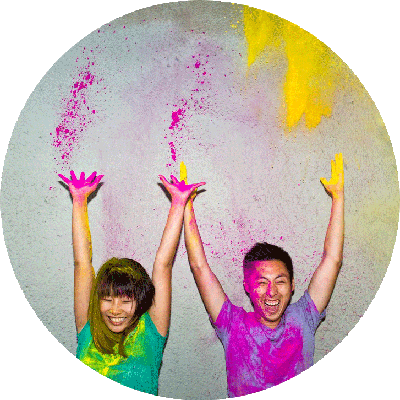 Pin
ESTHER + JACOB
Esther and Jacob are the founders of Local Adventurer, which is one of the top 50 travel blogs in the world. They believe that adventure can be found both near and far and hope to inspire others to explore locally. They move to a new city every year and currently live in Las Vegas
Pin