Hooray! I'm falling in love with photography again! I used to be a wedding and portrait photographer (good riddance to that job), but when it comes to underwater photography, there's so much we've been learning. It's all shiny and new again.
Not only am I having to navigate uncharted waters (I'm not a strong swimmer and fish freak me the hell out), I'm working with a lot of new gear I wasn't as familiar with.
Let me forewarn you that underwater gear is expensive. Cost was our main deterrence from getting into it before. Now that we're going to get dive certified though, we're willing to make some sacrifices in other areas so that we can capture our new underwater adventures!
We've tried out several different underwater point-and-shoot (POS) cameras, action cameras, and underwater housings for various POS, phone, and DSLR. There are tons of underwater housing options out there, some as simple as a bag and others that are built to the specifications of each camera. For any of you guys who are new to underwater photography or want to get into it, hopefully this will help get you started. When comparing gear, this is what we found!
MORE: We Found the Best Camera Backpack of All Time
UNDERWATER CAMERAS
This is currently our favorite underwater point and shoot. Our guides at Derawan Island used it on our snorkeling trip. It captures beautiful, sharp photos and the wide lens was perfect for the whale sharks. Since then, we picked up one for Jacob's dad to borrow on future trips. One con is that it doesn't do well in low light (has a lot of noise), but you wouldn't be using this for that purpose.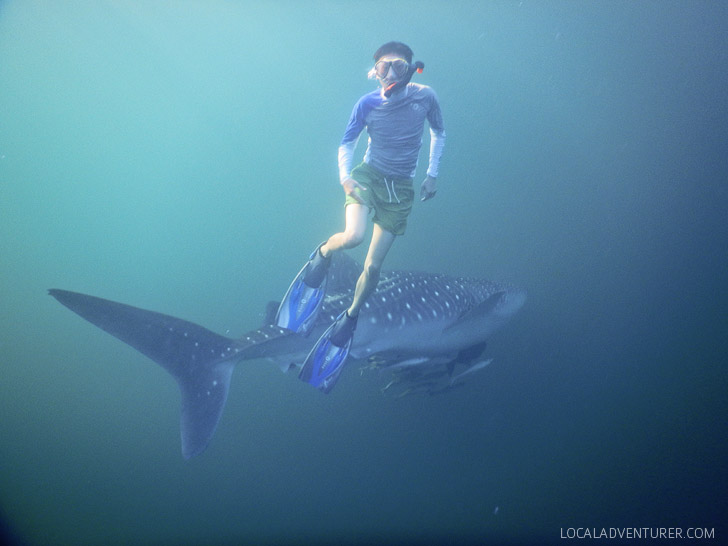 Pin
Jacob got me the older version of this as a wedding gift that we used on our honeymoon. The photos were okay, but like most POS, they weren't great either. The camera also broke after two years right after the warranty. How convenient!
Pin
We tested the Panasonic DMC-TS6D Lumix on our latest trip to Turks & Caicos. We got slightly better results than the Canon PowerShot, but the photos were still not as sharp as we would have liked. One nice feature on this camera that we particularly liked was that there are two different buttons on the top of the camera, one for video and one for stills, so you don't have to change modes while underwater.
Pin
We typically bring a GoPro with us on underwater activities mainly to shoot secondary video. The GoPro already comes with underwater housing. It's easy and you can mount it on yourself and not think about it. You can watch our goPro footage here.
Pin
UNDERWATER HOUSING
Although the Panasonic DMC-TS6D Lumix is already a waterproof camera, we used the Ikelite housing, so that we could see how the housing fared. What's great about Ikelite is that they build underwater housings specific for each camera. This ensures that you can use all the functionality.
Pin
This bag-type housing is definitely the most affordable option for DSLRs. It's also great that it doesn't add much extra weight. The downside is that it's hard to change the settings, and sometimes it's hard to find the shutter button the way the finger hole is built. Another con is that the camera shifts around easily, making the viewfinder hard to use.
Pin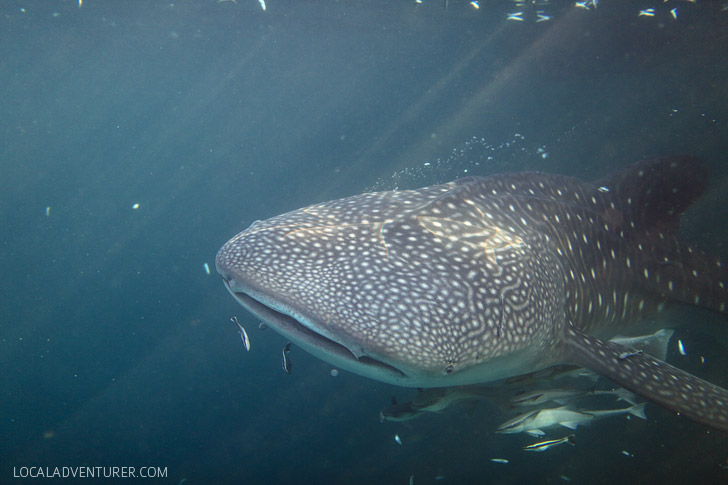 Pin
The Aquatech Elite Underwater Sport Housing is the priciest option but also gave us the best results in terms of functionality. The photos came out much sharper and the color was great (Keep in mind I'm using the Canon 5D Mark III + 35 mm / 1.4L lens inside). Although it gives you much better access to the functionality of your DSLR, the downside is that this solid housing makes the camera much bulkier and heavier. This would still be our ideal option if we had the money!
Pin
LifeProof is one of the most popular waterproof cases on the market. While it does a great job protecting your phone, the downside is when you're taking photos, the water interferes with the touchscreen. You have to rely on the buttons instead, and you can't grab focus when you need to. Also, it can only handle depths of 2M (6.6 ft) up to 1 hour. In our opinion, these waterproof cases are meant more for photographing water activities on or around water than for underwater photos.
Pin
This is the one we currently use and it's good up to 5M (16.4 ft) of water. With the lanyard around your wrist, it makes it easily accessible and easy to use. Similar to the LifeProof, though, the water interferes with the touchscreen, and you have to use the buttons on the side.
Pin
We've only shot with natural light so far, since we've mostly been snorkeling. I imagine once we get our scuba diving certification, we'll need some strobes when we dive into deeper depths. These are pretty popular, but if you've used any underwater strobes, let us know what your experience has been, what you like, and what you don't like!
Pin
FILTERS FOR UNDERWATER PHOTOGRAPHY
Red Filters are great for blue or tropical saltwater while Magenta Filters are great for green freshwater. If you're using a GoPro, you can buy this 3-pack that comes with both the red and magenta. Some people don't even bother and just fix it in post, but these make your editing job way easier and save you on time later!
Pin
Now, it's time to capture some more underwater adventures! Next week we'll be sharing some helpful tips on how to shoot underwater photography!
Have you done underwater photography?
What gear have you tried and liked?
Anything you disliked using?