Park & Rec is a neighborhood bar in University Heights, specializing in cocktails. They have multiple indoor and outdoor areas you can hang out that almost makes you feel like you're in someone's backyard. The inside area has a large bar, pinball machine, and shuffleboard. Pull up a chair to the bar and the bartenders can help you find the right drink based on what you like.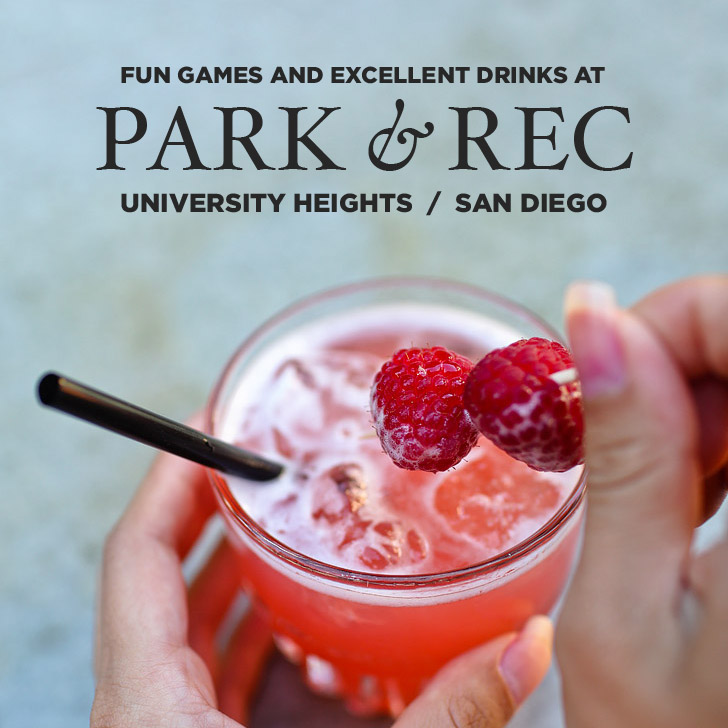 Pin

Pin
If the open air is more your thing, they have a large outdoor area with plenty of seating. They have corn hole, a dartboard, and another full bar where you can refill. Lastly, there's the garage with huge TVs, ping pong tables, and another full bar.
During the weekends, they host live music which makes for great ambiance, and if you're a fan, they are an official Cal Bears Football bar.
Pin
Pin

Pin

Pin
Pin

Pin

Pin

Pin

Pin

Pin
Pin

Pin
Pin

Pin
Pin

Pin
Although Park & Rec doesn't serve it's own food, they've teamed up with Royale with Cheese, who offers food in the back area. All you have to do is order at the back window, and they'll bring the food to you. During our visit, we had the Royale with Cheese (a Wagyu beef patty burger!), 57 Chevre, and a side of Kootz' Magical Mystery tots. The food was delicious and very impressive for being bar food! We highly recommend the burger. I loved my 57 Chevre too, but the only thing was that my bread was a bit overtoasted for my taste.
Pin
Pin

Pin

Pin
Pin

Pin

Pin
What We Ordered at Park and Rec San Diego:
P&R Old Fashioned
Park Bench
Merry-Go-Round*
P&R Pimms Cup*
What We Ordered at Royale with Cheese:
Royale with Cheese (a Wagyu beef patty burger!)*
57 Chevre
Kootz' Magical Mystery Tots*
*our recommendations
Overall, we could see ourselves coming back to hang out here. We've even talked about possibly hosting one of our birthday parties here in the future. :)
Even though we're mostly beer and whiskey drinkers, we liked trying out the cocktails to see how well the bartenders mixed their drinks. They were very helpful with finding us what fit our palettes. The ambience creates a great space to meet people or you can find a corner to yourself if you come early enough to beat the crowds. When you're ready for a bite, you can pick up some delicious food to pair with your drinks!
Also, if you really want to get the best bang for your buck, you can stop by during their 4-6PM Happy Hour. They offer a lot of their same, great cocktails for $5.
Park & Rec
4612 Park Boulevard
San Diego, CA 92116
619.795.9700
Mon-Thurs 4PM-12AM
Fri 4PM-2AM
Sat 10AM-2AM
SUN 10AM-12AM

Pin
What are some of your favorite neighborhood hangouts? What types of things do you look for in a place where you'd want to be a regular at?