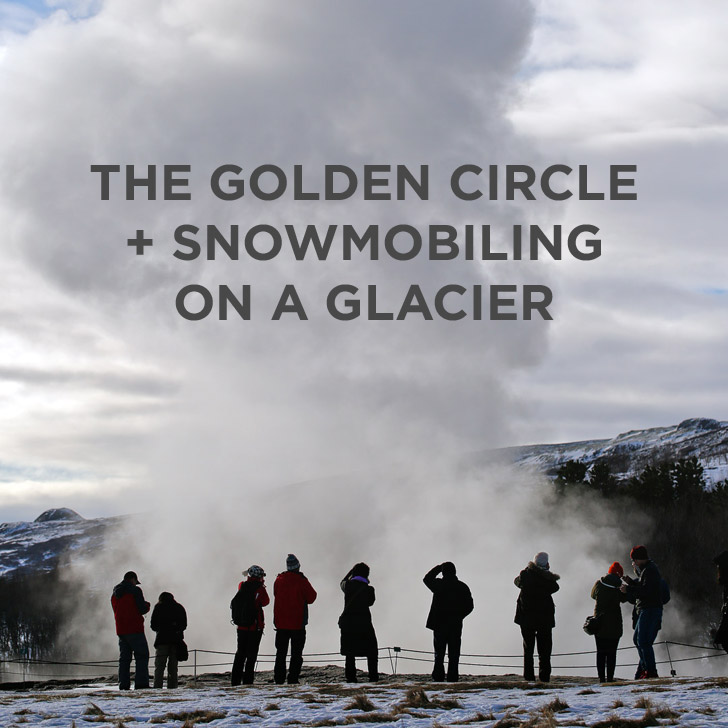 Pin
Here are all the best stops on the essential Iceland Golden Circle tour.
Besides photographing the Northern Lights, the other activity we were most excited about was snowmobiling on a glacier. This was our first time snowmobiling, and it was a pretty epic way to experience a first. We took this tour with Mountaineers of Iceland and first thing in the morning got picked up by a Viking in a super jeep (regular 4x4s + regular driving skills will not take you to the places you want to go). The super jeep actually looked like a regular car next to him. Keep in mind an average person is probably between my height and his.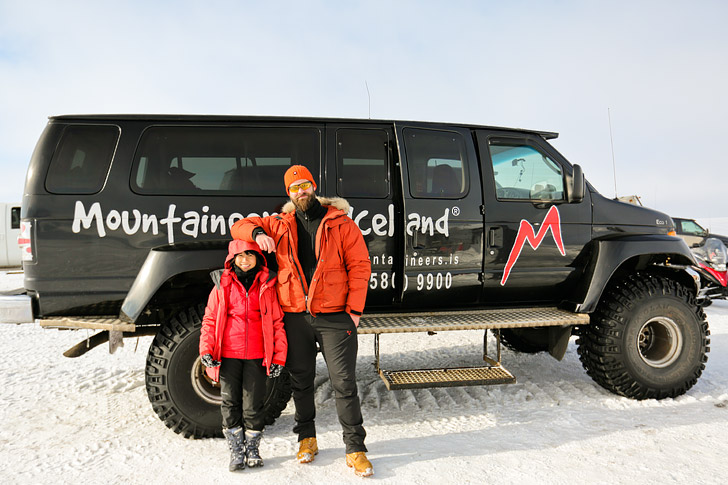 Pin
1. SNOWMOBILING ON A GLACIER at Langjokull
Depending on where your pickups are, the itinerary for the day may differ slightly. We started out by heading straight to the snowmobiles, where you get outfitted in gear and are given a brief safety demo. Next, you pair up and you're off!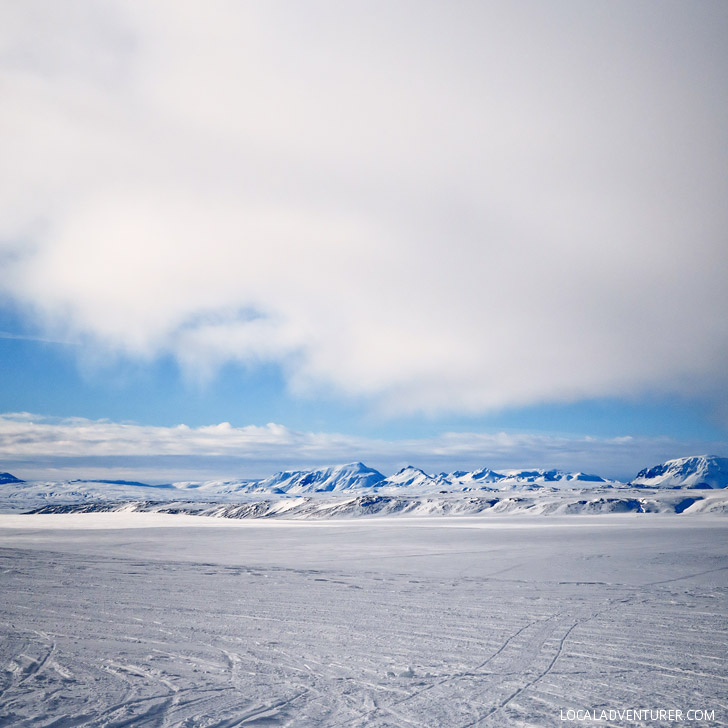 Pin
Check out that fresh powder.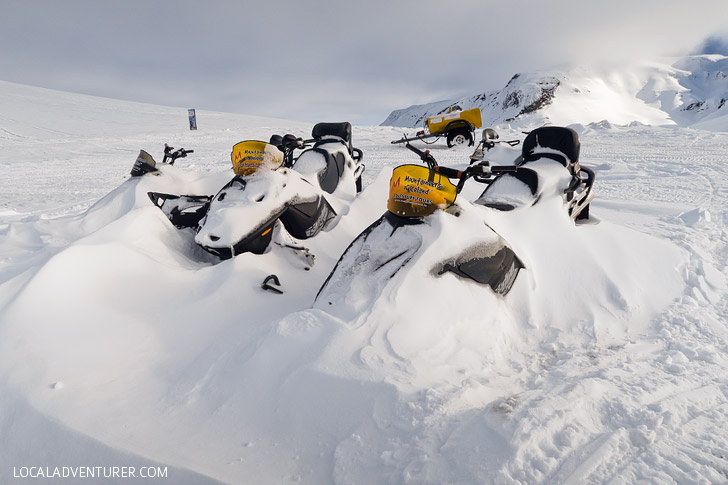 Pin
Look ma, no hands! We stopped to pose for these photos. haha Jacob did all the driving.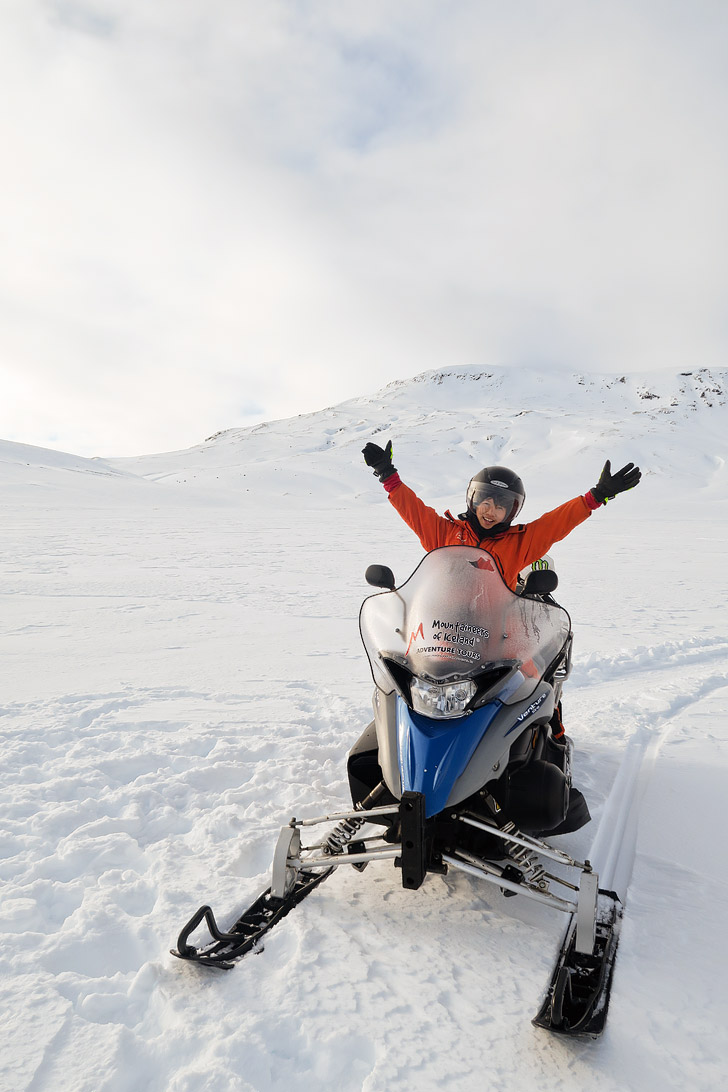 Pin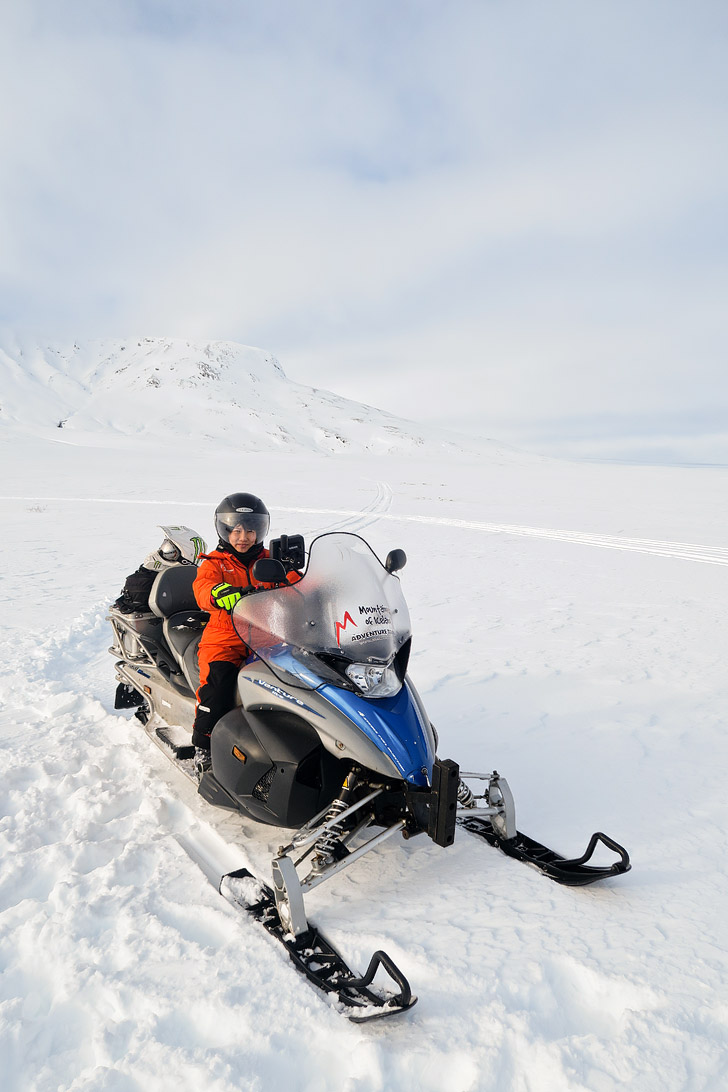 Pin
Because you never know what the terrain is like, you follow the person in front of you. This makes navigating easy but also limits your speed. For the first half of our ride, we went at a slow pace (40-50 km). After a brief stop in the middle to take photos, the guides helped those who wanted to go faster to pass the slow folks. It was a lot more fun at 80-90 km!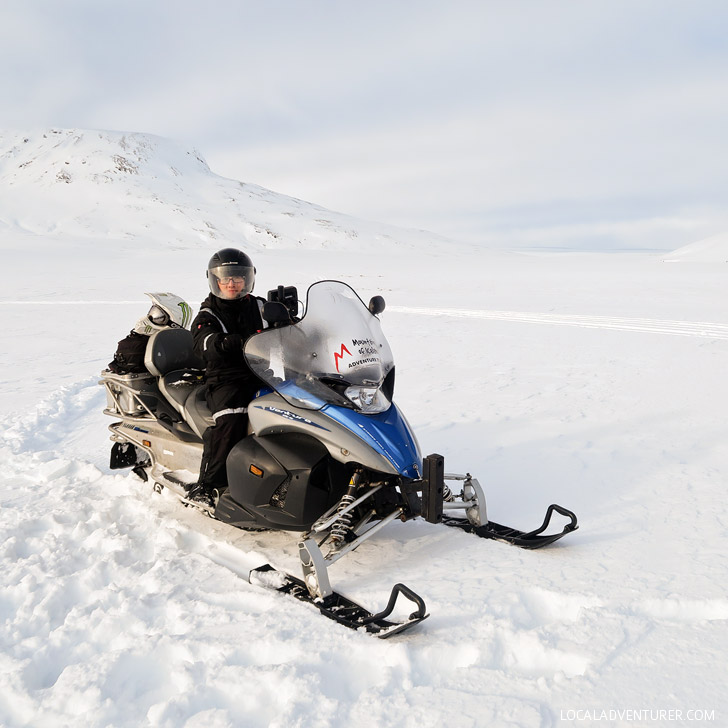 Pin
After we got back, we had the chance to buy the best hot dog served on a glacier (they don't have much competition ;D). Before asking for the price, we ordered 4 since we were all hungry. Turns out they were 1000ISK (roughly $10) per hot dog. Not only was it the best hot dog on a glacier but the most expensive hot dog we've eaten in our lifetime.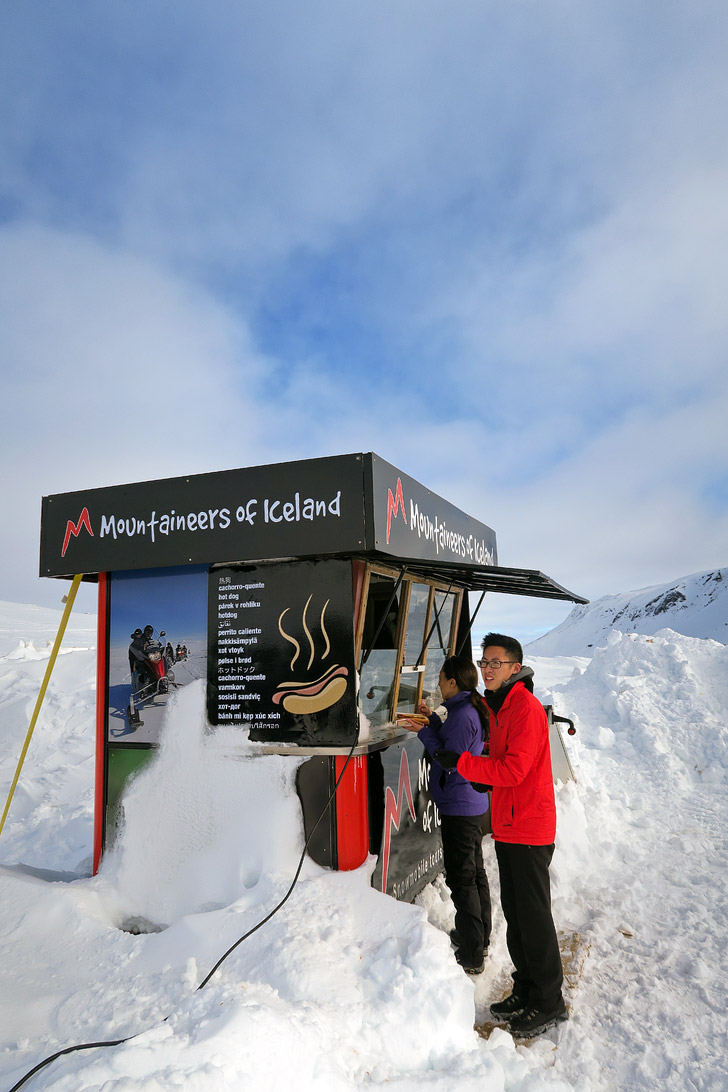 Pin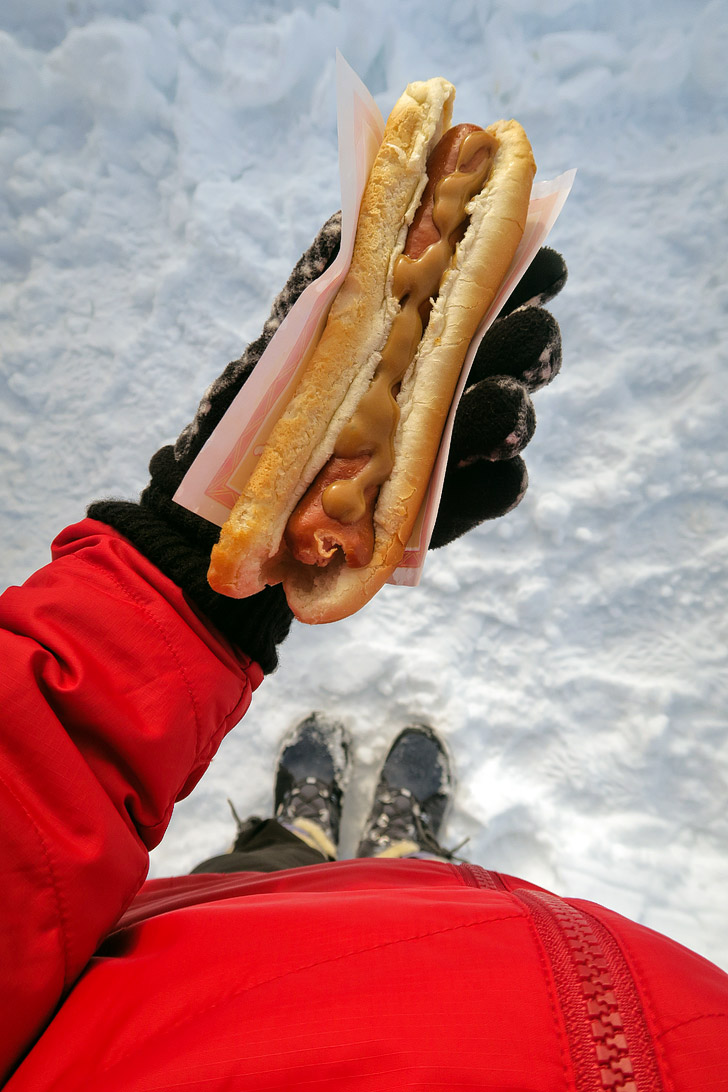 Pin
2. GULLFOSS OR GOLDEN FALLS
After a brief stop to overlook Þingvellir National Park and Silfra, we headed over the Gullfoss or "Golden Falls", one of Iceland's most popular waterfalls and attractions… probably right up there with Blue Lagoon. The experience reminded me a lot of Niagara Falls. The power and multi-level falls makes for a wonderful viewing. Depending on the season, it can average anywhere from 80-140 m³/s of water running down at any time. It also happens to be very commercialized and crowded, but when you're there, you can see why everyone loves it so much.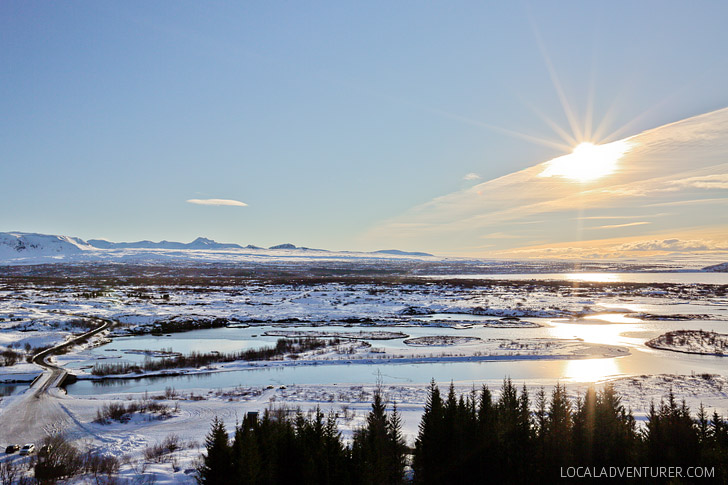 Pin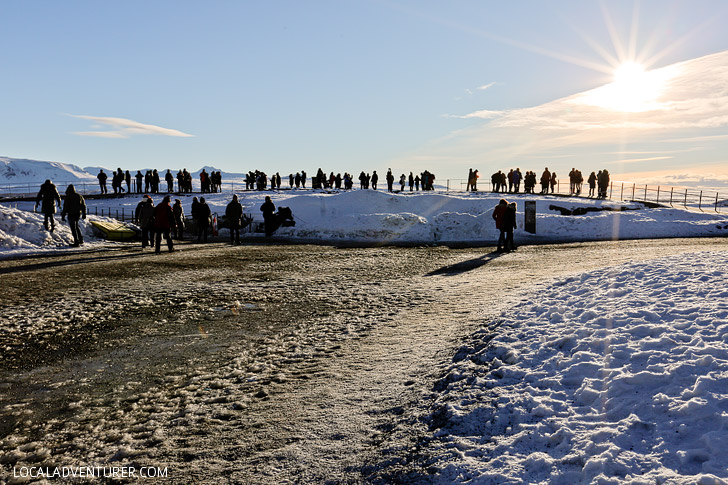 Pin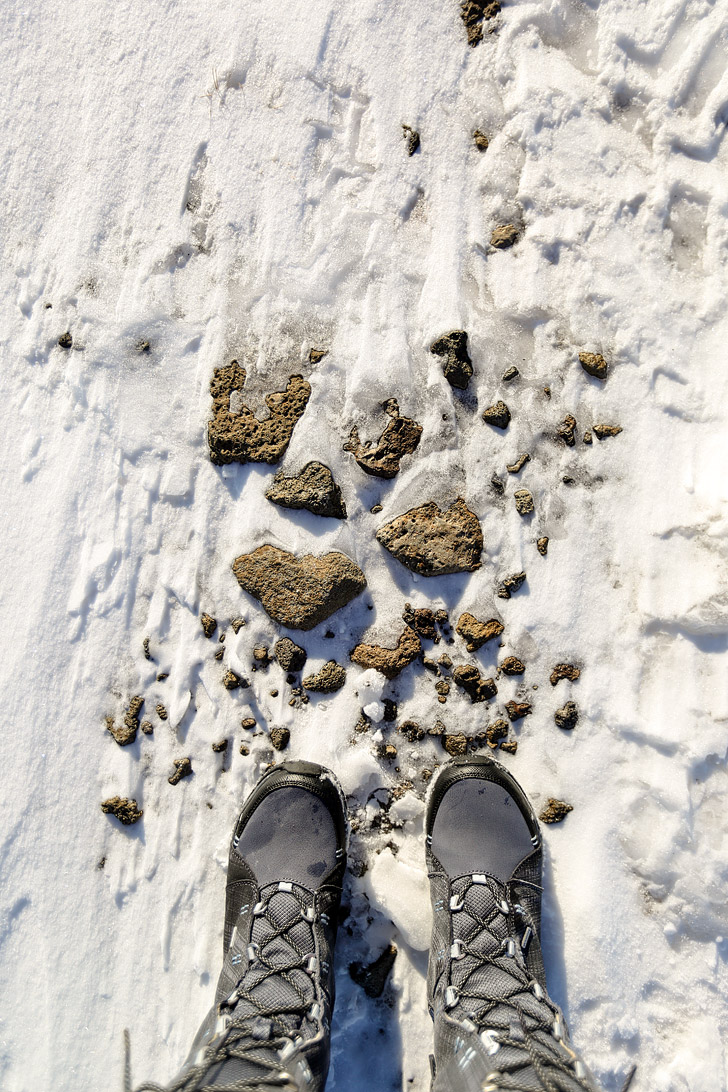 Pin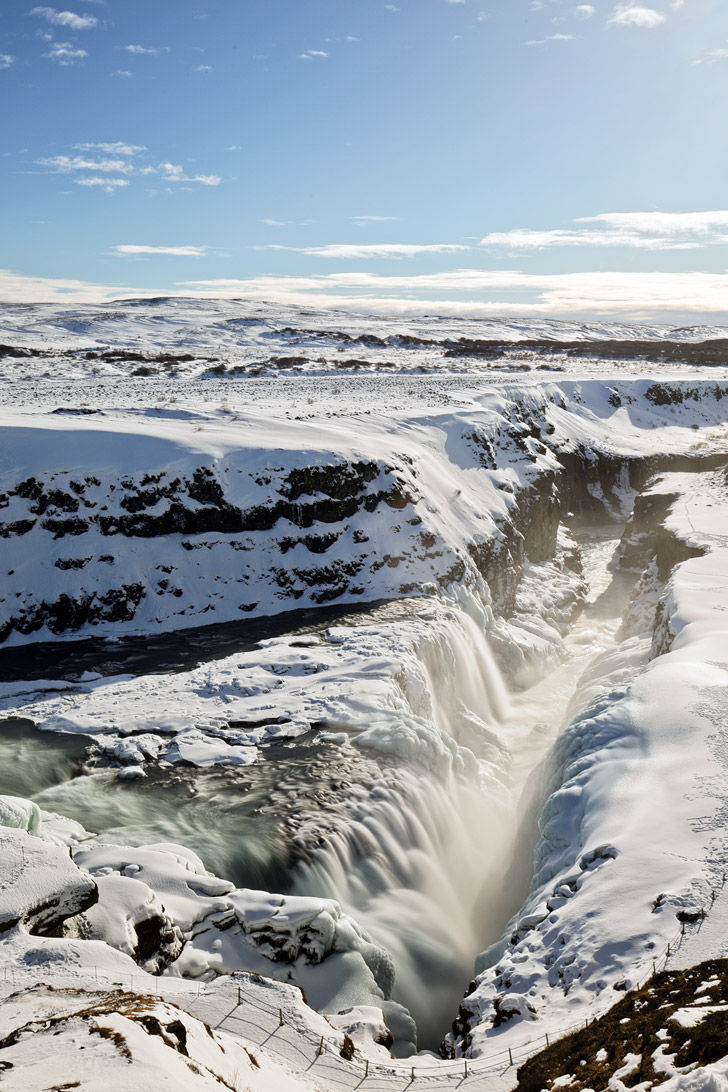 Pin
I find it extremely annoying that someone wrote giant letters and a smiley face in the snow, ruining the landscape for everyone else trying to take a photo. It's so inconsiderate. I was debating whether I should photoshop the letters out but then you wouldn't get the full story. TOURISTS Amirite? :P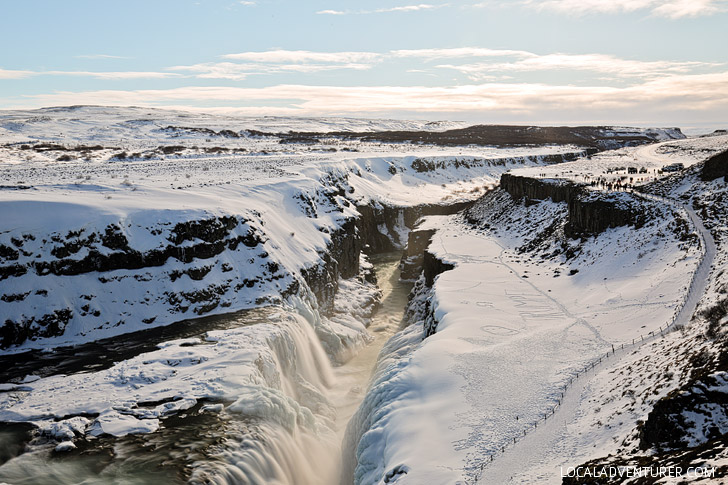 Pin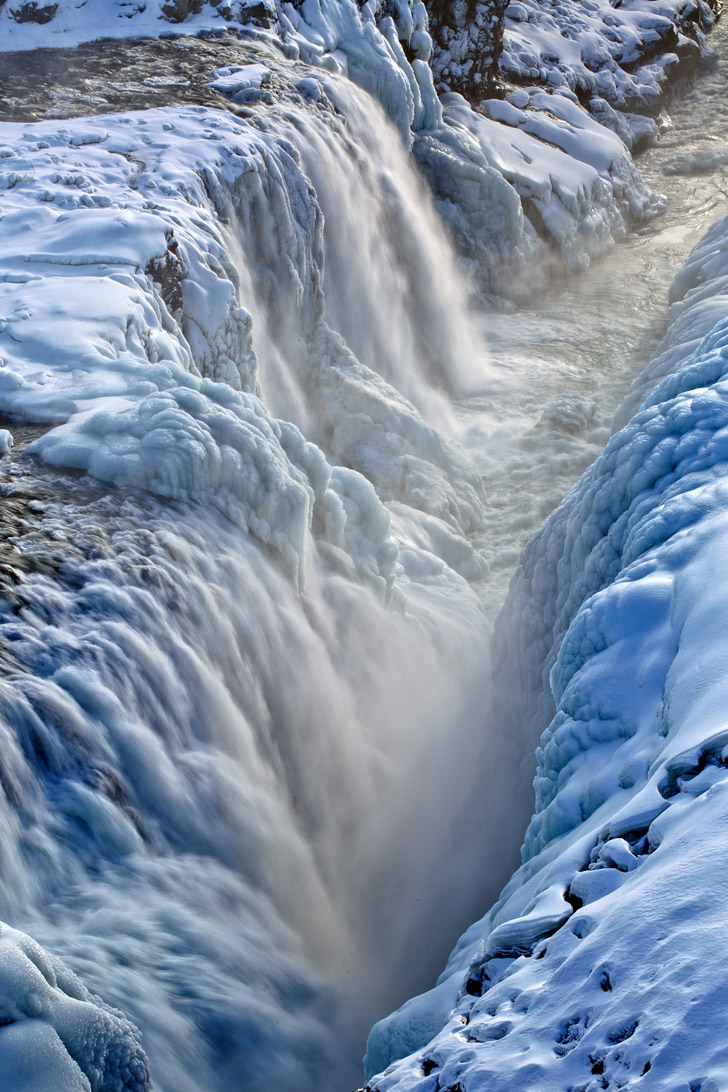 Pin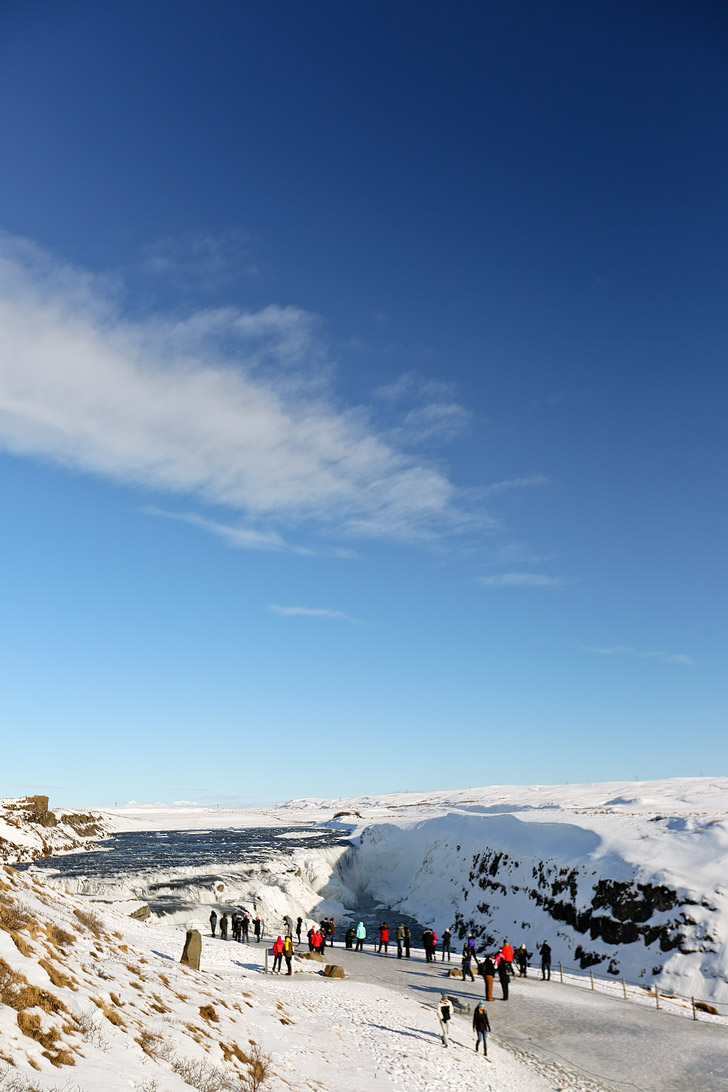 Pin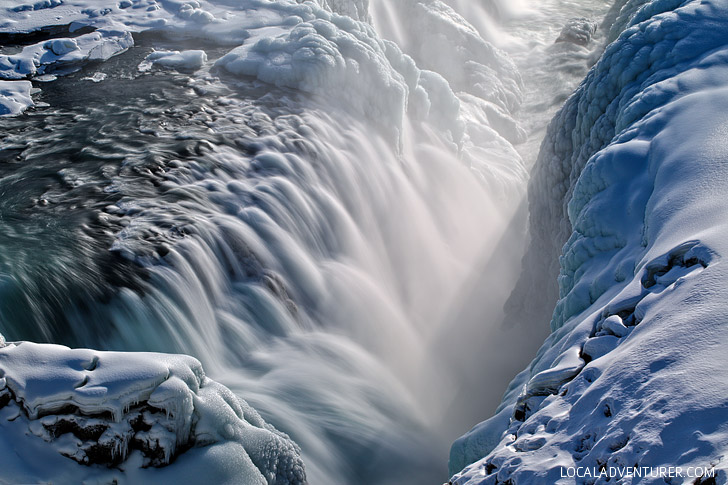 Pin
3. STROKKUR GEYSER + GEYSIR (THE ORIGINAL GEYSER)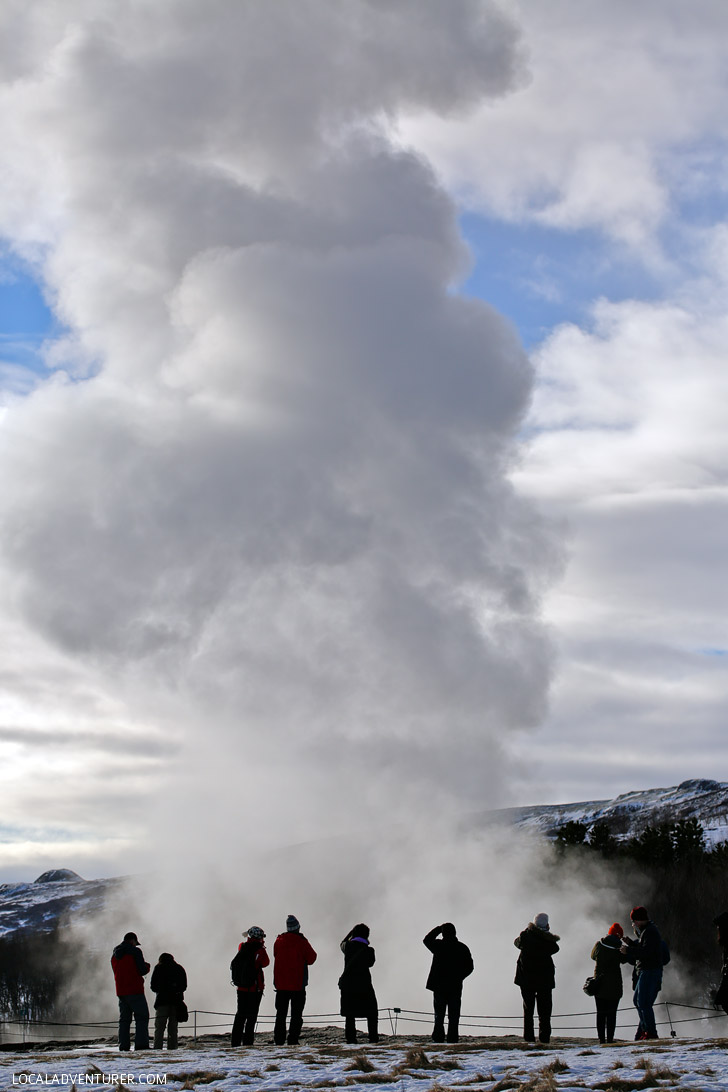 Pin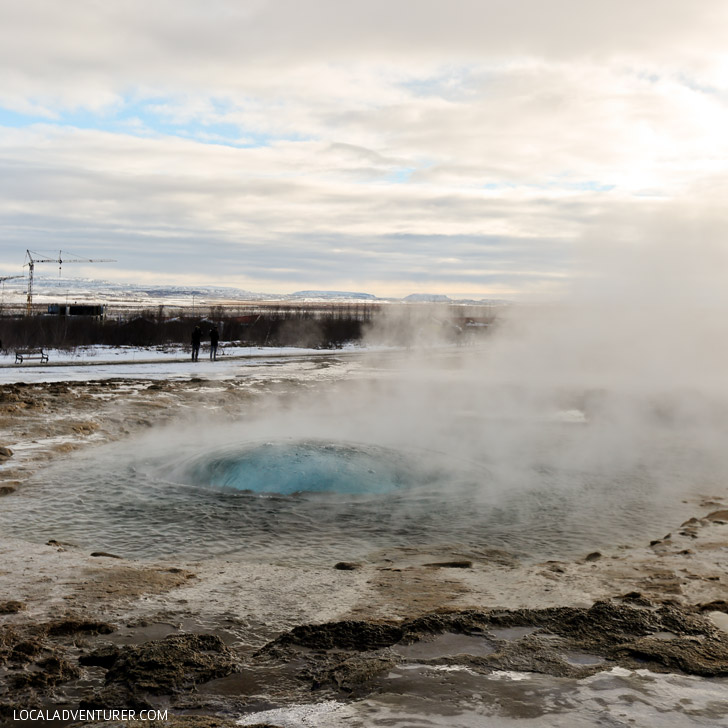 Pin
Life of a Strokkur Geyser Eruption: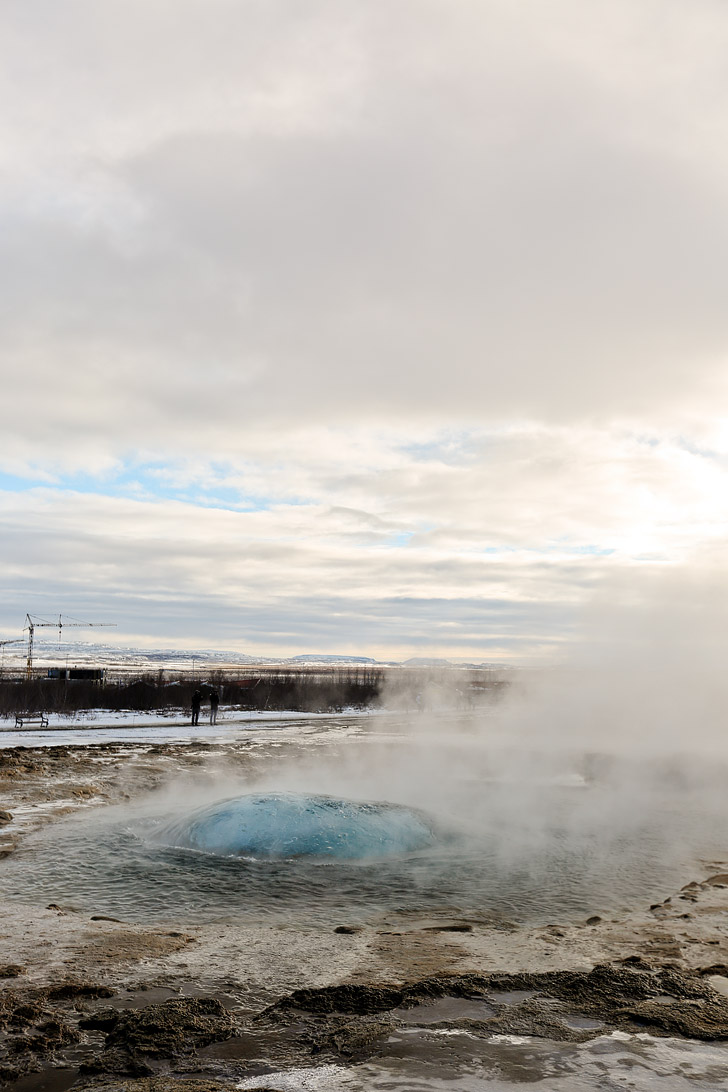 Pin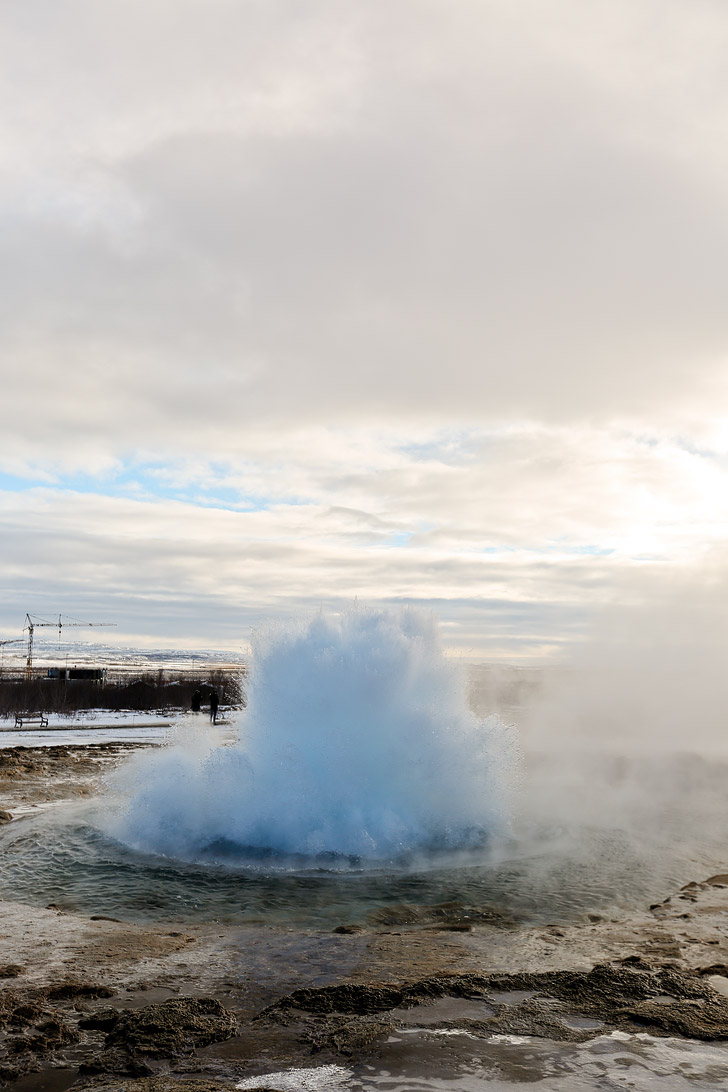 Pin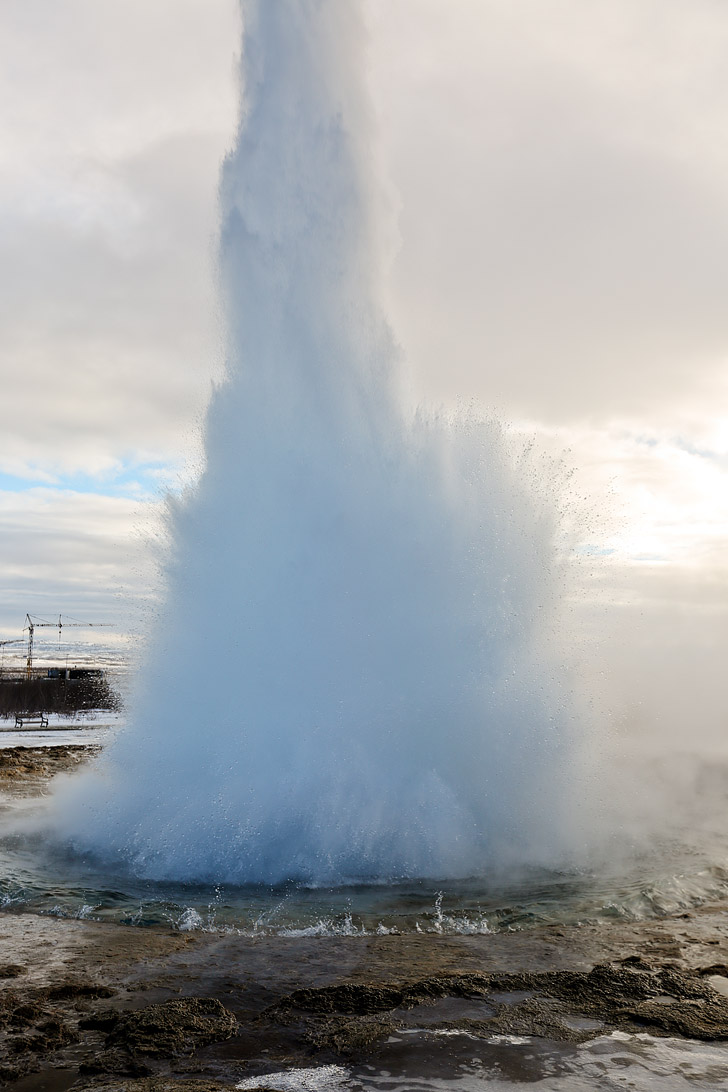 Pin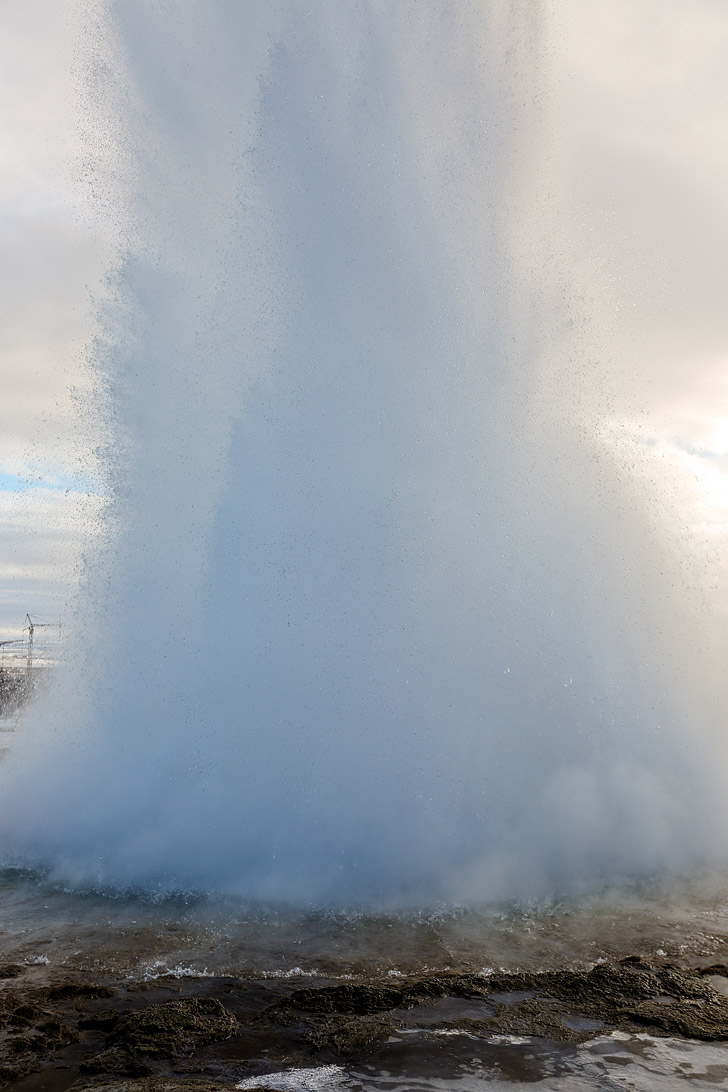 Pin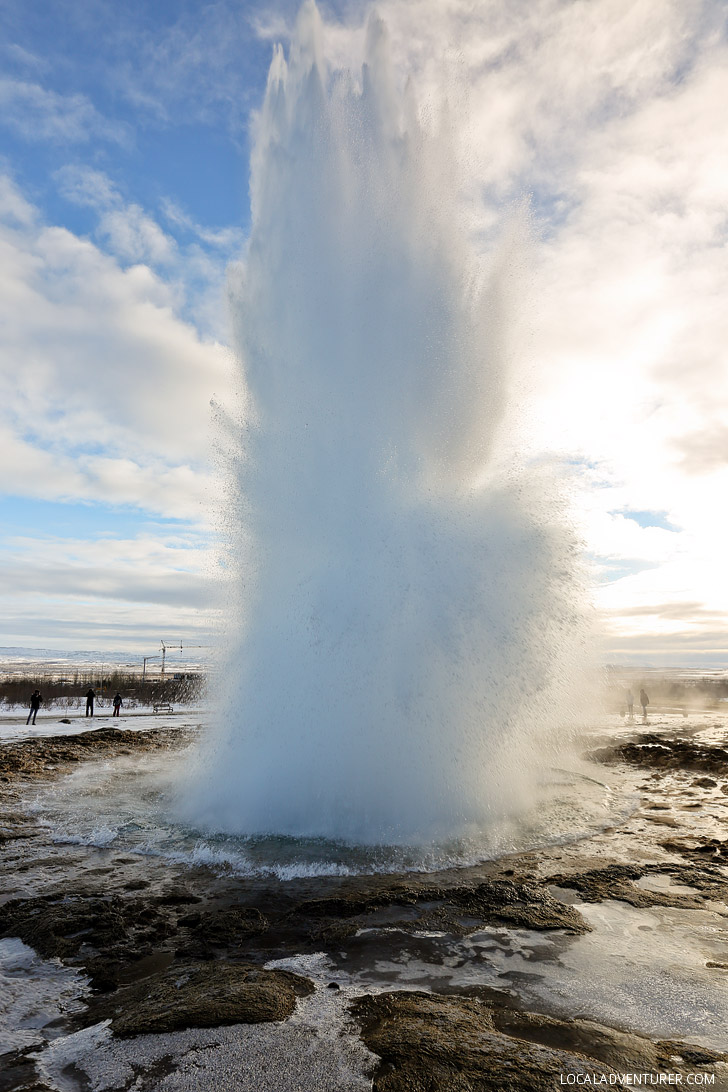 Pin
We also made a couple of extra stops since we had time before heading back. They told us it depends on how long it takes us ateach spot. We stopped by an ice cream shop and a geothermal lake. This may differ from tour to tour. Can you guess what this is on the left without googling it? First person to answer, we'll send you a small surprise in the mail!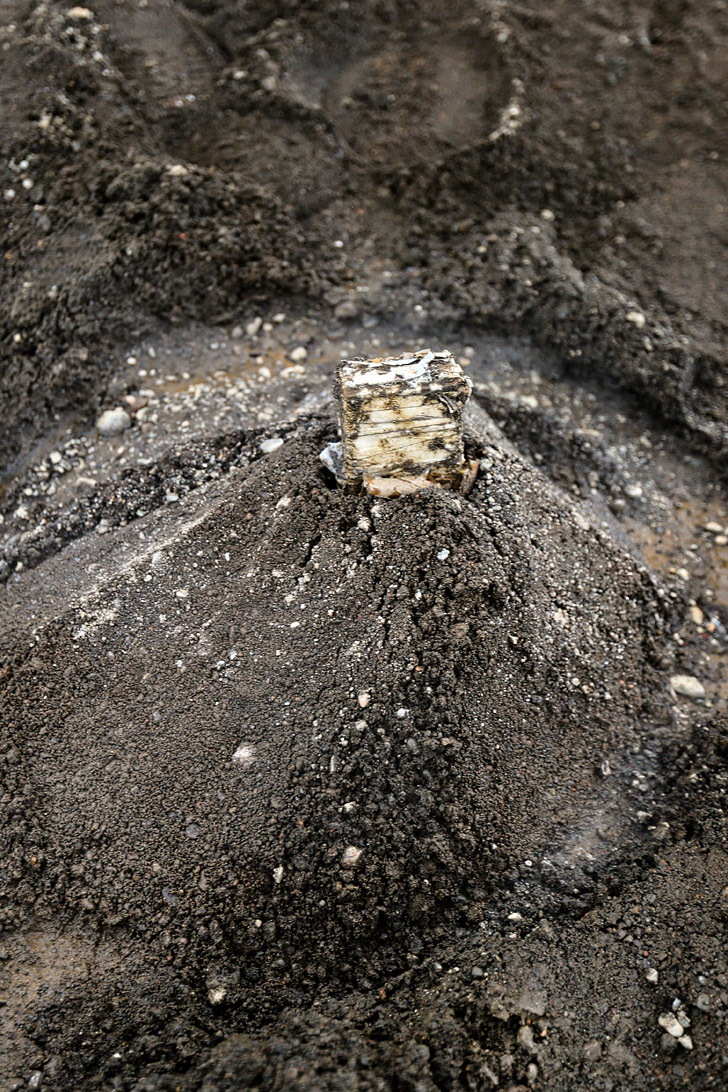 Pin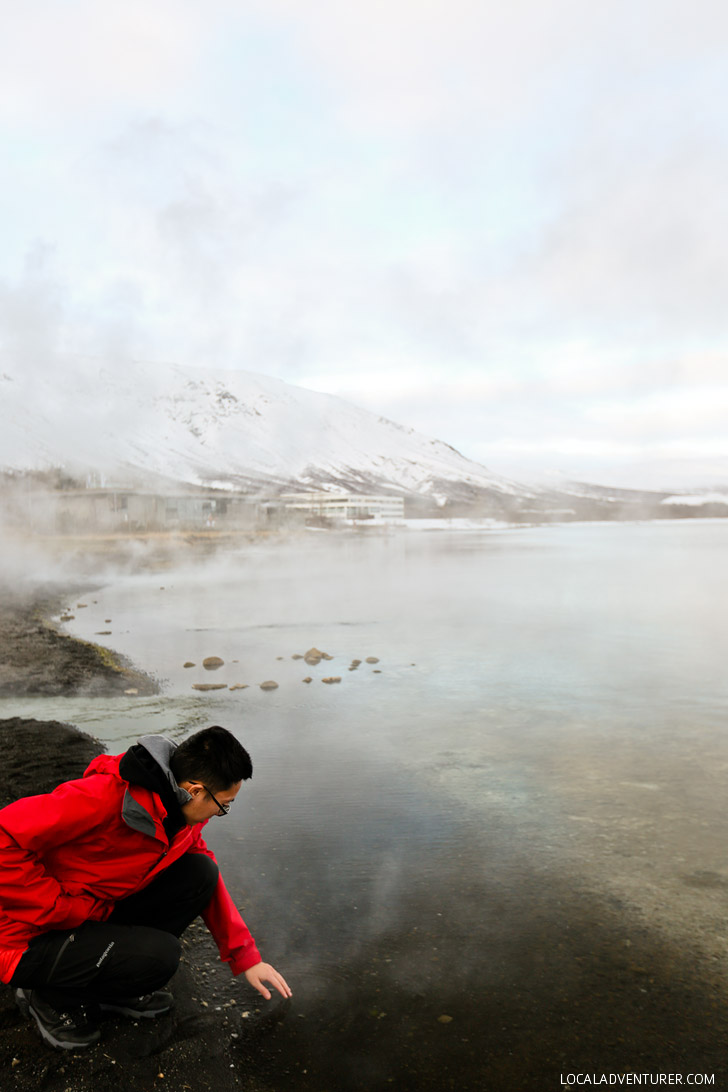 Pin
We would highly recommend the tour for anyone who wants a great introduction to Iceland. You get to see all the popular spots in one day (sleep in the car in between) and venture out onto a glacier you can't get to without a super jeep. After having spent all week exploring on our own, it was a nice change of pace to just hop in a car and see a lot of attractions without having to figure out the logistics or do any of the driving.
More Stops on Your Golden Circle Tour
Here are a few more stops if you are self-driving.
Thingvellir National Park
Kerio Crater (this isn't that impressive when it's winter and covered in snow)
Bruarfoss Waterfall
Seeing Icelandic Horses – there are tons of farms along the road. You can see them along the Golden Circle and in other parts of Iceland.
Pro Tips for Your Golden Circle Tour:
These tours are not the best for photography since each stop is so quick and tours are never during golden hour. They are more meant to snap and go. If you're a photographer and you take this tour, do it at the beginning of your visit. You get a good taste of everything, and then you can go back to specific spots you liked later for more photos.
You don't need to bring any special gear for snowmobiling. They will give you outwear, gloves, and even something to cover your shoes if they aren't waterproof.
They only do pickups in Reykjavik.
The tour runs 9-10 hours, and there is quite a bit of driving between locations.
There were restrooms at every stop.
Although they stop by some places that sell food, if you're on a budget, bring lunch and snacks with you. Otherwise, enjoy the best hot dog served on a glacier. ;) Where else can you have an Icelandic hot dog on a glacier?
You need both hands holding onto the snowmobile, so you won't be able to take any photos or video unless you have a gopro + mount. They are really strict about making sure you are holding on with both hands. Safety first!
Your hands get freezing cold on the snowmobile, so layer up on gloves. I put some hand warmers in my gloves.
Find out more about the tour here.
Do you prefer going on tours, exploring on your own, or do you do a little bit of both?
Have you ridden a snowmobile before? Is it something you'd like to try?