The last time I jet skied was during college spring break in Miami. How long ago was that? I haven't been able to gracefully accept my age just yet, so let's just say it's been a while since either of us has done it. ;) Now that we're near the ocean, we figured it's time to give it a go again.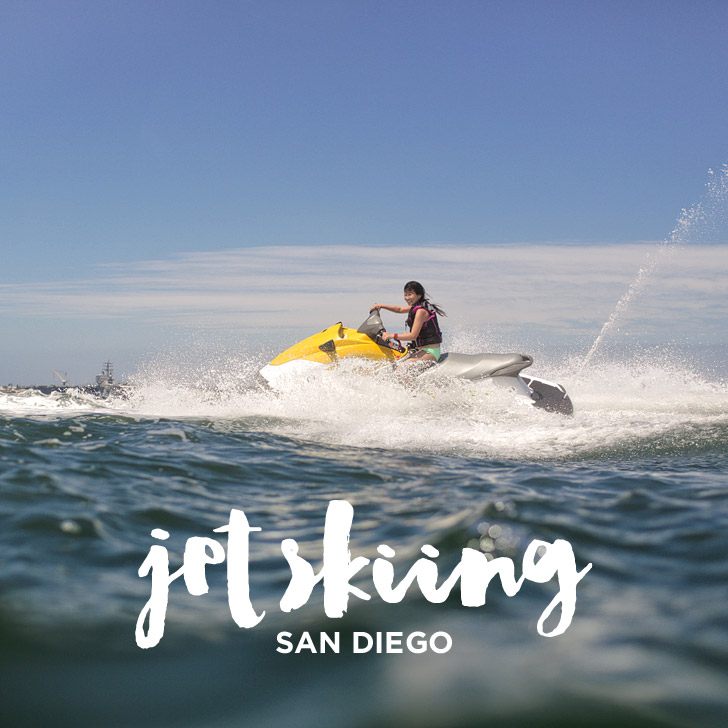 Pin
After looking around at a few different companies, we decided to book with Luxury Jet Ski Rentals. Not only did they have great reviews, but they also were the most affordable. Tyler gave us a quick rundown of how to work the jet ski, the rules of the area, and then we were ready to go!
The bay is a great area to jet ski, because you get to see a lot of popular landmarks in San Diego from a new perspective. Since it's protected from the ocean, the water is also typically calmer.
Pin

Pin

Pin

Pin
Jacob hopped into the water to get some photos of me. I wish I would have done the same for him, but the water was murky, and it freaks me out not knowing what is down there.
Pin

Pin

Pin

Pin

Pin

Pin
Pin

Pin

Pin

Pin

Video was shot with a GoPro. All photos were shot with a Canon 5D Mark III, 35 mm / 1.4 L lens, Ewa-marine underwater housing. Selfie shot with an iPhone.
Overall, we had a great time, and we highly recommend jet skiing not only as a fun water activity but also as a way to see San Diego. You get to see sea lions, the Point Loma Lighthouses new and old, the USS Midway Museum, the Unconditional Surrender statue, and even the Coronado Bridge.
We later learned that Tyler, the owner, started the company as a college student as a way to pay off his loans. You can tell that he's passionate about what he does. We were really impressed by the service and even their fancy life jackets. I kind of want to buy one of these babies for every time we do a water activity and get handed a stinky, old life jacket. :P
Pro Tips for Jet Skiing San Diego:
When you look for rental companies, be sure to check if they have hidden fees. Most companies will have additional charges for fuel etc, but everything was included on our trip.
There is a dry box aboard the Jet Ski that you can store stuff and easily access. We put our keys and phone in there and took them out whenever we needed them. Just remember not to put anything wet in the dry box.
Don't forget sunblock (do I sound like a broken record yet?)! You won't feel the heat with the wind blowing in your hair and being in the water, but you'll definitely burn.
The busiest times are June to August. On weekdays, you can still book the day of, but you should book at least a week in advance for weekend dates.
Luxury Jet Ski Rentals
$80/hr with no hidden fees
Rentals – Sunrise to Sunset
Phone – 9AM to 7PM
619.352.0754
Have you been jet skiing?
What kind of water sports do you like?