Although some airlines do a better job than others, we all know that airline meals aren't going to be your favorite meals (including if you're flying first class). Even when meals were free, they were barely edible. Well, we've discovered some in-flight hacks to help keep your belly happy while cruising to your next destination.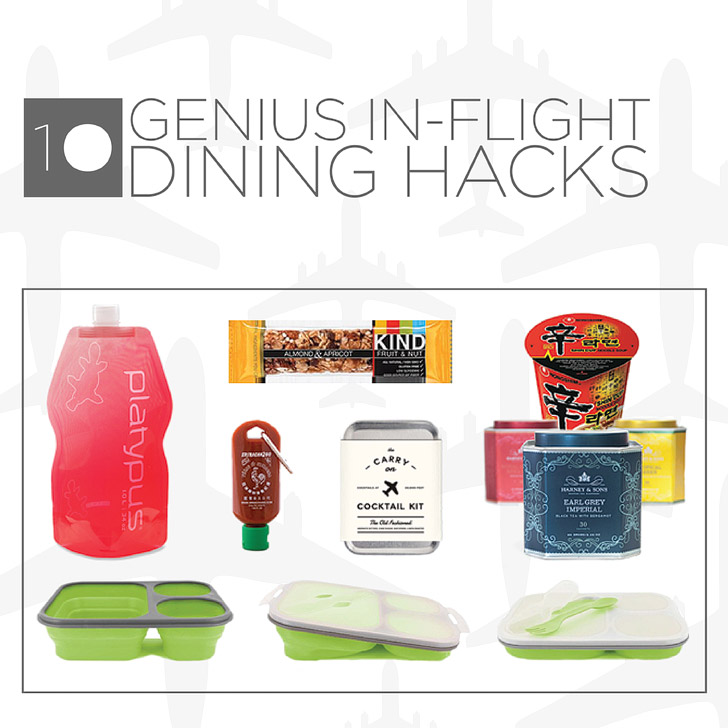 Pin
10 CLEVER TRAVEL HACKS FOR A BETTER IN-FLIGHT DINING EXPERIENCE
1. Collapsible Water Bottle
Any empty water bottle will do, but we always travel with our favorite collapsible water bottle. You can fill up at a water fountain after you pass through security, or if you have access to a lounge fill it with anything you have there! You can even ask your flight attendant to fill your bottle for you as long as they are not low on their supplies. Once you arrive at your destination, you have a convenient bottle to refill for all your adventures too.
2. Foodie Spice Kit
This is a great way to remedy any meal on your travels which includes your airline meals. If you don't want to pay the high price tag for the pretty packaging, you can pick up one of these and pour in your own favorite spices from home instead. Or if DIY is your thing, you can even put together your own ultralight spice kit!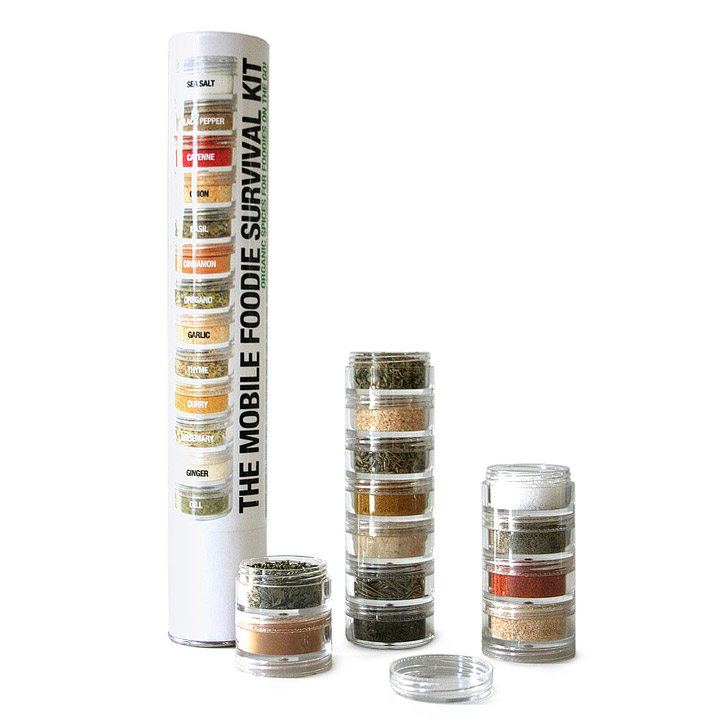 Pin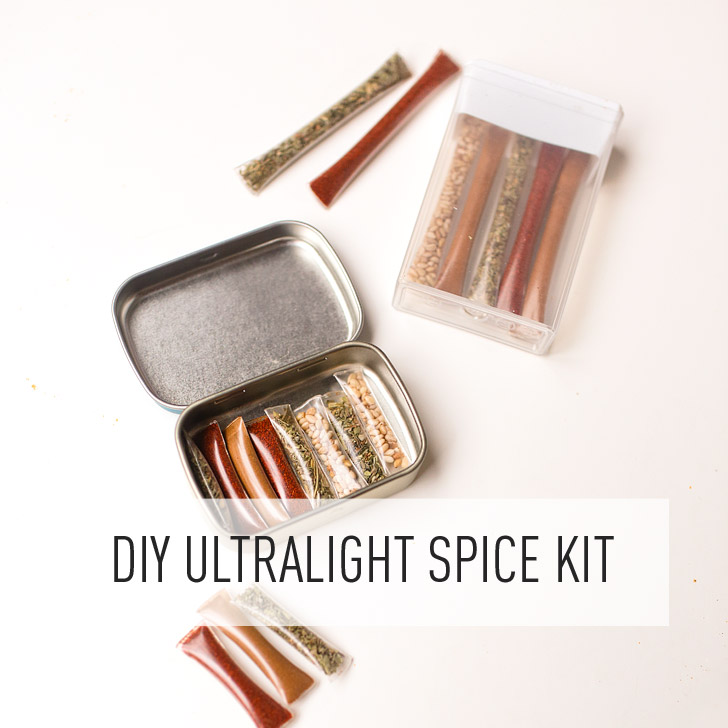 Pin
3. Sriracha 2 Go
What I think is even better than a mobile spice kit is my mobile sriracha! Everything is better with Sriracha, right?! Okay, maybe not everything, but most things can be vastly improved. This is my favorite way to make a less-than-average meal decent, and these travel-sized Sriracha bottles are the perfect way to take sriracha on the go. If you're not a fan of Sriracha, you can still use the bottles for your other favorite condiments.
Pin
4. Edible Souvenir
What better way is there to prolong your trip than bringing on an edible souvenir? Whether it's a snack, sandwich, or baked goods, pick up some yummy local eats to enjoy on the flight home. The photo above shows one of our favorite banh mi sandwiches in Atlanta paired with our Sriracha2go. I already stress out about not being able to eat through all my food options. If you have a short trip, this is one way you can fit in one more meal.
In whatever you're packing, make sure you're following the TSA rules. You can carry on up to 3.4 ounces (100 ml) of liquid or gel-like foods: Creamy dips and spreads (cheeses, peanut butter, etc.), jams, salad dressing, salsa, soups, wine, liquor, and beer.
5. Packing Healthy Snacks
As much as I love the peanuts and pretzels that airlines have to offer, nothing is worse than feeling bloated or dehydrated on a plane. Pack some healthy snacks to enjoy and be the envy of others. I always like to pack away some Kind Bars to keep my hanger at bay, and lately, we've been obsessed with these. Veggies and fruits are also great and require little prep. If you bring fruits, try to get firm fruits as they travel better (think cherries, plums, apples, and pineapple chunks). Get a collapsible food container, so it doesn't take up much space when you're done! Oh, and don't forget, if you're on an international flight, you must finish those fruits before you land!
6. Cup Noodles
These cup noodles are our favorite and make for a great meal alternative. It's not the most nutritious, but tastes delicious compared to what you're offered on an airline! All you'll need is to ask for hot water from the stewardess, and you're good to go. Don't forget to bring a plastic fork or disposable chopsticks.
7. Bring Your Own Tea Bags
Bring a few bags of your favorite tea to enjoy on the flight. It's especially great if the flight is cold! We've been doing this on all our recent travels, especially since tea bags take up so little space. This is my favorite one lately. I may have gone a little overboard on this flight: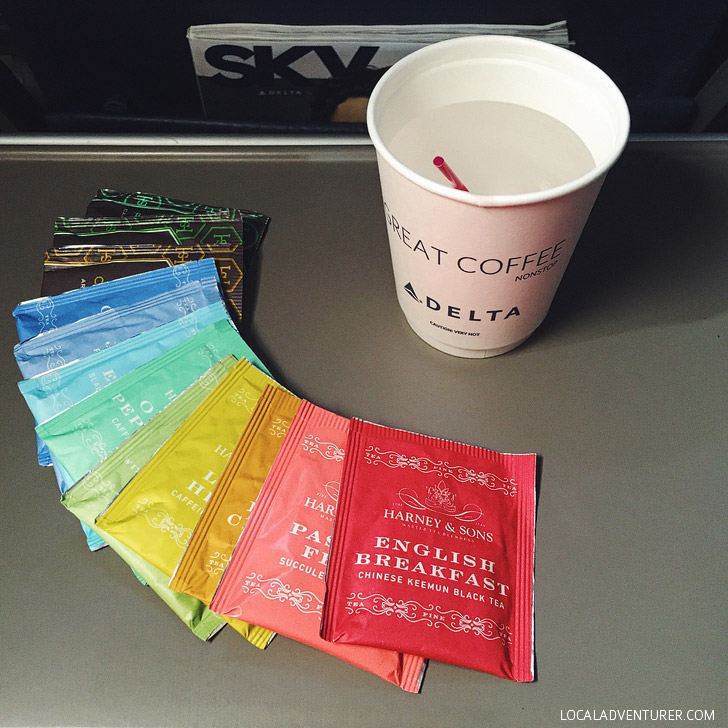 Pin
8. Bring Your Own Bar
If you enjoy a good cocktail, check out these Carry On Cocktails. You have your choice of Old Fashioned, Gin & Tonic, or Moscow Mule, and each kit includes everything you need to mix up two cocktails. You will still need to get the alcohol and mixers on the flight, which adds up to one pricey drink, but this steps up your alcohol game. If you try to sneak on some of your own booze in 3 oz bottles or ones you buy in the airport, know that it is under federal regulation that you can't drink alcohol that wasn't served to you by a flight attendant.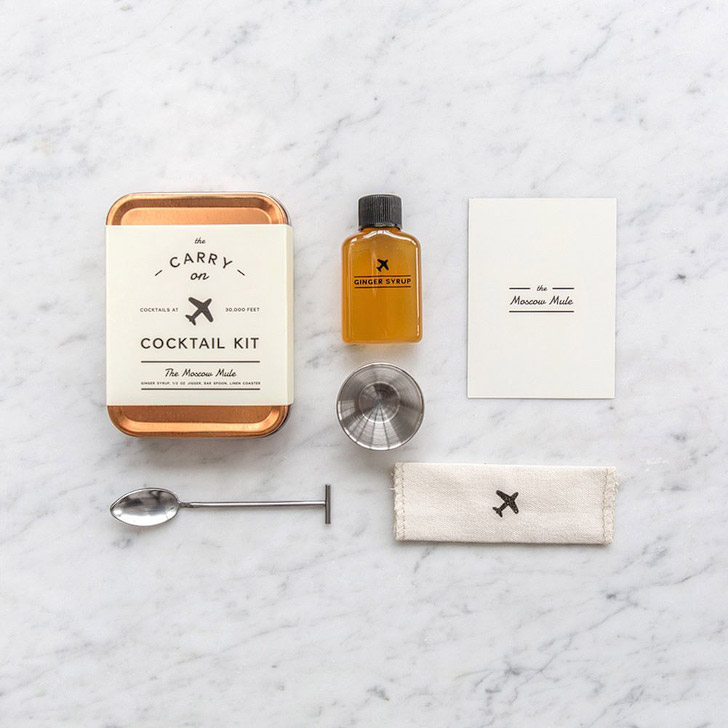 Pin
9. Freeze Your Drinks to Bring With You
Did you know you can bring your own drinks on and through TSA as long as it's frozen solid? We haven't tried this yet, and the catch is that it has to be completely frozen solid, but it's been confirmed to be true on the TSA blog.
10. Pack Some Wet Wipes
This helps when you're on an inside seat and don't want to bother other people. You can also use them to wipe down your trays and seats if you are a germaphobe like me. You can also wipe down your face and body to help you stay refreshed during your flight. They also always come in handy at your travel destination too.
BONUS. Clean Teeth
Don't get stuck on a flight with slimy and icky teeth. Pack a portable soft toothbrush, a small container of toothpaste, and floss so that you can brush after any meal or right after you board. We've even used wisps before, but they don't do as thorough of a job.
How many of these have you tried? What in-flight dining hacks are we missing? What kind of snacks/food do you like eating on a plane?