Anytime we travel, we prioritize three things: photos, experiences, and food. As a result, we always walk away with nice photos, great memories, and a few extra pounds. For a weekend trip, it's not too much of an issue. It's okay to let yourself go every once in a while, right? But it gets especially tricky when you're living on the road for 3+ months.
During our time in the Airstream, we dealt with some interesting new challenges. We were on the go A LOT and usually in the middle of nowhere. It got expensive to eat out, there weren't many options (or many good ones at least), and we didn't always want to cook.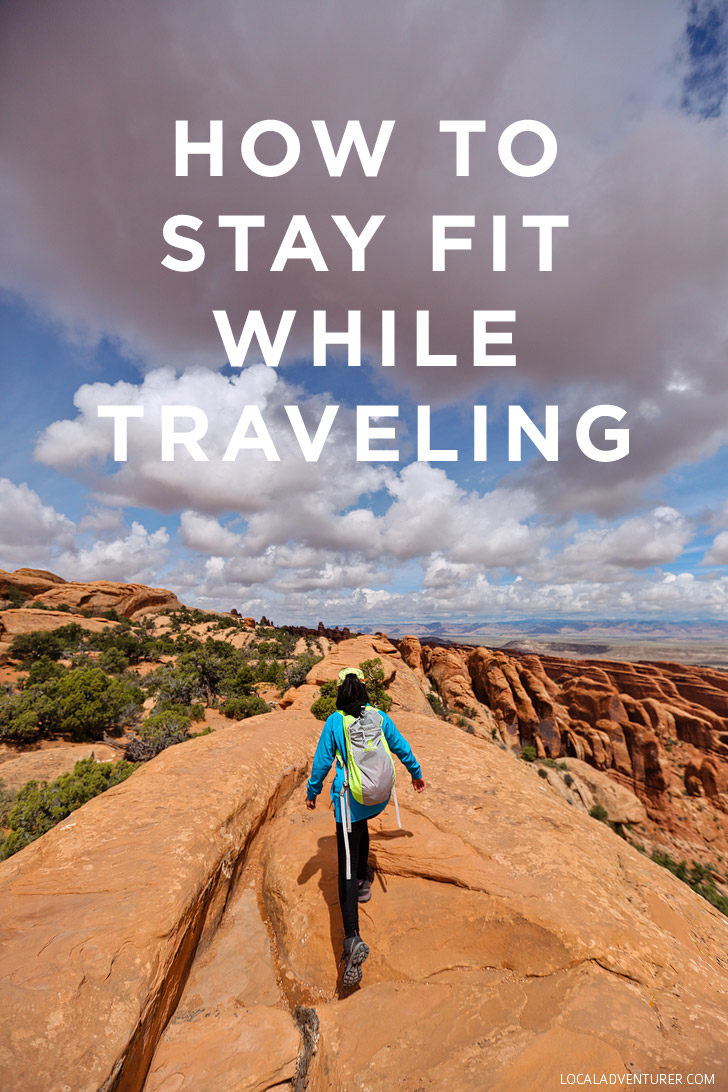 Pin
Our metabolism isn't getting any better as we get older, so we're making more of an effort towards a healthier lifestyle. I know everyone has their own way of building better habits, and not all of these may work best for you, but here's how we dealt with the new challenges that came with traveling.
HOW TO STAY FIT WHILE TRAVELING
1. Plan Ahead and Always Keep Healthy Snacks on Hand
We've found that we usually eat unhealthy when we make last minute decisions. By the time you're hungry, you get what's convenient, which in most cases is fast food. Plan ahead and you'll find that it's easier to eat healthier. A lot of people like to do meal planning and cook a large meal that's ready to eat for the whole week. We haven't gotten into meal planning yet but started thinking more about it during our time in our Airstream.
It also helps to have healthy snacks on hand. Make them easy and convenient to access. Also, you hide away your unhealthier options and make them harder to access. I don't know about you, but I like to munch on whatever is in front of me regardless of whether I'm hungry or not (which explains the constant candy eating in the car). There are plenty of options for snacks, like nuts or dried fruit that you can always have readily available anytime you're hungry. This almond & pistachio blend has been a favorite healthy snack for the road.
2. Try a Meal in a Bottle
When Jacob proposed the idea of Soylent, I was more than skeptical. If you know me, you know I loooove my food. BUT I also would rather eat nothing than eat food I didn't like (my mom always told me that my pickiness since childhood was what stunted my growth. Now, I will never know).
Soylent is basically a healthy and convenient food that gives your body the nutrients it needs in the form of a drink. Each bottle gives you 400 calories. Jacob loves it even more because it comes in under $3 per meal/bottle. After trying it, we ended up adding it frequently into our day-to-day meals. If I had to describe the taste to you, it tastes like soy milk after eating a bowl of cheerios.
I don't know about you, but we've had plenty of days where we were "too busy" to eat or end up having to stop by fast food, because that's the quickest and easiest option. Soylents ended up being perfect for driving days, hiking days, or simply anytime we were feeling too lazy to cook.
Also, ever since we've been back in Atlanta, everyone has been commenting on how much we lost weight, which has been impossible for us in the past when we traveled for more than a week. I know it's not meant to be a weight loss program, but it helped us lose weight and balance out some of our unhealthy eating habits (ie. all the candy in the car). Even though we're not living on the road anymore, we still drink them to help balance out our other meals. ;)
P.S. If you're interested in trying them out, you can use this link to get 50% off your first box! If you like coffee or need your caffeine fix in the morning, they also have a new product called Coffiest. If you end up trying either, let us know your thoughts!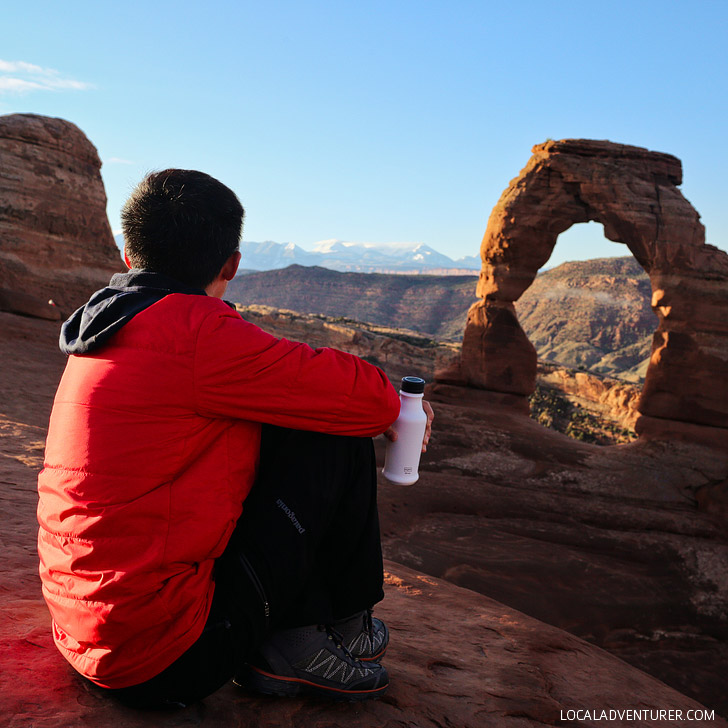 Pin
3. Drink Lots of Water
Water is food and it keeps your body flushed of toxins. Always have water on hand and drink it throughout the day. Sometimes when you feel hungry, it might be because you need more water. We always keep this collapsible water bottle with us so we can fill it up any chance we get.
4. Walk or Bike Whenever You Can
There are plenty of great walkable cities where you can explore via bike or on your own two feet. There's a lot that you miss if you're traveling by car. We also love exploring National Parks, and we always make sure to carve out more time to do some major hikes rather than driving up to the viewpoints (of course we did those too, but they were never the priority!).
5. Get a Fitbit (or Just Play Pokemon 😜)
If you need a little extra motivation to go for a walk, try getting a Fitbit. Even on days we didn't leave the house, I remember making sure I took steps in place just to make it over 10k steps. We haven't used Fitbit for a while, but when we did, Jacob and I competed against each other on who got more steps in. These days, playing Pokemon has actually gotten us out more to walk in parks or more around the block. Every day, we try to walk at least 5 km so that we can hatch an egg!
6. You Eat Where You Stop
Your healthy options are limited to where you stop. A gas station or fast food restaurant will have limited options, but have you considered stopping at a grocery store? It gives you a lot more control over what you eat. Make routine stops at grocery stores, so that you have the ingredients you need for a healthier meal.
If you're on a long road trip, a cooler is a great addition! You can keep your drinks cold and also keep some healthy perishables with you like berries.
8. Try a New Workout Class
We've tried P90x and Insanity, which are great full body workouts that don't require much equipment or a gym. It worked well for a while, but we started getting bored of the workouts. I like the novelty of trying new things, like workout classes I've never heard about before. Some fun ones we've tried recently were surfset and aerial silks. If you know you'll be visiting multiple gyms / studios, you can always try classpass. I've been wanting to try SUP yoga for a while. Anyone try it?
9. Start Small
We know that part of traveling is trying new foods, but if you're traveling long term, eating out every meal can add to your waistline and subtract from your wallet. Diets have never worked well for me. If I give myself a rule not to eat XYZ, I crave it even more! Instead, I like to take baby steps and start replacing one of my meals every day as a healthy substitute. Once I get a good handle on that, I try replacing more.
BONUS. Pick Up An Outdoors Sport
I know not everyone likes the outdoors (like me 5 years ago), so we'll leave this one as a bonus. We started bouldering at the beginning of the year at the Grotto in San Diego, but it's been a lot of fun exploring outdoor bouldering spots and climbing gyms in different cities (though we still love Grotto best! First love <3). It's the only type of exercise that I enjoy now… the type where you're not thinking about the fact that you're exercising. We even picked up these rock rings to help us train when we were living on the road.
How do you typically eat on the road? Do you have any favorite healthy snacks?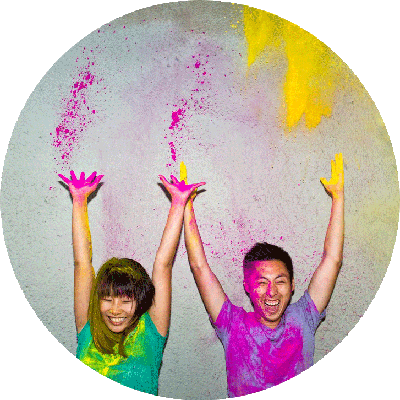 Pin
ESTHER + JACOB
Esther and Jacob are the founders of Local Adventurer, which is one of the top 50 travel blogs in the world. They believe that adventure can be found both near and far and hope to inspire others to explore locally. They move to a new city every year and currently live in Portland, Oregon.
P.S. This is not a sponsored post. We read about Soylent in a Georgia Tech Alum (go GT!) magazine and ended up contacting them because we were fascinated by how they were revolutionizing food. We love what they're doing and how much easier they've made our lives.