We've gone snorkeling and helmet diving before, but we've never considered scuba diving, mostly because being underwater in the ocean makes me feel so out of control. Maybe we also watched too many River Monsters episodes, because fish freak me out too!
After going snorkeling in Cabo with our friends, Mari and Peter, who are certified, we started rethinking scuba diving again. Since we're all about local adventures, shouldn't we give exploring the oceans near us a shot too?
We did some research and found a Discover Scuba Diving class at Oceanside Scuba & Swim Center. Rather than committing to getting certified, which can be pricey and is a much larger time commitment, we took the Discover Scuba class, a two hour class that lets you experience the basics of scuba diving in a confined water environment (pool).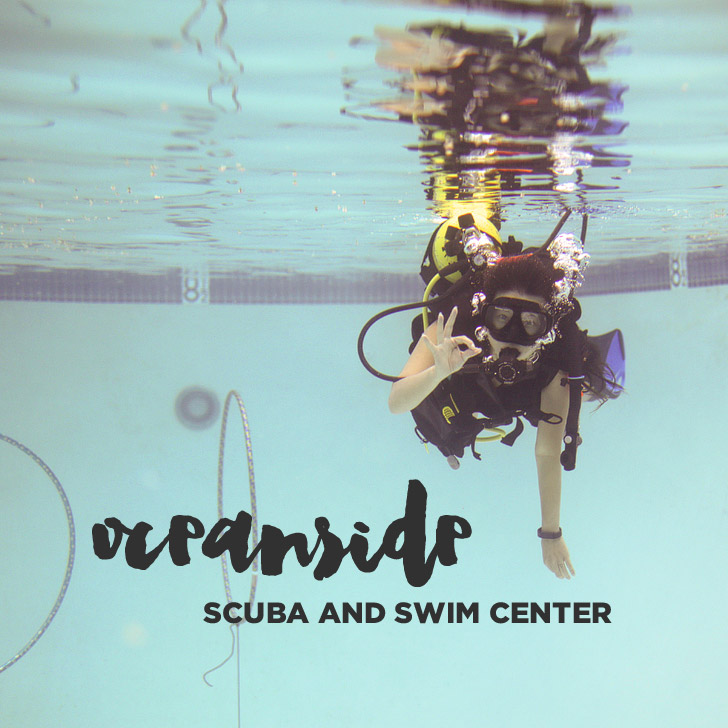 Pin

Pin
ALSO READ > YOUR ULTIMATE GUIDE TO THE BEST SCUBA DIVING IN USA
When we arrived, we met our instructor and spent some time in a classroom setting. Here, we went through a handbook of all the basic skills we would be practicing in the pool and all the safety rules.
Once we brought everything outside, he showed us how to prep the equipment. We didn't go into as much detail since it was just an introduction, but it helped us get a basic understanding of how everything works. Once we were in the water, he helped us put our vest on and we started practicing everything we learned inside.
Pin
Anytime we've gone snorkeling, I've always had a hard time with finding a mask that fit me well. I would always have water leaking in. I had no idea there were so many different shapes and sizes of masks. Guess it might be time to invest in my own mask. :) I'll let you know what we end up getting.
Pin

Pin

Pin
Pin

Pin

Pin
It definitely took some getting used to but it was a lot of fun! We even practiced maneuvering through hula hoops that he anchored in the water, which was a lot tougher than it looks with the tank on your back. We had plenty of fail shots, but I'm just going to share one. haha
Pin

Pin

Pin

Pin

Pin
Check out the VLOG:
I also wanted to say that I had the hardest time color correcting these. Have you tried using warming filters. Do you have any that you like?
Our instructor made sure we were comfortable every step of the way. Once we got the hang out of it, he let us explore on our own. The time flew by really quickly. Now, we're definitely interested in getting certified. We're hoping that we can do it soon, so we can bring you more scuba adventures.
Watch out fishies! We're coming for you!
Oceanside Scuba & Swim Center
225 Brooks Street
Oceanside CA 92054
760.722.7826
Discover Scuba Class: $99
Are you already or do you want to get scuba certified?
Do you have any scuba diving destinations on your bucket list?