Vernazza is one of the most photogenic towns in Cinque Terre Italy. It's the fourth town out of the five when you're traveling north from La Spezia. Because it seemed like a photographer's favorite, we also decided to stay here.
Though the views in Vernazza were undeniably beautiful, we didn't realize until later that it wasn't at all necessary to stay (nor was it the most ideal) since travel between each of the towns is so quick and easy (see tips in getting around Cinque Terre). Next time we come to this area, we'll stay in Monterosso al Mare or La Spezia, where there are a lot more options for accommodations.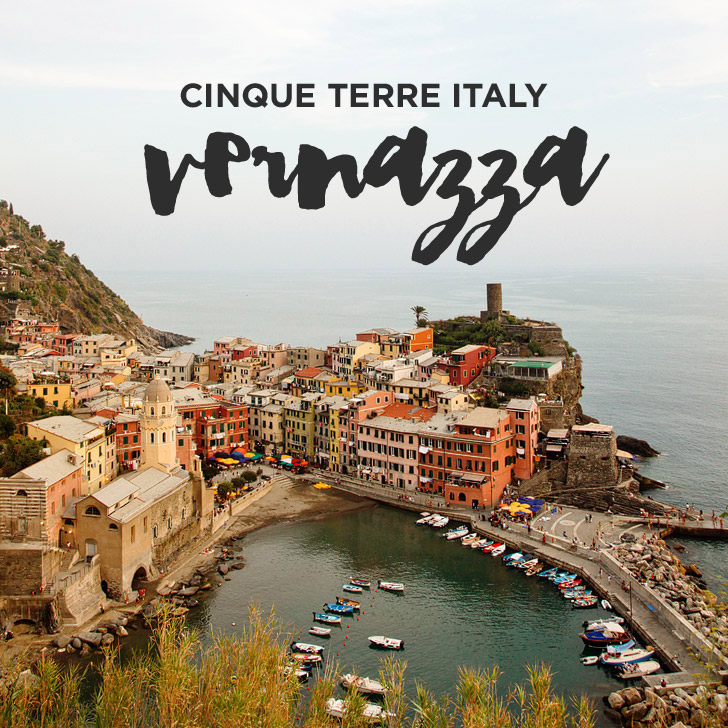 Pin
Our hotel Gianni Franzi was advertised to have AC, and we actually paid extra for a room with AC. Unfortunately, the room didn't come as advertised, and my Italian wasn't good enough to fix the situation. When you're visiting CT during the summer, the heat and humidity is pretty brutal. We had a hard time falling asleep, because we were sweating so much. Gross, I know! We tried to spend most of our time in the water or wherever we could feel a breeze!
Pin

Pin

Pin
Pin

Pin

Pin
Pin
Views of Vernazza from the hiking trail headed toward Corniglia:
Pin

Pin
Pin

Pin

Pin
Construction was still being done on the trails, so we couldn't hike the entire trail:
Pin

Pin
Pin
Pin

Pin

Pin
The restaurant connected to our hotel Gianni Franzi had amazing food. I scoured the internet and read that you must try pesto genovese since it was invented in this Ligurian region and acciughe marinate (anchovies marinated in lemon juice, vinegar, and olive oil) among other things.
We ordered the anchovies as an appetizer, pesto on trofie pasta, and spaghetti con vongole.  We were big fans of all the food we ordered at Gianni Franzi. I don't like anchovies or fish in general, but I was surprised to find that it didn't taste as fishy in the marinade and really enjoyed them. When we go back, there are a lot more foods we want to try.
Pin
Pin
There was a remote beach in Vernazza on the other side of this cave. I'm not sure if it was a nude beach, but there were definitely a handful of nude people. Maybe if it was darker, I would have joined in on the fun. Regardless, I loved getting to swim in the Ligurian Sea.
Pin
Pin

Pin
Pin
Above you see the views of the beach from our Hotel Gianni Franzi. Below is our first big jellyfish sighting in nature and the view of our hotel on the cliff from the beach:
Pin
Pin

Pin

Pin
The beach near the Vernazza Marina:
Pin
We saw cliff jumping from Vernazza, Manarola, & Riomaggiore:
Pin
You can take a 30 minute hike up and get amazing views of Vernazza at sunset.. It's the spot where all the photographers take their Vernazza photos.
Pin

Pin

Pin
Pin

Pin
We took the longer route, which maybe added an extra ten / fifteen minutes. We had no idea there was a direct path up from the main square in Vernazza. Look out for this staircase:
Pin
Pin

Pin
If you liked this Vernazza post, check out the other four CT towns: Corniglia, Manarola, Riomaggiore, and Monterrosso.
What is your next dream destination?