This slow cooker pork roast recipe was by far our favorite during our paleo month. We cooked it at least once a week and continue to cook it even now when we're off paleo. :) If you didn't already know… I'm terrible in the kitchen. So every month now, I try to blog a new recipe, which then forces me to learn a new recipe.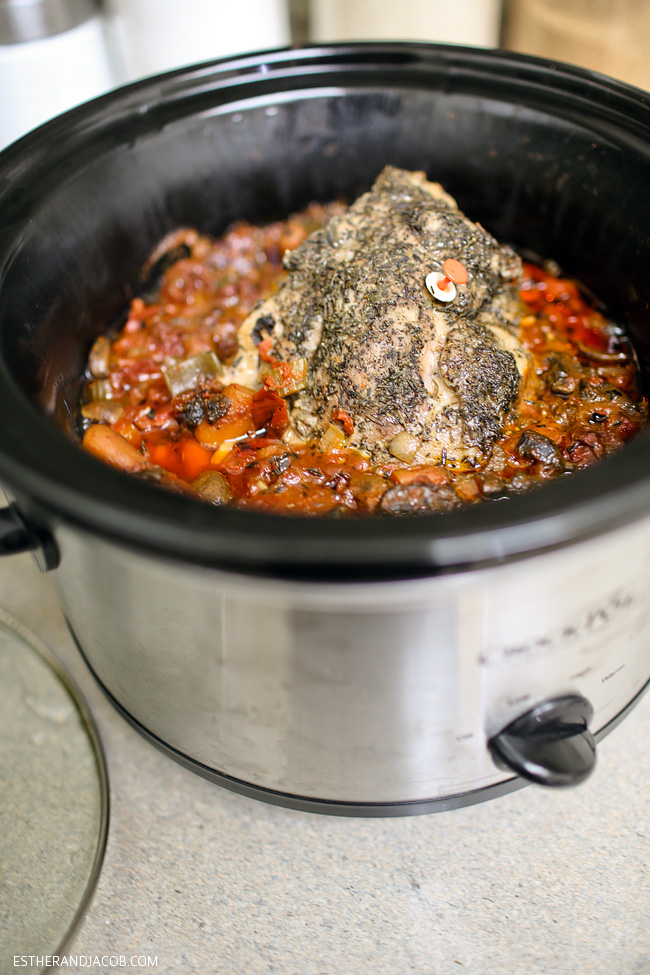 Pin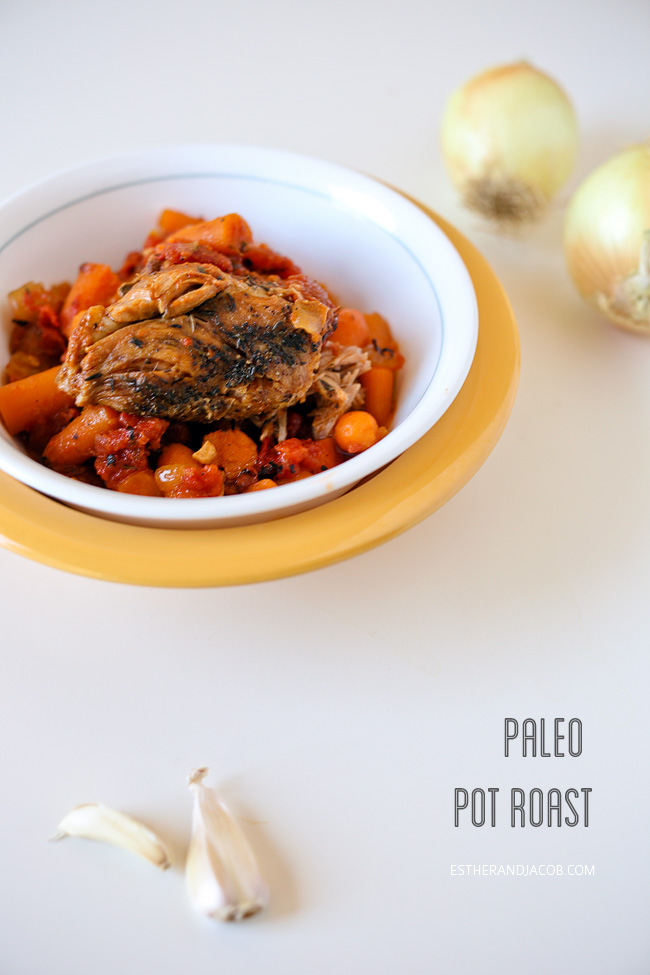 Pin
Paleo Slow Cooker Pork Roast Recipe (original recipe here):
Ingredients:
2 Tablespoons ghee (or butter for non-paleo)
8 leeks, whites only, thinly sliced (or 2 medium onions, chopped medium)
6 garlic cloves, minced
1 Tablespoon tomato paste
3 sprigs of fresh thyme (1/2 teaspoon dried thyme)
1/4 cup dry vermouth (or substitute with dry white wine / white wine vinegar)
1/4 cup organic chicken stock
1 (28-ounce) can fire-roasted diced tomatoes, drained
1.5 pounds of carrots, peeled, and cut into 1-inch chunks
2 celery stalks, cut into 1-inch chunks
2 – 2.5 lb boneless pork picnic shoulder roasts
Kosher salt
Pepper
2 teaspoons Banyuls vinegar (or substitute with sherry vinegar or red wine vinegar)
Red Boat fish sauce (this is actually paleo, whole 30, and keto-friendly)
Directions (Serves 8):
Melt the ghee or butter in a large cast-iron skillet over medium-high heat.

Add the leeks, garlic, tomato paste, and thyme to the skillet and cook until leeks are softened and lightly browned (8-10 minutes).
Add chicken broth and vermouth (or substitute with dry white wine / white wine vinegar) to deglaze the pan.
Add the leek mixture, tomatoes, carrots, celery, and a splash of fish sauce into the slow cooker.
Season the roast liberally with salt, pepper, and a sprinkle of thyme. Season overnight if you have time.
Nestle the pork roast into the slow cooker.
Cover and set it to cook on low for 9-11 hours.
Remove the thyme twigs and use a large spoon to degrease the braising liquid.
Added the vinegar, fish sauce, and salt and pepper to taste.
I do a recipe a month, and you can check out some of the others if you click on the banner below:


Pin


Pin