There aren't many things better than a simple pasta recipe. I started watching this K-drama called Pasta while I was staying with my parents in Atlanta. I was instantly hooked. I mean… these korean dramas always have some addicting element to them, but this one also happened to be centered around food. And I love food! There was one night I stayed up till 5 in the morning. It seems that I have very little self-control. All I needed to do was close my laptop at the end of the episode, but I kept letting it run. Before I knew it, the sun was rising. *sigh Guilty pleasures.
Pasta is also not a good show to watch if you are trying to cut out carbs. The way they savor each noodle when they eat their pasta makes you instantly crave it. Luckily, I had taught myself a very simple pasta recipe that would satisfy my cravings: Spaghetti Aglio Olio e Peperoncino (spaghetti with olive oil, garlic, and red chili pepper flakes). It only has four ingredients total that are most likely already in your pantry and can take less than 10 minutes to make.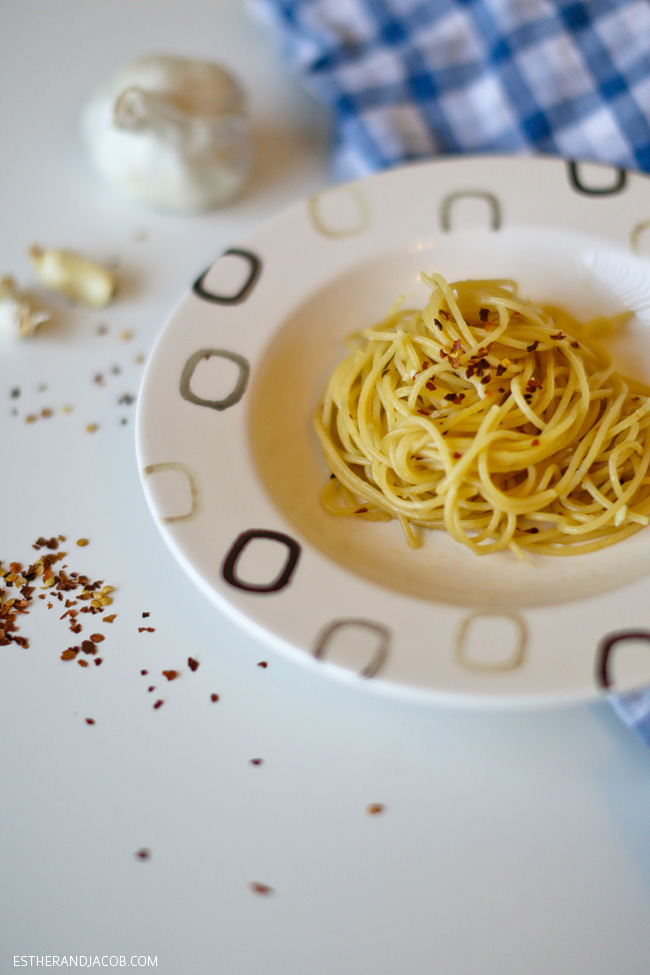 A Simple Pasta Recipe: Spaghetti Aglio Olio e Peperoncino
Ingredients (feeds 4-5 people):
16 oz Spaghetti
4 cloves of minced garlic
olive oil
red chili pepper flakes
Directions:
Cook spaghetti until al dente (according to box) and drain all the water.
In a bowl, mix the spaghetti, enough olive oil to lightly coat the spaghetti, minced garlic, and red chili pepper flakes to taste depending on how much spice you can handle.
Extra Tips:
Already tastes really good, but you can take an extra step to infuse the flavors more by mixing all the ingredients over low heat.
It's such a simple pasta recipe, so sometimes we also like to add freshly grated parmesan or pieces of bacon to make it fancier.
What have you been watching any lately? Any k-dramas? Any shows you recommend? I know Gourmet is next in my queue.

Pin