I've learned how to make doenjang jjigae (된장찌개) before but never quite got it down to the way I liked it. I remembered watching my parents make it, but I could never replicate the taste. Guess that's all part of having experience in the kitchen. If you're not familiar with much Korean food, doenjang jjigae is similar to japan's miso soup. Doenjang is a Korean soybean paste, and jjigae means stew. In Atlanta, our favorite Korean restaurants we frequented were just a 10-minute drive away. Out here in LA, we have to go through a lot more trouble to get it, which means we haven't been getting much of it.
Lately, I've been growing more and more homesick and craving a lot of the foods my parents used to cook. Korean food is definitely my comfort food and helps give me a sense of home. Back home, we would always eat a really simple meal. Rice, a soup, and maybe a few banchan (side items) with it. I know my parents aren't always going to be around to teach me how to cook, so I need to learn a thing or two while I can. I finally modified the doenjang jjigae recipe, and liked it so much I made it two nights in a row this week. Always happy when people ask for seconds without you forcing it on them. haha Success! :)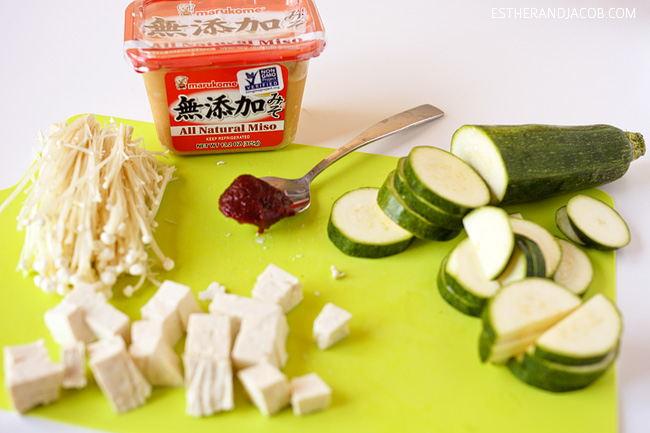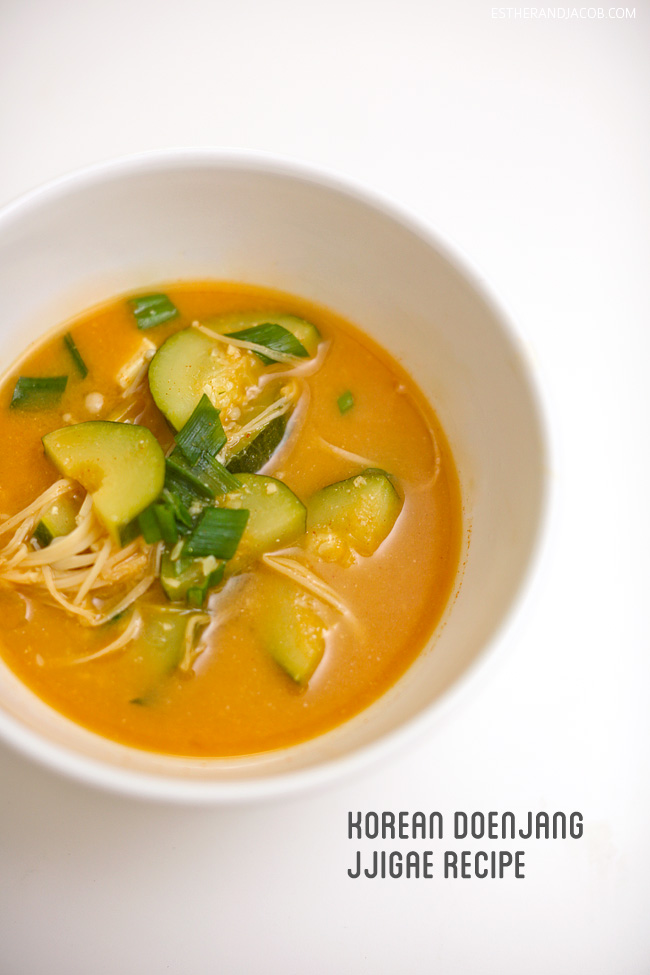 Doenjang Jjigae Recipe (된장찌개)
Ingredients
1 zucchini squash, sliced then halved
1/4 onion, sliced
5 garlic cloves, minced
3-8 Tbsp of doenjang / Japanese miso
1-2 Tbsp gochujang (Korean chili paste)
1/3 cup of tofu, cubed
half the package enoki mushrooms
1 stalk of green onion, chopped
Directions
Add the squash, garlic, and onion to a pot.
Add enough water to the pot to cover the contents and bring to a boil.
After it boils, add the miso and gochujang depending on how strong and spicy you like your soup.
Let the water boil for another 15-20 minutes
Add tofu and boil for another 5 minutes.
Add enoki mushrooms and the rest of your green onion and serve.
Notes:
I simplified the recipe by a lot. I like how it tastes, it's easier on me and ensures that I will make it again.
A lot of people use anchovies, sea kelp, and the water you rinsed your rice to enhance the flavor.
I used Japanese miso because the flavor & smell is milder, but you should definitely try both kinds.
Depending on the type of miso, you may need different amounts to achieve the flavor you like.
Add 1 Tbsp at a time. Making Korean food is usually never precise. You have to keep tasting it as you go to match it to your taste.
If you make this, please let me know how it turns out! Lastly, since it's the final day of celebrating Chuseok, I'm ending this with a post of gratitude. 1. Thank you, Jacob, for proofreading for any spelling or grammatical mistakes. 2. Thank you, mom and dad, for cooking food all those years that I have grown to miss. 3. And thank you all for taking the time to read my blog!
What's your favorite Korean dish?

Pin