Last year, a friend asked me for recommendations for travel purses, and I had to think long and hard and couldn't come up with an answer. I primarily have been using backpacks, since they function really well, but I get that they don't look stylish or go best with your outfit. Ever since, I've been on the search for a great travel tote or purse. The hardest part, always, is finding a design that both functions well and looks great.
Pin
THE LO AND SONS SEVILLE LAPTOP TOTE REVIEW
The Seville by Lo and Sons is a laptop tote made specifically with the traveler in mind. Its innovative design comprises of an inner bag and interchangeable shells to give you multiple options on the go. The shells come in blue, red, and black, and all of them come with a soft-travel shell.
Pin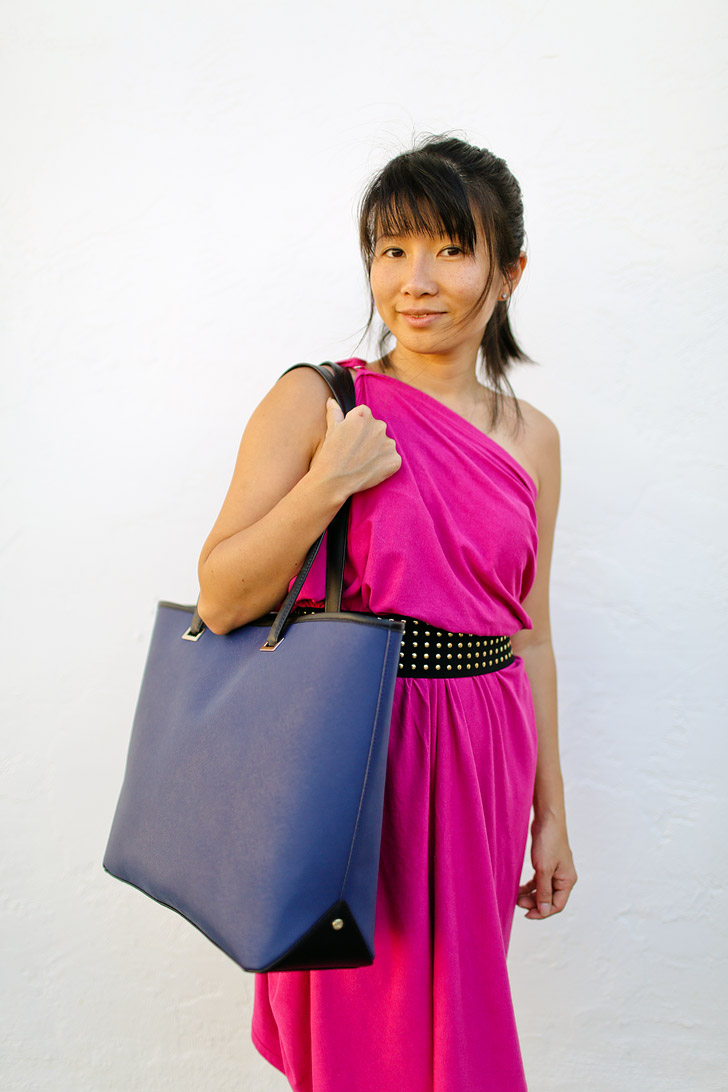 Pin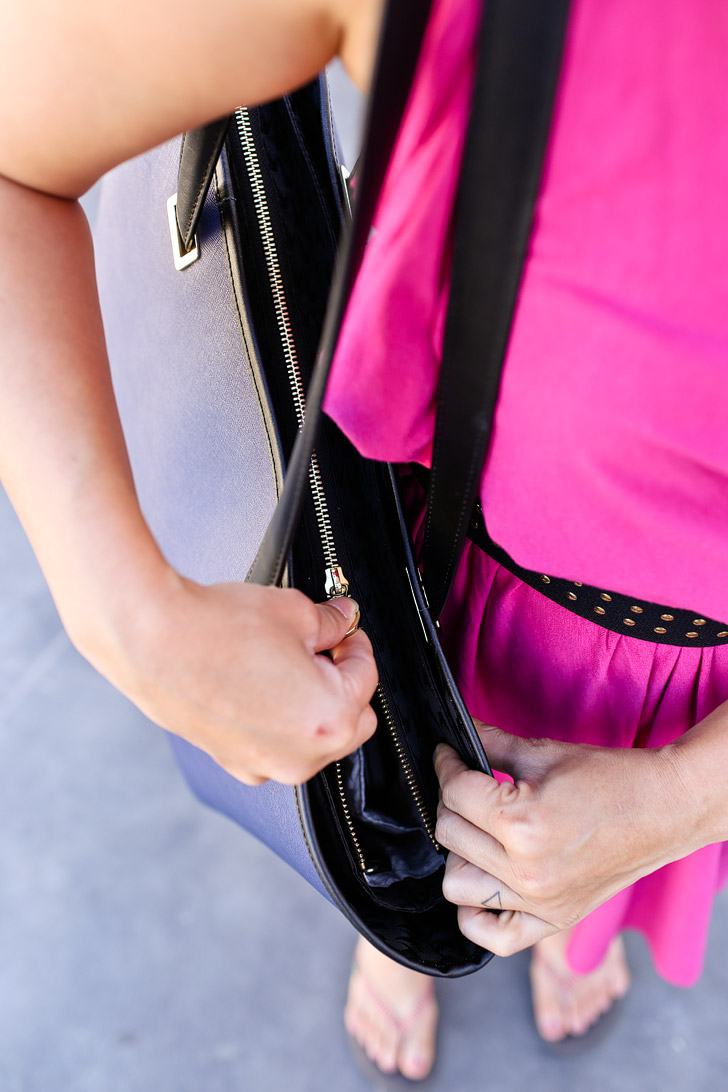 Pin
There is a zipper to keep pickpocketers out!
The inside fits up to a 15" laptop and there are multiple organization pockets. I love my pockets!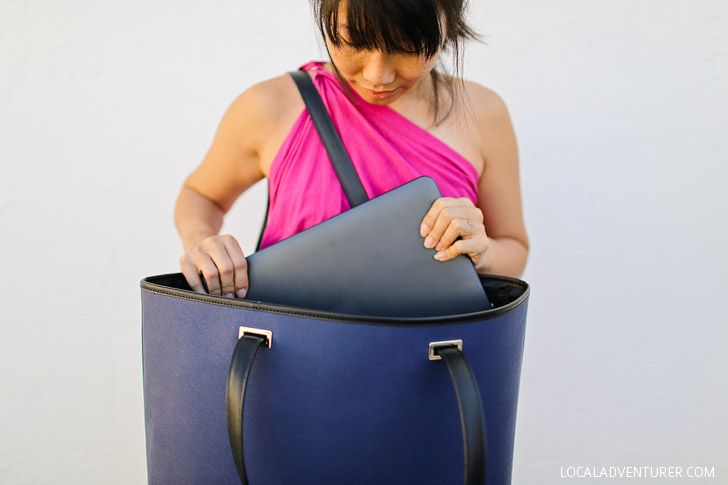 Pin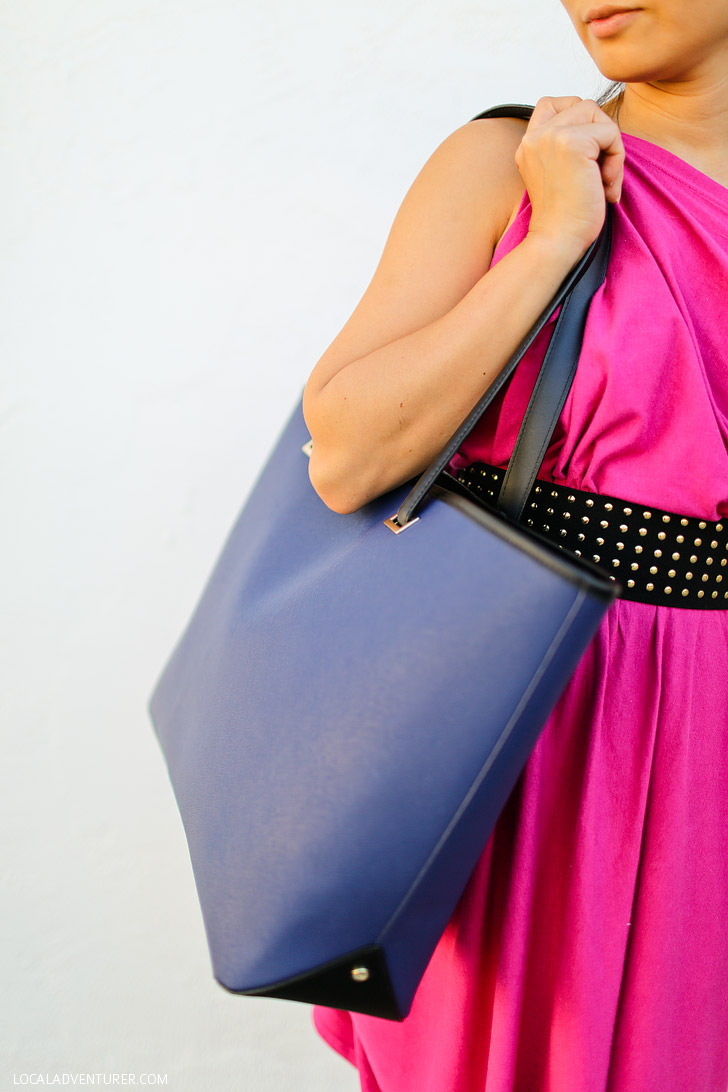 Pin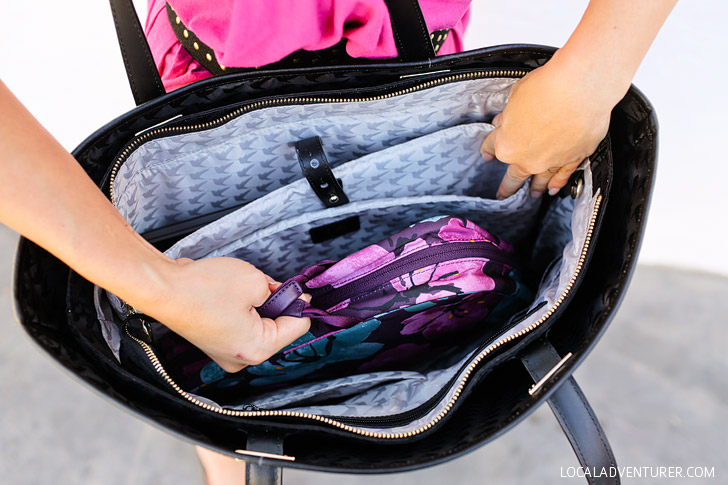 Pin
Here I am Korea in cold weather (left) and Indonesia with tropical weather (right).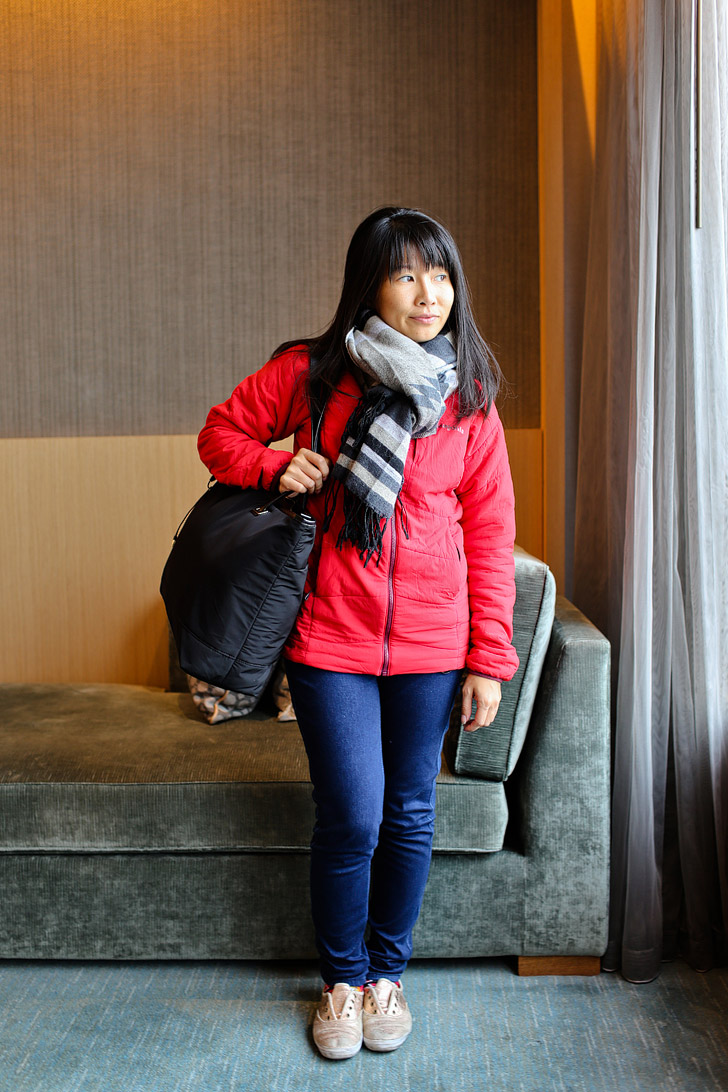 Pin
Pin
Also, I was pretty much sold after watching this video:
After spending 25 days abroad with this tote, here are my thoughts:
The Good:
Space – It had plenty of space to carry all my essentials for a long flight.
Pockets – I loved how many pockets it had and it made organization easy.
Interchangeable shells – you have the option to easily change the look of your bag.
The soft touch shell has a built in sleeve so I can rest it on top of my luggage when I'm wheeling around.
Zipper! Most totes don't have zippers. Pick-pocketing does happen, and it gives me sound of mind from anyone reaching in and grabbing something while I'm not looking.
The Not-So-Good:
I'm a petite person, so the bag is a little bigger than I would like for my size, but I understand that a travel tote needs to be big enough to carry all my essentials. #smallpeopleproblems
The weight of the outer interchangeable shells. Most of the time, I ended up using the soft-shell which is much lighter and super functional.
Overall, I'm happy with the design and can tell they've put a lot of thought into the bag. I'm excited to use the tote on future trips, and if there's anything else I notice, I'll update this post! :)
THE LO AND SONS RHODES DUFFEL WEEKENDER BAG
Jacob is really into duffel bags, so he checked out the Rhodes Duffel Weekender Bag. It was tested to its limits because he packed 25 days in it. The bottom is a different compartment so you can keep your shoes or other dirtier items separate from your clean clothes, and there is a small zippered pocket on the outside to keep anything you need quick access to.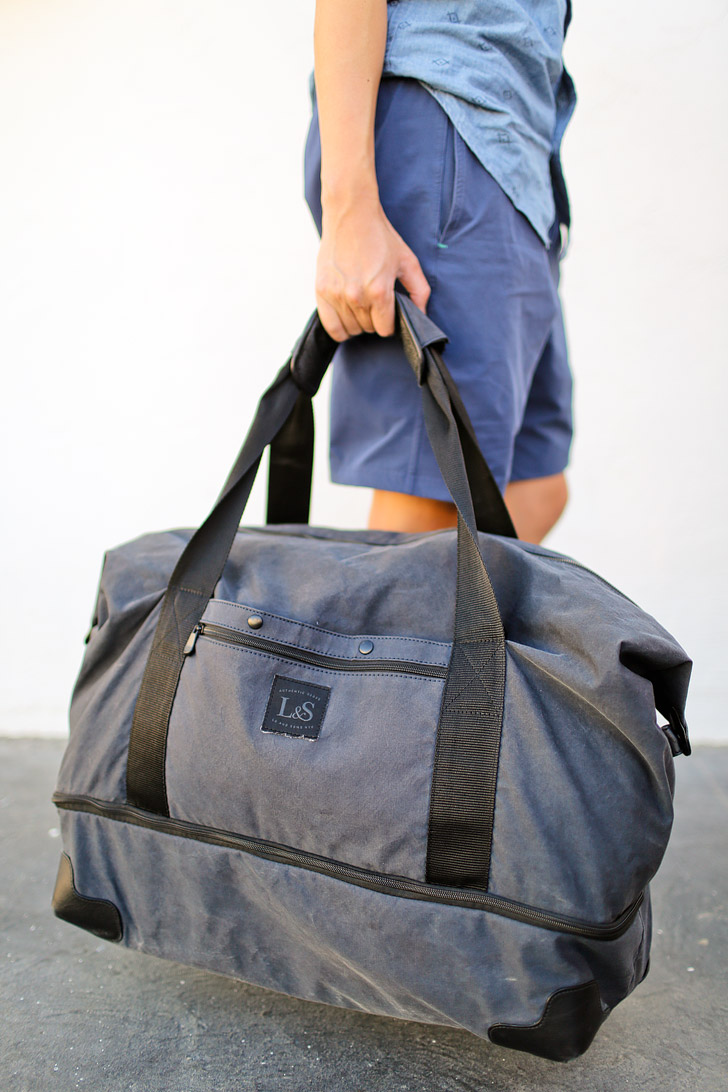 Pin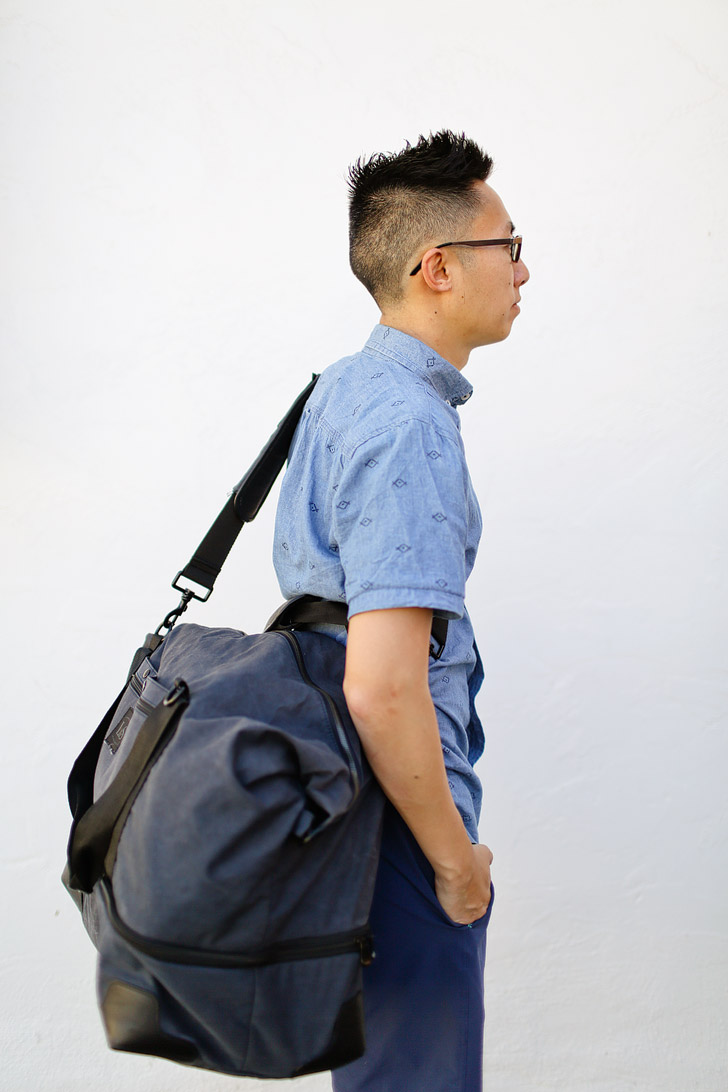 Pin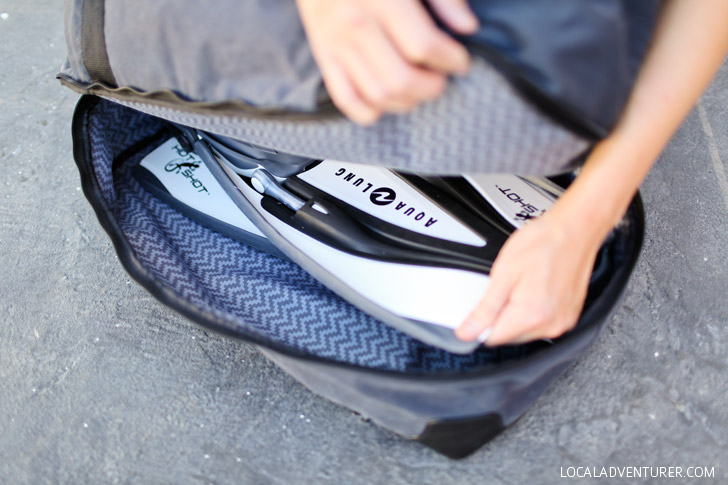 Pin
The Good:
It only weighs 2.6 lbs, so it's fairly lightweight.
It is spacious enough to carry a lot. This thing is a workhorse! Jacob packed it to the brim and it was able to handle everything with no problem.
He took out the padded lining in the bottom section and carried our snorkeling gear there. The inside also has a few pockets to help keep items organized and even when it's fully packed, he never had issues throwing it into the overhead compartments.
The Not-So-Good:
When duffels are fully loaded, they can get heavy on one shoulder. If you're packing for a month long trip where you move around a lot, a backpack is probably the way to go.
The shoulder strap could use a longer padded area for extra comfort.
The waxed twill exterior looks great and is durable but still has its limitations if it gets dirty. It's not meant for rugged travel.
Obviously, he wouldn't take a duffel on anything more adventurous, but it's great for any weekend or city trip. You can see a video of how to pack the Rhodes here.
The moment we took the lining out to pack our fins, our cats hopped into it. haha Looks like Sebastian enjoys using the insert as a bed.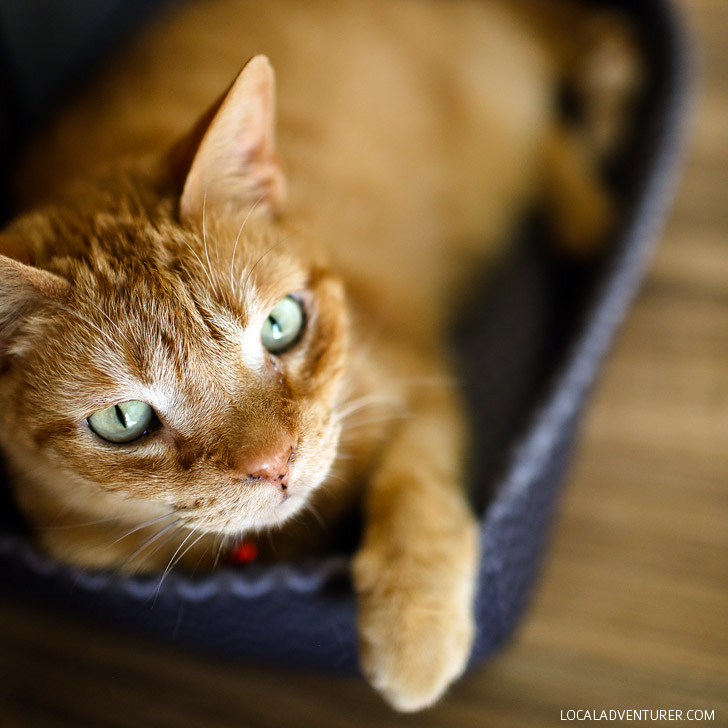 Pin
To check out all the specs and details of the bags, visit Lo & Sons here.

Do you have a favorite travel purse, duffel, backpack, or suitcase?
What do you look for in your travel bags?
We reached out to Lo & Sons and received these bags in exchange for a review.
All opinionst are our own. Thank you for supporting the brands that make Local Adventurer possible.