If you're new to the blog, then you'll quickly find that we have been obsessed with finding the perfect travel bag. Since we're always on the go, a good bag is essential, and we're constantly on the hunt for a travel bag that works well with all the gear we carry.
I remember seeing Aer on Kickstarter a couple of years ago promoting their new concept for a bag, and I'm excited to bring you our Aer Duffel Pack review!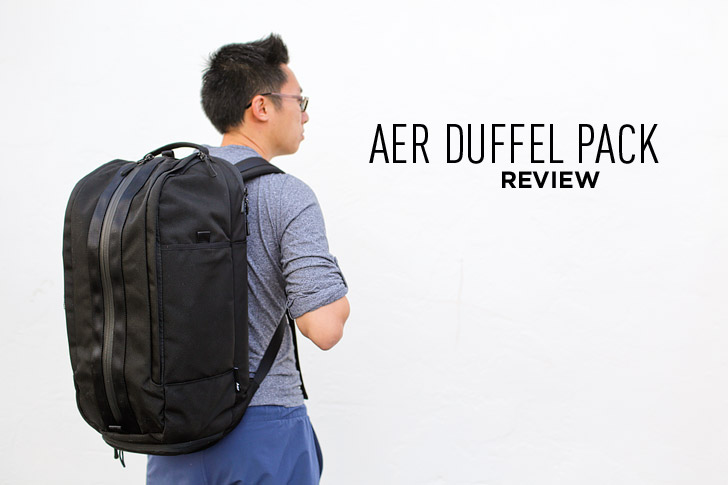 Pin
WHAT THE AER DUFFEL PACK IS MADE FOR
This bag was created to be the perfect bag for anyone with a desk job and active lifestyle. The duffel has a unique design to store your gym and office essentials while staying functional in both spaces. A dedicated space for your shoes, easy to open large main compartment, and padded laptop sleeve make it great for the dual purpose.
SPECS
Dimensions Length: 22″ (56 cm)
Width: 12″ (30 cm)
Depth: 7″ (18 cm)
Volume: 24L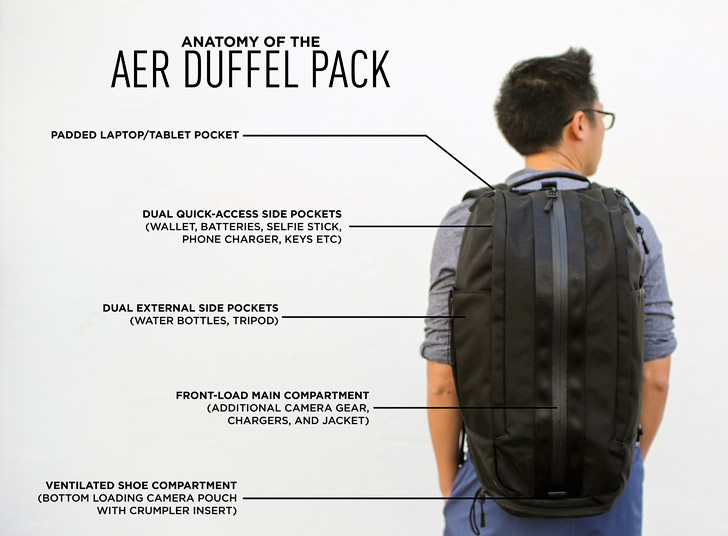 Pin
HOW WE USED THE BAG
Since we don't have an office job and typically work out at home, we wanted to test the bag out for traveling purposes. I repurposed the shoe compartment to carry our camera gear with our Large Crumpler Insert. It doesn't fit into the shoe compartment on the wider side, but can be maneuvered in sideways.
Pin
Pin
The main compartment was used to carry some additional gear, like our 70-200 lens, laptop charger, and jacket.
Pin
The side pockets stored away our chargers, headphones, selfie stick and a few other miscellaneous items. Lastly, I put my GorillaPod in the bottle holder on the exterior of the bag.
Pin
Pin
I used the laptop section to carry both our laptops, a 15 and 13 inch. (We need both to work on the road.)
Pin
WHAT WE LOVED
The vertical zipper for the main compartment made it easy to access everything. You don't have to dig deep into your backpack to find something.
It handled the weight like a champ. The padded shoulder straps and mesh back panel gave plenty of support and breathability.
The different storage pockets helped us keep everything organized and this bag reminds me why I like a bottom-loading pocket for our camera gear.
WHAT WE HOPE TO SEE IMPROVED (for our ideal travel purposes)
I would like to see a wider loading section for the bottom pocket. It works well for shoes or dirty clothes (which is what it's built for), but it's a bit snug getting our camera insert in and out with ease.
Compression straps would be nice so that I can make the bag as small as possible. I can see how this can take away from the aesthetic of a bag (which is probably why many bags don't have them), but during our travels the functionality of compression straps help a lot.
Although I wanted to like the idea of how they did their external side pockets, I think a traditional mesh all the way through would have functioned better. I had a hard time getting items snug in there without worrying if they would fall out.
You can tell that the folks over at Aer really thought through the design and created a beautiful and functional bag. Overall, the Aer Duffel Pack is great for what it's built for. Anyone looking for a bag to take to the office and gym should definitely pick one up! However, if you're looking for a travel bag, it works but isn't our ideal travel bag. We have heard that they are working on a travel bag, though, so I'm excited for what they come up with!
Find out more about the Aer Duffel Pack here.
They are currently offering 2 deals until Monday, Nov 30:
$15 off the Duffel Pack (use code THANKS15)
$40 off the Holiday Bundle: Duffel Pack & Fit Pack
Would this bag be a great fit for you and your lifestyle? Why or why not? Are you picky about what you look for in a bag? What are the top things you look for? Let us know in the comments below.