This lemon citrus spinach salad recipe was introduced to me by my friend Jess and I've been making it for every other meal since! :) I wouldn't say that I have the healthiest eating habits. Every so often I'll try out the paleo diet (and I've been really curious about the juice cleanses), but in general I just ate what I thought tasted good. Lately many of the people around me have been having health issues, and it made me realize that maybe it's about time that I started taking care of my body. All the unhealthy habits will eventually catch up to me.
I know that salads are sometimes disguised as healthy but end up being more unhealthy with all the added dressings and toppings, but this one is actually is healthy. It's also yummy, refreshing, and perfect for summer. But we'll probably eat it year round!
Also, I am completely obsessed with my new mandoline. I slice and julienne everything with this now.. I guess I never learned proper knife skills to cut things beautifully, but maybe now I don't have to! This makes it way too easy. :)
Pin
Pin

Pin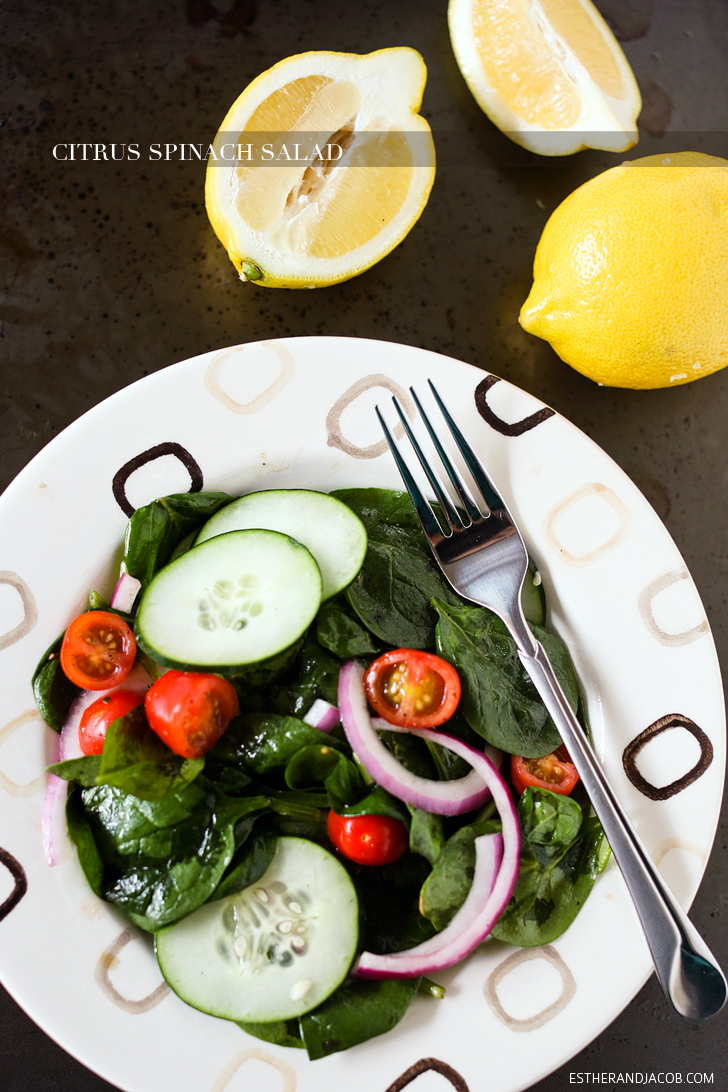 Pin
Lemon Citrus Spinach Salad Recipe (adapted from jesslizama):
Ingredients:
2 Tbsp balsamic vinegar (we like 12 years aged)
1/4 cup fresh squeezed lemon juice
1/4 cup extra virgin olive oil
Sea salt, to taste
Cracked black pepper, to taste
8 oz package of spinach
1 cucumber, thinly sliced
1 cup cherub or grape tomatoes, halved
Directions:
Mix the balsamic vinegar, lemon juice, olive oil, salt and pepper in a small bowl.
In a larger bowl, toss the spinach with the dressing.
Leave for a couple hours, while tossing every so often, to soak in flavors and take out the bitter spinach taste.
Chef's Notes:
It actually tastes even better if you leave it overnight. The lemon keeps the spinach from wilting too much.
We usually buy the 16 oz packages at sam's club or costco and split it to make this salad twice.
My photos of my beautiful thinly sliced onions artfully arranged. This gives me so many food art ideas.
Pin

Pin
What is your favorite salad you've had or made? 
I do a recipe a month, and you can check out some of the others if you click on the banner below:


Pin

Pin