We're currently in Zion National Park. We have our permits for hiking the Narrows and got here yesterday to set up camp and prep ourselves for today. Hopefully, the trails will still be open for us. There was a bit of rain over the weekend. If not, we'll have to apply for permits again and wait until May.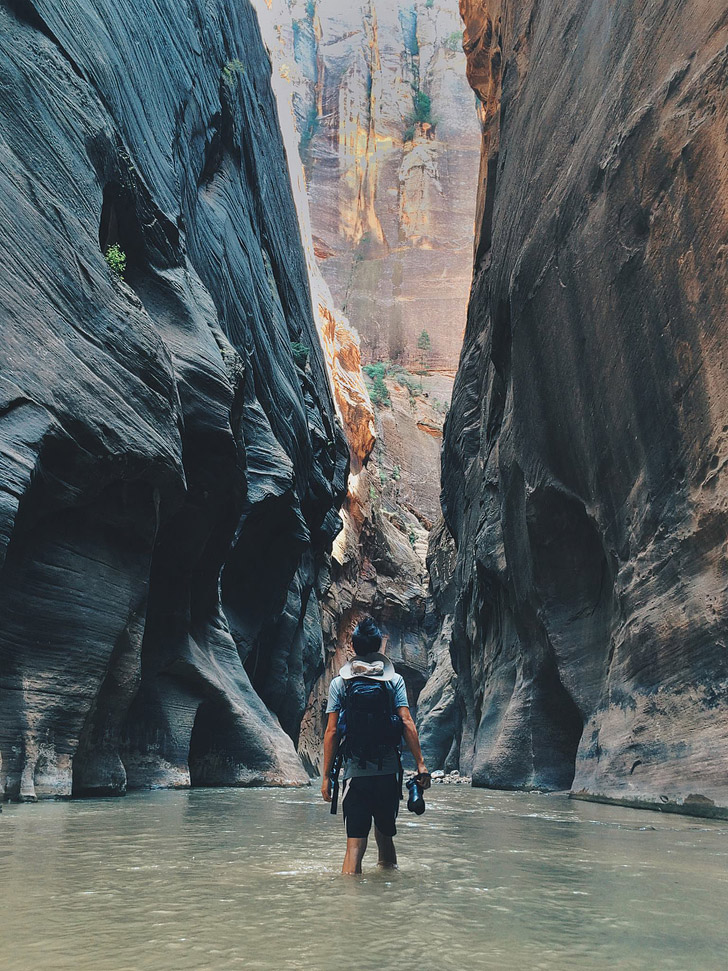 The older I get, I realize that I am becoming more and more fearful of things. I didn't realize until we hiked Half Dome that I was afraid of heights (Kind of alarming to realize the moment I was about to go up the cables). Over recent years, I've noticed I've been collecting little fears here and there. I was fearless as a kid, and I don't know where they came from or how they developed. All I know is I don't like the fearful person that I've become and the only way to go is through it.
Pin
FEARS I NEED TO OVERCOME WITH HIKING THE NARROWS:
That I won't make it. We hike, suuure, but definitely not regularly. We took many months off of hiking in Vegas during the hot summer months, and have only gone once since fall started. Also, the guy at REI who did the hike told us that he went with a group of hikers (the real kind) and it took them all day to make it to the campsite. I'm not feeling super hopeful here.
That I will get hypothermia / sick. Some part of us will be in the freezing water the majority of the time. Also, the water levels might be slightly higher because of the rain over the weekend.
Pooping in a bag that I need to carry throughout our hike. Never done it before, so I don't know what that's going to be like. I'll report back and let you know how it goes.
Flash Flooding. The forecast says there is 10% chance of rain, which is not high, but if by chance it rains, we gotta book it and start scrambling up the wall. One guy we met had a friend who broke his leg recently because it started flash flooding there and someone died last month. :/ I haven't seen a flash flood first hand, but I'm hoping I never do.
Well, if we're back blogging about our experience, then you'll know we're alive! Also, not sure if we will have signal throughout the park, but if we do, we'll be sure to post something on my instagram or Jacob's!
What's a fear you want to overcome?