Since it's the new year, I wanted to start thinking about where I want this blog to go. This used to be our wedding website, which later transformed into a travel blog to primarily document our adventures, give tips, and inspire people to travel. Over the course of the year, the blog has continued to change as we continue to change (hopefully for the better). In 2014, along with travel related posts, I wanted to start sharing more about our marriage and our goals outside of travel.
I'm excited that as one of our goals this year, we decided to start dating again! ( Seriously, this time. ;) )
When you're starting a relationship, dating is a natural part of getting to know each other. When you're married, it's easy to let other commitments take over and let dating fall to the back burner. We never thought we would be the couple who got too busy to date, but it takes a fair amount of work to be intentional. Even if we've told ourselves how important dating is in marriage, our actions haven't always shown that it has been top priority. Since actions >> words, it's time to walk the walk.
Our Dave and Busters Story:
While we were in Atlanta over the holidays, we ended up going to Dave and Buster's as our first date for 2014. Dave & Busters is the perfect starting point for us. It was September of 2009. We had just met briefly a few days before when Jacob first invited me out to D&B with some mutual friends. I had just finished shooting a wedding and knew I could use a beer to help me wind down, so I agreed. The three of them were waiting in the bar area, and as soon as I arrived, I proceeded to order myself a tall Guinness and down it. It was refreshing after being on my feet all day. Afterward, we played a few games while our mutual friends plotted  to set us up. They bet us on a game of basketball where the losing team has to cook dinner for the winning team. Sounds a bit like a double date, don't you think? Not sure if they planned it exactly the way they did or if we happened to be just that good, but we won and dinner was on them!
As the story goes, we didn't fall in love at Dave and Busters or even after our "double date", but it was a starting point to where we are today. Later as Jacob would tell this story, he would always mention how impressed he was to see a tiny asian girl down a beer and how it caught his eye.
Dave and Busters Atlanta – 1 / 52 Dates: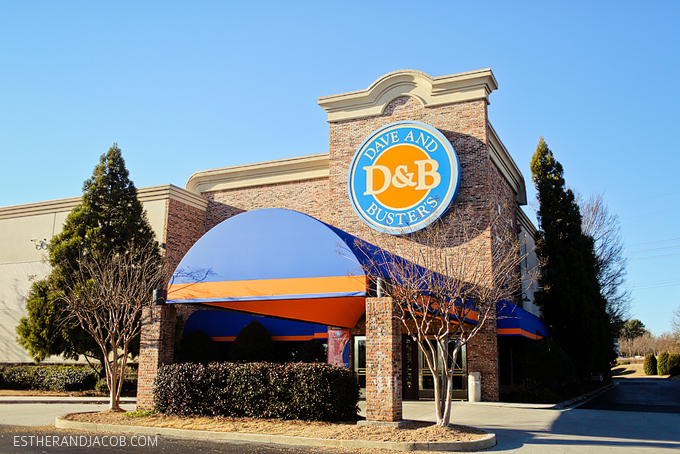 Pin
We went in the afternoon and did the eat, play, win combo for $24.99 where you get a $20 power card and a meal. Jacob loves a good deal, and this one made the meal $5.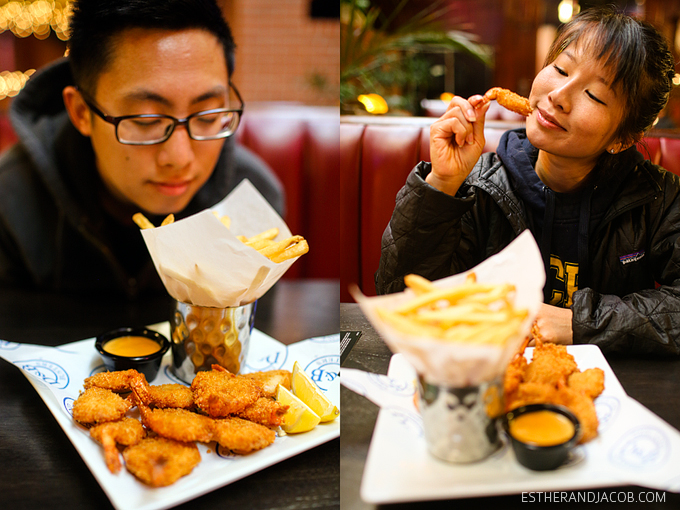 Pin
Basketball for old times sake. And Giant connect 4? I had no idea this existed!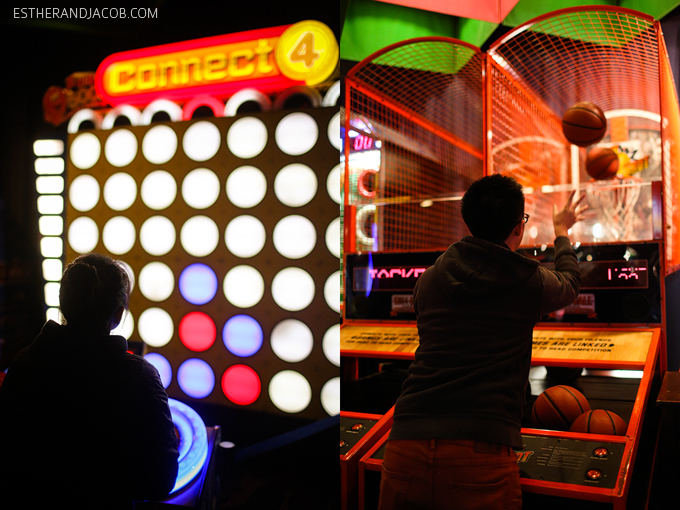 Pin
Last game of the day…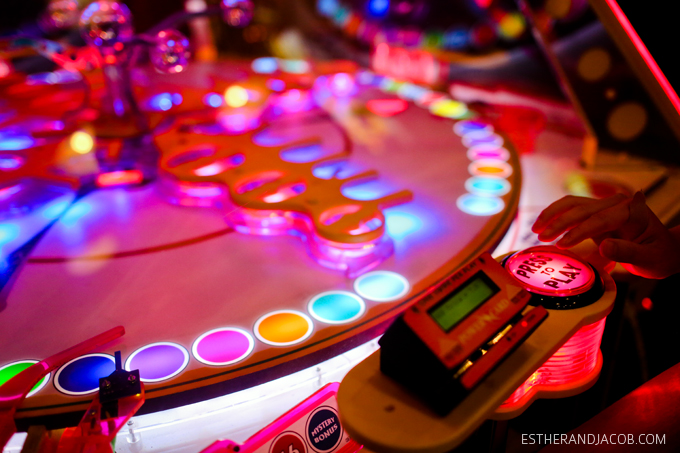 Pin
… and I won the jackpot (2000 tickets)!!! It was the very last turn / last of our credits. It was a great end to a date feeling like winners! haha We won these solo cup shot glasses, but you can obviously buy all the prizes for much cheaper in a store.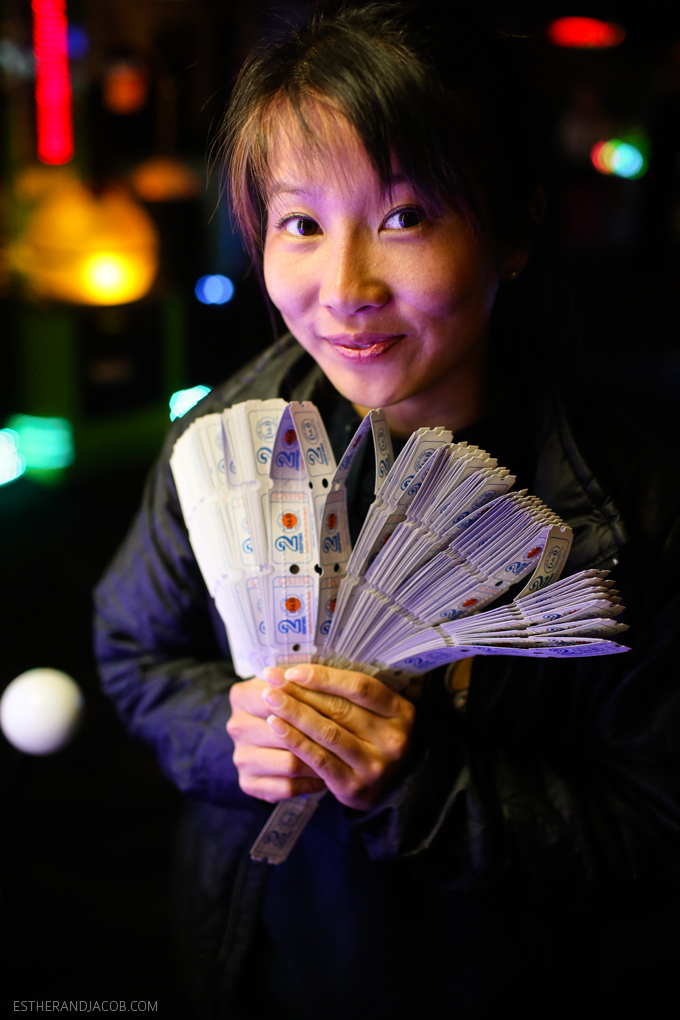 Pin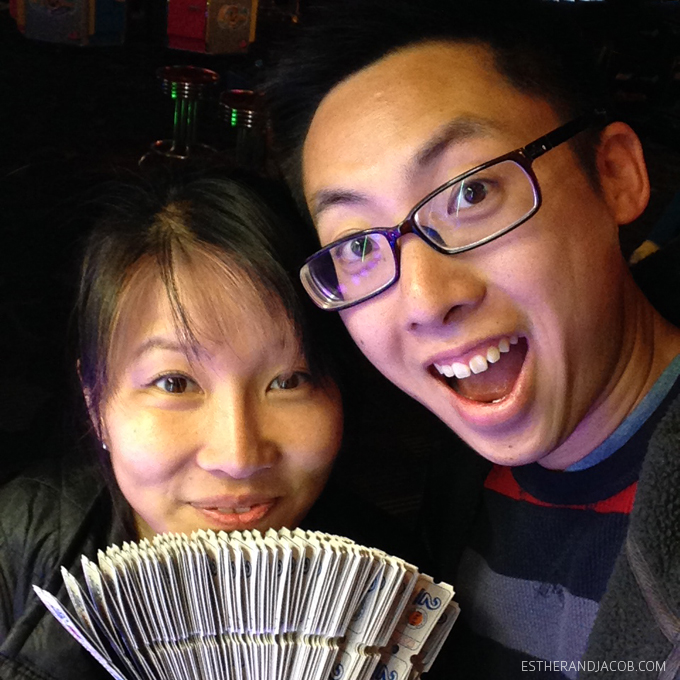 Pin
Dave and Busters Atlanta
4000 Venture Dr,Suite 15
Duluth, GA 30096
Phone 770-497-1152
Or find a location near you
This year we made it a goal to go on 52 dates. Some might be more extravagant, while others will be on the cheap aka stay at home. The point is to try to carve out more intentional time to enjoy each other's company. And no phones!
What is your favorite date you've ever been on?
We're doing 52 dates this year. You can see the other dates if you click on the banner below:


Pin

Pin


Pin